Face masks remain a powerful tool for limiting viral spread​. Photograph by NMTD.
THE NEW MEXICO DEPARTMENT OF HEALTH (NMDOH) continues distributing COVID-19 vaccine across the state, focusing on both speed and equity. With a majority of New Mexicans fully vaccinated, NMDOH's goal is to assure anyone still left wanting to get vaccinated gets their shot. Below, NMDOH spokesman David Morgan answers readers' common questions.
Why did New Mexico decide to move to Phase 2 of the vaccination rollout and what does it mean? 
New Mexico had early and consistent success rolling out its weekly allotment of COVID-19 vaccine. As the supply continued to increase, we were able to catch up to demand for it. After vaccinating most New Mexicans at high risk for COVID-related health complications, it made sense to open eligibility to all. 
I've been waiting a long time for my vaccine; will it be more difficult to get one now that Phase 2 has opened? 
With greater vaccine supplies come more opportunities for vaccinations for New Mexicans at any age. Beginning with residents ages 60 and older, we began allowing for people to self-schedule their vaccination appointments, something the NMDOH expects to provide to everyone so long as vaccine supplies remain adequate. 
If I received my initial vaccine dose in another state, can I still receive my second dose in New Mexico? What do I need to do to schedule my second dose of the vaccine? 
Be sure to update your profile on the state COVID-19 Vaccine Registration System (vaccinenm.org). Based on details you provide, the system will then match you with days, times, and locations to receive the booster dose. 
What does the vaccination "effective rate" actually mean? 
After the U.S. Food and Drug Administration approves a vaccine or authorizes a vaccine for emergency use, experts continue to assess vaccine effectiveness—or how a vaccine works in real-world conditions. The goal is to understand how a vaccine protects people outside of strict clinical trial settings. Effectiveness is measured by how the vaccines work in groups of people who are at increased risk of getting COVID-19, as well as in those who are at increased risk of getting seriously ill if they get COVID-19. 
Can I travel once I've been fully vaccinated and what should I keep in mind if I do choose to travel? 
The Centers for Disease Control and Prevention recommends delaying travel until you are fully vaccinated, because travel increases your chance of getting and spreading COVID-19. Once fully vaccinated and traveling, keep in mind that safety guidelines may differ whether traveling in state, across the country or internationally. So be sure to keep your face masks handy. Face masks remain a powerful tool for limiting viral spread—as do other COVID-safe practices like hand-washing and physical distancing. 
Will we be required to show proof of vaccination, or a "vaccine passport," for things like returning to school or traveling on an airplane? 
New Mexico's state government believes that the best solution will be a national solution—as opposed to individual states designing potentially incompatible vaccine passport systems. New Mexico has no plans to issue its own passport or limit access to services based on vaccine status, but businesses are free to make their own decisions about whom to admit and serve. 
When will we know when the pandemic is over? What will that look like? 
It's still too early to say, but we know it will include vaccination and continued safety measures depending on where you live or go. With the number of variants multiplying, it's possible we'll one day see COVID-19 vaccinations offered annually, just like those for flu. Both time and the viral spread will guide the future.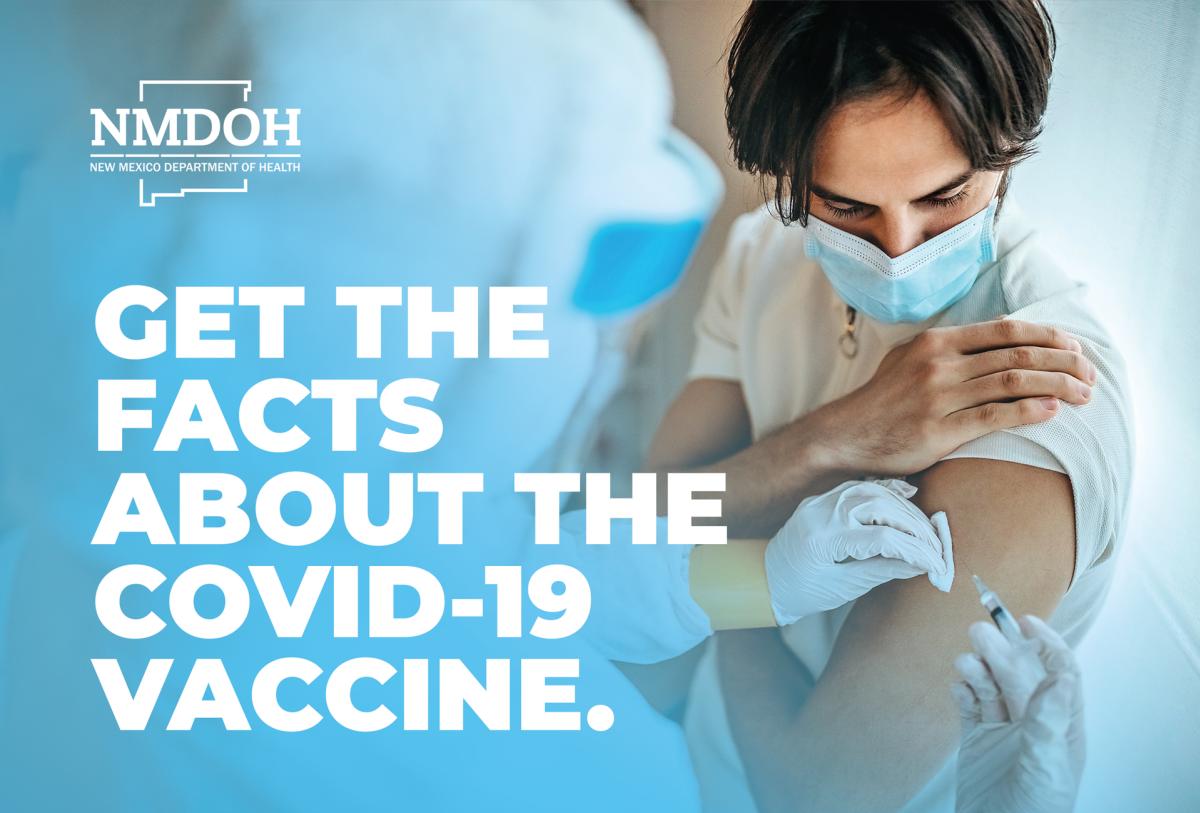 You've got questions, we've got answers.
The best scientists in the world have answers for all of your questions about your health, your safety, & the coronavirus vaccine.
Find the answers you're looking for on vaccinenm.org/facts.