Above: Hunting for Mearns quail in the Black Range. Photographs by Jen Judge.
A MASTER OF DISGUISE, the Mearns wears black feathers on his face like a mask of Zorro and spotted cloak. It is the Southwest's smallest quail, fitting in the palm of a hand. He nests in brush and lives as a recluse with his covey, rarely seen. He keeps numerous aliases attuned to his strange features and personality: harlequin quail, masked quail, Montezuma quail; crazy, fool, silly, and squat quail.
The bird "is seldom hunted, because it is so seldom seen," wrote Leonard Lee Rue in his 1973 book Game Birds of North America.
Ray Trejo, a Deming hunter and wildlife conservationist, has a checkered history with the bird. More than once, the Mearns has given him a run for his money, left him empty-handed on a hunt. On a crisp January morning, he is gearing up to seek out one of southern New Mexico's most iconic birds in the foothills of the Black Range.
He loads his bird-hunting dogs, Kaibab and Gila—a German shorthaired pointer and English pointer named after national forests—into his charcoal-gray F-250 and issues numerous disclaimers to hunting buddies Angel Peña and Gabe Vasquez. The chances of finding a Mearns quail today are slim, Trejo says.
Read more: An autumn hunt in a magical landscape conjures unexpected rewards.
"They're a mysterious bird," he says. "If there is no dog, you can't find them. They're kind of, I don't know … They're real unique. They're dumb but they're smart as hell. Angel, have you ever hunted Mearns?"
"Successfully? No. Last time I tried was two years ago."
"Most people think they are really dumb birds because they'll just stand there," Trejo says.
"They won't fly."
"But it doesn't make it easy," Peña says.
The Mearns quail is unique among the American quail—such as the much more common Gambel's or scaled quail—in conduct, home range, and ways of procuring food, according to New Mexico Birds and Where to Find Them, a 1961 encyclopedia by J. Stokley Ligon, published by the University of New Mexico Press.
"When in danger, the Harlequin Quail rely for protection on inaction and on simulating surroundings by 'freezing' to the ground rather than by seeking cover as do other quail," Ligon wrote. "Although appearing awkward in taking wing, they are strong, swift fliers."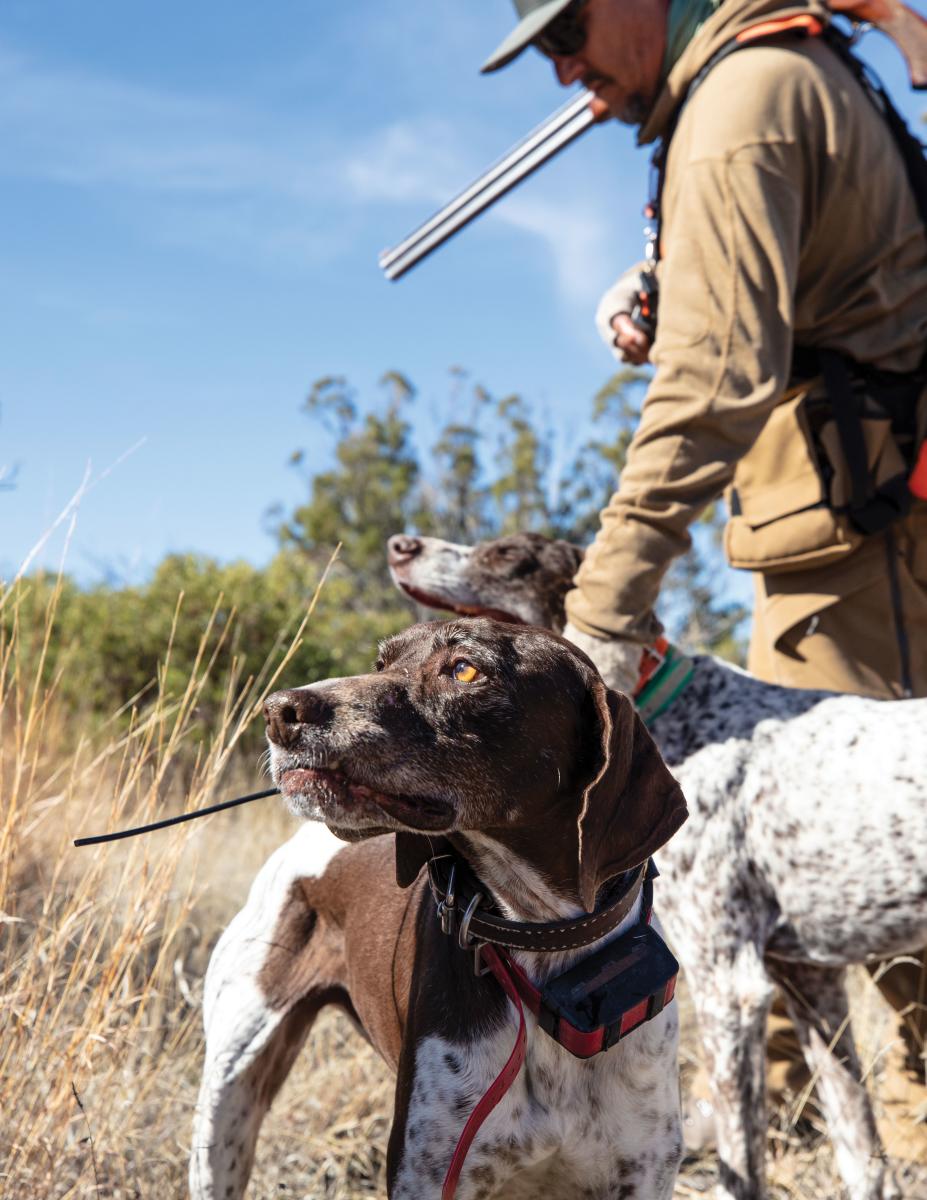 Above: Bird-hunting dogs are essential to a quail hunt. 
The men pack their guns into the back, and Trejo tucks a lunch bag of breakfast burritos into the front cab. The truck is pulling a six-person ATV on a trailer. Peña and Vasquez climb into the back and Trejo pulls out of Deming, headed northeast toward Lake Valley.
Trejo, a former public schools educator, now works for the New Mexico Wildlife Federation, a nonprofit that promotes conservation and responsible hunting. He speaks with a twang native to Deming, where he was raised, and he has been hunting the region since he was a boy.
"When you see the covey rise, it blows your mind," he says. "You just can't predict when they are going to flush. And they'll scare the hell out of you every time."
THE RAILROAD AND NM 26 CUT PARALLEL SCARS through the golden grasslands north of Deming, running past hills that look covered in crushed velvet, the color of a brown calf. This is ranch country; there are wind farms and solar, too.
The hills rise and fall like the sound wave of a whisper as the road twists past the ghost town of Lake Valley and its peach-crayon-colored school building.
Cody Jinks sings "Must Be the Whiskey," and the men jabber about quail, about how Trejo's very first hunt with his grandfather was in these hills 40 years ago, when he was 10 years old. They talk about the petroglyphs Trejo discovered in this valley five years ago.
"I've been up and down that arroyo hundreds of times and never saw that stuff," he says.
Read more: A primal hunting experience reaches a 21st-century conclusion. 
Like the petroglyphs, the Mearns quail hides in these hills and inspires similar awe when discovered. They're not easy to find—not just because of their mysterious nature but because there are likely fewer birds than there used to be. It's hard to know for sure; the Mearns has rarely let biologists study it very closely.
In the wild, the Cyrtonyx montezumae "is all but a rank stranger even to the majority of orinthologists," according to Ligon.
But habitat degradation due to overgrazing by ranch cattle has put the little bird at risk. The Mearns quail has the largest and heaviest beak, legs, feet, and claws of its family, in order to feed on the roots of its food plants, which it gets to by scratching three or four inches into packed ground, according to Rue.
"There has got to be good habitat," Trejo says. "For Mearns quail, hawks are the biggest threat. The predator just hammers them. The quail don't have nowhere to hide because the grass is all beaten down."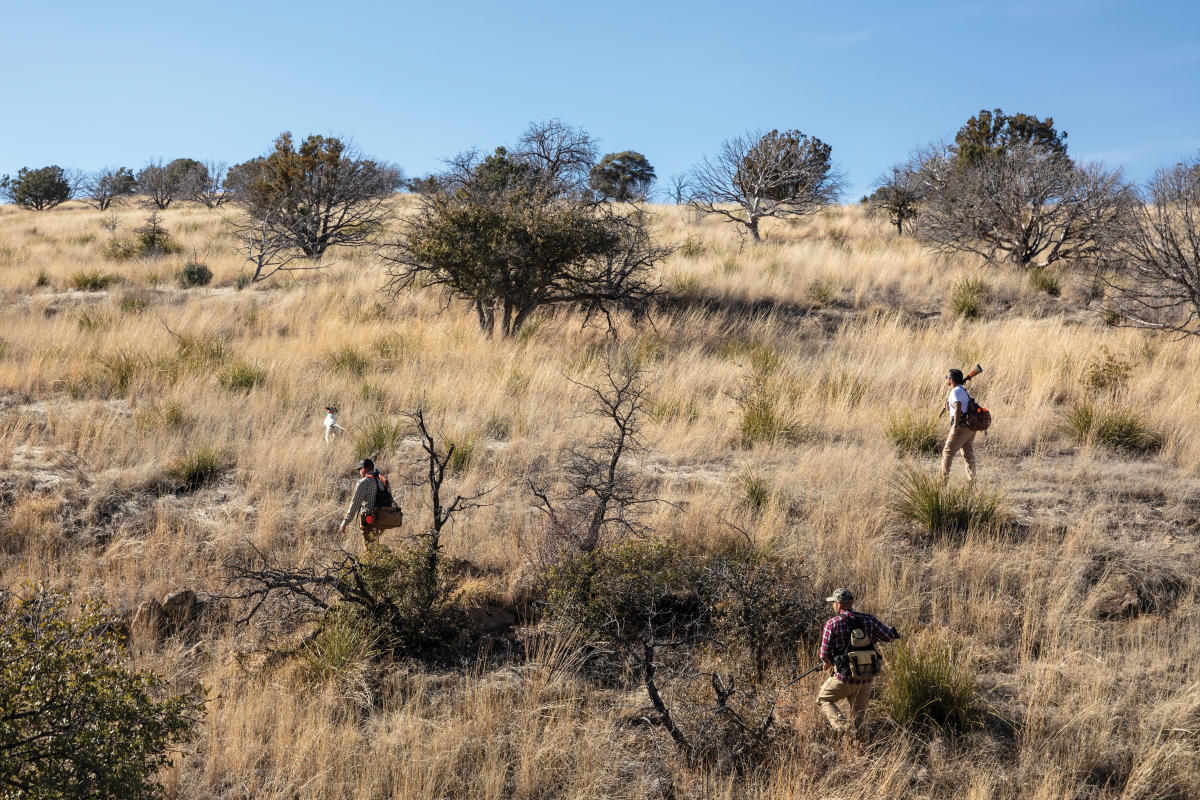 Above: The hunters follow their dogs—hot on the trail. 
Climate change is also testing the birds' adaptability.
"The rains have to come at the right time," Trejo explains. "Earlier rains are better for them. Because if the monsoon is in July, a lot of times they'll wipe out the birds—their nests, their eggs, everything. It's just real critical, the timing."
Trejo wears a gold-and-garnet class ring on his right hand and an auburn silk cowboy scarf around his neck. Randy Rogers is singing "Like It Used to Be."
He says it again.
"The chances of getting quail are really slim."
THE ATV RUMBLES DOWN ROCKY ranch roads over a hill and into an arroyo, where a creek runs in the rainy season. In January, the basin is dry but for a puddle here and there. Trejo's pointers—trained to bird-hunt—are wearing radio collars. He sets them loose and they bound over the rocky slopes, sniffing for quail.
"Ándale, cabrones," Trejo says, egging them on.
Shotguns slung over their shoulders, the men troop after the dogs padding down into the dry creek bed. "There should be birds in here," Trejo says.
"Easy," he calls to the dogs. "Look good, easy."
Read more: The weather may be cooling down, but birds are just taking flight for their fall migration. If bird-watching is the name of your game, swoop down to these New Mexico destinations.
"He's getting birdy," Vasquez says, watching Gila sniff the ground and freeze, his tail outstretched. The men hold their rifles in front. But nothing moves in the brush.
"Sure as shit they were in there," Trejo said. "This is the cool thing about Mearns quail hunting. You just have to let the dogs work. You aren't going to find them yourself."
Nearly an hour into the hunt, in the birdless stillness, the conversation turns to the habitat, how environmental degradation has made it even harder to find the hard-to-find Mearns quail. "We have to look at the land differently," says Vasquez, who grew up in Ciudad Juárez and El Paso and now serves as a Las Cruces city councilor. "We need to see wildlife as a resource, not a nuisance to ranching and agriculture.
A flutter of wings, a trill. A flapping, chuck chuck chuck. A bird lifts low into the air, flies like a major league curveball and dives so fast none of the men take a shot or know quite where it lands. It's 11:15 a.m.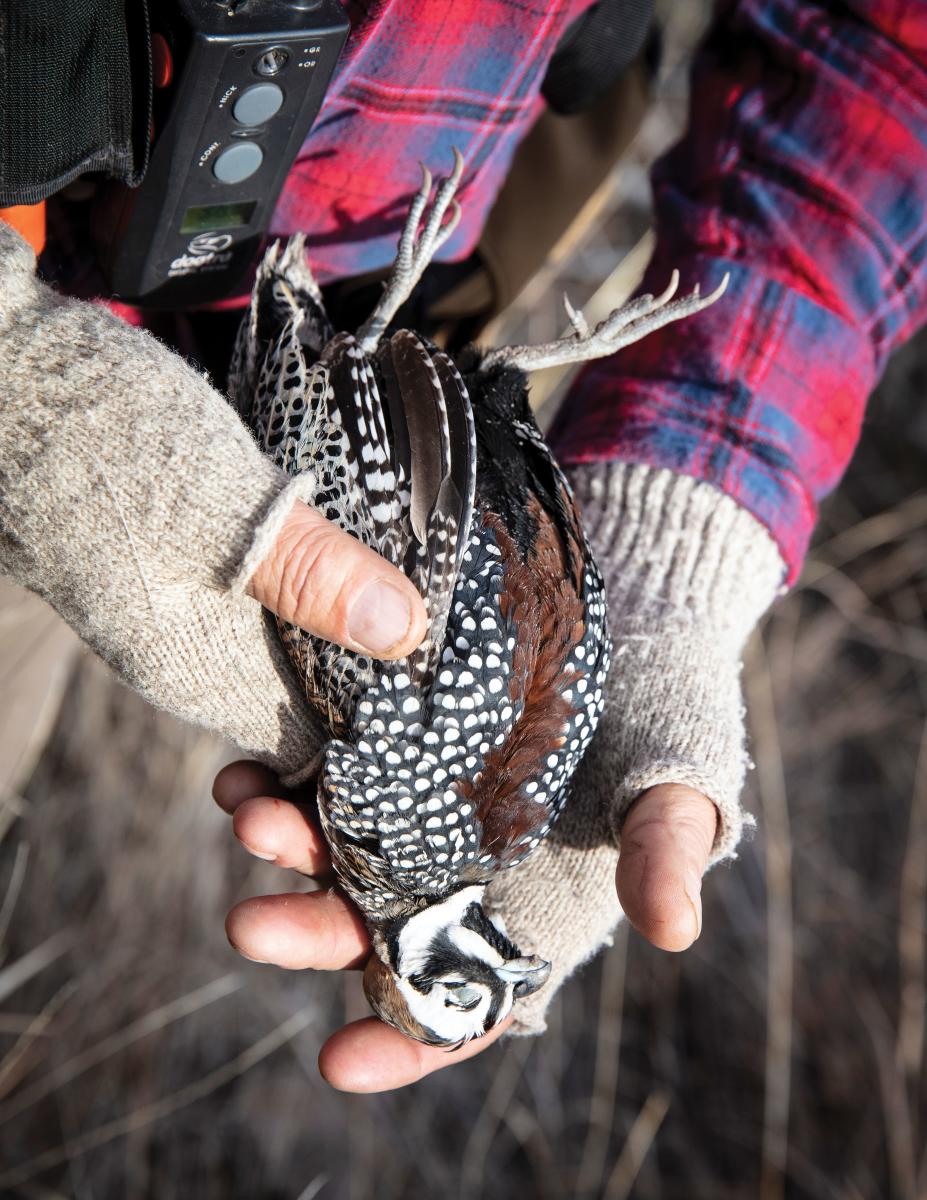 Above: A Mearns quail, the elusive Zorro of birds. 
The dogs follow the sight line. The hunters cat-step in the same direction, their guns at the ready. Another two birds lift almost from underfoot and fly in the same direction—another surprise, no successful shot. It's 11:53 a.m.
Five minutes later, Vasquez is explaining how the birds "will sit and hunker down" when two more Mearns quail flap an arc upslope. He and Trejo take shots and miss.
"If that is not a case study in how tight they hold, I don't know what," Vasquez says.
Trejo surveys the landscape. He says, "Let's swing over, hit the arroyo. Y'all good with that?"
At 12:15 p.m. a bird flushes. Three shots are fired. Peña wings the bird, and it appears to go down. But where? The dogs and men spend a good 20 minutes looking for it—although Kaibab and Gila are doing most of the work. The hills are bare but for the occasional ponderosa, cedar, or juniper; landmarks are few and far between.
Read more: The state's largest landowner is opening his two enormous ranches near Truth or Consequences to eco-tourism. It could be a pretty big deal.
"We'll typically walk one mile to their 10 miles," Trejo says. "They live to get a bird in their mouth."
Gila—the younger of the two dogs—points her tail in the air. She sniffs and comes out with a bird with the bark-brown feathers and subtle markings of a female Mearns quail. It's Peña's first, ever.
"It feels good!" he says.
The men tramp through the canyon bottom, in the dry creek bed, hoping to find Mearns in pockets of moist feeding ground. At 1:14 p.m., three birds flush in all directions, and Trejo shoots one. Gila comes back with the male Mearns in her mouth, the bird's tiny head wearing the mask of Zorro.
"See why they call them harlequin?" he says. "Damn, these are beautiful birds."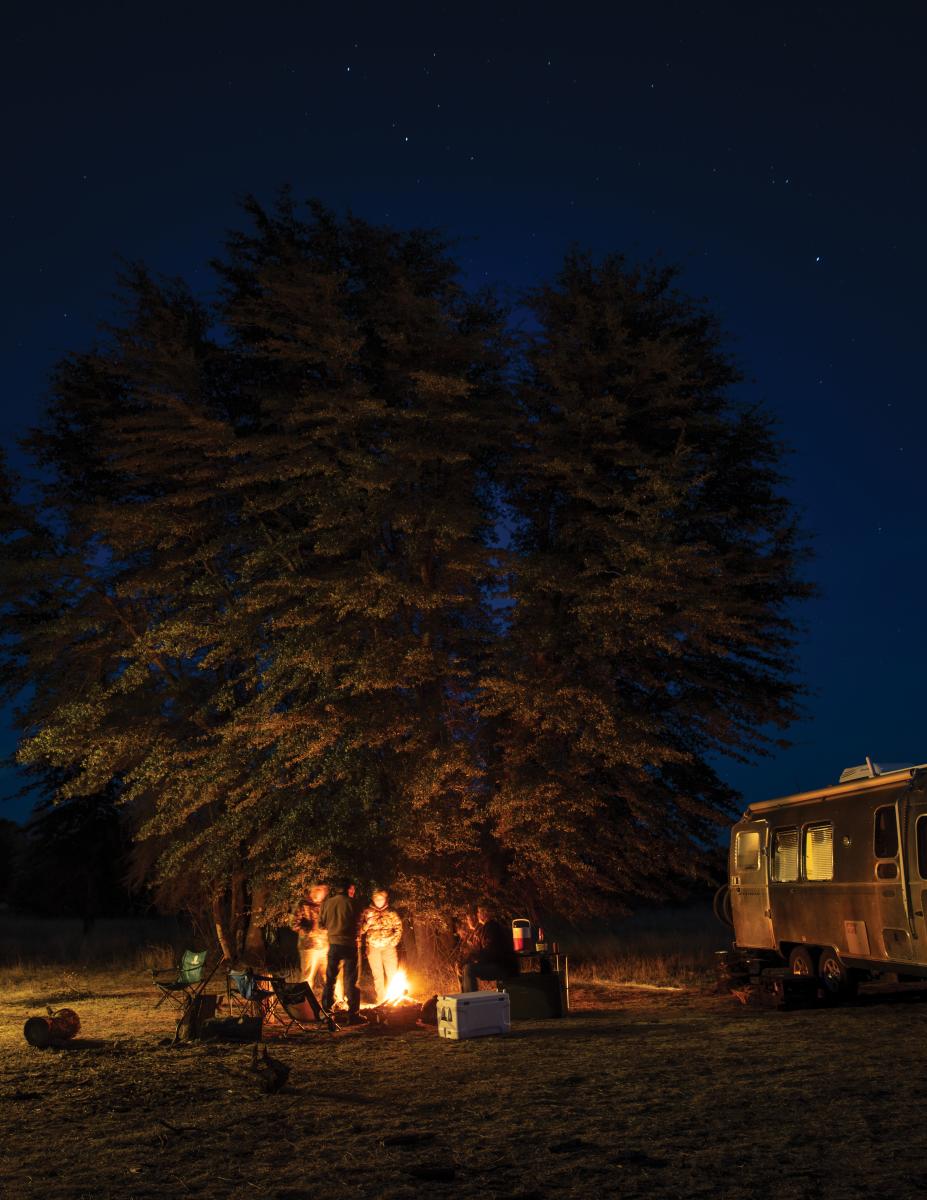 Above: The crew celebrates a successful day. 
Fifteen minutes later, another bird takes flight and the men are talking about the beauty of the silence here and no one shoots. By the end of the hunt, Vasquez and Peña and Trejo will take four birds altogether—and at least twice as many will have eluded them.
"That's a cool ending," Trejo says. "There are still birds in here."
THE LAST SHOT FIRED is rarely the end of the hunt. The men and dogs climb up out of the arroyo back to the ATV, where a cooler of bread and sandwich meat and beer is waiting.
The sun is high and the dogs are tired. The men slather mustard and mayonnaise on bread, munch on chips, and debate the merits of tequila and mezcal versus whiskey. A fifth of mezcal from Oaxaca, a state in southern Mexico, gets passed around for a taste test.
Another hunt beckons, this time for something that inspires a different sort of awe.
Read more: A new national recreation trail connects two national parks and New Mexico to Texas via a 100-mile super route called the Guadalupe Ridge Trail. 
Their guns put away, the men and dogs head back into the landscape, down into another arroyo. This one is narrow and lined with huge boulders at the bottom. A thin path follows the dry creek bed. Trejo is looking for the petroglyphs.
They aren't easy to spot. But he finds them. A deer. A twin-headed symbol of the Mimbres people who once hunted these grounds.
And quail, etched immortal in the rock.

QUAIL HUNTING—NOT THAT EASY!
For more information about quail hunting in New Mexico, contact the New Mexico Wildlife Federation. Jumping-off points for exploring quail country include Silver City, Deming, and Lordsburg. Bureau of Land Management parcels in Luna, Sierra, Grant, and Hidalgo Counties are open to exploration and hunting for those with a state hunting license. But good luck finding a Mearns quail without a trained upland bird dog.
---