Above: The band, Native Roots, Emmett "Shkeme" Garcia and John Williams. Photographs by Gabriella Marks.
Listen to 101 songs by artists featured in our May issue with this Spotify playlist created by Silver City's KURU DJ Mitch Hellman.
The struggle is real, izque. In my case, as I'm listening beyond the first 25 seconds of "We Be Rollin," a reggae-infused song by Native Roots on YouTube, it's the struggle not to close my eyes and bow my head as I honor my Pueblo relatives for their tenacity in carrying such beautiful messages from the heart of Indian Country to the world. Watching this video, for me, is a way of bearing witness to the power of ancestral teachings to form a foundation for indigenous creativity and kinship.
The opening scenes speak to the power of prayer among indigenous peoples. Cherokee cinematographer Echota Killsnight angles the camera up to capture Emmett "Shkeme" Garcia sprinkling cornmeal across his homeland, humbly offering intentions in his Keres language, while a young Jemez Pueblo man—fellow collaborator Obsidian Cas  (Justin Casiquito), of the hip-hop group Walatowa Massive—runs across the famous red-rock landscape near his reservation. Other collaborators include Katerina Pihera.
"I had always wanted to do something that honored our Pueblo runners when they had to make the difficult decision to rise up against the Spanish," Garcia says of the opening scene. He refers to the Pueblo men who ran from a 1680 meeting in Taos to inform their relatives of the impending uprising against Spanish Catholic tyranny. Their Pueblo Revolt led to the expulsion of the Spanish for more than a decade.
As visions of the runner begin to fade in and out of view, a white Dodge pickup rolls through, bearing the recognizable red, white, and yellow of the Rastafarian flag. Six people, two dogs, and a boom box sit in the back. Then Garcia begins to sing:
We be rollin', through the mountains
and the mesas, and the canyons,
and the pueblos, see the dancin'
and the drummin', and all the faces.
The song has a reggae backbone, but it's really an ode to indigeneity, Pueblo resilience, and place-based visions of indigenous futures, underscored by Jemez rapper Magmadawta (Tina Archuleta):
Land of Enchantment, sacred place.
Travel across this globe
To see the same indigenous face.
We share the same ancestral space.
Formed in 1997 by Garcia, of Santa Ana Pueblo, and John L. Williams, of the Sisseton-Wahpeton Sioux tribe, Native Roots have recorded three reggae albums from their base in Albuquerque. The band, their website says, "is a natural extension of growing, living, and loving reggae music." It comes through in Garcia's voice, which combines traditional Pueblo and powwow singing with a veritable Jamaican vibe. He and Williams also blend Native drums, rattles, flute, and chants with reggae styles that include raggamuffin, one-drop, rockers, and dancehall.
They aren't alone in their love of melding the Rastafarian genre with other beats. Reggae has long emanated from Native and Chicanx communities all across the Southwest, whether in Hopiland, in the barrios of Los Angeles, or along the Río Grande del Norte. Jamaican greats have visited these lands, including Stephen Marley and Jr. Gong, Bob Marley's children, when they went to Kykotsmovi, Arizona, and even earlier, when Freddy McGregor was the first Jamaican to play on the Hopi reservation, where there's also a radio show, Rez, Rasta, Riddums. Regional bands cut their teeth listening to reggae and then made it their own, including Ozomatli, Liquid Cheese, Innastate, Fixed Idea, Radio La Chusma, and Native Roots.
Read more: Can't get enough of Native bands from our lovely state? Check out the biggest New Mexican band you never heard of. 
Cross-pollinated with the musical spores of trans-Caribbean, Latin American, and North American stocks, the musical whispers of the African diaspora originated in West Kingston, Jamaica. From there, reggae assumed a life of its own. People all over the globe add their own musical, historical, political, and social ideas.
Native Roots and Radio La Chusma, in particular, bring their sense of place into their reggae-infused registers. Residing in Albuquerque and El Paso, respectively, the bands are surrounded by federally recognized tribal nations, non-recognized indigenous peoples, including Genízaros, and mixed indigenous communities spread across northern Mexico, West Texas, and southern New Mexico. This cultural contact zone has connected these three areas of the Paso del Norte region with the Pueblo world of the north since time immemorial, when Pueblo peoples visited their kin to the south in Tenochtitlán (present-day Mexico City) and beyond. This amorphous borderland is now a reggae belt.
It's one thing to write about transborder reggae vibrations; it's quite another to experience them. Entonces, let's groove.
Ch ch-ch ch, ch-ch ch, ch-ch ch …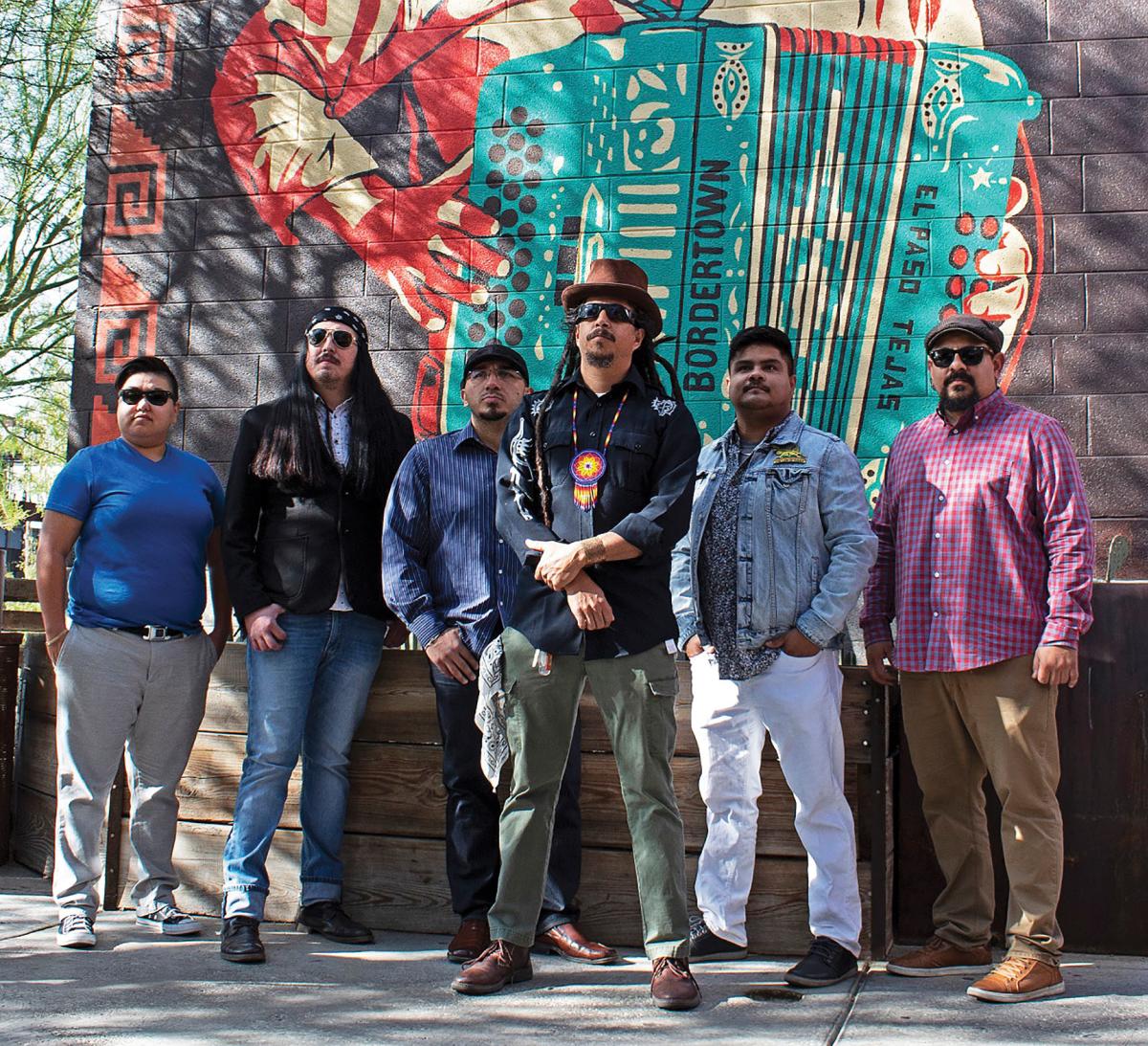 Above: Radio La Chusma mashes up reggae, cumbia, worldbeat, and rock rhythms.
ONCE AGAIN THE GUIRO-FILLED HEARTBEAT OF THE U.S. –Mexico borderlands is brought to life as plumes of white sage gently curl into the ambient sunlight in front of a weathered exit sign. Sound engineers and videographers move with purpose as Radio La Chusma's frontman, Ernesto Tinajero, and bass player, Mario Ramirez, oversee the setup of equipment among a clutter of portable tables, folding chairs, and West Texas dust.
Founded in the early 2000s, Radio La Chusma are a multi-instrumental band that have gained a following with their mashup of reggae, Chicanismo, and border activism. Albums like their 2011 Rasta Mexica nod to mixed Jamaican and indigenous Mexican roots, with other influences ranging from Yoruba to Lakota sounds.
They're clearly in the zone, I think to myself as I make a beeline for the rear of the incognito recording studio producing their upcoming album, PURARAZAfarian, alongside a forthcoming docuseries, Border Sound Underground, a project that Tinajero says "will focus on the band's collaborations with local artists who contribute to the scene."
This collaborative spirit echoes across the urban borders of Segundo Barrio and Chihuahuita as guest artist Veronica Bueno stands outside with her older sister, Chusma saxophonist and composer Maribel Bueno, to rehearse flute parts and vocal harmonies. Nearby, Tinajero and percussionist Oscar Gamero laugh at the scratchy sounds of Ciudad Juárez–based border-blaster radio personalities fading in and out of the headphones that connect the studio's digital metronome system. Raul "Scoop" Valdez plays riffs on the guitar.
Read more: Our guide to all things Music in New Mexico.
Meanwhile, Chusma keyboard genius Charlie Hernandez, aka Charlie Chanclas, moves his body to a self-made groove, echoing the kinds of accordion riffs that would make Ramón Ayala and Flaco Jiménez smile. Drummer Pedro Barajas feels it, too, his drum cadences following Chanclas' lead, seamlessly blending cumbia, salsa, and norteña vibes and epitomizing the band's self-styled "Pachuco Reggae," a sound that now thrives along the border.
"The tricky part is to capture the live part" of the creative process, Gamero says.
I soon see the band's ability to harness this "cosmos of creativity," as Chanclas calls it, at their live shows, including a particularly powerful experience in west El Paso, a part of the city that borders New Mexico and the dirt-road colonia of Anapra, in northwest Ciudad Juárez. La Chusma was playing at a bar in one of those Brooklyn-style apartment buildings whose first floors typically host a variety of businesses.
I'm sure I look a bit odd grooving in my seat as the band's set list moves fluidly between original compositions and cleverly original covers. It seems fitting that a salsa-infused version of the Juan Gabriel classic "Se Me Olvidó Otra Vez" would find its way into the homes of primos mexicanos living in the singer's hometown, especially those in nearby Anapra. Amid a cumbia-tinged arrangement of the classic Trio Los Panchos bolero "Sabor a Mi," I leave the show with a smile on my face that would have made the Cheshire cat jealous.
My smile only broadens after passing a recently tagged state highway sign informing travelers that they are now moving to a "New Mexico groove."
Love New Mexico? So do we. Subscribe today for just $3 an issue and we'll deliver our award-winning monthly magazine right to your door.
AT THE END OF 2018, UNESCO added reggae music to its list of vital forms of cultural heritage for humanity, but the genre's historical reach among tribal peoples can be traced to the late 1960s and '70s, when Native American community leaders, elders, and political activists began organizing the American Indian Movement in urban Indian centers and rural reservations. Reggae remains a vibrant artistic ecosystem for thinking, expressing, and enacting revolutionary forms of spiritual resistance and political struggle among oppressed peoples all across the globe.
As Acoma Pueblo videographer Jonathan Sims, who co-organized a music video screening session for the Fifth Annual Pueblo Film Fest, at the Indian Pueblo Cultural Center, in Albuquerque, puts it: "I always think of reggae music as revolution music. And Pueblo people are revolutionaries, by definition."
Read more: Find out where to get the best vinyl in New Mexico.
Indigenous artists are known for braiding place and cosmology into their music and performance. Take the chorus from the track "Natives Say," by Native Roots: "Rastas say give thanks and praise. Natives say there's no other way." A beautiful Native American flute soars atop a lush soundscape of thick eighth-note runs strummed by the bass and electric guitar as Garcia articulates powerful visions of self-determination and cultural resilience through Rastafarian concepts of spiritual gratitude and humility.
Starting with the film festival, I witness this genre connecting kin across the Southwest, the United States, even the world. Asked for his source of inspiration for writing the music in the collaborative single "We Be Rollin," Williams points to his "interactions with indigenous revolutionaries" in southern Mexico and Central America during his studies at Arizona State University.
Others join Williams and Garcia in the discussion, including Benita Tahuri (Sistah B), the Mori matri-arch of the New Zealand–based mother-and-daughters reggae trio NRG Rising. Together, the speakers focus on the importance of their respective ancestral teachings and practices in making and performing reggae music.
Native Roots' video for "We Be Rollin" is itself a microcosm of that broader movement among Native artists to reach across the borders of tribal lands. "We just all went up there at the red rocks and we prayed, we burned sage, and we just ate, you know," Garcia says. "We didn't approach it from a work standard. We came from prayer, we came from 'This is a message that we need to share with the world.' And so, when you approach it that way, everything just falls into place.
The band's place is expanding to include a collaboration with NRG Rising and a two-week summer tour of indigenous communities throughout the Southwest. Garcia provides a glimpse of what the tour's mission statement might sound like: "We want to empower our own people by going to them and playing for them."

PLUG IN
Groove to the indigenous reggae beat by plugging into Gregorio Gonzales' YouTube playlist, "Jammin' In Nuevo," curated for this story, at nmmag.us/reggae.
HOMEGROWN REGGAE
These albums showcase where reggae meets the Southwest.
Rasta Mexica
Radio La Chusma (2011)
Featuring songs like "Cruzando la Frontera," "Tonantzin," and the title track, "Rasta Mexica," this album is classic Radio la Chusma.

From Darkness to Light
NRG Rising (2012)
NRG rising has represented Aotearoa at the Gathering of Nations Pow Wow, in Albuquerque, with their low-key, reggae beats, like the title track, "From Darkness to Light."

Non-Stop Mexico to Jamaica
Ozomatli (2017)
Since the release of their debut album in 1998, Ozomatli has garnered a following across the Southwest with 10 albums and multiple live performances. This album features a remix of Selena's "Como la Flor."
Lost in the Music
Liquid Cheese (2003)
Liquid cheese has evolved their early punk/ska sound into a hybrid genre, including reggae, Latin, and worldbeat rhythms with bilingual lyrics and a powerful horn section.
---