FROM THE OUTSIDE, the engine workshop of the historic Cumbres & Toltec Scenic Railroad, in Antonito, Colorado, doesn't seem like much. Not to my eyes anyway. It takes stepping inside, where the sensory overload of a retro-techno revolution carries me 100 years into the past. The whoosh of a welding torch and the grind of metal fills my ears. The smells of coal dust, grease, and burning solder reach my nose.  
Three mechanics brew up these intoxicants. Two of them, Max Casias and his brother Antonio, are converting the youngest C&T engine, the 1925-built No. 489, to be the line's first to burn oil rather than coal to generate the steam necessary to power the massive locomotive along 64 miles of narrow-gauge track to Chama, New Mexico. They also helped heroically rehabilitate the oldest of the railroad's workhorses, historic steam engine No. 168. On this day, it sits across the workshop awaiting its maiden voyage hauling vintage passenger cars during this summer's tourist excursions. 
Along with the existing engines, period cars, well-maintained tracks, and the know-how to keep it running, the rehabbed and retrofitted machines represent a triumph of historic preservation and its ability to fuel tourism in small communities. As a working railroad, the Cumbres & Toltec began in 1880, ground to a halt in the 1920s, and was abandoned in 1969. Credit the never-say-die ardor of railroad fans for its 1971 rebirth as a tourist train, overseen by a joint New Mexico–Colorado commission.  
Today the C&T is considered one of the most scenic and authentic train rides in North America and is one of New Mexico's most popular and unique activities. Rail fans delight in half- and full-day excursions that hit a top speed of 12 miles per hour across open plains and mountain passes. Even a pandemic couldn't completely stop them. Last year's truncated schedule has been expanded into a variety of trips, including those featuring the No. 168 and five newly restored passenger cars. Riders can even rent an entire car for just themselves and their closest friends, a sought-after option introduced last year. 
"People were already coming from around the world to experience the Cumbres & Toltec because of the historical authenticity of the line," says Efstathios "Stathi" Pappas, the C&T's chief mechanical officer and assistant general manager. "This year we're reaffirming that commitment, so that all this beautiful work can be seen and experienced by as many people as possible. That's why, too, there are new shorter runs to appeal to more people's schedules, and the special 50th-anniversary events rescheduled from last year."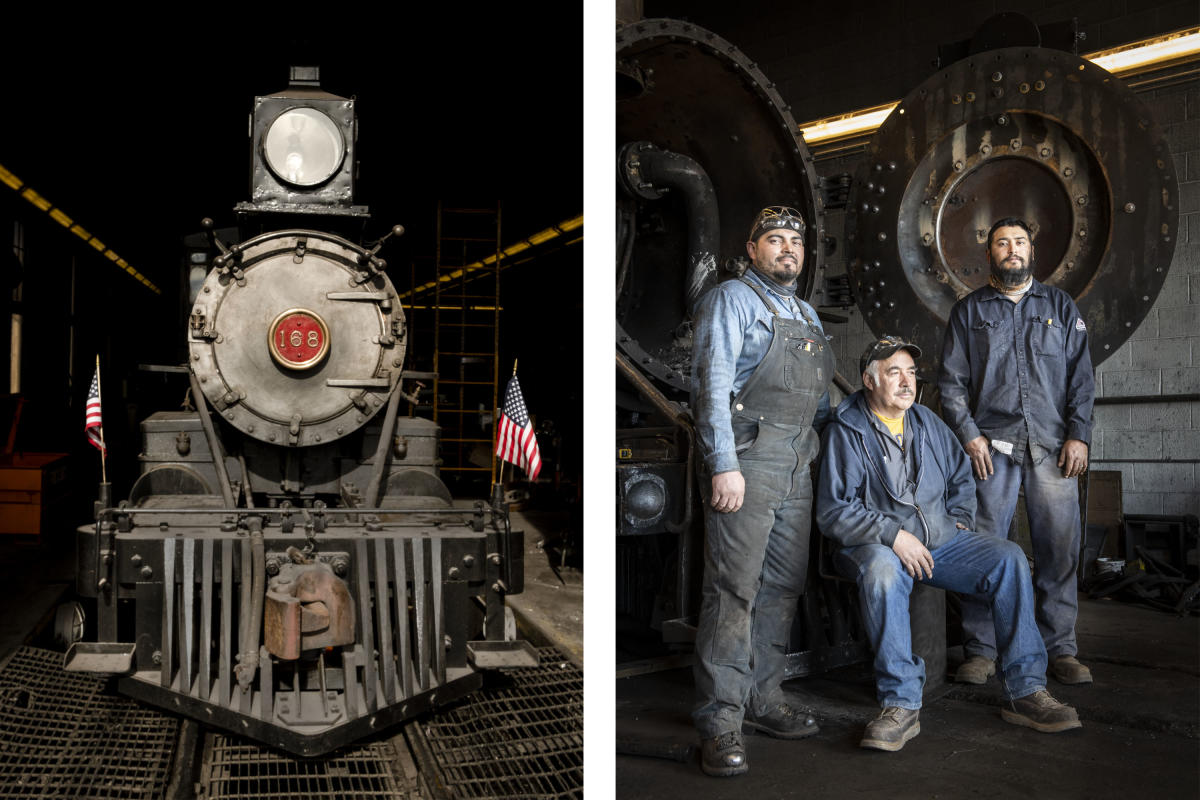 Max and Antonio Casias (standing, from left), along with their father, Marvin (right) helped to heroically rehabilitate the historic engine No. 168 (left).
BACK IN 1883​, the C&T's No. 168 was the 6,670th engine produced by Baldwin Locomotive Works of Philadelphia. The Denver & Rio Grande Western Railroad purchased it for the San Juan Extension (later the Cumbres & Toltec) to reach the silver mines of the San Juan Mountains.  
A T-12 Class, 4-6-0 "Ten-Wheeler" engine, it was one of the largest and fastest of its era. In 1909, President William Howard Taft rode it
to dedicate Colorado's Gunnison Tunnel. It made its final chug in 1937 and was then donated to the city of Colorado Springs, which placed it in a park where it sat. And sat.  
C&T boosters saw its potential, though. In 2016, they hauled it to Antonito and began a meticulous restoration that has brought it back to the Secretary of the Interior's Standards for the Treatment of Historic Properties, says Pappas. "It's historically accurate to 1916, the period of significance that preserves as many historic elements as possible without sacrificing function," he says. 
His team of four spent 27 months and $508,000 tearing apart every piece, ensuring the engine was safe and suitable for service. They rehabbed what they could, scavenged parts from other engines, and machined what they couldn't find to restore the engine to both historic and Baldwin's own standards.  
The cab's shiny brass water-gauge lamps and tinted red boiler lamp (to preserve the engineer's night vision) came from W.T. Kirkman Lanterns of Ramona, California. The team fabricated a replica of the main air brake reservoir as well as a new water cistern. All the boiler assembly and riveting work was done in-house with metal rolled by a Portland, Oregon, fabricator and then blued by Cleveland Black Oxide. 
Pappas came to the task circuitously. His education is in historic preservation and archaeology, with an all-but-written PhD dissertation on the sociological, gender, and ethnic issues of railroad line camps. A self-taught machinist, he owns two steam engines of his own, and restores others in his spare time. He was recruited by the C&T in 2017 to head up its renovation projects because of his hands-on experience and knowledge of historic railroads. 
Read More: The Cumbres & Toltec Scenic Railroad's president relishes train travel's storied past.
"Historic preservation and this type of work coincides well," he says. "It all comes from a similar place of thirsting for the past and what it was like, for the experiential nature of railroads and the social landscape around it. That never really died here on the C&T. You've got multigenerational families of employees here, whose grandfathers and great-grandfathers worked on the original line and now they work here. If you want to immerse yourself in what it was like in the 1880s on a railroad, coming here is as close as possible to being there."  
But the restoration he and the team achieved isn't the kind of work a person learns in high school shop class. You learn it by doing it. And by reading stacks of historical texts. Good news: When everything was built out of riveted metal, a lot of books were written about it. And in terms of how to put a locomotive back together? The Baldwin standards for building locomotives still exist. C&T has three thick volumes of all the engineering specs. If you really wanted to, Pappas says, you could build one today from scratch.  
C&T also has the original spec card for the 168's purchase—the first Denver & Rio Grande order specifying black paint with no pinstriping and a mirror-polished jacket for the boiler. The Friends of the Cumbres & Toltec Scenic Railroad, the nonprofit membership organization whose mission is to preserve and interpret the railroad as a living history museum (or, really, a moving history museum), took those specs to rebuild the wooden cab and front "cowcatcher." Hundreds of volunteer hours and thousands of staff hours paid off in September 2019 when No. 168 steamed out of the shop and around the train yard—its first run since 1938. 
The first passenger runs headed by No. 168 were supposed to take place last year as part of the railroad's 50th-anniversary season. Then came the pandemic. Like all the other planned anniversary events, hitching the historic engine to its long-separated passenger cars to make a complete train "consist" had to wait until this year.  
"The reward for coming to experience this railroad is immense," Pappas says. "Visitors are seeking  authenticity—and a bespoke experience that allows them a glimpse into something real, rare, and with evidence of the human touch. They also want an experience tied to a specific place and landscape. Nothing embodies that more than the C&T in general—and the historic consist with 168 at the head in particular."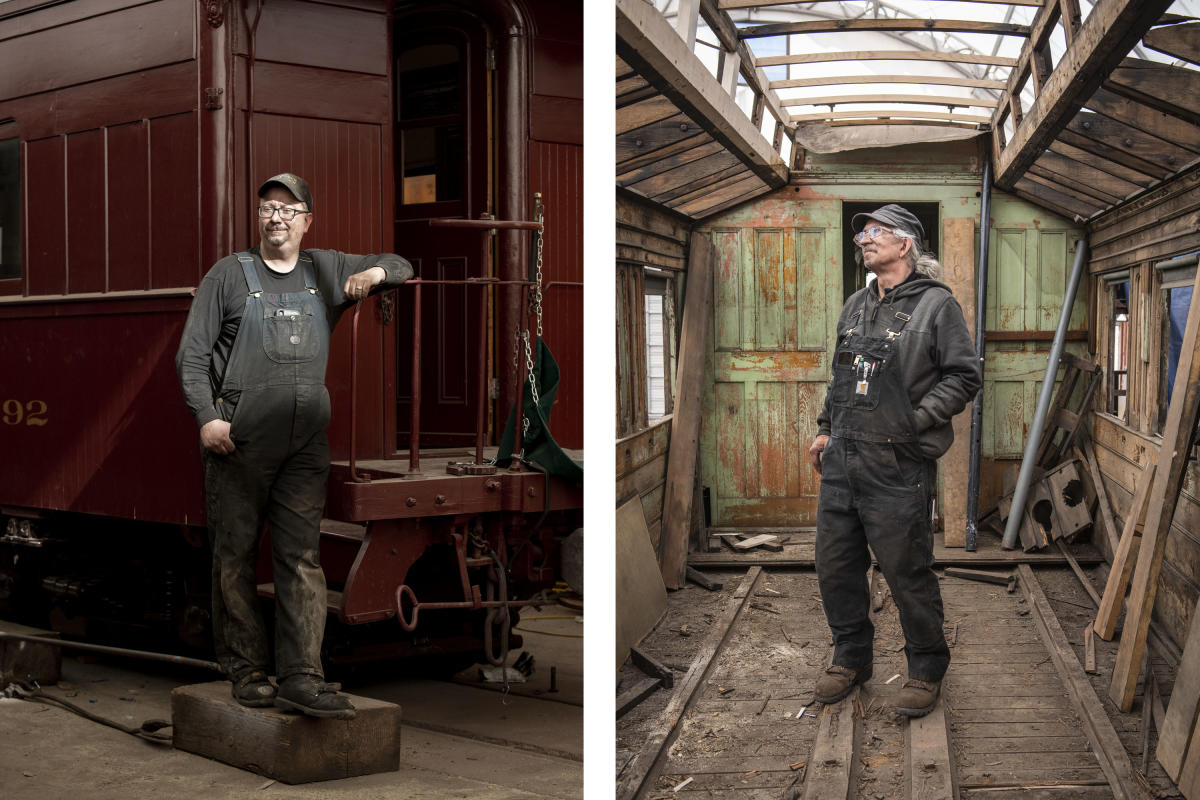 Assistant General Manager Stathi Pappas in front of a historic car (left) and Master carpenter Zell Olson (right) continue the renovations today.
BISTATE OWNERSHIP OF A RAILROAD came with a series of ups and downs in funding, management, and marketing before hitting full speed. Four commissioners, two from each state, appointed by their respective governors oversee operations. Leading the effort to return No. 168 to service was Dan Love, one of the Colorado commissioners. Love was appointed in 2010 because of his past experience with historic preservation, restoration, and tourism. His ties to the C&T go back even further. As a younger man, he lobbied his father for the states' initial purchase of the track, engines, and structures. Dad was then Colorado Governor John Arthur Love.  
Coming aboard as a commissioner, he found a railroad looking toward the future. "The efforts of the Friends group were amazing," he says. "A program had been initiated to invest so it could be reliably operated going forward. We went from one locomotive in service to the six we have now, plus others not in service. To make it self-sustaining, though, we needed to preserve the passenger equipment, showing the grandeur of the railroad of the day through one of the most pristine sets of historic cars from the late 1880s." 
Love began the behind-the-scenes process of garnering support for returning No. 168 to the service for which it was built—transporting passengers through the mountains. "We originally proposed the donation of the locomotive, but the city wisely said no. They wanted to have a stake in its future."  
Read More: Cowboys and trains changed New Mexico—and still spur our dreams.
So Colorado Springs leased the locomotive to C&T long-term for a minimal fee. "What the C&T brought was the technical and engineering expertise to put it back together, the fundraising expertise to raise the money, and the vision to turn it into a living piece of history," he says. "Look at it and think of the genius of building something this demanding from an engineering point of view. How the hell did they do it?" 
When coupled with five 19th-century passenger cars also restored by C&T craftsmen, No. 168 will head the San Juan and New Mexico Express consist on special Sunday trips from Antonito to Osier Station and back. The passenger cars, all originally part of the railroad but scattered to the four winds, were built from 1876 to 1887. The 1876 Coach No. 256's restoration was completed in October 2020, making it the oldest surviving piece of D&RG rolling stock—train lingo for anything on railroad wheels.  
An elegant 1881 parlor car outfitted with plush red mohair seats, gleaming nickel and brass, and polished oak and walnut, No. 292 is flanked by two original coal stoves, as well as shiny Adams & Westlake hanging lamps re-created by W.T. Kirkman Lanterns. (The stoves will not be lit, however; no fires are allowed in the historic cars, says Pappas.)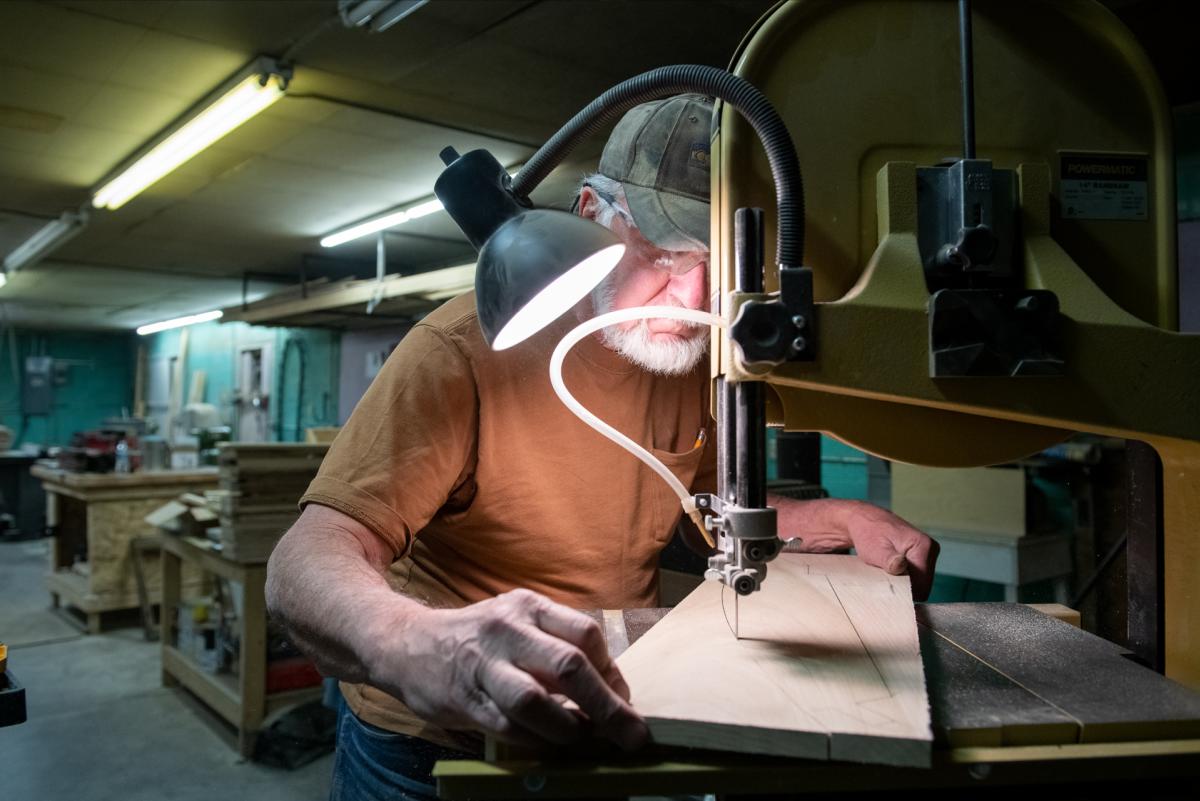 Master carpenter Dan Frazier cuts a lower rafter for Pay Car F. 
The carriage had been sitting in Silverton, Colorado, on its original trucks—the structures to which wheel axles and wheels attach under a railcar—which likely saved it from ruin. An in-car display chronicles the lengthy process of rehabbing the coach, and riders might notice the Denver & Rio Grande warning placards: no exposing heads, hands, or arms outside car windows, and please use the cuspidor in case of necessity. (Cuspidors, or spittoons, were provided for the convenience of tobacco chewers.)  
The restoration of No. 292 and the other historic passenger cars was accomplished in the bright workshop, redolent with the tang of sawn wood and fresh varnish. It sits across the yard from the engine workshop and is most often inhabited by master carpenters Dan Frazier and Zell Olson. Olson came to Antonito for the historic car refurbishment project in 2016, after 12 years with the B&O Railroad Museum, in Baltimore, and a half century in restoration work. 
"I stuck my big toe in railroad restoration and got swallowed up to my throat," he says. Earlier in his career, Olson held no love for trains but plenty for expert carpentry. "My passion is joinery," he says, pointing to a section of the team's latest project—to bring Pay Car F back to life. "Can you see the mortise and tenons here? Joinery is how these cars were built." Outside the car is a newly joined section of a window header, patiently waiting for glue to dry so that it can be set back in place.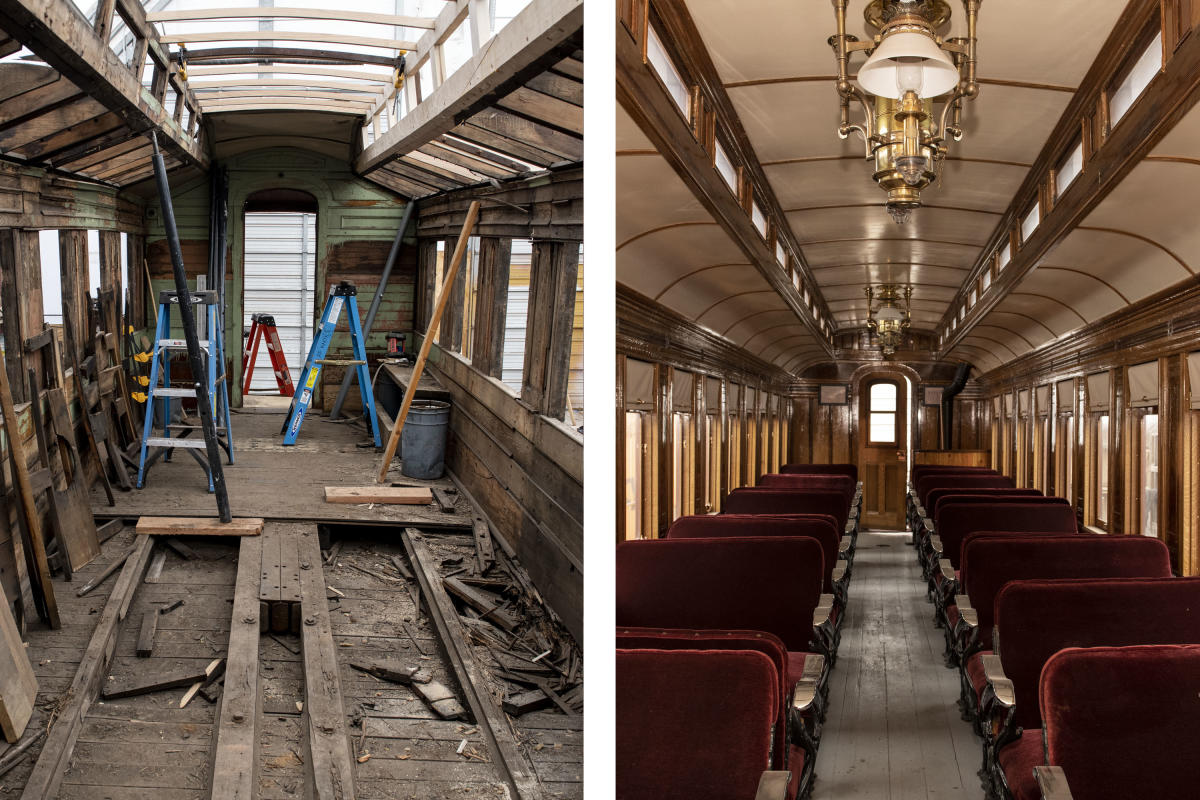 Pay Car F is in mid-restoration (left), and will require a rebuild like the recently renovated Parlor Car No. 292 (right).
Pay Car F, where the wages of rail workers were doled out, had been sitting on-site, slowly rusting into the earth, until a few months ago. Like each of the other historic cars, it will require around $500,000 to revive and put back into rolling stock. Funding for all the railroad's restoration work, including No. 168, has been raised through donations, grants, and state appropriations.  
Once the two-year rebuild is complete, Pay Car F will look and feel like the 1878 coach it is. The paint scheme, rusty red with gold lettering, reflects the rest of the C&T's passenger cars, which fall into two fleets—historic cars from the 1800s and the newer, larger passenger cars from the 1970s. The historic cars carry their original numbers as names, while the newer ones go by monikers taken from landmarks along the line—Phantom (for Phantom Curve), Cumbres (the town and the mountain pass), Dalton, and Big Horn.  
The fundraising, craftsmanship, invention of COVID-safe rides—all of it matters when it comes to delivering a fun and authentic railroad experience, Love says. But there's something more at stake. "To have it all go away," he says, "would be really too bad for everyone—for the residents of Chama and Antonito, for the workers, and for those of us who are interested in preserving this historic railroad for future generations." 

RIDE THE RAILS
The Cumbres & Toltec Scenic Railroad offers rides May 29 through October 24. Trains leave both the Chama and Antonito, Colorado, depots on full-day and half-day excursions on varying days and schedules. The San Juan and New Mexico Express, led by the historic No. 168 steam locomotive, departs Antonito June 27, July 25, August 15, September 19, and October 24; rides include lunch at Osier Station. Special 50th-anniversary events and excursions (delayed from the 2020 season) are planned for August. The line expects COVID-safe precautions to remain in place through the season. 
---

Locomotives for The Denver & Rio Grande Western Railroad Co. Built by the Baldwin Locomotive Works. Photograph by Reading Room 2020 / Alamy.
HISTORY OF THE CUMBRES & TOLTEC SCENIC RAILROAD
1870
Industrialist William Jackson Palmer and his business partner, Dr. William Abraham Bell, form the Denver & Rio Grande Western Railroad, running south from Denver.
1880–82
The narrow-gauge San Juan Extension is built from Antonito to Silverton to serve the silver mining district of the San Juan Mountains. 
1883
No. 168 is built and begins pulling its first passengers from Colorado Springs to Ogden, Utah. 
1890
The D&RG begins converting the narrow-gauge tracks to standard gauge to interchange cars with other lines. 
1893
Repeal of the Sherman Act devastates the demand for silver, halting conversion of the narrow-gauge tracks. The railroad declines. 
1909 
No. 168 heads a special train taking President William Howard Taft to the opening of the Gunnison Tunnel.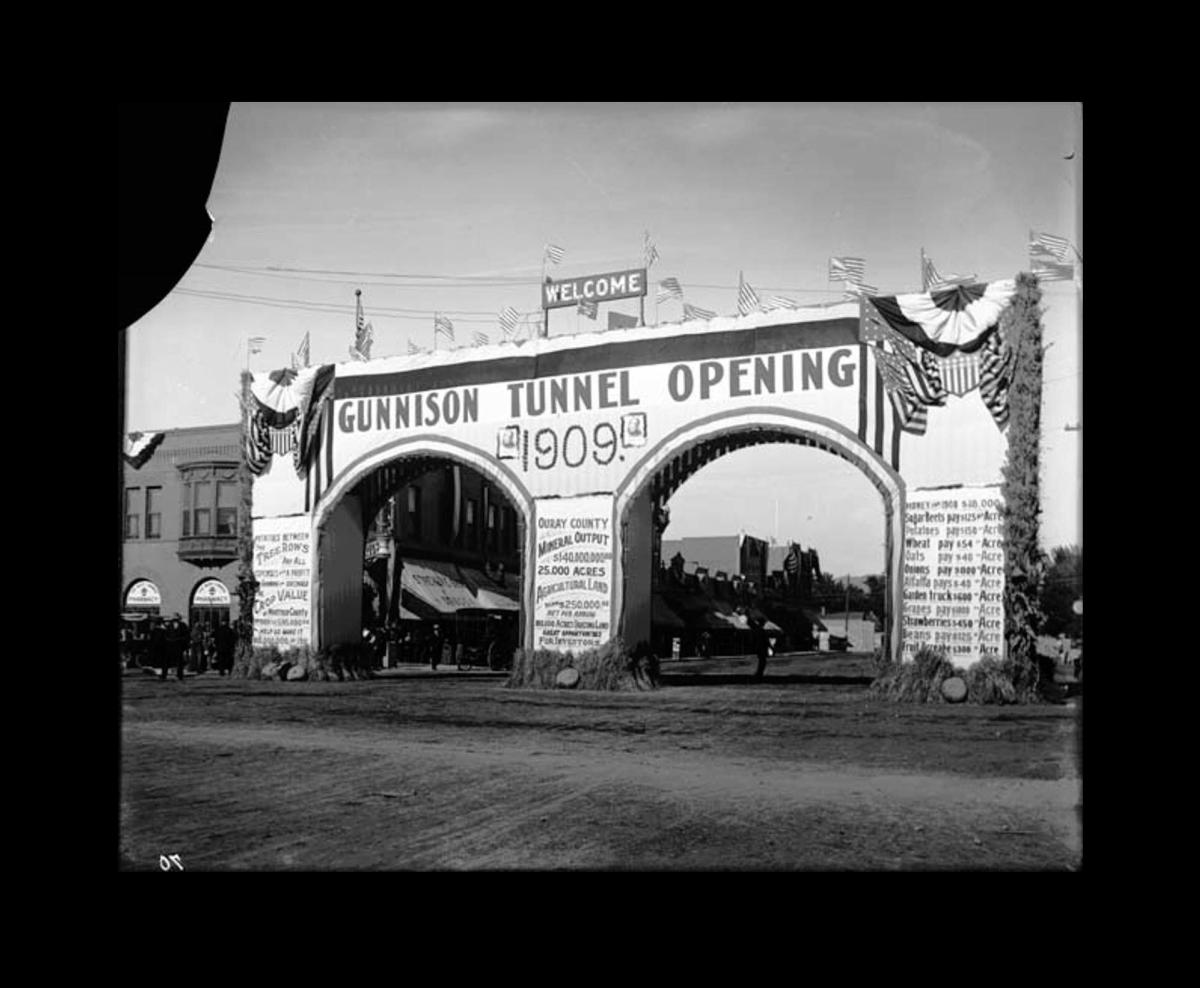 Celebration on opening of the Gunnison Tunnel, 1909 (in Montrose, not at the tunnel itself). Photograph by FLHC 114A / Alamy.
1920s
Major upgrades in equipment and infrastructure fail to revitalize the line. 
1938
No. 168 is donated to Colorado Springs and installed in Antlers Park.   
1969
The D&RG abandons its main-line tracks, ending the use of steam locomotives in general freight service in the U.S. Much of the abandoned track is dismantled soon after and sold for scrap.
1969–70
Railway preservationists and local civic groups begin lobbying to rescue the scenic portion of the line from Chama to Antonito.
1970
New Mexico and Colorado purchase the track, line-side buildings, nine locomotives, more than 130 freight and work cars, and the Chama yard and maintenance facility for $547,120.
1971
The Cumbers & Toltec Scenic Railroad begins operating as a tourist attraction, carrying 8,700 passengers its first year.
A Cumbres & Toltec Scenic Railroad train heads toward Los Piños. Photograph by Dan Leeth / Alamy.
1979
No. 168 is added to the National Register of Historic Places as Rio Grande Engine No. 168.
2016
The City of Colorado Springs enters into an agreement with the C&T to restore No. 168 to working order. The locomotive is moved to Antonito.
2019
42,453 passengers travel on the C&T during the six-month season. Restoration of No. 168 is completed in October.  
2021
No. 168 leads the San Juan and New Mexico Express with a set of restored historic passenger cars. C&T celebrates its 50th anniversary, delayed from the 2020 season.