Above: Ladder up to ancient cave dwellings at Bandelier National Monument. Photo by Jim Shoemaker/Bandelier National Monument. 
A bird keeps an eternal vigil at Petroglyph National Monument.
Photo by Laurence Parent/Petroglyph National Monument.
NOWHERE IS NEW MEXICO'S vaunted diversity more apparent than in the state's rich and very long archaeological record. For nearly 12 millennia, beginning with those first curious adventurers of the Pleistocene who streamed in from the Great Plains after their ancestors made the long voyage across the Bering land bridge, denizens of this region have left behind traces of lives lived in a landscape that for all of its harshness offered shelter, food, and a mild climate. From the Paleo-Indians of the Clovis period (11,000–9,200 BC) to the Ancestral Puebloans (1200 BC–1000 AD) to the Classic Puebloans (1300–1600 AD) to the Spanish missionaries of La Conquista, just 400 years ago, New Mexico is chock-full of sites to visit. This 650-mile road trip takes you through both the millennia and the landscapes of north-central and eastern New Mexico, from the very beginnings to the near present. It's quite a journey, in more ways than one.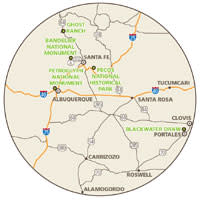 DAY 1: THE BIG PICTURE
Before you plunge into the deep, dark past, spend a day getting oriented between the Sandía Mountains and the western mesas in Albuquerque. For a curated introduction, stop in at the Maxwell Museum of Anthropology at the University of New Mexico. While most of the collection focuses on the stunning Ancestral Puebloan site of Chaco Canyon, the real treats are the dioramas, ceramics, textiles, and commentary on the entire period of human habitation in the state. It will give you a solid grounding on what was happening when, with whom, and sometimes why.
All of that is great, but nothing beats setting out into the field, and a quick drive across town to the mesas brings you to the justifiably famous Petroglyph National Monument. The 25,000 or so pieces of rock art scattered over a little more than 7,000 acres of dark volcanic rock range from the Clovis period to that of the Spanish settlers in the 18th century: in other words, a snapshot of the entire trip. Stop in at the visitor center to pick up a map, then skip ahead to the Rinconada Canyon trail, where the diverse peoples of the area and those just traveling through left their dreams and stories immortalized in stone—from strange creatures that we can't identify to religious iconography, to things like wagon wheels and graffiti of the "Kilroy was here" variety. It's a vivid reminder of both how strange and how familiar those who came before really were.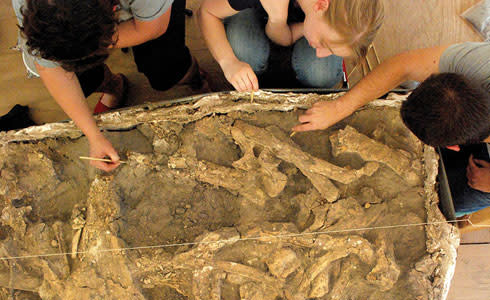 ENMU grad students excavate the bones of an extinct form of bison (killed by Paleo-Indian hunter-gatherers) from Blackwater Draw Locality No. 1.
Photo by David Kilby.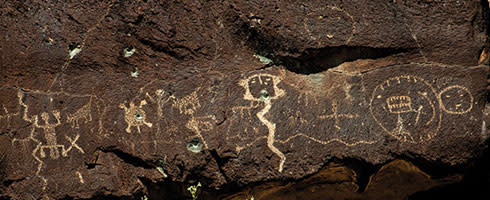 A parade of figures at Petroglyph National Monument.
Photo by Jim Shoemaker.
DAY 2: SPEARHEADS AND WATERWORKS
Now it's time to head east, to the Beginning. Get started early, cross the mountains, and aim for Portales. About 10 minutes north of that city, on NM 467, is Blackwater Draw Locality No. 1. With a name only an archaeologist could love, it's perhaps the most important site in the country for understanding early American settlement generally and the so-called Clovis people in particular. Archaeologists call Blackwater the "type site," the model of how the first widespread culture in the New World lived 12,000 years ago. It reveals the first evidence of what would become one of the most important aspects of life in New Mexico, and indeed most of the Southwest—water management. You can even see the oldest well in the Americas from the trail. The site also features plenty of the spearheads that are the defining trait of the Clovis people. Fun fact: Scientists were able to retrieve proteins from these spearheads showing that their makers and users were eating mammoths, camels, horses, saber-toothed cats, and bison. Self-guided tours on well-marked and mapped dirt trails take a couple of hours. The Blackwater Draw Museum in Portales brings together a lot of similar artifacts, and makes a good complement to the hike.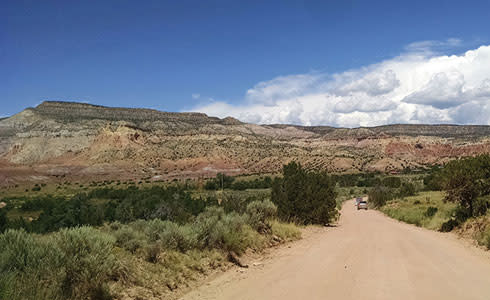 Land formations that enthralled O'Keeffe served as protection from the elements at Ghost Ranch.
Photo by Andrew Collins/Ghost Ranch
DAY 3: THE NORTHERN MOUNTAINS
The next day, it's a four-hour drive north to the rugged, red-quartz-and-siltstone mountains that made Georgia O'Keeffe weak in the knees. In fact, those mountains around Ghost Ranch, just outside Abiquiú, drew thousands of generations of people before her. And it wasn't just for the scenery. At the very end of the Colorado Plateau, the area offered plentiful deep canyons and many streams, perfect for people needing protection from the elements and access to the fundamentals of agriculture and food production. Like Blackwater, this area was first populated by Clovis-era people. There's evidence that they farmed, hunted, and made art under rock shelters that are still visible during the spring and summer tours the ranch offers. As in many places in New Mexico, people just kept right on living where the living was good, and many centuries later, early Ancestral Puebloan Indians left their own marks.
Artifacts of all these civilizations are displayed at the on-site Florence Hawley Ellis Museum of Anthropology. Spend some time there looking at the incomparable collection of Gallina artifacts. Dating from the Great Pueblo period, 1,000 years ago, the collection of ceramics and stoneware will get you ready for the next day's adventures.
DAY 4 (AND MAYBE 5): FROM THE CLASSIC PUEBLO TO THE DAY BEFORE YESTERDAY
Frijoles Canyon, in what is now Bandelier National Monument, is about an hour south of Abiquiú and 1,000 years nearer to us. It's where things begin to feel a little familiar. Although the area had been inhabited since Clovis, the first interesting archaeological evidence was of a small village of Ancestral Puebloans. But it was one that just kept growing, and by the late 15th century it was a huge, thriving community.
The 1.2-mile roundabout trail from the visitor center is an object lesson in how people adapted to their environment and took advantage of the natural world to make their lives better. It hits all the highlights: cool, small rooms; walled plazas; secure storage areas; water-and scavenger-proof caves carved in the rock about the town (some with ladders you can use to take a peek at a sight very similar to what one would have seen in the 1400s); agricultural areas; and water storage. There is also a side trail that takes you to a cliff face and a series of ladders that in turn lead to a huge cave that formerly held a small village with animal pens and still houses a kiva. The distance between then and now is shorter in New Mexico than in many similar sites throughout the world, because direct descendants of that first small village live nearby, in the modern-day pueblos of San Ildefonso and Cochiti.
If you've still got time on day 4, or first thing the next day, head east an hour and a half to the final stop on this trip through time and space. You're aiming for Pecos National Historical Park, about 20 miles east of Santa Fe. It is home to the Pecos (Ciquique) Pueblo. Now in ruins, the pueblo was a burgeoning community for more than 400 years, losing its last inhabitants only in the 19th century. The first rock-and-mud villages were built around 1100 AD; by the late 16th century it had 2,500 people living in a massive five-story structure. A center of regional commerce and culture, the pueblo's remains are still open to travelers who wish to wander through. When the Pecos Pueblo began to dissolve, its people finally ended up at another well-known contemporary pueblo: Jemez.
This trip ends at the nearby Mission Nuestra Señora de los Ángeles de Porciúncula de los Pecos. Built in 1619 by Spanish settlers, it signals a profound shift. With their own buildings, ways of living, and deeply held beliefs, the Spanish would of course contribute in their own way to a new sort of modern New Mexico, one ever more complex and diverse—and worthy of exploration.
Peter BG Shoemaker is a frequent contributor to this magazine.
NEED TO KNOW
DINING TIPS
In Albuquerque, Pueblo Harvest Cafe lies about midway between the Maxwell Museum and Petroglyph National Monument. The restaurant serves hearty Native American–inspired fare (such as chackewe con huevos, blue cornmeal topped with carne adovada and eggs), and it's inside the fascinating Indian Pueblo Cultural Center.
Downtown Portales has a handful of casual eateries, including the bustling Roosevelt Brewing Company, which turns out tasty pizzas with creative toppings and potent craft beers.
You'll find a wider selection of restaurants 20 miles north in Clovis, including the terrific family-style Mexican restaurant Leal's.
The historic Bode's General Store in Abiquiú (famous for its green chile cheeseburgers) makes a handy stop for a quick bite on your drive from Ghost Ranch to Bandelier.
Just a couple of miles from Pecos National Historical Park, Frankie's at the Casanova occupies a beautifully restored adobe house with high latilla-and-viga ceilings and plenty of atmosphere. It's a wonderful option for breakfast, lunch, or dinner, serving classic northern New Mexico specialties.
LODGING TIPS
PORTALES AND CLOVIS
The Holiday Inn Express is a modern and well-maintained option that's close to Blackwater. Up in Clovis, you'll find many more properties, including the attractive and very comfortable Fairfield Inn & Suites.
ALBUQUERQUE
Maxwell Museum of Anthropology 1 University Blvd. NE; (505) 277-4405; unm.edu/~maxwell
Petroglyph National Monument 6510 Western Trail NW; (505) 899-0205; nps.gov/petr
Pueblo Harvest Cafe 2401 12th St. NW; (505) 724-3510; indianpueblo.org
PORTALES AND CLOVIS
Blackwater Draw Locality 508 NM 467, Portales; (575) 356-5235; enmu.edu
Blackwater Draw Museum 42987 US 70, between Portales and Clovis; (575) 562-2202; enmu.edu
Fairfield Inn & Suites 4305 N. Prince St., Clovis; (575) 762-1411; marriott.com
Holiday Inn Express 1901 W. 2nd St., Portales; (575) 356-4723; hiexpress.com
Leal's 2115 N. Prince St., Clovis; (575) 763-9069; lealsofclovis.com
Roosevelt Brewing Company 201 S. Main St., Portales; (575) 226-2739;
rooseveltbrewing.com
ABIQUIÚ AND LOS ALAMOS
Bandelier National Monument Off NM 4, White Rock; (505) 672-3861; nps.gov/band Bode's General Store 21196 US 84, Abiquiú; (505) 685-4422; bodes.com
Ghost Ranch Museums 1708 US 84, 15 miles north of Abiquiú; (505) 685-1000; ghostranch.org
PECOS
Frankie's at the Casanova 12 S. Main St., Pecos; (505) 757-3322; frankiesnm.com
Pecos National Historical Park NM 63, Pecos; (505) 757-7241; nps.gov/peco
—Andrew Collins