WHY GO NOW
With its long daylight hours, June is a perfect time to embark on this attraction-packed journey. It meanders for more than 200 miles through the Pecos River Valley, across sweeping grasslands and mesas, and over the southern fringes of the Manzano Mountains. The region's inexpensive, family-friendly accommodations and restaurants are ideal for travelers seeking a wallet-friendly weekend getaway.
THE ROUTE
Start by exiting I-40 onto Historic Route 66 in Santa Rosa, where you can explore a museum of classic cars, sup on hearty diner fare, and overnight at one of the town's many chain motels and hotels. The following day, drive 55 miles SE to Fort Sumner. If you prefer a quicker (just 45 minutes) and direct route, drive US 84 the entire way from Santa Rosa to Fort Sumner. We recommend this circuitous, beautiful back way to Fort Sumner, which takes about two hours. First, head south from Santa Rosa on NM 91, which becomes unpaved but well maintained (and suitable for standard passenger cars) after the village of Puerto de Luna. Exactly 20 miles south of Santa Rosa, turn right onto Falcon Road (a sign at the junction points toward Fort Sumner). Continue south on this unpaved road for 5 miles, then east onto paved NM 203 for 20 miles (passing Sumner Lake State Park), and then south onto US 84 for 10 miles to reach Fort Sumner. Upon arrival, grab a quick lunch and spend the afternoon touring the town's two excellent historic attractions, the Billy the Kid Museum and Bosque Redondo Memorial. Drive west on US 60 for 125 miles to Mountainair to spend the night and have dinner. The next day, explore Salinas Pueblo Missions National Monument, which comprises three separate units within a short drive of Mountainair: Gran Quivira (28 miles south via NM 55), Quarai (8 miles NW via NM 55), and Abó (10 miles west via US 60). It's possible to tour all three sections in one day, but if you're short on time, choose the largest and most impressive of the three, Gran Quivira, and then stop quickly by Abó on your way out of town on US 60 toward the Río Grande Valley.
DAY 1: SANTA ROSA
Get Your Kicks
Thinking about upgrading your own set of wheels? Most of the three dozen or so meticulously restored vintage cars at the Route 66 Auto Museum are for sale—the flashy '63 Ford Thunderbird Roadster will set you back forty grand, but a curvalicious '56 Cadillac Fleetwood can be yours for just $26,000. Of course, most visitors simply admire these shimmering beauties, which include several souped-up muscle cars and lowriders, along with an extensive collection of roadside ephemera, including antique signs, old gas pumps, and mounted engines.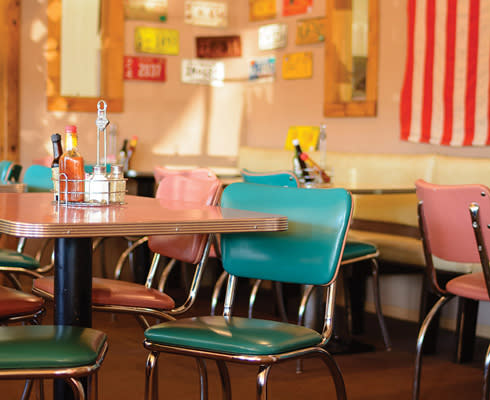 Fifties-vintage Joseph's Bar & Grill in Santa Rosa
Drive-In Groovy
With its fanciful hand-painted signage and neon lighting, Comet II Drive-In & Restaurant is a genuine slice of Route 66 kitsch and a popular spot for stick-to-your-ribs New Mexican fare, such as pork carnitas burritos and chicken enchiladas. Joseph's Bar & Grill, another option just down the street, offers later hours and has a liquor license. The Campos family has operated this colorful roadhouse since 1956.
Overnight
Santa Rosa contains several chain accommodations situated along Route 66 near the main exit ramps off I-40. Good bets include the Comfort Inn and Hampton Inn.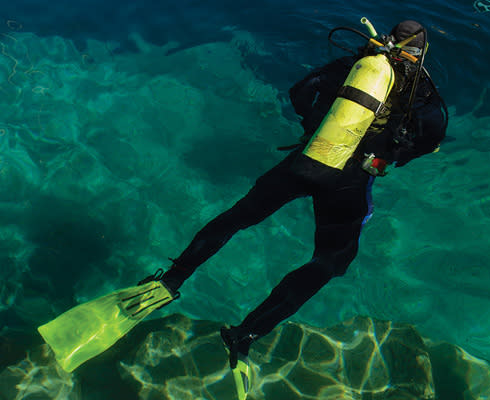 The Blue Hole is a pilgrimage site for divers
DAY 2: FORT SUMNER
A Diverting Detour
The back way from Santa Rosa to Fort Sumner, along NM 91, is a stunner. First, stop for a quick glimpse of Santa Rosa's most famous and unusual attraction, the picturesque Blue Hole, an 81-foot-deep, crystal-clear artesian well that divers from throughout the country flock to for scuba training and certification. It's right in the center of town. From here, head south on NM 91, which meanders beneath sandstone cliffs and alongside the cottonwood-studded Pecos River before cutting through minuscule Puerto de Luna, a long-lost Spanish colonial farming village that looks much as one might imagine it did 150 years ago. The drive eventually passes through Sumner Lake State Park, a popular spot for birding, fishing, and lakeside hikes.
Roadhouse repast
In downtown Fort Sumner, stop by the Rodeo Grill, a cozy café decorated with cowboy boots, horseshoes, and old paintings and photos of rodeo competitions. Bring your appetite; the kitchen here turns out prodigious sandwiches, like the Pecos River Club, with ham, turkey, bacon, green chile, Swiss, tomato, and avocado, with a side of crispy hand-cut French fries.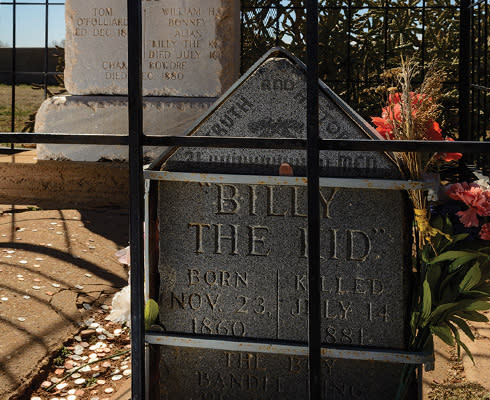 Billy the Kid's grave at Fort Sumner
The Outlaw Trail
The legendary life of William H. Bonney, aka Billy the Kid, came to an end just outside Fort Sumner on July 14, 1881, just three months after his infamous and murderous escape from Lincoln County Courthouse. Sheriff Pat Garrett finally caught up with the outlaw at the home of land baron Lucien Maxwell, shooting him dead before Billy could draw his revolver. Downtown Fort Sumner's Billy the Kid Museum contains an extensive collection of memorabilia related to Bonney, his life, friends, and enemies. On a tour of this rambling building, you can view the Kid's 1873 Winchester rifle, the actual door to the room in which Garrett killed him, and countless other curiosities. The museum's collection goes well beyond Billy the Kid lore and includes century-old saddles and wagons, Depression-era radios and phonographs, and several antique cars—a '23 Chevrolet touring car and a '53 Studebaker among them. The owners also operate the Old Fort Sumner Museum, seven miles southeast of town, adjacent to Bosque Redondo, which you could easily skip if time is tight—but definitely walk behind the museum to Post Cemetery to view the gravesites of Billy the Kid, Lucien Maxwell, and several members of his posse.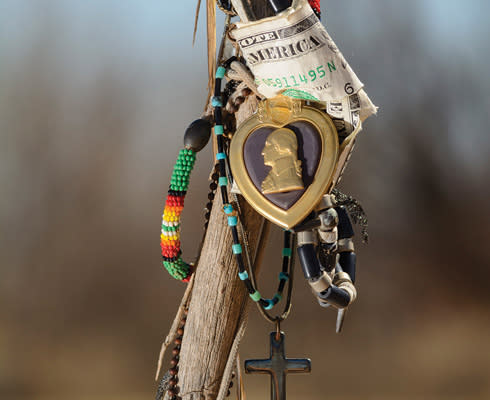 Many Navajo visitors to the Bosque Redondo Memorial leave tokens, including this Purple Heart, for ancestors who were imprisoned there.
Days of Infamy
Few episodes in history better illustrate the poorly conceived and unjust policies of the U.S. government toward Native Americans than the 1863 forced relocation and incarceration of approximately 8,500 Navajo and 500 Mescalero Apache at the million-acre Fort Sumner reservation. A striking hogan-shaped museum designed in 2005 by Navajo architect David Sloan, Bosque Redondo Memorial stands on the site of this ultimately failed undertaking. General William T. Sherman negotiated the return of the tribal members to their homelands in 1868. Exhibits and historic photographs tell the poignant story.
Overnight
Stay in Mountainair either at the Shaffer Hotel or the Rock Motel, a nicely kept budget property with friendly owners, spotless rooms, and a covered picnic pavilion with a gas grill. Several rooms have kitchenettes.
DAY 3: MOUNTAINAIR
Morning Sustenance
Begin the day with breakfast at Alpine Alley, a funky, art-filled downtown bakery and coffee-house with a mosaic sign depicting a steaming cup of java. Delicious breakfast burritos, house-baked scones with jam, and scrambled-egg skillet bowls are among the treats served in this bustling eatery.
First Contact
Nicknamed the "Gateway to Ancient Cities," diminutive Mountainair is home to the main visitor center of Salinas Pueblo Missions National Monument, which comprises three fascinating archaeological ruins: 90-acre Quarai, 370-acre Abó, and 611-acre Gran Quivira. At these partially excavated sites, you can walk amid the substantial remains of three circa- 1400s pueblos at which Spanish explorers and Franciscan missionaries first engaged with—and subsequently colonized—Native inhabitants during their early forays into New Mexico in the late 1500s. Compared with other Native ruins around the state, these three sites are remarkable in that they contain both Puebloan and Spanish colonial structures, including four of the oldest Catholic churches in North America. Puebloan ceremonial kivas lie within the walls of two of the Spanish church ruins—evidence, perhaps, of some intermingling of Catholic and tribal spiritual traditions. You'll find small visitor centers with interpretive exhibits at all three sites, and park rangers are happy to offer free guided walks (phone a day or two in advance to make arrangements).
NEED TO KNOW
Salinas Pueblo Missions National Monument
S. Ripley Ave. at Broadway;
(505) 847-2585; nps.gov/sapu
 
SANTA ROSA
Blue Hole
1085 Blue Hole Rd. (follow signs from Rte. 66 at Lake Dr.); mynm.us/blueholenm
Comet II Drive-In
1257 Rte. 66; (575) 472-3663

Comfort Inn
2524 Rte. 66; (575) 472-5412; comfortinn.com

Hampton Inn
2475 Rte. 66; (575) 472-2300; hamptoninn.com

Joseph's Bar & Grill
1775 Rte. 66; (575) 472-3361

Route 66 Auto Museum
2866 Rte. 66; (575) 472-1966