Above: Roots Farm Café is part restaurant, part coffee shop, part mercantile, even part farm. Photograph courtesy of Roots Farm Café.
THEY JUST RAN OUT of Gouda for their roast beef panini, but no problem, says Daniel Puccini, co-owner of Roots Farm Café, in Tijeras. He suggests Brie, and I'm glad I've taken him up on his offer. The result: a delicious, warm, just gooey enough sandwich loaded with tender meat, fresh tomatoes, and crunchy homemade pickled carrots, red onions, and kimchi that, in true New Mexico fashion, have some spice to them.
Though the panini takes up most of my plate, Puccini has managed to pile on a colorful mix of root veggies (roasted simply with salt, pepper, and rosemary), red grapes, and slices of vibrantly pink pickled watermelon radish that round out the rainbow before me.
I shouldn't have been surprised they needed to adjust the menu. On this Saturday afternoon, the parking lot is full, almost every table on the expansive patio out front is taken, and a handful of café patrons (some still in cycling gear) sit in the cozy, wood-paneled dining room. Other folks come and go for a quick coffee order or linger in the café's store, perusing baskets of zucchini, turnips, and other produce, jars of honey and jam, and various goods and handmade crafts, including dish towels by Kei & Molly Textiles.
Roots—part restaurant, part coffee shop, part mercantile, even part farm (the horse-powered Roots farm nearby supplies many of the seasonal ingredients)—seems to revolve around flexibility, sustainability, and championing the best of what's local.
"We didn't expect to be so busy right off the bat," Puccini says, adding that even now, more than five years in, he and co-owner Kendall Rattner still haven't done any advertising. "I grew up here, and everything I remember that was here fizzled out pretty quickly. We were hoping to do a little better than that, but we didn't expect it to happen like this, every day."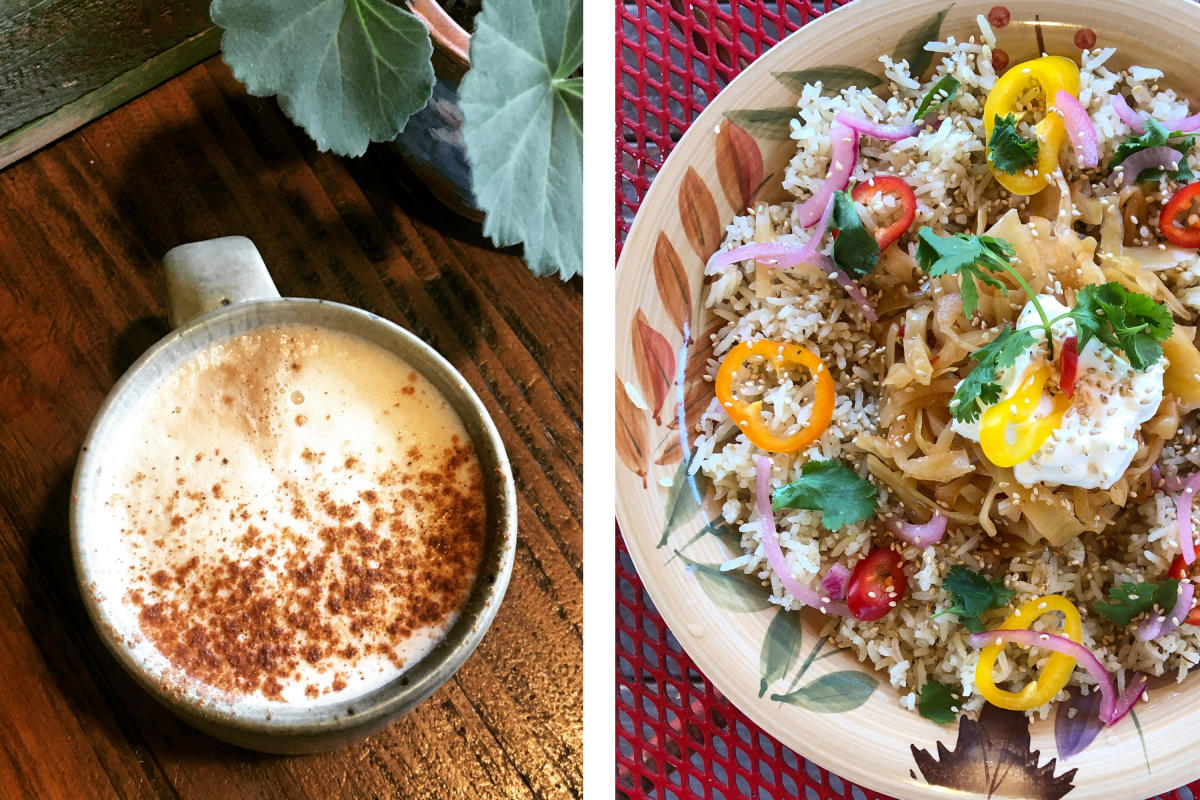 Roots Farm Café mixes a farm shop with yummy meals and stand-up coffee. Photographs by Roots Farm Café.
Roots is one of only five restaurants in the state featured in Truth, Love & Clean Cutlery, an international guide to "truly exemplary, organic, sustainable, and ethical restaurants."
"Fortunately, we didn't really feel the effects of covid," adds Rattner. "We have a loyal following of customers here in the mountains. They support us by doing takeout. We've just kept growing through word of mouth, and we like that kind of slow, organic growth."
In recent years, Puccini and Rattner have also expanded into education, establishing the Roots Natural Learning Center, where they offer workshops, lectures, and internships that underscore their passion for ethical farming and self-sufficiency. During this past summer, both adults and children could take classes at no charge.
"Every day, people tell us how much they appreciate what we do here," says Rattner.
"One of our biggest goals is to always be mindful," Puccini adds. "We try to make a menu and an atmosphere that's welcoming and accessible to everybody."
Farm Fresh
Roots Farm Café, 11784 NM 337, Tijeras; 505-900-4118.