Red velvet cookies and bizcochitos add a sweet note to the holidays. 
"I'M NOT SURE HOW MANY COOKIES it takes to be happy," a recent Facebook meme pondered, "but so far it's not 27." The holidays are as good a time as any to test that hypothesis, and Rude Boy Cookies, in Albuquerque, can supply the necessary two dozen. Or more.
Since 2015, owners Kristin Dowling and Mike Silva have satisfied the Duke City's sweet cravings and continued to grow even in these uncertain times. They're now up to three locations, with a fourth in the works.
Rude Boy, named for an element of Jamaican ska music, burst onto the national scene in 2017 when Dowling, the baker half of the dynamic duo, appeared on Food Network's Christmas Cookie Challenge. She took home the grand prize by first introducing the judges to our official state cookie, the bizcochito, and then creating a festive edible gift box out of cayenne-orange gingerbread dough with pajama-top cookies tucked inside. (The PJ theme hearkened back to a Dowling family tradition of opening just one present while eating cookies on Christmas Eve.)
"My favorite part of competing was testing my skills, especially under pressure," she says. "It was also a great opportunity to meet other 'cookiers' from all across the country and, of course, spread the word about Rude Boy Cookies. I would do it again in a heartbeat."
Dowling's appearance boosted sales 200 percent, a number fueled by "soccer moms and families, university students, and folks just needing a quick sweet fix," she says. That kind of success helps the company make cookies that not only taste good but do good by sharing a portion of sales with local nonprofits.
"We created Cookies for a Cause and Warm Cookies for the Soul to take our initiative out of the shop and into the greater community," says Silva, who also helps build bonds among Black entrepreneurs and young people in Albuquerque. "From the outset, we aimed to make great cookies and to also be actively engaged in the community."
Silva may be best known as co-owner of the Albuquerque Tourism & Sightseeing Factory, which hit it big with trolley tours of Breaking Bad filming locales. He also performs as part of the Duke City Ska Jazz Syndicate. He and Dowling met years ago when he hired her to work in a restaurant he was managing.
"She quickly became a shift lead and trainer and one of my favorite employees," he says. "In 2014, I decided I was going to open a cookie shop, but I'm not much of a baker. Kristin was always a baker."
The two met for coffee and soon shook hands as business partners. Today Dowling turns out a variety of daily cookies like chocolate chip, peanut butter, and red velvet, each one parenthetically named for an instrument in a traditional ska band, including backup singers, who represent the gluten-free-vegan varieties. The shop's milk bar includes ice cream, milkshakes, and house-made seasonal syrups.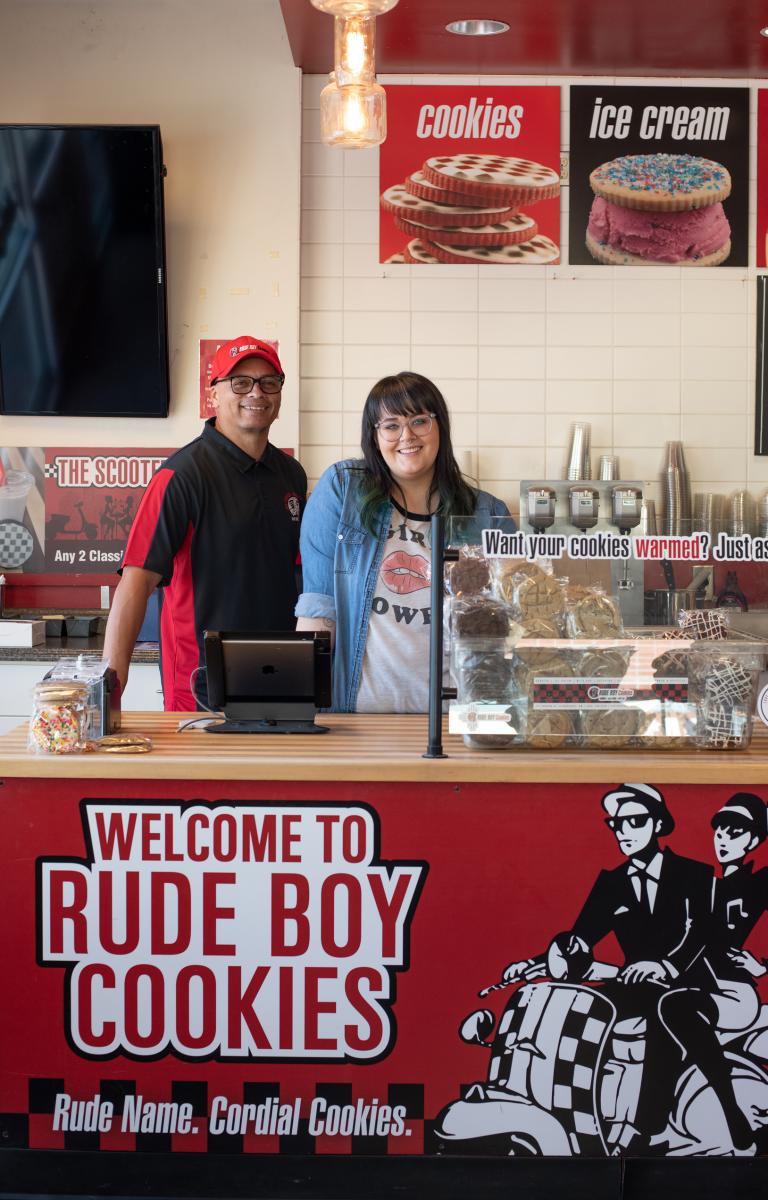 Mike Silva and Kristin Dowling bring modern flair to old-fashioned favorites. 
Dowling and Silva share a love for cookies, but as for particular types? Not so much. Silva favors a simple chocolate chip. "As a kid, I always asked my mom for the store-bought ones," he says. "When I was a teenager, I took a special liking to chewy chocolate chip cookies. Whenever I treated myself, I did so with a chocolate chip cookie. When I travel, I always find the cookie shop of note in each town and try their cookies. Any great cookie shop must have an exceptional chocolate chip cookie."
Dowling ties her favorite to a treasured memory. "My grandma used to take me to a big outdoor Christmas fair every year in San Diego. There's a little kiosk that sells prepackaged gingerbread men. They aren't decorated or anything, but those are the best danged cookies—and they always will be, because they remind me of her."
These days, Dowling loves to add brown butter, caramel, and salt to cookies, but she draws the line at one ingredient. "Raisins have no place in cookies," she says. "Fight me!"
I wouldn't test her. Dowling has already risen to the challenges of high-desert baking and shipping cookies with minimal breakage. "It took some trial and error," Silva says of how the cookies once crumbled. "But we tried new shipping methods and have cracked the code."
For Dowling, constant adjustments based on weather became the norm. "If there's lots of moisture in the air, we may need to add some extra flour or bake a little longer. If it's a super-dry day? Add extra moisture. If decorated cookies take forever to dry, that tells me it must be a little humid today."
Let Dowling watch the barometer so you don't have to by ordering a shipment or dropping in to one of their shops. Bring your sweet tooth.

BINGE BAKING
Given the baking load many of us shoulder this time of year, we cajoled Kristin Dowling into sharing some of her champion secrets to success.
"Underbake your cookies. Cookies continue to bake on the pan once you take them out of the oven. Remember that you can always add extra time, but you can't un-burn a cookie."

"Pick a couple of really nice, quality ingredients so they can shine. You don't have to get the most expensive everything, but some good butter, pure vanilla extract (or even vanilla beans!), and gourmet chocolate can raise the quality of your cookies without much more effort or cost on your part."

"Remember to have fun. Things can be super stressful around the holidays. Baking is supposed to help you take your mind off of things, not stress you out more."
---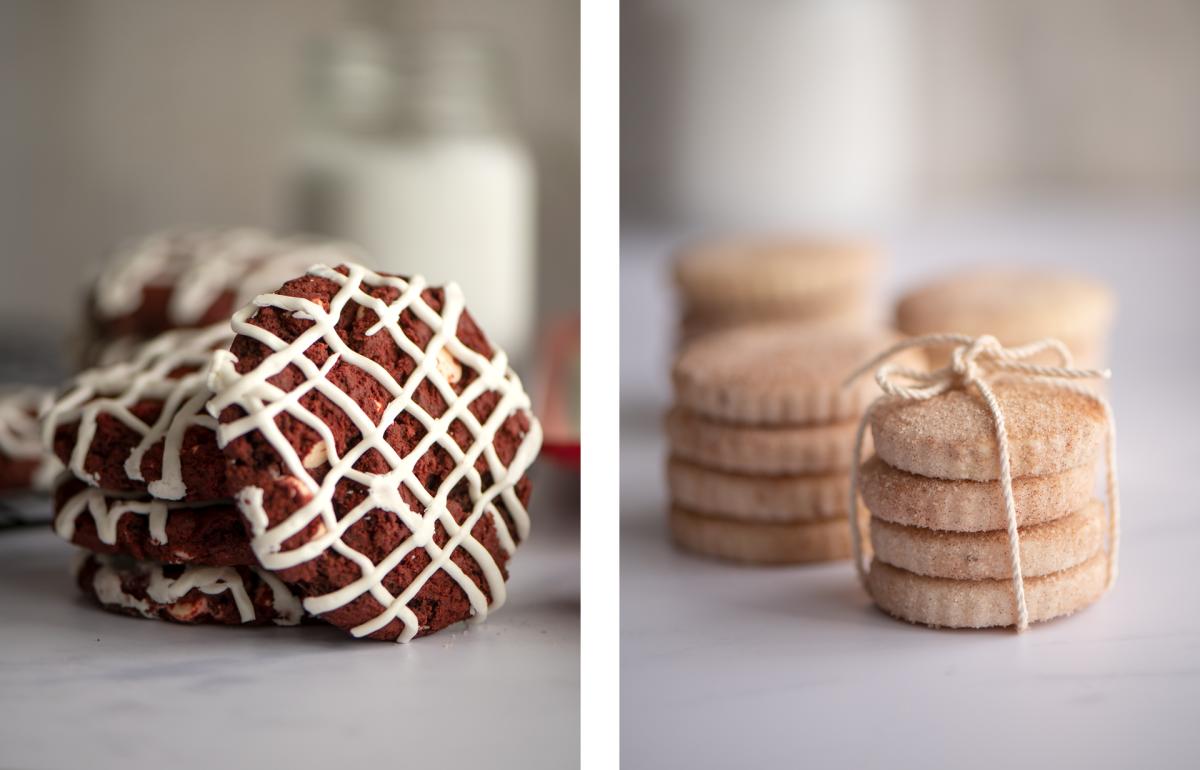 Red Velvet White Chocolate Chip Cookies (left) and Bizcochito Bites (right).
Makes 4–6 dozen, depending on size
2 cups lard at room temperature
1½ cups sugar, plus ¼ cup, divided
2 eggs 
¼ cup brandy 
2 teaspoons aniseed 
6 cups flour  
1 tablespoon baking powder  
¼ teaspoon salt  
2 teaspoons ground cinnamon
Makes 4–6 dozen, depending on size
---
Instructions
Cream together lard and 1½ cups sugar with an electric mixer until light and fluffy.

Add eggs, brandy, and aniseed and beat until well blended.

Sift together flour, baking powder, and salt in a medium bowl. Mix flour into lard mixture to make a stiff dough.

Wrap in plastic and chill for at least one hour. Mix remaining sugar and cinnamon.

Roll dough to ¼-inch thick on a floured surface. Cut into desired shapes (around 2–3 inches) and bake at 350° on an ungreased cookie sheet for 10–12 minutes, until barely browned. (Leftover dough may be re-rolled.)

Gently roll cookies in cinnamon sugar while warm, then let cool on a rack. (Cookies are very fragile until set.)
Makes about 3 dozen, depending on size
3 cups all-purpose flour  
½ cup cocoa powder  
2 teaspoons baking soda  
½ teaspoon salt  
½ pound butter (2 sticks), at room temperature  
1½ cups brown sugar  
½ cup granulated sugar  
2 large eggs  
4 teaspoons vanilla extract  
1½ tablespoons red food coloring  
2 tablespoons milk  
2 cups white chocolate chips  
 
Cream Cheese Drizzle
1½ pounds cream cheese, at room temperature  
¾ cup powdered sugar (approximate)
Makes about 3 dozen, depending on size
---
Instructions
Preheat oven to 375°. In a mixing bowl, whisk together flour, cocoa powder, baking soda, and salt. Set aside.

Cream together butter and sugars with an electric mixer, then mix on medium speed until very pale and fluffy, about 4 minutes. Add eggs and mix until combined.

Add vanilla, food coloring, and milk, and mix until well blended. Slowly add dry ingredients and mix until just combined. Stir in white chocolate chips.

Scoop dough by the heaping tablespoonful (about 1½ tablespoons), roll into balls, and place on cookie sheets topped with parchment paper or Silpat baking mats.

Bake 8–9 minutes. Allow to cool several minutes on cookie sheet before transferring to a wire rack. When cool, drizzle with cream cheese glaze.

Store cookies in an airtight container.
Cream Cheese Drizzle
Cream ingredients together until smooth and a good texture to easily drizzle over cookies. Add a little milk or more sugar as needed.
---
COOKIE FIX
Rude Boy Cookies has three locations in Albuquerque:
RBC Harvard, 115 Harvard Dr. SE

RBC El Vado, 2500 Central Ave. SW

RBC Revel, 4720 Alexander Blvd. NE
Call 505-200-2235 for more information.