THE MORNING IS QUIET as my husband and I make the drive down NM 14 from Santa Fe to San Marcos Cafe & Feed Store for breakfast. The muted gray hue of the early-spring sky accentuates the gold tones running through the grass-covered llano and makes the birds of prey that roam it stand out like black blots of ink on a blank page. I expect to find the wayward destination desolate, but—surprise!—the parking lot is nearly full.
San Marcos Cafe is housed in an old adobe building just off the Turquoise Trail. This fabled stretch of NM 14 linking Albuquerque and Santa Fe gets its name from the pale blue state gem mined from the surrounding hills. Despite the population growth in Santa Fe, just 18 miles north, the community of San Marcos has retained enough wide-open spaces to entice makers of Western movies and to keep the pronghorns happy. Cindy Holloway and her husband, Mark, took the reins at the roadside spot in 2014 after searching for a community-oriented business they could dedicate themselves to. "Once we got here we learned what a cool community San Marcos is," says Cindy. "It is a great customer base and a great place to be."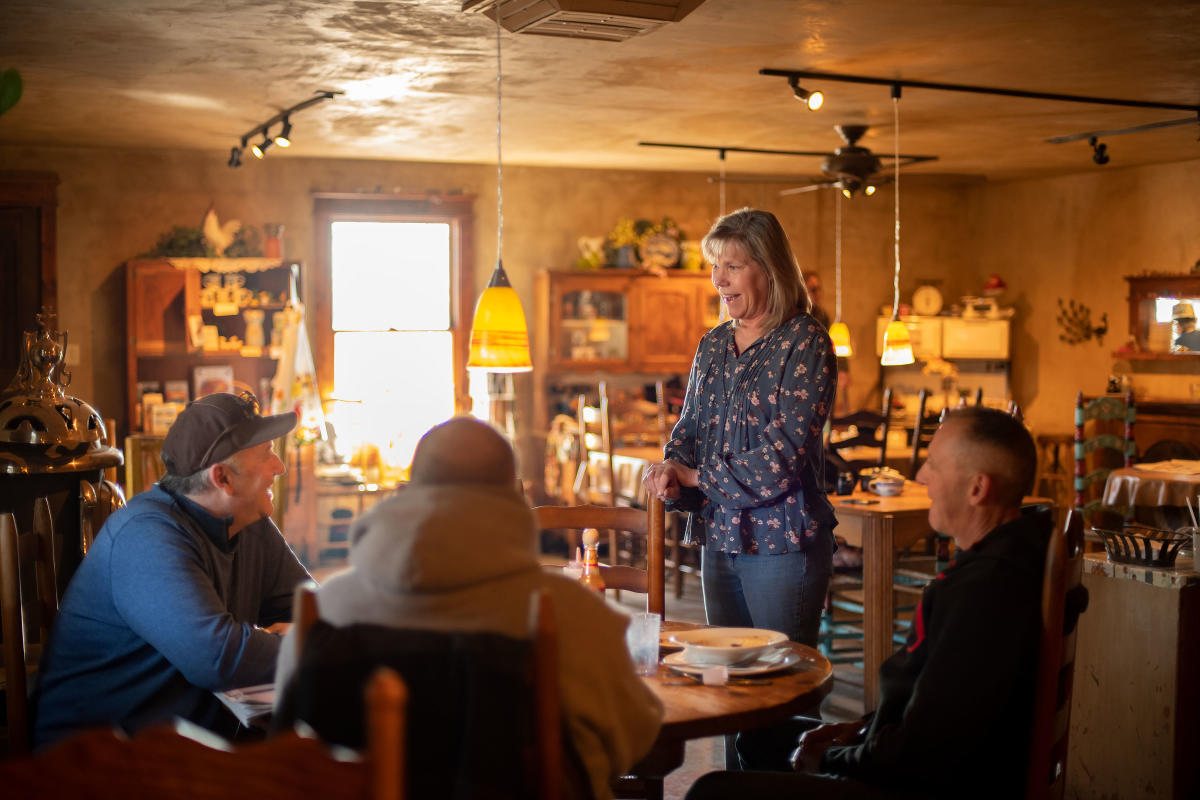 Cindy Holloway chats with customers.
When I tell my mom about the trip, she says she took me to the café several times during my childhood, in the early 1990s. I liked the animals and she liked the breakfast, smothered in red chile. Not much has changed since.
Peacocks still roam the five-acre parcel, and the red chile remains delicious, full of warm flavor and redolent with hints of garlic and butter. "We're a classic country community place to eat, and it's great for the kids because they can walk around and look at the birds and animals," says Cindy. "We have two miniature horses. It's great food, and it's an eclectic group of people that all love being in New Mexico."
San Marco Cafe's famous cinnamon rolls.
Tradition at the café calls for beginning your meal with the famous cinnamon roll, and who would break a tradition like that? My husband and I order one to share. We receive the magnificent love child of a croissant and a cinnamon roll, with the consistency of the former and the shape and flavor of the latter. We immediately regret our choice, though. We should have ordered two.
Other items from the sizable menu include the San Marcos burrito (roast beef and potatoes, smothered in your choice of red or green), breakfast burritos, eggs Benedict, cheese blintzes topped with raspberry preserves and sour cream, green chile stew, and biscuits and gravy. Cindy says the café enjoys a diverse mix of customers from nearby towns like Tijeras and Santa Fe, as well as travelers who drop in to see what the buzz is about. "We get a lot of people that hear about us by word of mouth, it's a really good mix."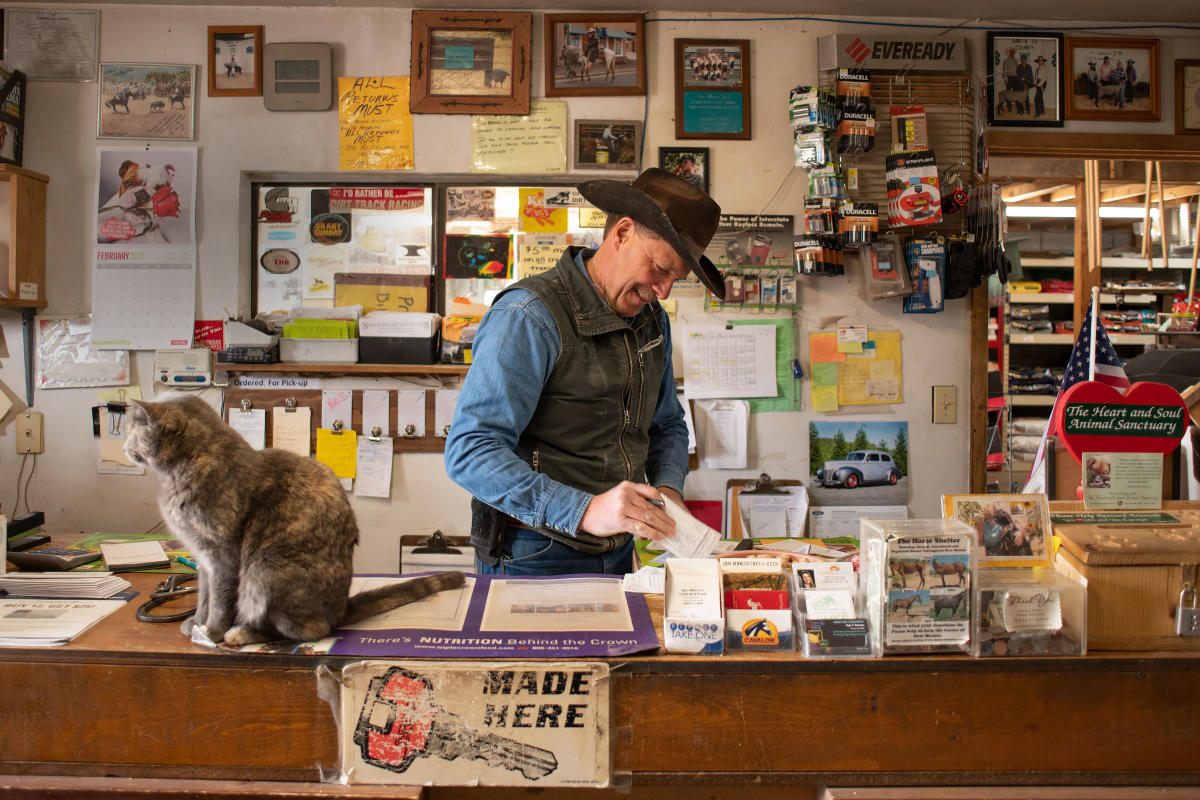 Mark Holloway in the feed store.
The feed-store portion, located behind the restaurant, is a classic example of a rural community shop. They stock a little bit of a lot of things—dog food, cat food, duck food, horse food, birdseed, bales of hay and alfalfa, tack, and a small hardware store's worth of roofing materials, gloves, and colorful buckets, plus a locksmith service. "People around here don't want to run into town for every little bit of this and that," Mark says. They also have functioning old-school gas and diesel pumps, one of each.
I watch Cindy and Mark chat with customers. They know them by name, know their kids, ask how their weekends went. The casual conversations, the ceramic deer and mini metal dairy cows flanking the entrance, the school bus for sale, the windmill, the menagerie of chickens and peacocks, the hand-painted hollyhocks surrounding the front door—all of this is part of the charm at San Marcos. Just leave room for a cinnamon roll. Or two.
Cindy Holloway, owner of the San Marcos Cafe, says this pie is a customer favorite. We also asked how to make the restaurant's legendary cinnamon rolls, but she declared that "a closely guarded secret." 
PIE CRUST
1 1/2 cups flour, sifted
1 teaspoon salt
1 stick cold butter
3 tablespoons ice water
FILLING
4 eggs
1 cup sugar
1 tablespoon flour
1 teaspoon salt
2 teaspoons vanilla extract
1 stick butter, melted
1 cup buttermilk
Makes 1 pie
INSTRUCTIONS
PIE CRUST
Sift flour and salt together.
Cut in cold butter with a pastry knife.
Add water and mix until just combined.
Turn dough onto a floured surface and roll to fit a 9-inch glass pie dish.
Place in pie dish and crimp edges.
FILLING
In a large bowl, slightly beat eggs. Add sugar, flour, salt, and vanilla extract. Mix.
Add melted butter and stir well.
Add buttermilk and stir.
Once the filling mixture is complete, pour into the pie crust. Bake at 350° for 45 minutes or until set.