Folk singer Eliza Gilkyson has long been rooted among the high mesas of northern New Mexico. Photograph by Todd Wolfson.
TO HEAR HER TELL IT, Eliza Gilkyson has always been on her way back. Although the acclaimed folk singer and songwriter was born in California and spent decades in Texas, her heart has long been rooted among the high mesas, blue river canyons, and horizon-defining mountains where she came of age as a performer and songwriter after her family moved from Hollywood to Santa Fe in 1968.
Gilkyson, who has released a score of albums, including 2015's Grammy-nominated The Nocturne Diaries, is back, and living in a rambling 100-year-old adobe in Arroyo Seco, north of Taos. "I had always intended to return to New Mexico someday, but I never seemed to be able to get off the cycle of making records and touring," she says. "Austin was ideal for that period of high-intensity commitment to my work."
But those years of flying and driving to gigs and hauling and setting up her own gear took a toll. "I'm a granny now, and I was acting like I could handle all of it, but I was worn down," says the 71-year-old artist. "When I moved to Taos, I felt this door open up to my happiness that had been evading me for a while."
Along with a new home comes a new recording. Songs from the River Wind, due for release this fall, is a collaboration between Gilkyson and the Americana/Western trio the Rifters. A popular dancehall band whose home range is northern New Mexico and southern Colorado, the Rifters formed in 2002 and have released half a dozen albums of their own. The guys—Jim Bradley, Don Richmond, and Rod Taylor—and Gilkyson have enjoyed something of a mutual admiration society over the years. To Gilkyson, the trio embodies "a sort of Western/folk-music sound that's all about the land they love and the community of good-hearted people that are their fans."
"Whatever that New Mexico high-desert sound is that we do, it just appealed to Eliza," says Taylor. "It was a good fit for us."
The album was recorded at Richmond's studio in Alamosa, Colorado, most of it from March through early June. "It's truly a delightful album," Richmond says.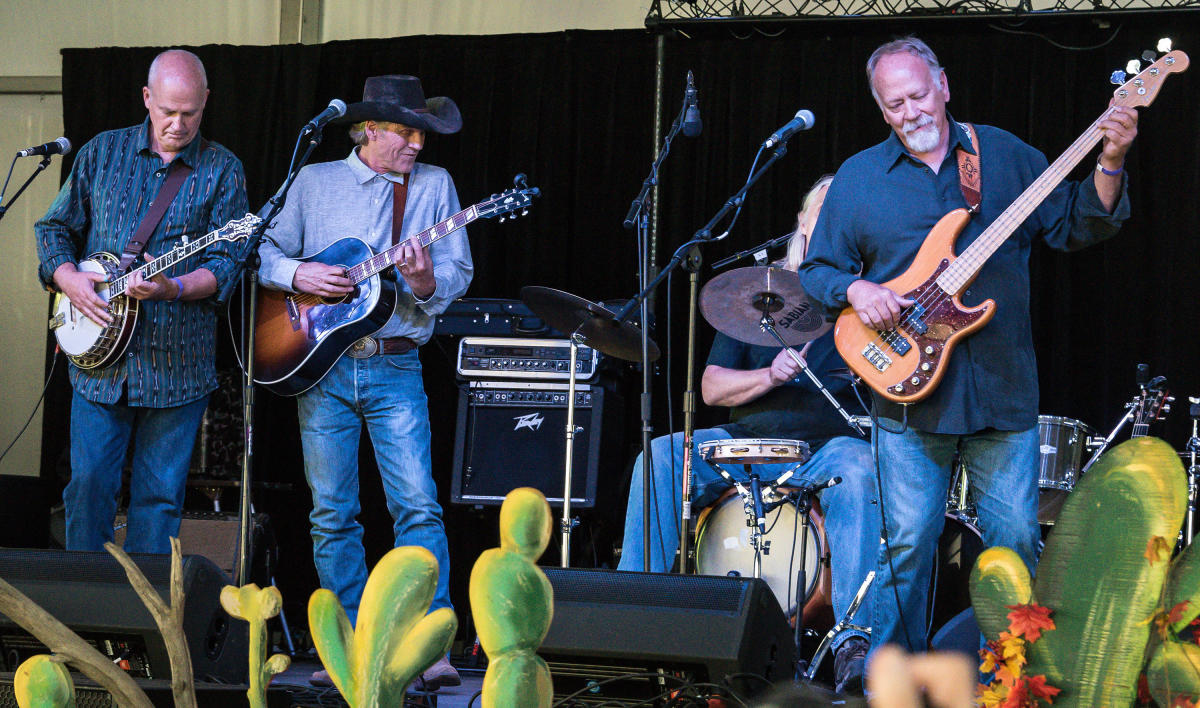 Don't miss Eliza Gilkyson perform alongside the Rifters. Photograph by Dave Hensley/Courtesy of the Rifters.
With Songs from the River Wind, Gilkyson steps back from the politically charged material of her previous several albums and dives into a suite of songs evocative of the American West, including some she has carried in her pocket for decades. Besides reimagined versions of traditional numbers like "Buffalo Gals," "Colorado Trail," and "Wanderin' " (her version of a song recorded by her father, Terry Gilkyson, and his folk group, the Easy Riders), the effort also includes "Before the Great River Was Tamed," a Rifters-authored, cinematic vision of the Río Grande before the days of dams and irrigation channels.
"I call the record my 'love letter to the Old West,' " Gilkyson says. It comprises "all the many characters and stories of lives and loves lost and found as I traveled around the West, along with my love of nature, all rolled into one record."
MUSIC FOLK
The Rifters and Eliza Gilkyson will play Michael Hearne's 19th annual Big Barn Dance Music Festival, in Taos, September 9–11. 
---
Read More: Find the best things to do across New Mexico this fall.
Read More: Santa Fe Opera baritone Anthony Michaels-Moore brings his own style to the menacing voice of Old Man Gloom.
Read More: The folk music duo and co-founders of the nonprofit IndigenousWays used their voices to rally support and donations for the Navajo Nation during the outbreak.