Above: Pajarito Mountain draws skiers, hikers, and birders all year round. Photograph courtesy of Visit Los Alamos.
AS THE GATEWAY to three national parks, a hub of outdoor activities, and home to groundbreaking science, Los Alamos—named the healthiest community in the country two years in a row—is a smart bet for any getaway. 
For the nature lover: When the town's very name translates to "the cottonwoods," there's no lacking in outdoor fun. Find your adventure on the 200-plus-mile Los Alamos Trails Network; Pajarito Mountain—an all-season attraction that draws skiers, mountain bikers, hikers, and birders; or at the Los Alamos Nature Center with its full-dome planetarium and floor-to-ceiling windows overlooking one of the area's signature canyons. 
For the always curious: When "father of the atomic bomb" Robert Oppenheimer set up his lab in Los Alamos, "he wanted his scientists to be inspired by nature," says Kelly Stewart, a spokesperson for Los Alamos County. Today, research at Los Alamos National Laboratory works to solve the world's most confounding and immediate problems, including mapping the human genome and developing diagnostic tools for covid-19. Get an up-close look at the lab's work at the Bradbury Science Museum, which features 60 interactive and family-friendly exhibits that span research from World War II to today.  
For the history buff: Los Alamos's past has been carved in stone, staked into the land, and hidden by the code name "Site Y." Enjoy it all on the 14-stop, self-guided Los Alamos Walking Tour. Visit an Ancestral Pueblo site where Tewa-speaking people lived in roughly 1225 AD. Check out the cabin of homesteader William Mackwood "Mack" Hopper.  Color your world at Fuller Lodge Art Center, which was built in 1928 to be the Los Alamos Ranch School's dining hall. Plus, scope out numerous sites that played a role in the secretive Manhattan Project.
Park Place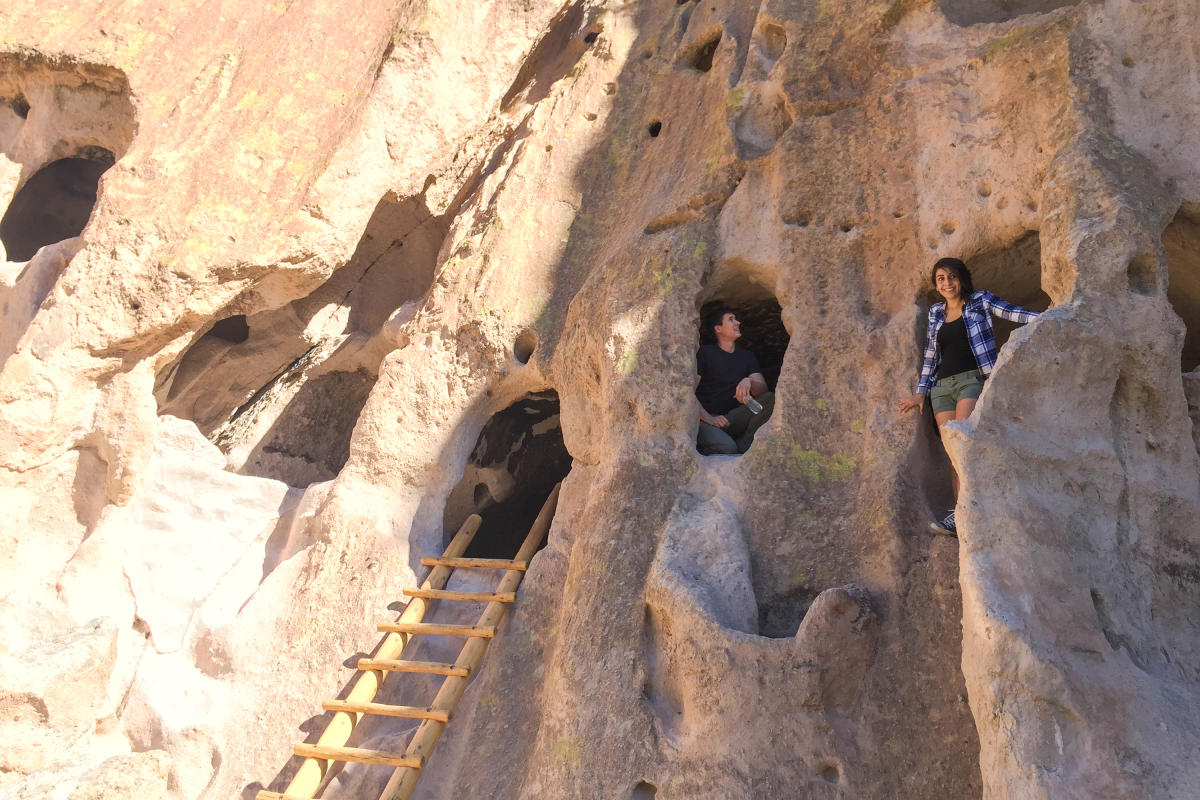 On the doorstep of three national parks, Los Alamos unlocks a wealth of treasures.  Photograph courtesy of Visit Los Alamos.
Bandelier National Monument: Explore Ancestral Pueblo dwellings set in this incredible 33,000-acre landscape of broad mesas and steep-walled canyons. 
Valles Caldera National Preserve: Now a haven for outdoor enthusiasts, this preserve of nearly 89,000 verdant acres has an explosive past that began with a volcanic eruption about 1.25 million years ago. 
Manhattan Project National Historical Park: Get inside the once-secret city to learn about the science and the people who led to the creation of the atomic bomb and the end of World War II.