FOR SOME, THE SEARCH FOR A GOOD SOAK is practically a religion. And with New Mexico's abundant sun and ancient healing waters, our state is worthy of worship, whether your bones yearn to melt in an immaculate spa tub or you're down to trek mountain trails to find that natural hot-spring getaway.
For a truly primitive hot-spring experience loved by day-trippers and spring-breakers, take a quarter-mile hike off NM 4 near the Village of Jemez Springs and climb up, up, up to the Spence Hot Spring. The fairly strenuous and sometimes muddy trail leads to two spring-fed pools perched high amid boulders with a 360-degree view of the Santa Fe National Forest. Hardcore soakers note the Spence pools aren't as hot as they used to be. But here's a secret: At the upper edge of the highest pool is a tiny cave where the water emerges at its hottest and clearest. Suits are required by law, but the unofficial vibe here is "anything goes." Stay on the marked trail, don't litter (it's becoming a huge problem), and watch out for poison ivy along the trail.
NEARBY: Pack a lunch, drink in the red rocks, and splash in the cool Jemez River at the Spanish Queen Picnic Site, five miles south of Jemez Springs. Spence Hot Spring, about 7 miles north of the Village of Jemez Springs on NM 4. Park at the marked Spence Hot Spring Trailhead.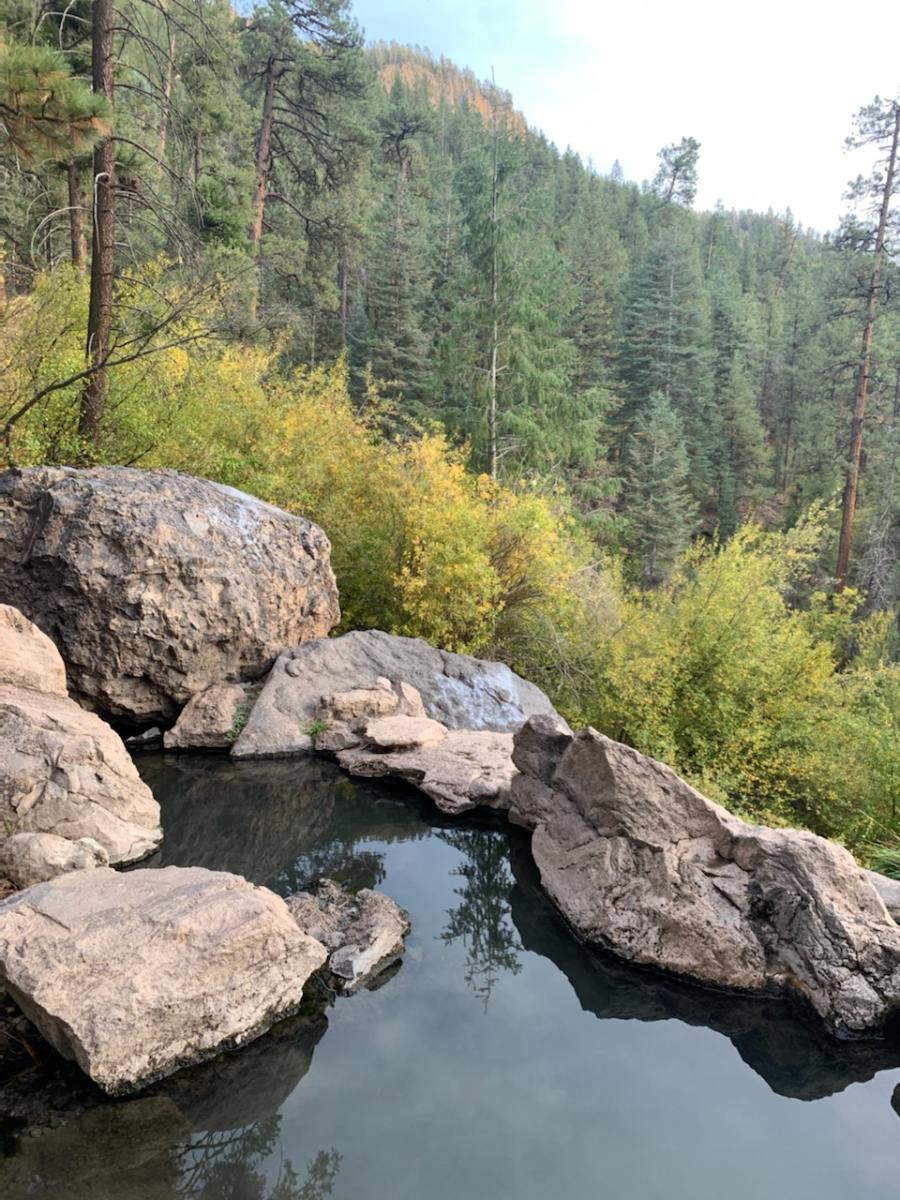 It's just a short hike to the hillside perch of Spence Hot Spring. Photograph by Hailey Gilmore.
The former ABQ Baths' new owners, sisters Love and Sunbeam Stropnicky, changed the downtown Albuquerque spa-and-soak spot's name to reflect a new focus on therapeutic massage and chronic pain treatments. But the two pools at this surprisingly secluded spot in an otherwise industrial part of the city remain the same: a small bubbling pool heated to 104 degrees and a cold plunge at 70 degrees. The non-spring water is sanitized by bromine, which is softer on the skin than the chlorine usually used in pools. The delightfully leafy soaking area is shaded by a purple vitex tree and a flowering crape myrtle and includes access to a fragrant cedar Finnish dry sauna that heats to between 160 and 180 degrees. Robes, towels, sandals, and lockers are provided—bring your own suit.
NEARBY: Some of the state's finest museums—Albuquerque Museum, Explora children's science center, and the New Mexico Museum of Natural History & Science—are just a few blocks away. Love's Healing Touch, 1218 Broadway Blvd. NE, Albuquerque; 505-289-0495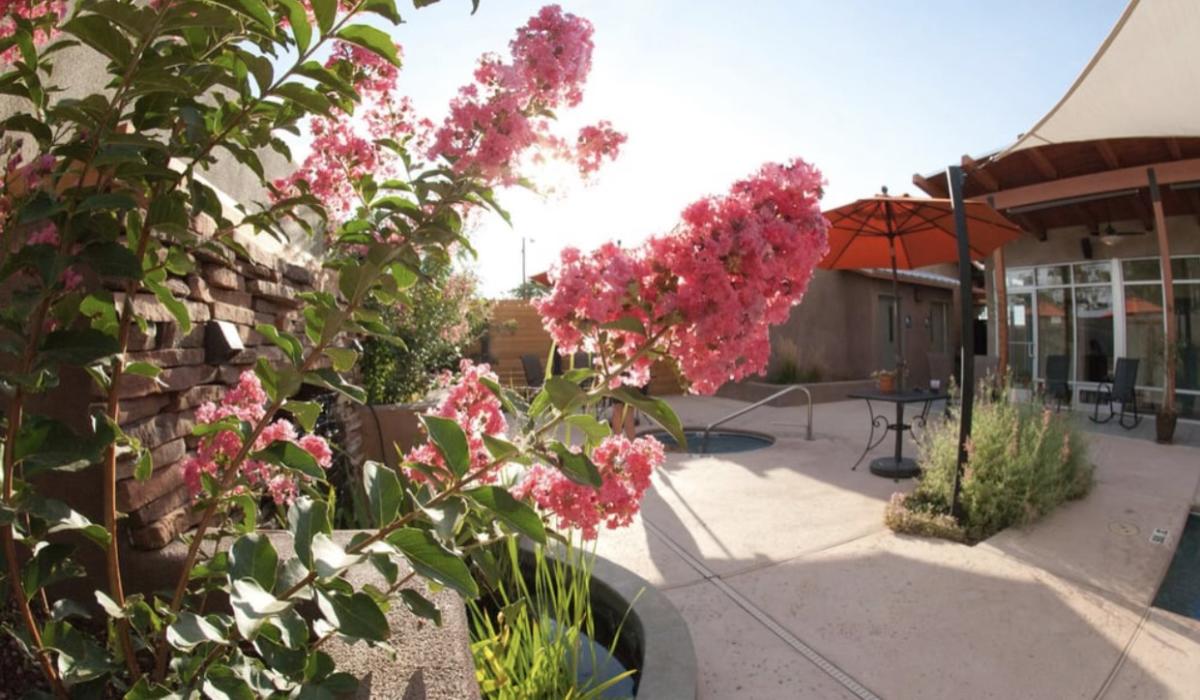 The shaded pools of Love's Healing Touch are an oasis in downtown Albuquerque. Courtesy of Love's Healing Touch.
The funky little southern New Mexico town of Truth or Consequences boasts more than 10 commercial bathhouses and a vibe so chill that it's not uncommon to see folks shuffling about the Historic Bathhouse District still wearing robes and sandals. While it's tough to choose a favorite here, the view of the broad Río Grande from Riverbend's eight variable-temp, terraced pools set just above the river provides arguably the best experience, not to mention a tranquil view of ducks floating by below. New rules require that pools be reserved, and cash is no longer accepted.
NEARBY: Public tours of Spaceport America leave from the visitor center in T or C every Saturday, but demand for reservations is high. Riverbend Hot Springs, 100 Austin St., Truth or Consequences; 575-894-7625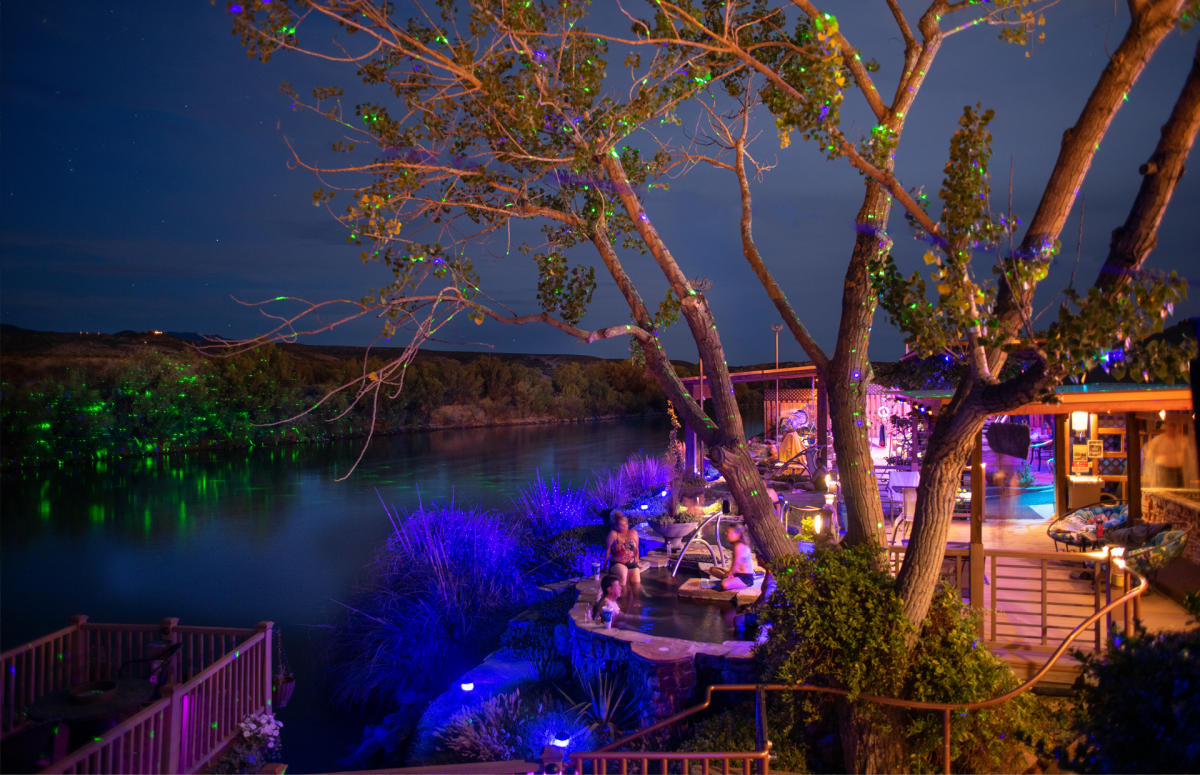 Riverbend Hot Springs' pools overlook the Río Grande. Photograph by Douglas Merriam.
Formerly known as Sunrise Springs, this oasis just outside Santa Fe abounds with spring-fed lagoons, aquatic birds, and koi fish, offering a counterpoint to its legendary cliffside sister spa, Ojo Caliente, near Abiquiú. "We're that lush, watery paradise that for these parts is so rare," says Marketing Director James Walker.  Fueled by natural spring water between 97 and 102 degrees, the multiple soaking areas are linked by walking trails and bridges throughout the 70 landscaped acres, which also include the state's largest saltwater swimming pool. Poolside food and drink service is available Thursdays through Saturdays. Meanwhile, Ojo Caliente, which closed after a 2020 fire, reopened its soothing iron, soda, and arsenic pools to overnight guests on August 2; day soaking with new pools and hangout areas is expected to return in late fall.
NEARBY: Santa Fe Spirits serves up tours and tastings, where you can learn about high-quality high-desert whiskey, vodka, and gin. Ojo Santa Fe Spa Resort, 242 Los Pinos Road, Santa Fe; 877-977-8212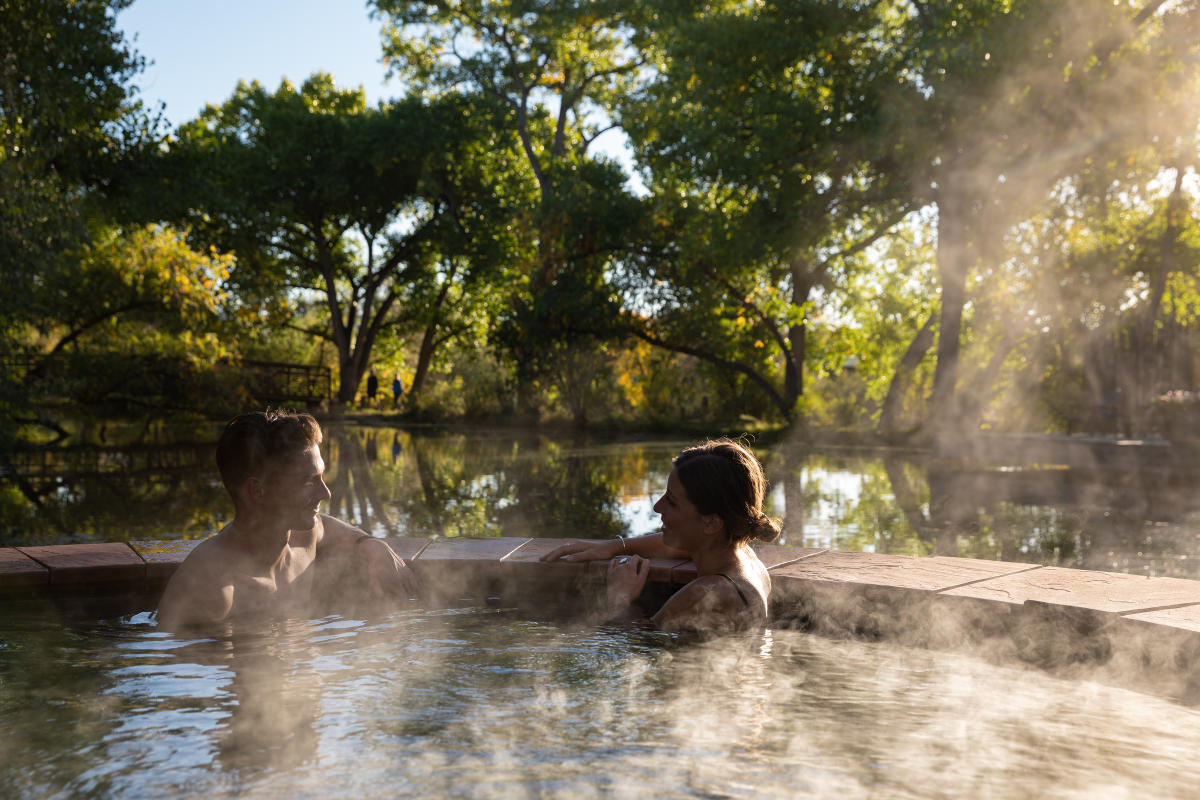 Ojo Santa Fe offers a lush surrounding in the city. NMTD.
The venerable spa is a glittering gem in the City Different, a Japanese-style bath spa set high in the Santa Fe National Forest, along the way to Ski Santa Fe. Post-pandemic, the spa has done away with unreserved communal bathing and now offers seven private tubs, each with its own sauna, private changing room, and showers. From the 18-person Grand Bath to the two-person New Wave (with a romantic underwater recliner), each pool offers a unique experience nestled among the pines and open to the crisp mountain air.
NEARBY: Expand your mind at Meow Wolf's 70-plus-room explorable art experience. Ten Thousand Waves, 1 Ten Thousand Waves Way, Santa Fe; 505-982-9304
WET YOUR APPETITE
These basics should help you get started on your soaking adventure.
Come prepared. Bring a swimsuit, towel, sandals, and robe. Most places require suits, and not all have towels to rent or loan. 
Take care. In natural settings, be vigilant for poison ivy along trails. Avoid getting water up your nose, to minimize the risk of inhaling the potentially deadly parasitic amoeba Naegleria fowleri, which can be present in wilderness warm springs.
Stay hydrated. Bring water in a non-glass container. Most places ban alcohol and glass poolside.
Pack in, pack out. Don't leave your trash behind—and maybe pick some up, too.
Keep it down. Don't be that person. Respect established whisper and no-phone zones.