Above: Spaceport America's G-force simulator is a highlight of the tour. Photograph by Jesse Ramirez.
CURTIS ROSEMOND INVITES my five- and seven-year-old sons to have a seat at Spaceport America's mission control. They each claim a swivel chair. Then, like most kids would do, they start spinning around in front of the computers that will oversee Virgin Galactic's tourist trips into space.
Rosemond, president of the facility's tour operator, Final Frontier Tours, encourages us to take photos, one of many opportunities he calls attention to throughout our two-and-a-half-hour visit at the 18,000-acre facility, adjacent to White Sands Missile Range, near Upham in southern New Mexico. The #gramworthy possibilities abound: A view of Spaceport's Gateway to Space building rising from the expanse of the Jornada del Muerto desert basin competes with taking selfies in front of a replica of the Virgin SpaceShip Unity.
From where we stand, overlooking the runway, the San Andres Mountains stretch majestically against a pristine New Mexico sky.
I'm already imaging my kids finding their old Spaceport photos in a future where visiting space might be as common as this family trek.
That goal became ever-so-slightly closer to reality in May, when VSS Unity—often referred to as SpaceShipTwo—and its crew soared 55.45 miles above the earth, and New Mexico became the third state, after California and Florida, to launch human beings into space. By July, the first fully crewed Unity flight, which included Virgin Galactic founder Sir Richard Branson, had successfully launched into space.
For Rosemond, the launches have brought about a surge in bookings for tours. The price tag for a seat on the Unity may be $250,000, but for a fraction of that ($39–$59 for adults, $30–$40 for kids 12 and under) Rosemond is more than happy to inspire your imagination.
From mission control we load into our white RAV4 and follow Rosemond's van (an option that may not be offered on future tours). He stops to inspect our car's tires before we follow him onto the 12,000-foot runway. It must be kept clear of any debris, including pebbles and thorns, to protect the spaceship and its passengers.
The tour wraps up with a visit to the museum, where you can learn the history of space exploration in New Mexico and peer through a semi-opaque window at Virgin Galactic's latest contribution to the story. Don't miss the chance to experience the sensations of space travel with a quick ride on the G-force simulator, the Spaceport's giant swivel chair for anyone over four feet tall, or take a keepsake video of your more daring travel partners flipping upside down.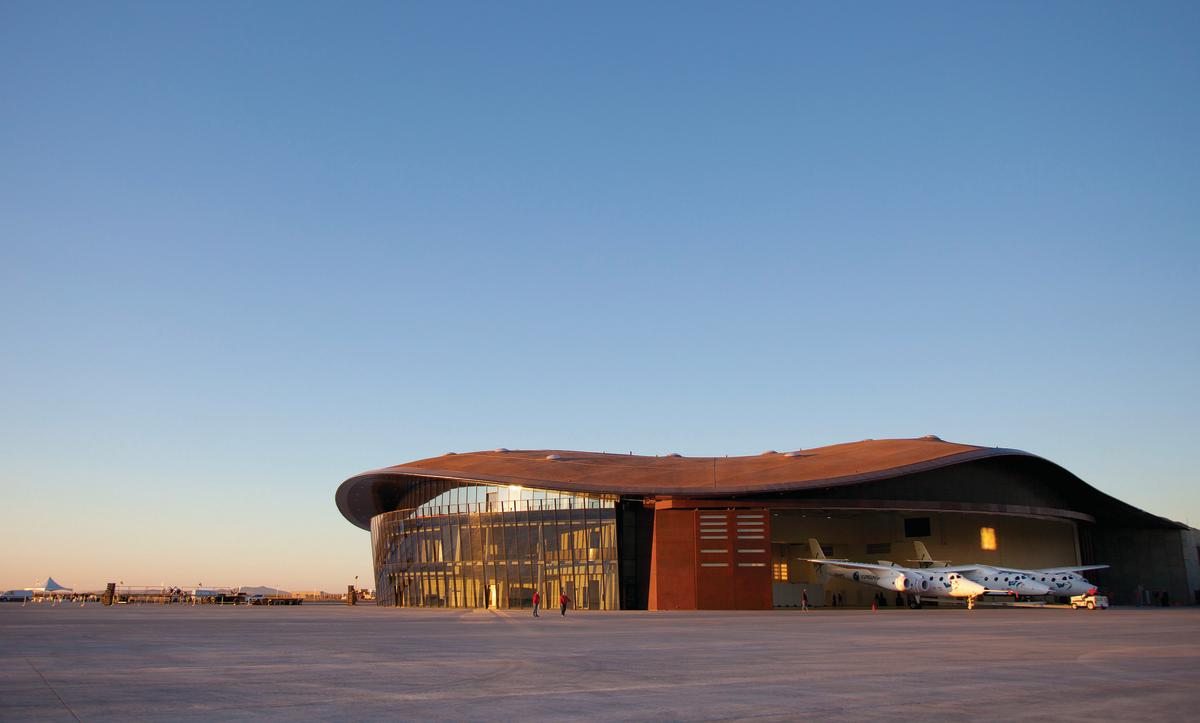 Spaceport America awaits tourists ready for adventure. Photograph Courtesy of Virgin Galactic.
Rosemond invites us on a stroll up the Spaceport's entry walkway, the concrete ramp where future space tourists will take the first steps of their journey to almost 300,000 feet above the earth—eight times the cruising altitude of a jetliner.
There are plans, Rosemond says, for in-person visitors to watch those citizen astronauts take their journey into space. "That's my dream for the future," says Rosemond. "To have people come to the facility and actually watch a launch."
FLIGHT PATH
Spaceport America tours are offered every Saturday at 9 a.m. and 1 p.m. and last 2.5 hours. 575-267-8888
Virgin Galactic space tourists will enjoy updated and redesigned guest rooms at Hotel Encanto de Las Cruces. But you can stay there, too.