SPANISH COLONISTS BROUGHT DOMESTICATED sheep to New Mexico, and soon lamb found its way into Indigenous and Hispanic cuisines. Chefs throughout the world appreciate lamb for its pronounced flavor, which can stand up to strong seasoning in curries, tagines, and stews, whether braised, grilled, or roasted. That said, home cooks often steer away from lamb because of its cost and their inexperience cooking it. Heaven forbid you ruin that $35 rack you found at Costco.  
In Luscious Lamb Cookery, a class I regularly teach at Las Cosas Cooking School, I help students learn how to handle this tasty meat, including the less expensive cuts, which are delicious when prepared creatively. In the class, I smear shoulder chops with yogurt, garlic, and lemon and then crust them with za'atar, a Middle Eastern spice blend. Cost-effective shanks make a luscious osso buco. To keep the pricier rack moist, I spread it with Dijon mustard and then pack on a mixture of breadcrumbs, herbs, capers, and lemon zest before roasting.  
Grocery stores offer a wider variety of cuts than our mothers had to choose from, and local growers like Shepherd's Lamb add specialty items like bones, sweetbreads, and organ meats to the more traditional chops, legs, and shanks.  
The Easter, Passover, and Ramadan holidays often set a lamb dish on the family table, making this an appropriate month to perfect a new technique. Don't be afraid if you, like me, grew up on lamb shoulder chops that spent a fair amount of time in the oven, only to be coated with neon-green mint jelly straight from the jar.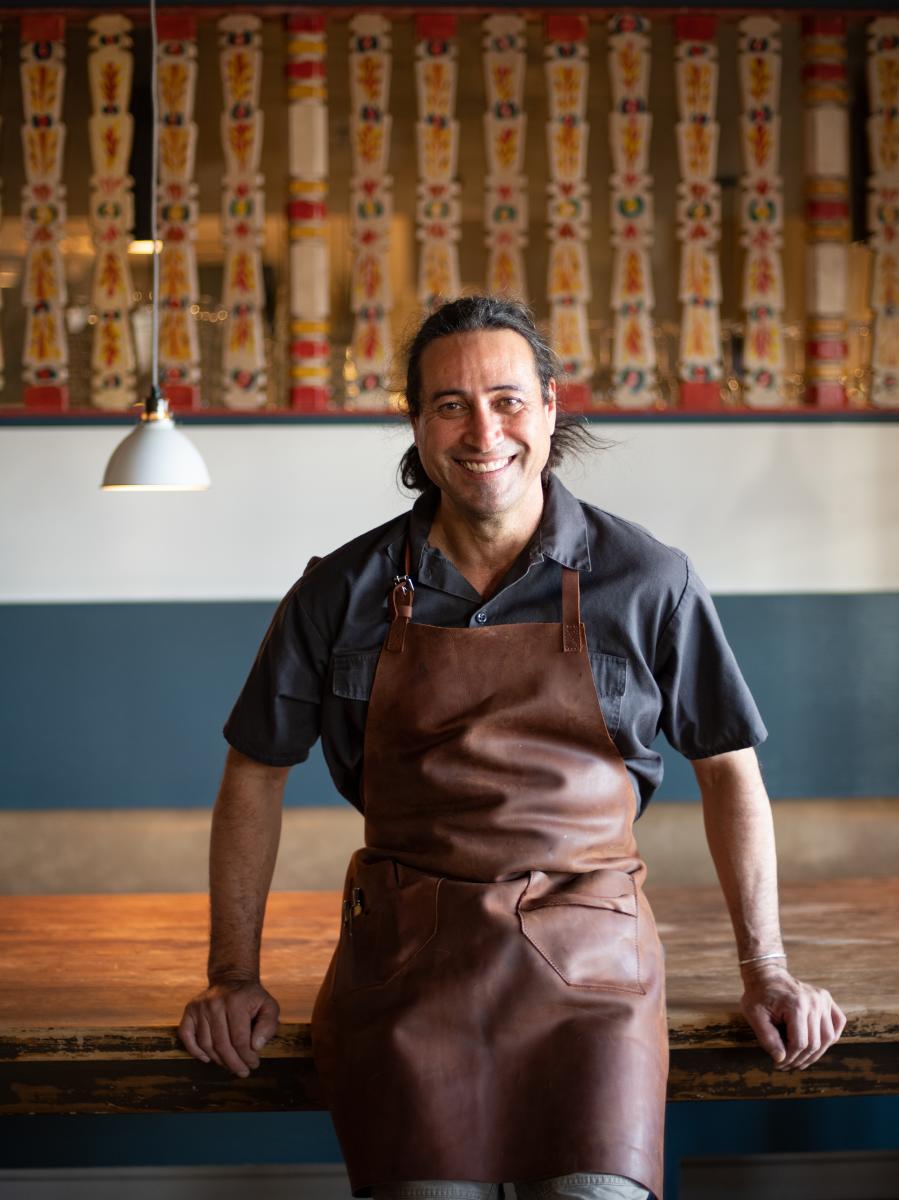 Chef Jonathan Perno at Campo, in Los Ranchos de Albuquerque. 
The medium-rare rack with rosemary and garlic I encountered upon moving to New York City was a revelation, but then I discovered the wonderful world of global lamb cookery. In funky East Village African eateries, it was highly seasoned with exotic spices and served with couscous in a domed tagine. At Indian restaurants, fiery vindaloos set my palate ablaze. In Mediterranean restaurants, I fell in love with kebabs of vegetables and marinated lamb. A moussaka, I discovered, was the best of two worlds: meat and mashed potatoes in one dish, gilded with creamy béchamel.  
A semester spent at chef's school in Leeds, England, introduced me to mutton—sheep that are at least one year old and up to three. The meat can be a tad tough, and it wasn't my favorite. Later I lived in Australia, where lamb "on the barbie" was offered with a sauce of fresh mint, sugar, and vinegar.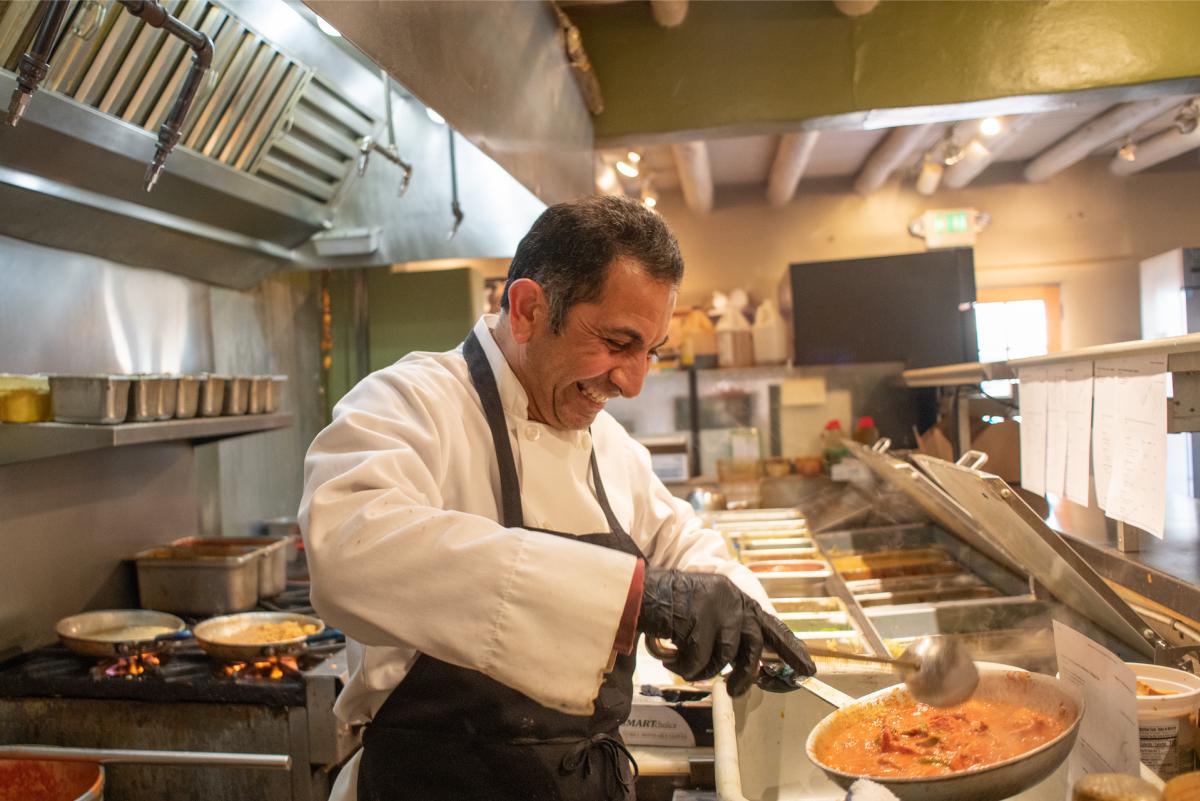 Chef Paddy ​Rawal's Raaga-Go takeout restaurant, in Santa Fe, simmers up Indian cuisine, including papadum and Lamb Vindaloo. 
A Santa Fe friend who needed to boost her strength after a brief hospital stay this winter was lucky enough to receive a container of bone broth made by our mutual friend Mu Jing Lau, of the former Mu Du Noodles fame. After downing a bowl, she called to exclaim that she was cured and full of energy. I had to call Mu to get the recipe: an all-day simmer of Shepherd's Lamb bones—the more the merrier—carrots, celery, onions, mushroom stems, tomatoes, a head of peeled and smashed garlic, and a large knob of peeled and smashed ginger. "It also humidifies your house and keeps it warm," Mu says, "and the smell is downright addictive." 
I also snagged recipes from two standout New Mexico chefs—Paddy Rawal of Raaga-Go, in Santa Fe, and Jonathan Perno of Campo at Los Poblanos Historic Inn, in Los Ranchos de Albuquerque, and I offer some tips of my own for making the best of your lamb selection. Are you game?
On the Lamb  
Chef Johnny Vee offers a few tips for preparing lamb.
If you're new to lamb, start with a cheaper cut: stew meat, ground meat, or shanks. No need to worry about overcooking; the longer these simmer, the more tender they get. Use chicken stock for your liquid (beef stock will overpower the lamb flavor).  

Let the meat come to room temperature before cooking. Starting from fridge-cold takes longer to cook and risks drying out the meat.  

Marinades and dry rubs enhance lamb flavor without overpowering it. Marinades that include any acid—citrus, vinegar, or wine—should not be left on the meat for more than an hour. The meat will start to "cook," changing the texture. Most spice rubs need only a few hours to add their flavor.  

Before sautéing, blot the meat dry with paper towels to promote a nice crust.  

For grilling, make sure your fire is hot so the meat sears quickly and keeps the moisture in.  

To oven-roast racks of lamb, season and then sear them in a frying pan before finishing in a hot oven (400°).  

Always let roasts and racks rest for 15 minutes, tented with foil, to allow the juices to reabsorb into the meat. Cut across the grain to ensure the tenderest result.  

Raw lamb freezes well. Thaw it slowly in the fridge.

Save any bones and use them to make a tasty broth 
Chef Paddy Rawal's dish has origins in Portugal, as a stew marinated in wine vinegar and garlic, called carne de vinha d'alhos (meat in garlic marinade). Portuguese traders transported spices throughout the world. In Goa, the locals added their own favorite flavors to create vindaloo. It's typically very spicy, but you can vary the heat by decreasing the amount of chile. 
STEW
1½ pounds boneless lamb stew meat, cut into 1-inch cubes  
14 tablespoons olive oil (¾ cup plus 2 tablespoons), divided  
1 cup red onion, chopped  
3 medium potatoes, peeled and cubed  
5 cups chicken stock 
MARINADE
6 red chiles, fresh or dried, seeded and roughly chopped (choose a mild chile, like Fresno)  
8 sticks of cinnamon (or substitute 4 teaspoons ground)  
½ cup rice vinegar
1 teaspoon black pepper, crushed 
SAUCE
2 tablespoons garlic, chopped  
2 tablespoons fresh ginger, chopped  
1 tablespoon sugar  
8 green cardamom pods  
8 cloves, whole
3 Thai green chiles, stemmed
1 teaspoon cumin seeds  
4 teaspoons coriander seeds  
¼ teaspoon turmeric
2 28-ounce cans of whole peeled tomatoes  
Serves 4
INSTRUCTIONS
Prepare the lamb by rinsing it in cold water, blotting dry with paper towels, and trimming any excess fat.

Prepare the marinade by grinding the red chiles and cinnamon sticks in a blender. Place in a large bowl and stir in vinegar and pepper. Stir in the lamb and allow to marinate, covered and refrigerated, for an hour.

Place all sauce ingredients in a clean blender and purée until smooth.

Heat half of olive oil in a large sauté pan and fry the potatoes until slightly softened and lightly browned; set aside.

Heat remaining oil in a heavy-duty Dutch oven, add the onions, and sauté on medium heat until golden brown. Stir in the sauce and cook until the onions soften.

Add the lamb and simmer for 6 minutes. Add stock, bring to a boil, then reduce to low, cover, and simmer until lamb is tender, about 20 minutes. Add the potatoes. Serve.
Chef Jonathan Perno, a six-time semifinalist for the heralded James Beard Award, often orders whole lamb from Shepherd's Lamb to experiment with different cuts. This past winter, he cured and smoked trimmings from the rack, turning it into lamb bacon for spaghetti carbonara. 
FILLING
¼ cup olive oil  
3 tablespoons butter  
2 pounds lean ground lamb  
6 cloves garlic, minced  
1 medium onion, large dice  
4 ribs celery, large dice  
1 pound fresh cremini mushrooms, stemmed and quartered  
1 bay leaf  
3–4 sprigs rosemary  
¼ cup flour  
1 cup dry white wine or dry vermouth  
1 quart chicken stock  
1 cup heavy cream  
Salt and black pepper to taste
Parsley sprigs for garnish  
CREPES
1 cup plus 1 tablespoon milk  
1 cup plus 1 tablespoon beer
6 tablespoons clarified butter, plus additional for crepe pan (or use spray)  
1¾ cups flour, sifted  
½ teaspoon salt  
2 teaspoons sugar  
3 eggs  
Serves 6-8
INSTRUCTIONS
To make crepes, warm milk and beer to 110° in a small pan or microwave. In a separate dish, melt clarified butter and set aside.

Mix flour, salt, and sugar in a large bowl and whisk into milk-and-beer mixture. Stir in butter, then eggs, one at a time. Strain batter and chill for 24 hours.

Heat a crepe pan or 8-inch nonstick skillet over medium heat. Butter pan or spray with nonstick spray. Stir batter and place one ladleful (or use a ¼ cup or ⅓ cup measure, depending on size of crepe desired) in heated pan. Swirl pan to move batter into a round. When crepe begins to peel up from sides of pan and some color has formed, flip and cook on other side for about 30 seconds.

Place on a parchment-lined plate and keep warm in a 200° oven until ready to plate. Keep cooking and separating the crepes with parchment. (They can also be refrigerated, then reheated in the oven. Wrap extra crepes in plastic and freeze.)

To make filling, melt butter with olive oil in a large pot over medium heat. When hot, add lamb and stir gently to break it up. Season with salt and pepper and cook until golden brown, about 10 minutes. Add garlic, onion, celery, mushrooms, bay leaf, and rosemary. Sauté 3–5 minutes.

Sprinkle flour over the meat and stir to combine. Cook 2 minutes longer.

Deglaze the mixture with wine or vermouth and allow to simmer until it has reduced by half.

Add chicken stock and cream and let come to a boil, stirring often to prevent sticking. Lower heat and simmer, stirring occasionally, about 30 minutes. Remove rosemary and bay leaf, adjust seasoning to taste.

To plate, place ⅓ cup filling in a quadrant of a crepe. Fold crepe in half, then fold the half into a quarter and place on warm serving plate. Garnish with parsley.