Above: Idyllic Fenton Lake State Park is the perfect family fishing hole. Photograph by Adrian Holder.
IT DIDN'T SEEM RIGHT, but after 16 miles on a rutted dirt road somewhere north of Regina, through the Santa Fe National Forest and the Jicarilla Apache Nation, the road turned to pavement, twisted down a hillside, narrowed, and led across a very one-lane El Vado Dam. Only a basic guardrail would protect a passerby from the depths on either side. I hesitated, but there was no space to turn around. And besides, I had come too far already. In my Tacoma with a tow-behind camper, I drove very slowly, eyes fixed ahead, even though the impressive surroundings begged me to look around. To one side, a 60-foot drop to the lake. To the other, dam stuff—channels, mechanics, energy. I had questions. Is this legal? What happens if someone comes in the opposite direction? How did I even end up here?
I suppose it was part whimsy, part need to disconnect, to get lost, and, essentially, to find some water. The weather had turned warm and dry. So after studying a map, I pieced together a 300-mile, three-day road trip linking some of the state's most beautiful lakes—Fenton, El Vado, Heron, and Abiquiú—making a perfect loop from my home, north of Santa Fe. It was just me, the New Mexico frontier, and my eight-month-old Lab-ish mutt named Argo.
Google did not suggest this particular dirt highway, but my analog foldout guide showed a dotted line indicating a gravel road—and a direct shot to El Vado Lake State Park. The woman in the Regina Store said it went through. What shape was it in? Hard sayin', she answered. One way to find out, I thought.
EARLIER THAT DAY, I'd woken up at dawn next to a hillside full of ponderosas at Fenton Lake State Park. The air was crisp and the sky clear. Argo hopped up on the bed and stared out the window of the camper. He barked as a coyote much larger than him made its morning commute through the campground. We had arrived a day earlier. West of Los Alamos, we'd climbed into the Jemez Mountains, following a winding NM 4 past dense evergreens and the Valles Caldera National Preserve. I'd pulled over at the San Diego Canyon Overlook. A thousand feet below, the highway twisted toward Jemez Springs around sharp rock outcroppings formed more than a million years ago.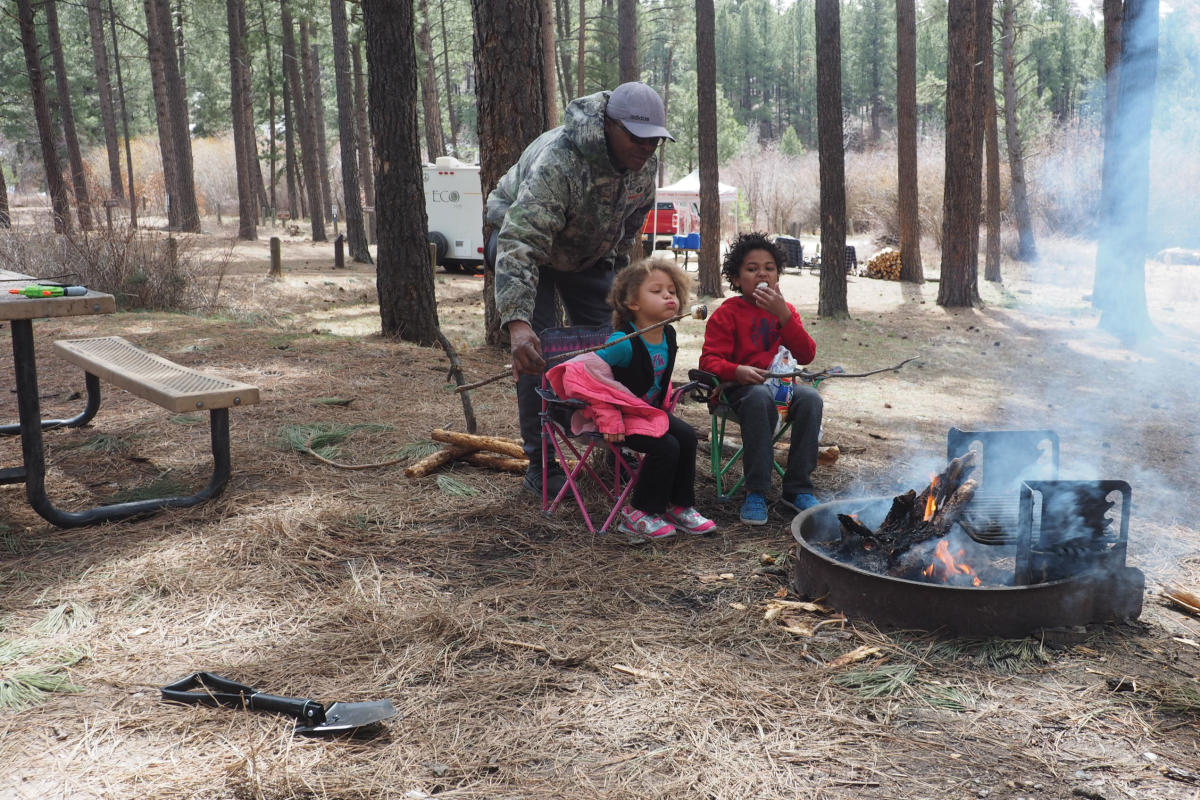 Above: A family from Rio Rancho roasts marshmallows at their Fenton Lake campsite. Photograph by John Clary Davies.
In La Cueva, I pulled into Amanda's Jemez Mountain Country Store for ice, wood, and information. The place was a hub. Two young women sought directions to their next trailhead. Anglers in their twenties bought new flies. A wayward young man had just hitchhiked from Taos. He wondered if he could hike from San Antonio Hot Springs to Valles Caldera. He could, said the patient, camo-wearing cashier.
Fifteen minutes later, we arrived at quiet Fenton Lake State Park. Time to settle in. I lowered the stabilizing legs of the camper, popped its top, and introduced myself to our neighbors. A man from Rio Rancho named Imo foraged firewood with his two kids, Silas, 7, and Giuliana, 4, then helped them roast marshmallow after marshmallow. Their tiny dog, Carl, sat outside their big camper awaiting any drops. Silas asked if they could stay awhile. Meanwhile, Shelly Quiñones, a teacher, and her husband, Tony, a "domestic engineer," also from Rio Rancho, lounged in lawn chairs. They come up here every year. Shelly graded papers while Tony read his iPad.
Read more: A new national recreation trail connects two national parks and New Mexico to Texas.
Argo and I walked the one-mile Hal Baxter Trail along the Río Cebolla. The park is known more for its trout fishing than its trails. One man told me he caught 20 in 30 minutes. When we got back to our camp, I made a smoky, meager fire. Birds flitted about. The park ranger, a man from Louisiana in aviator glasses named Joshua Herron, stopped by to say hello. He lives in a house on the property year-round. Likes winter the best, for the solitude of ice fishing. Last year the bears were a constant nuisance, he told me. One got too aggressive. He had to take it out.
Camp was settling in. Tony played Bob Marley's "Stir It Up." After I fixed dinner—a skillet-made sweet potato, kale, bean, avocado, cheese, and steak burrito for me, a bowl of gristle for Argo—we went for an evening walk. The lake was perfectly still, a mirror for the sky. Along the lakeshore, a couple of 10-year-olds chased each other with fishing rods until they realized one had inadvertently hooked the other. We crossed the dam and walked beyond the state park boundary up a forest-fire-scarred hill. The sun set at the mouth of the canyon, which narrowed and twisted up toward 11,254-foot Redondo Peak. The sun illuminated maroon cliffs with 50-foot ponderosas growing from their ledges. The lake beamed. Argo stood at the edge of a boulder taking in the view. When it was dark, I was sitting down to read outside the camper when Tony hollered my way to come over for a drink. He poured me a whiskey 7 and we sat around their roaring campfire. Each of us had spent time in California, and we talked about how grateful we were to live in New Mexico, where we can so quickly get away from crowds and into the forest. Tony and Shelly used to bring their kids to this spot, and now they share it with their grandkids, too. I turned in for the night and fell asleep to Tony's country playlist and Argo's snores.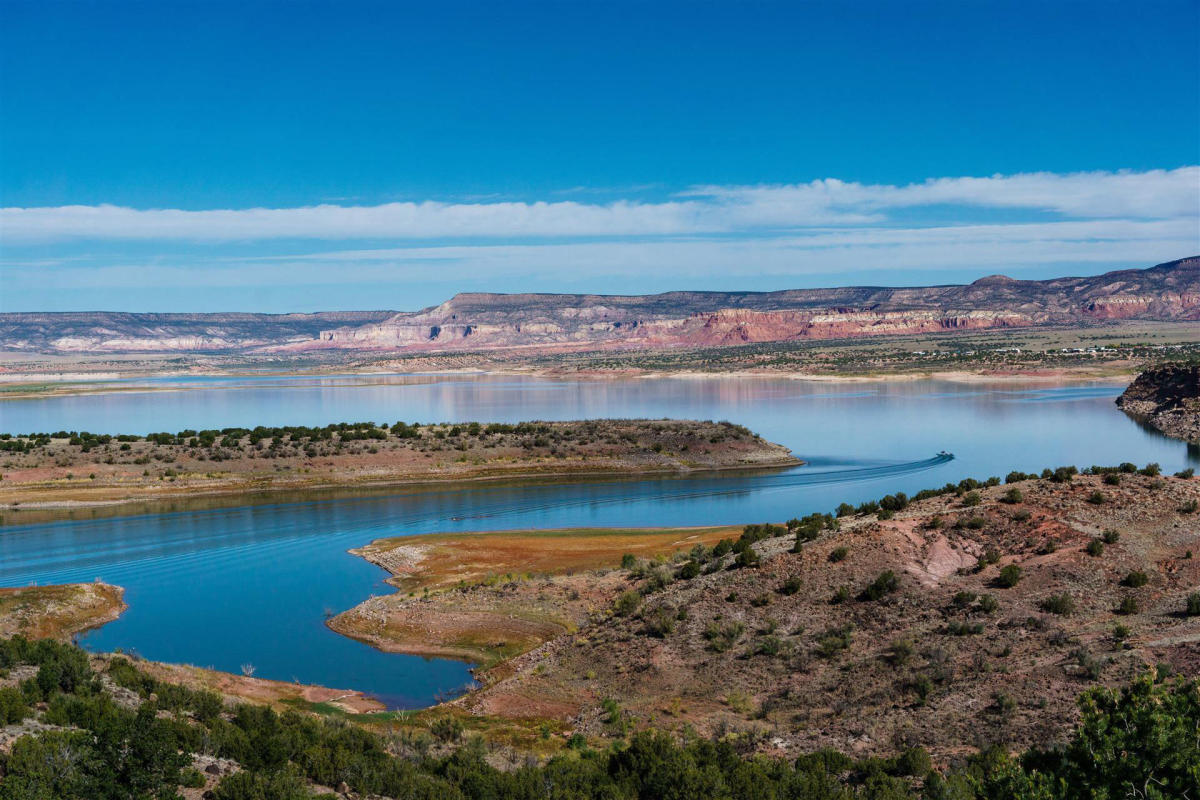 Above: Abiquiú Lake. Photograph by Daniel Gerth.
In the morning, I went for a walk back up the hill to catch the sun casting its quiet, early glow on the forest. It felt like we were the only ones awake when, back at camp, I cracked a couple of eggs in the skillet, threw in some of the previous night's leftovers to make a scramble, and brewed some pour-over coffee. Argo gnawed on his leash as I ate. He was ready to go.
New Mexico has something like 34 lakes and reservoirs, including 18 that are state parks. Some are small, some are huge. Some are natural, some are man-made. Some sit among dense mountain forests, others are surrounded by red rock. Most have great campsites. Nearly every one is off the beaten path.
We were headed for Heron Lake State Park via El Vado Lake State Park. Past Cuba, we cut northeast on NM 96, then NM 112, past La Jara, Regina, and Llaves. We passed by Hatch Lake. Not far off, Stinking, Hayden, Stone, and Horse Lakes. I had hopes of quaint country stores and dive bars, but it was really just a smattering of homes among increasingly dense piñon forests. The highway was off-kilter, and then it turned to dirt, with two deep ruts running parallel down the middle. A few miles in, I stopped the truck to let Argo out. I opened the camper and ate some cheese and sausage as the dog sniffed about. I appreciated the tree-covered mesa to the west, then we continued on our stunning, lonesome, and mysterious dusty path.
Read more: Road trips, museums, ballooning and more. Check out our list for the top things to do in New Mexico, all year long!
After we reached pavement and successfully inched across El Vado Dam, the landscape around us grew greener. Outside Tierra Amarilla, a flock of sheep grazed. Later, an Australian shepherd chased us down the road. When I pulled into Heron Lake State Park, among rolling hills of juniper and pines, the water was still low. Boating season hadn't quite begun; we practically had the 6,000-acre park to ourselves. I tucked the camper among a stand of piñons and made a small fire. Argo, finally tired after an evening walk, lay on the doormat while I sipped a warm, delicious beer. No plans. Dead phone. No need to talk. Camping provides something that's increasingly rare: time. The agenda was basic: Be outside; relax. Around 8, I climbed into the camper. Argo slept while I read a Stephen Greenblatt book, The Swerve: How the World Became Modern. It was a starless night, entirely void of light.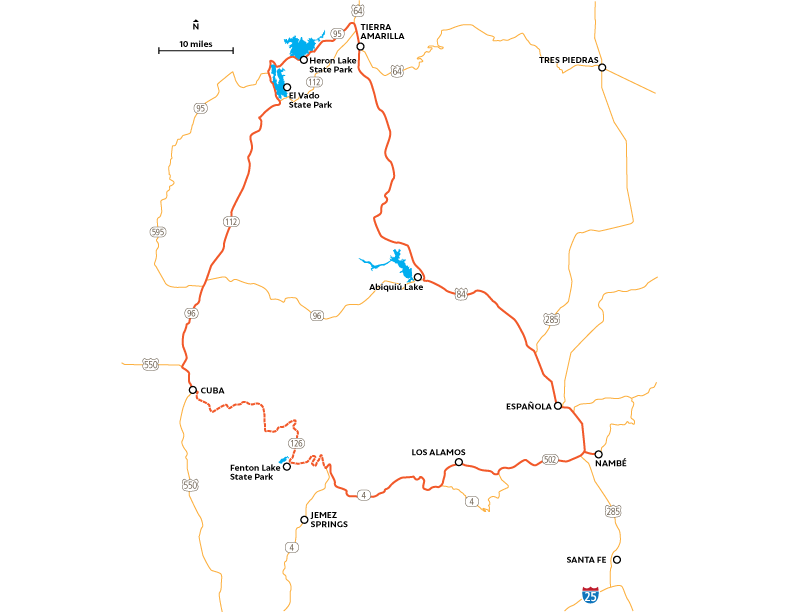 Above: The Route.
In the morning, it sounded like a jungle when we woke up. Birds were celebrating. The sun had risen, and the skies were a true New Mexico blue. Argo got in bed and licked my face for a minute. It was still cool when we set out on the five-mile, pine-covered Salmon Run Trail, which follows the contours of the lake. Near its southern terminus, Argo gazed from the edge of an overlook. The San Juans still had snow on their peaks. The lake awaited more runoff. We hiked for a couple of hours without seeing any other pedestrians, before returning to the camper to repeat our breakfast routine. Argo sunbathed as I cleaned up and drank black coffee. We met our only neighbors, a middle-aged teacher and her graying middle-aged mutt, named Scuttle. She was on spring break from Colorado. They slept in the back of her RAV4. My kind of people.
Alas, it was time to go. On any good road trip, the excitement of getting in the car, hitting the road for the next spot, the next adventure, the future people we'd meet, always outpaces the feeling of leaving too soon. Onward, always, this time to check out the massive Heron Dam, then the sporty Río Chama Trail, and then south on US 84 toward home. We stopped at Abiquiú Lake for one last waterside break before returning to cell service, news, texts, emails, various notifications, chores. Brown cows walked single file along the side of the road. It was a midweek afternoon and the lake was quiet. I sat on a rock with my feet in the water, looking at Cerro Pedernal, Georgia O'Keeffe's "private mountain." Argo tried to eat waves. I thought about how the empty, wild, backroad nature of this place was exactly why I chose to live here. Then I loaded the exhausted dog back in the truck and drove the rest of the way home.
Love New Mexico? So do we. Subscribe today for just $3 an issue and we'll deliver our award-winning monthly magazine right to your door.

PLAY MORE
All summer, state parks offer fishing tourneys, guided hikes, and star parties.
RIDING WITH ARGO
John Clary Davies' lake quest followed the orange route above, through some of New Mexico's most spectacular scenery. Take note: NM 126, the road between Fenton Lake State Park and the village of Cuba, may be impassable in winter. Double-check all the roads before any trip by logging on to nmroads.com.
BEFORE YOU GO
Reservations for camping are needed, especially in the summer. You can book and pay online with New Mexico State Parks or on-site with cash or check. An annual pass gets you into all 34 parks. Most state parks have potable water sources, restrooms, group event rentals, and ranger-led activities. Rules and regulations vary regarding fishing, camping, fires, and boats. Call ahead to the specific state parks or check their website.