Above: The Silver City Blues Festival. Photograph by Jay Hemphill.
SAVE THE WAILS
Kick off Memorial Day weekend with cold craft beer and cool blues jams at Albuquerque's ABQ Blues & Brews festival. Catch local performers, including Alex Maryol, the Jir Project Band, and singer-songwriter Garry Blackchild (aka Garry Martin Beasley, right), who rocks the Delta blues and rolls a gypsy-folk style.
MOVE 'EM ON, HEAD 'EM UP!
Tucumcari trades its neon-lit Route 66 nostalgia for TV cowboys and longhorn cattle during Rawhide Days, May 4–6. The three-day festival celebrates the early 1960s show, which filmed some episodes in Tucumcari and starred a young Clint Eastwood, with a country music jamboree, rodeo, blacksmith demos, art auction, and chili cook-off. Don't miss the cattle drive and horse parade down the main drag (575-461-1400, tucumcarirawhidedays.com).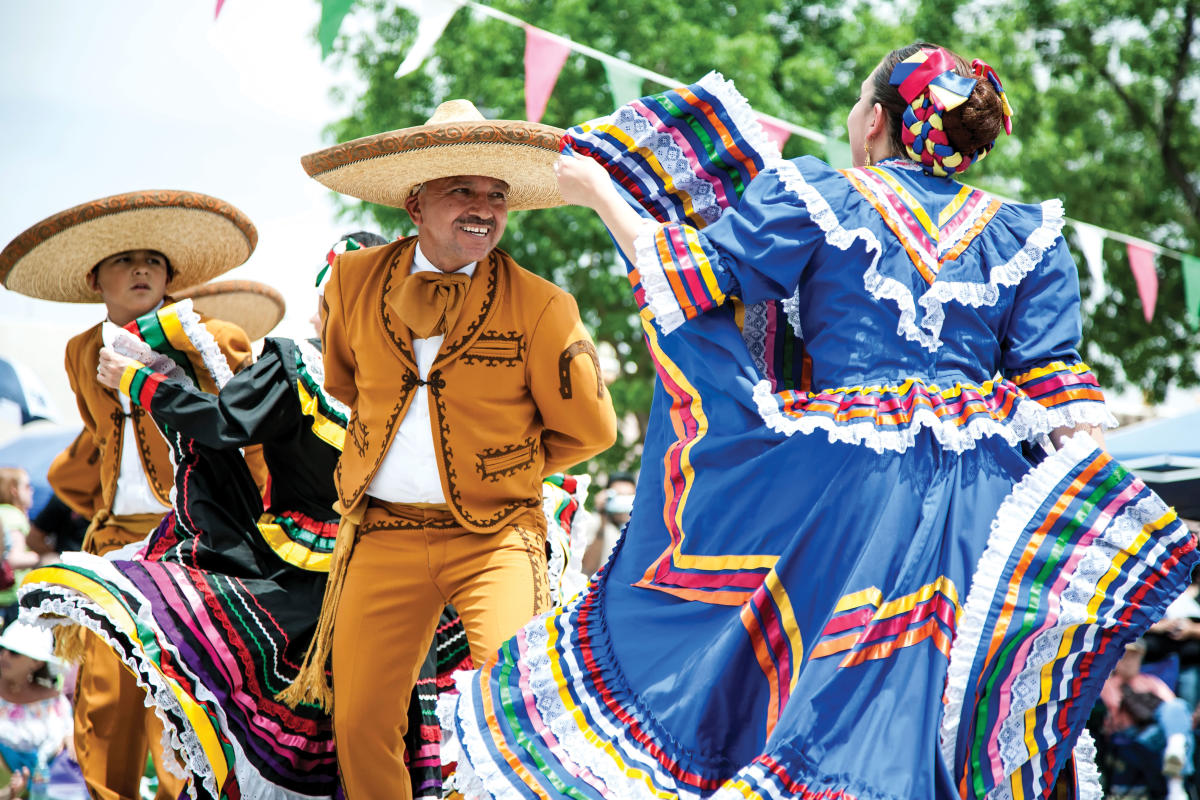 Above: Cinco de Mayo in Mesilla. Photograph by Efraín Padro.
OLD FAITHFUL
Elsewhere, Cinco de Mayo might make a great excuse for muchas margaritas, but the village of Mesilla keeps its commemoration pure. Under the slogan "It's not a trend, it's a tradition," townsfolk gather on the old plaza from noon to 10 p.m. on May 5 to remember the 1862 battle in which outgunned forces in Puebla, Mexico, beat back the Second French Empire—a first step toward Mexican independence. "At one point, Mesilla was part of Mexico," says event planner Irene Parra. "That's still a draw to the hearts of many residents here." The alcohol-free event showcases dancers, musicians, local artists, "and traditional comida," Parra says (575-524-3262, mesillanm.gov).
ART FULL
Peep into more than 80 artists' work spaces (and add some baubles to your collection) during the Corrales Art and Studio Tour, May 5–6, 10 a.m.–5 p.m. Head first to the Casa Vieja Event Center, a lovingly restored historic hacienda at 4541 Corrales Road, where you can preview work by each artist, then map out your game plan (corralesartstudiotour.com).
Mix your art attack with some train lore at the Belén Art League Spring Show, May 12–26 at the Harvey House Museum. It's a short hop from the Rail Runner station, and a 12:30–3:30 p.m. opening reception includes refreshments. About 50 artists contribute paintings, sculptures, jewelry, and handmade teddy bears (505-861-0217, nmmag.us/belenart).
GET WET
The Hot Springs Festival fires up Truth or Consequences, May 11–13, with events and vendors focused on healthy living. Take a yoga class, soak in the springs, float on the Río Grande, listen to live music, and relax in one of the town's seven hot-springs inns (575-740-6180, torcmainstreet.org).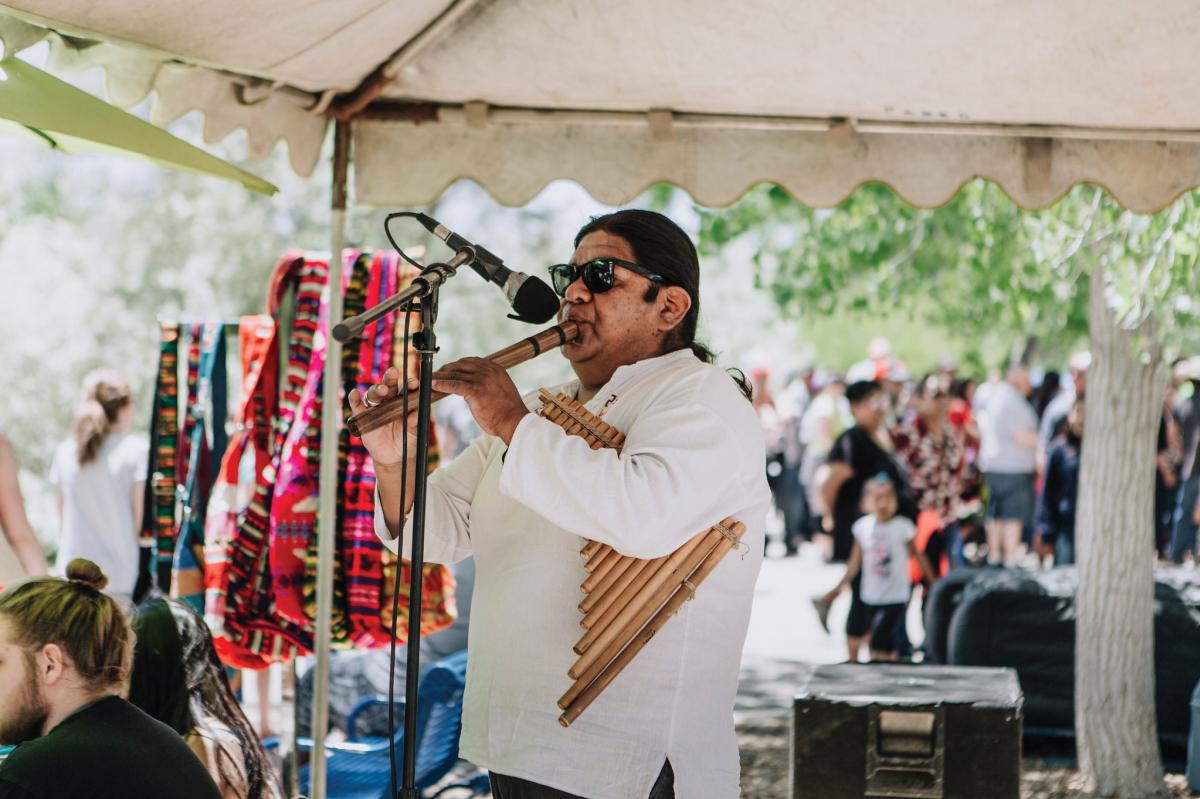 Above: Performers at Farmington's Riverfest. Photograph courtesy Farmington CVB.
The Animas River stars at Farmington's Riverfest, May 25–27, with kayaking, rafting, music, wiener-dog races, and a run/walk for two-legged critters. Snag a space on one of the 20-minute float trips offered every half hour on Friday and Saturday (505-326-7602, farmingtonnm.org /events).
PUMP IT
You don't have to be a hard-core cyclist to have a blast at the Santa Fe Century, May 20. Yes, the main event is a challenging 100-mile ride, but even beginning riders can tackle the 25-mile route. And every pedaler is welcome in the beer garden afterwards (505-600-1840, santafecentury.com).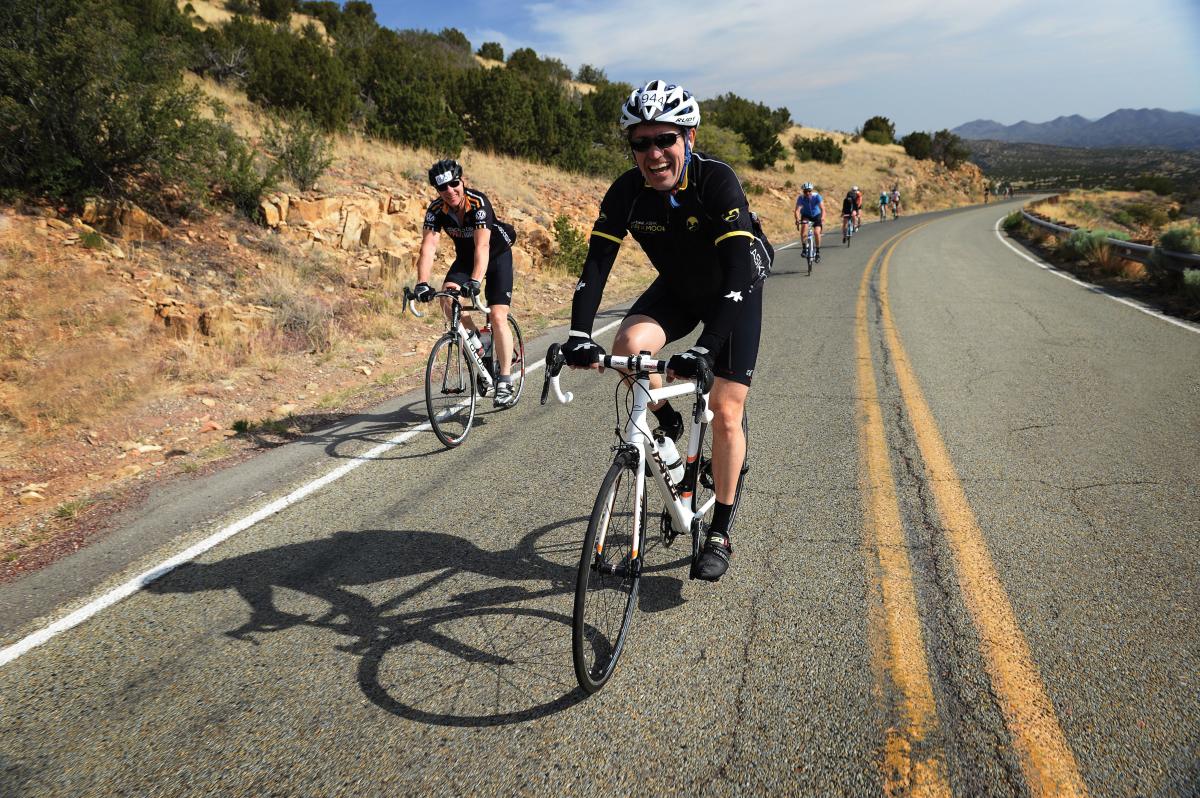 Above: Bikers at the Santa Fe Century. Photograph courtesy Santa Fe Century.
VROOM VROOM
Editor's note: After our magazine went to print, this event was cancelled. Organizers promise to hold it next year. Taos and Taos Pueblo remember an iconic actor and longtime local on Dennis Hopper Day, May 18. After a downtown motorcycle rally, rev your engines and cruise across the Río Grande Gorge Bridge in the Easy Rider Ride. Stay for the post-ride barbecue, concert, and film screening (dennishopperday.com).
Rumble up to Red River the following weekend for the 35th annual Red River Memorial Day Motorcycle Rally, May 24–28, which draws more than 20,000 bikers for live music, rides, parties, and ceremonies honoring fallen soldiers (575-754-3030, redriver.org/events).
Bikers on the Kneeling Nun Run cruise through spectacular Gila Wilderness scenery on their way to the Silver City Blues Festival, May 25–27, when the town boogies to a dozen musical performances. Bonus: Glass artists compete in the Gila Glass Classic (575-538-2505, silvercitybluesfestival.org).
ROVING MAD
Spanish and Native American weaving traditions thrive in New Mexico, especially during the second annual New Mexico Fiber Crawl, May 18–20. See what traditional and modern artists can craft with wool from sheep, alpacas, Angora rabbits, even yaks. You'll see everything from blanket and rug weaving to knitting and crocheting to spinning and dyeing. Pick up a passport at any of the nearly 50 sites, including farms, galleries, museums, shops, and artists' studios, from Albuquerque to Taos—or print one from the website and get it stamped at each stop for a chance to win prizes (nmfibercrawl.org).

BUT THAT'S NOT ALL
For more events, go to nmmag.us/calendarnmm
---