Above: Susie Edwards gets into the swing of things. Photographs by Tira Howard
THE THING ABOUT THE Adult Camp at Sunrise Springs Spa Resort is that it's really not that different from summer camps of youthful yore, with a few important exceptions. There is wine. The food is delicious. The lodging is spacious and comfortable. And there's more … mindfulness. The purpose, though—self-exploration—remains.
So while the main draw is the natural spring that feeds the pools, ponds, and taps, it's more than just a place to soak. Sunrise Springs wants to transform minds, bodies, and spirits. That's why guests can take part in about 100 classes, many of which bring out the kid in us. You can reconnect with the simple pleasures of hucking hatchets into an enormous stump, sculpting clay, baking bizcochitos, or hearing the fulfilling thwap! of an arrow lodging in its target in archery class. Situated on a wetland in La Ciénega Valley, 15 miles south of the Santa Fe Plaza, the 70-acre property is the ideal setting for relaxing and discovering something new.
AND SO AFTER CHECKING INTO THE resort on a bright afternoon, I wound up in a coop with 52 (or 54; they are difficult to count) silkies, the Chinese breed of Mohawked, blue-eared, black-skinned, golden, white, black, or charcoal fluff balls. The class was called "Chicken Chats." The conversation was one-sided, but the birds clearly communicated their desire for dried worms by pillaging the pile of them in my hand. I sat in a circle with four other guests and our instructor. We held the reluctant chickens in our laps (we wore aprons, gratefully—there was poop) and they made little approving coos at the prospect of receiving their mealworm treat.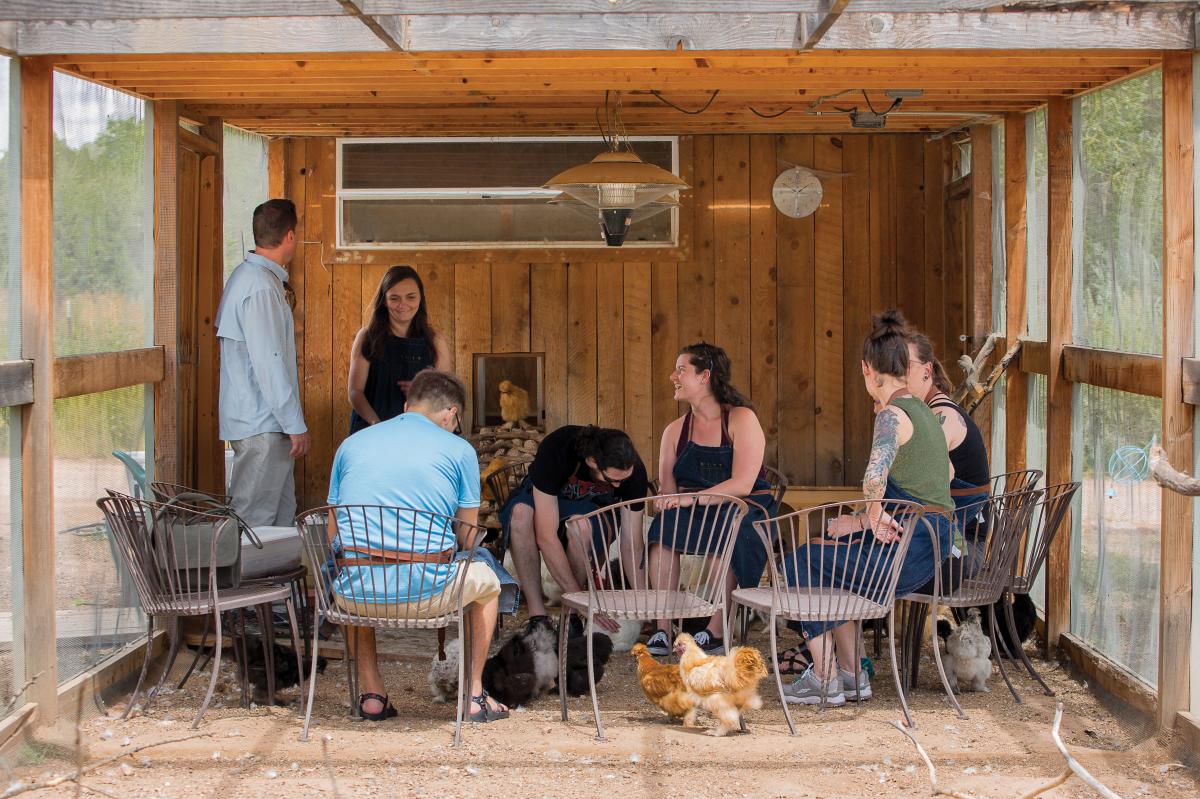 Above: Resort guests gather in a coop for a new kind of cure-all: A silkie cuddle a day keeps the doctor away.
That was different, I thought as I emerged from the coop. I had some time before my next class, so I headed back to my room. I was staying in one of Sunrise's elegant, airy two-bedroom casitas. The room's vaulted ceilings augmented its spaciousness. It had a tree stump for a coffee table. A shady private patio with deck chairs became my reading spot. Somebody brought by truffles and strawberries. I finished a magazine. I don't know if it was the chickens or the chocolate or the soothing sound of trickling water fountains throughout the property, but I was easing into a sense of repose.
That's what these springs do. The oasis has long been utilized as a place of rest. Beginning in the early 17th century, the natural cold water lured weary travelers along El Camino Real. Nearby petroglyphs at La Cieneguilla show a history that dates back even further, to the period of Keresan-speaking Pueblo people between the 13th and 17th centuries. When Andy Scott, who also owns the Ojo Caliente Mineral Springs Resort & Spa, an hour north of Santa Fe, opened Sunrise Springs in 2013, he wanted to honor the history of the area, and, yes, that's another course you can take.
But time to live in the moment, maaaan. I was late for my 4 p.m. yoga class. Mark, the bald, tattooed instructor, didn't say anything as I tiptoed through the door and laid my mat on the floor. This being the second yoga attempt of my life, my body was about as skeptical as the silkies were at my previous appointment. Mark encouraged us to "open up your body" and to "feel its rhythm." I watched the clock as I slowly introduced my legs to awkward foreign positions.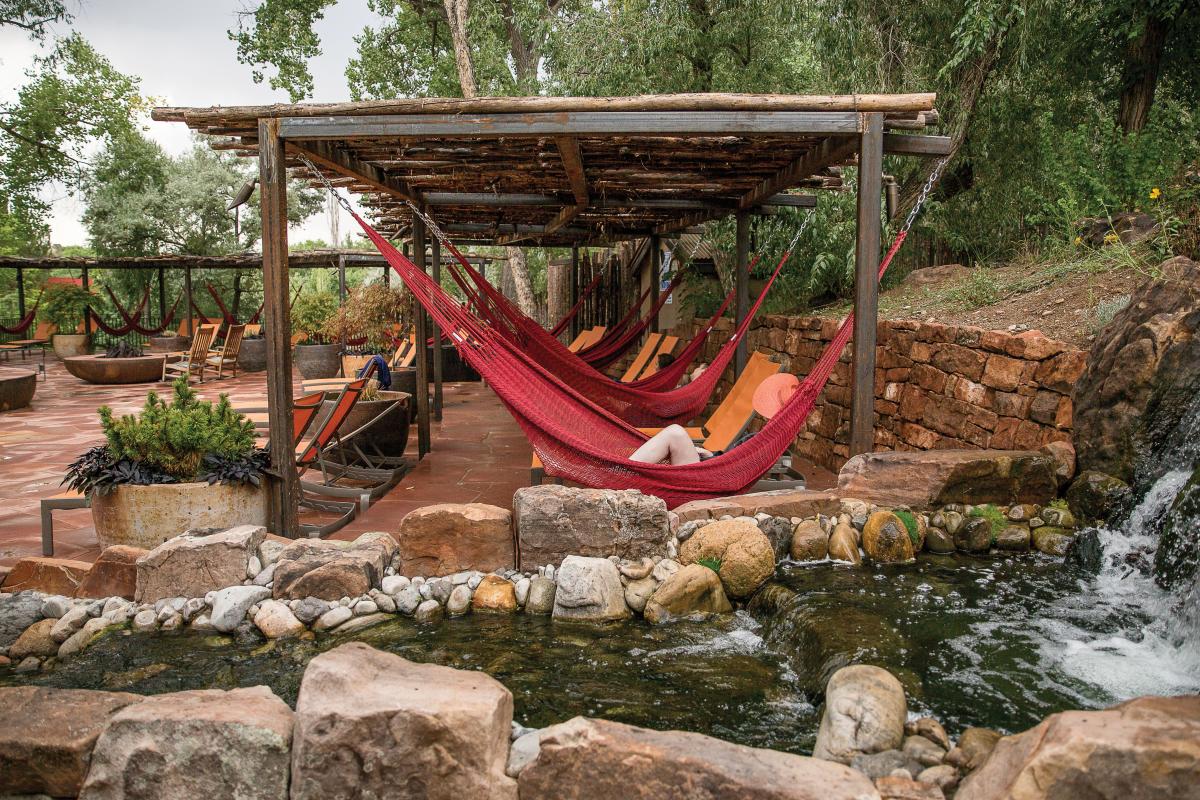 Above: Hammocks surround the new Repose Pools, which are open to day visitor.
Tough day. I was ready for the rhythm of a soak. The spring-fed Ojitos are private, open-air pools with little kiva fireplaces in the corner. The cottonwoods swayed overhead as I submerged for an hour.
Afterward, I was relaxed, famished, and thirsty. I pulled up a seat next to the pond at the Moon House Lounge. Ducks splashed about, on the hunt for food. The shadows of very large-looking fish loomed just below the surface. Henry, the gentle, prompt bartender, said he'd seen one that was five feet long. Dang.
It was quiet at the Blue Heron Restaurant. In the distance, a vaguely Pearl Jam–ish band practiced, but otherwise it was just the soft conversations of a few diners on the outdoor patio under a pear tree and string lights. I had a glass of pinot with a perfectly cooked flat-iron steak covered in rich demi-glace. Then I ordered a decadent baked pastry full of blackberries. Camp Anawanna had nothing on this.
SHORTLY AFTER SUNRISE, IT FELT LIKE I had the entire peaceful property to myself. I ran along a trail that snaked up a hillside to the southern edge of the resort. On the way back to my room, I jumped into the swimming pool and swam a few laps. After downing an egg and coffee at Blue Heron, I headed to my 9 a.m. class: Canine Play. (Don't worry, cat lovers, they also have an Airstream full of kittens to cuddle.) Mama Star, an 18-month-old English black Lab greeted me with kisses. Then I was instructed to sit in the puppy playpen, where Star's four one-month-old puppies, eyes freshly opened, scampered, nibbled, crawled, and sprawled all over me. It was the sweetest 20 minutes of my life. I wanted all of them, but each was destined for a noble life as a service dog for a program called Assistance Canines of the West.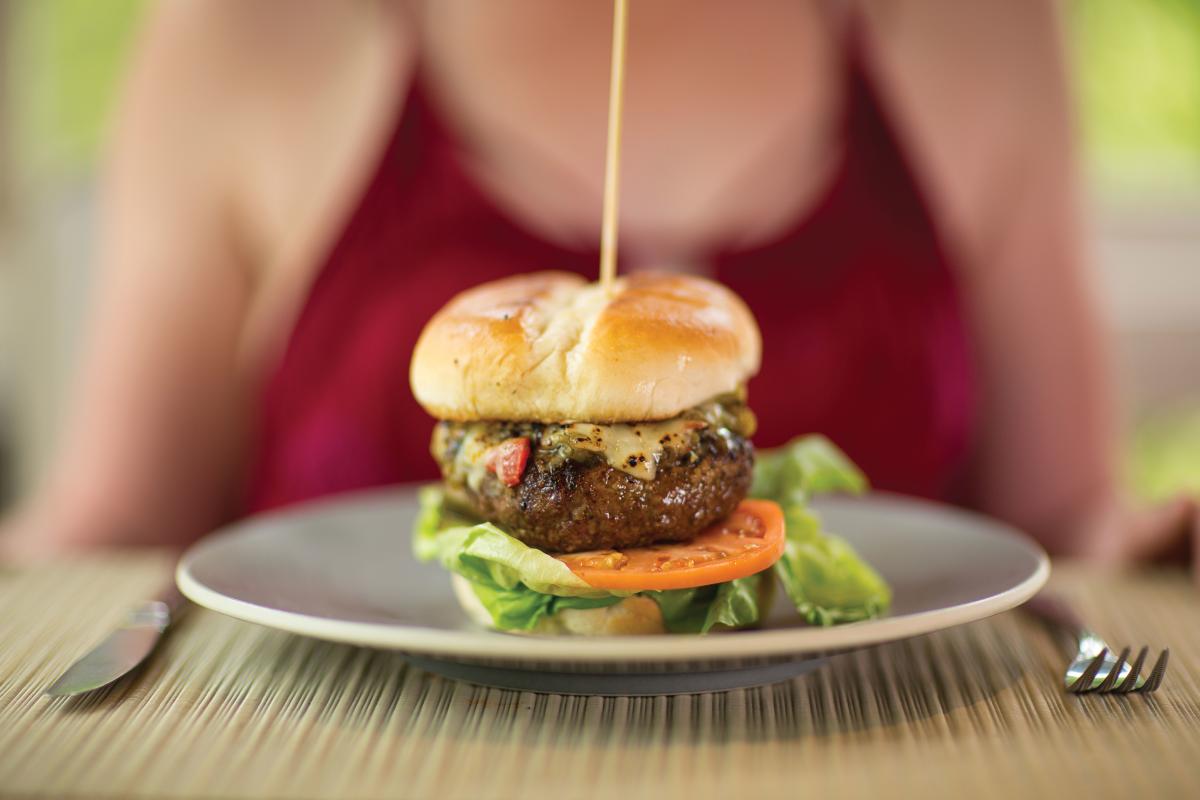 Above: The green chile cheeseburger, from Blue Heron Restaurant, is a meat eater's dream.
As I entertained the idea of stealing a puppy (not for the first time), I walked over to my next class: Finding Your Place on the Medicine Wheel. Led by personal wellness counselor Michael Schroeder, the outdoor conversation seeks to illuminate one's core purposes through ancient symbols. For the five women attending the class, most of whom were going through divorces or menopause, the hour was obviously clarifying and affirming. By the end, there were hugs and tears. They all vowed to come back.
Focus us, pamper us, revitalize us as they may, a weekend trip to a spa is unlikely to change our lives. That doesn't (and shouldn't) keep us from seeking improved wellness or a fun adult camp. Spas are now big business. In 2018, spa visits in the U.S. increased to a record 190 million, generating $18.3 billion in revenue. Both numbers are records, aided by aging baby boomers and a nationwide mental health epidemic.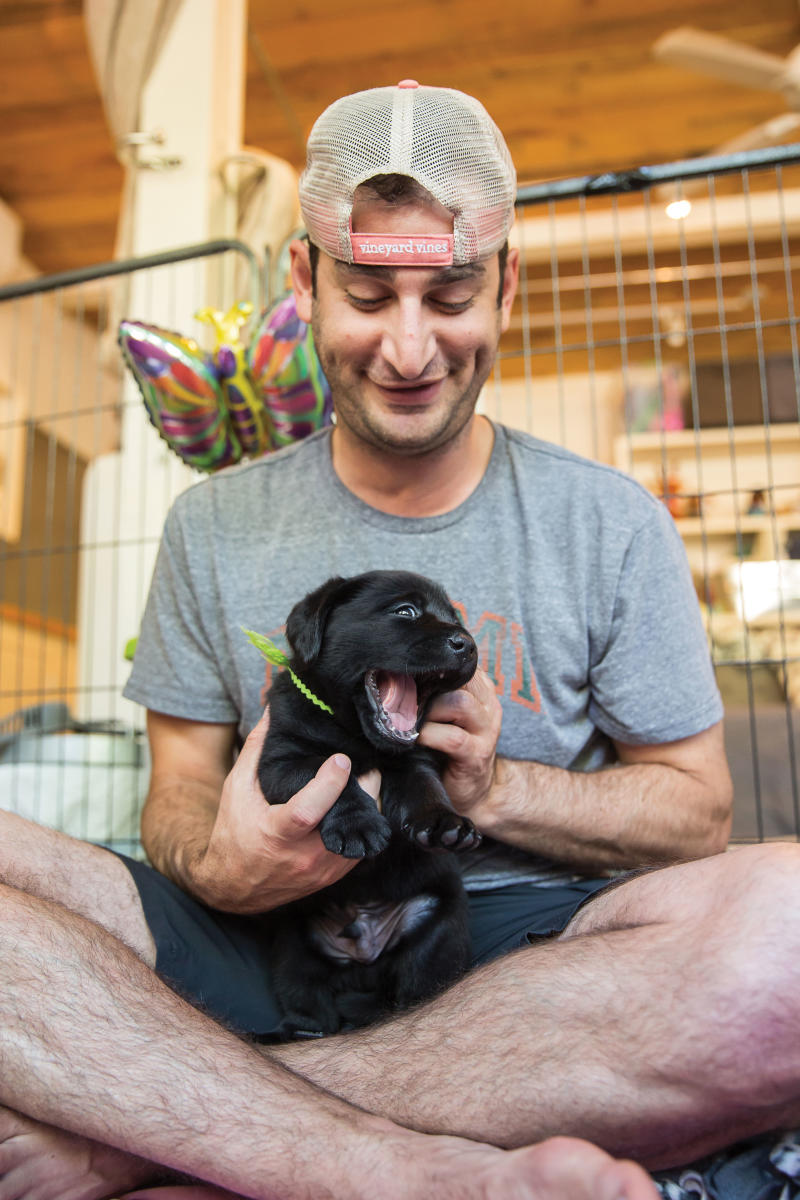 Above: WARNING: You cannot take the puppies home.
In a world that feels noisier and more toxic than ever, Sunrise Springs provides a world-class space for rest—as this location has for hundreds of years. While the resort offers sessions with healers both old school and new age—curanderas and hypnotizers—what resonated with me were all the lovely places near water and trees to sit and think, read, or write: a love seat adjacent to the pond, rows of hammocks and chaise lounges next to soaking pools, a chair underneath a willow, a bench below a Russian olive, a swing under a cottonwood, huge stones below an elm, along the koi pond, on the dock, Adirondack chairs on the patio, poolside ... The property is an introvert's dream.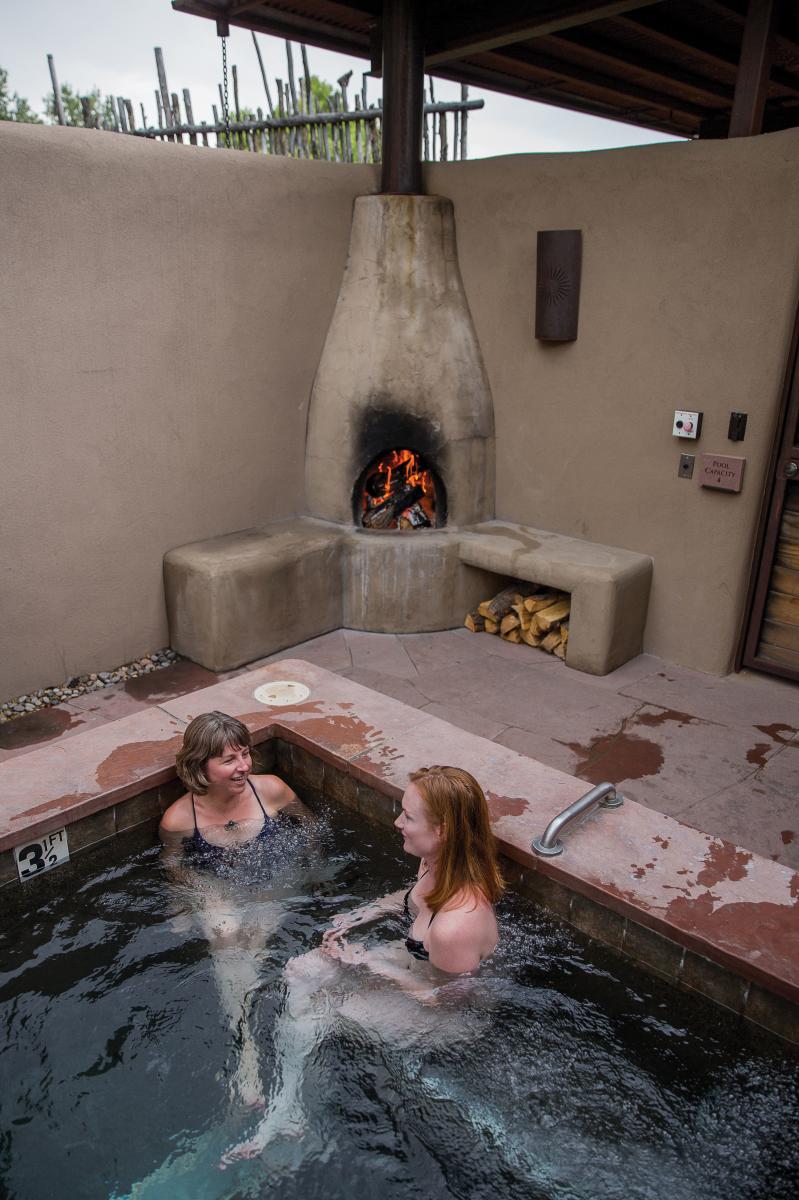 Above: The Ojito pools allow for private (clothing optional) soaks.
Of course, introspection has its limits. There's nothing wrong with a little indulgence, too. At least that's what I told myself at the spa as Roff, my masseur, worked out some knots with CBD oils for an hour. For a couple of painful, lingering injuries I have, the cannabinoid, a naturally occurring (non-psychoactive) chemical in the cannabis plant known to treat a range of maladies, was restorative. My entire body felt like warm, melted butter. I was so noodly I struggled to find my footing when I first stood up.
So I sat back down in the Repose Pools, the four new, bowl-shaped communal mineral baths of varying temperatures. Ducks played about in the adjacent pond. A couple of women communicated through sign language. After a while, I settled into a hammock in the shade and read a magazine. Then, reluctantly, I dressed, got in the car, and headed back out into the world.

SETTLE IN
Sunrise Springs Spa Resort's Refresh + Recharge package, which includes a room, breakfast, entry to the Repose Pools, and unlimited access to activities, not including massages, starts at $265 a night. Day visitors are welcome to use the communal Repose Pools, open daily, starting at $30 a day, or enjoy a meal at the Blue Heron Restaurant, open 7 a.m. to 9 p.m. daily.
---