Above: Summer-camp kids take a bow with their mentors. Photographs by Tira Howard.
SWEET POTATO, A CHARMING BUT exasperating trickster who lives in a rooftop garden with a hummingbird as a best friend, had no reason to kick the Sun away from the Earth. But expecting him to control his impulses would be like asking Madama Butterfly to save every opera house in the world. Bad bets all around. Still, could Sweet Potato Kicks the Sun, an opera set in a mythically playful place, spark fresh interest in a traditionally classical art form? Now we're singing.
This month, the Santa Fe Opera unveils Sweet Potato's world premiere at the Lensic Performing Arts Center, mashing up opera, jazz, and hip-hop as part of Opera for All Voices, a consortium of seven opera companies, from Sarasota to Seattle, each intent on broadening opera's storytelling style and developing a more demographically rich cast of future performers, backstage craftspeople, and audiences.
Read more: Andrew Akufo crafts partnerships that elevate Hobbs into a cutting-edge art town.
It's a capstone, in a way, on the Santa Fe Opera's educational offerings, which include pre-K programs, tween-age summer camps, outreach to Native communities, and a focus on 21st-century issues, including climate change, immigration, racism, gender identity, and bullying. "I've felt a frustration in the artistic direction of major opera companies," says Brandon Neal, the Santa Fe Opera's program development manager. Looking at their main stages, he didn't see people of color, LGBTQ people, lower-income people, the dispossessed, and others who are too often invisible. "We need opera singers, set designers, costumers, the full opera experience, in every color, every kind of person. Opera for All Voices gives us the opportunity to truly dive in without fear. We're setting the standard from the beginning."
The consortium's first commissioned opera (three more are in the works), Sweet Potato Kicks the Sun springs from world-class composer Augusta Read Thomas—"a sound-scapist," says Neal—and librettist Leslie Dunton-Downer. To fill the "special guest artist" role, the pair snagged Nicole Paris, an African American performer from St. Louis whose star soared after a 2015 beatbox battle with her father, Edward Cage, went viral on YouTube.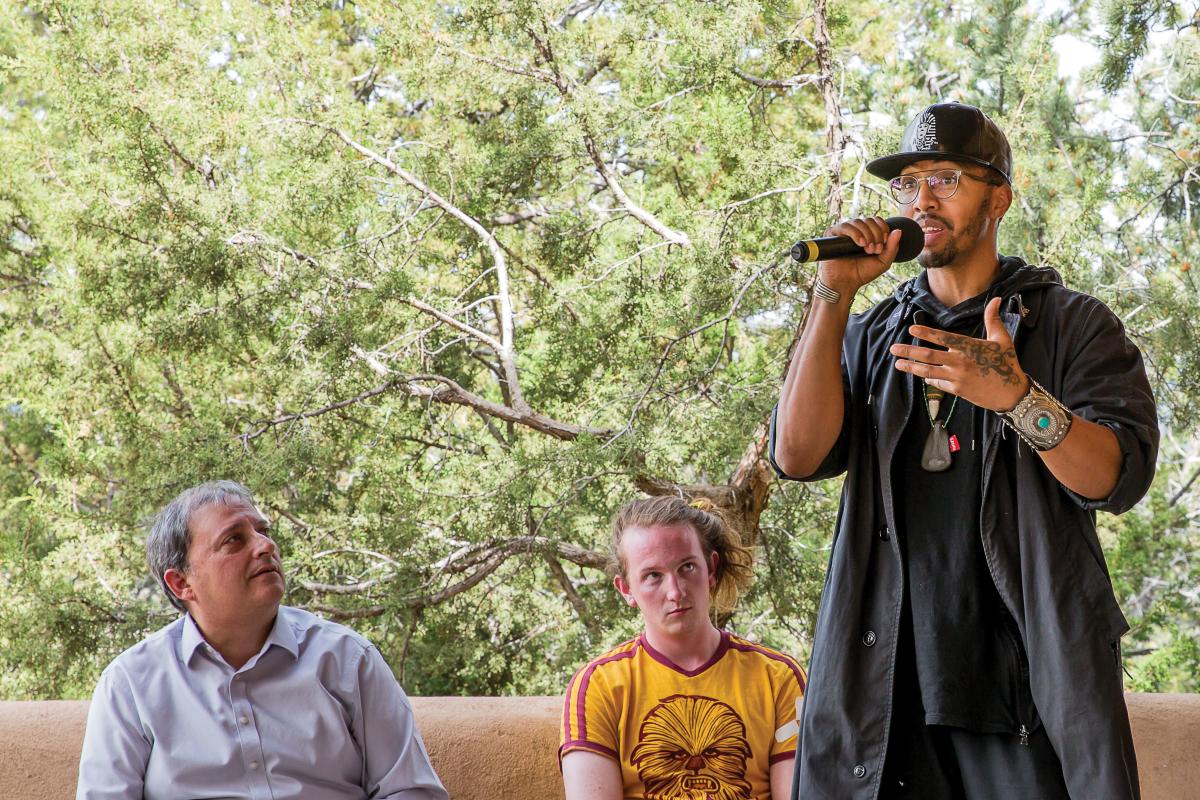 Above: Choreographer Trey Pickett (speaking).
"My experience with opera was five percent when Gustie called," Paris says of Thomas' initial contact. "I knew I couldn't sing on a professional level. I was worried about my acting skills. How will I remember my lines? Who's going to come? What if I stutter? I was overthinking the whole opportunity."
The two got together and improvised, jazz-style, out loud, one-on-one. Soon Paris discovered that not only could she sing, but she sings well. As Thomas devised a way for the champion beatboxer to alternate between hip-hop and opera, her operatic quartet of main actors learned how to scat, jive, buzz, and chirp. As that work went on in Chicago and New York, 15 Santa Fe–area high schoolers won paid parts in the chorus, partly on the strength of their singing but also for their ability to imitate bees, dogs, and woodpeckers.
Read more: From opera to rock, flamenco to folk, here's your guide to New Mexico music.
"Works of art make their own rules, and rules do not make works of art," Thomas says. "I'm making a work of art that sets up its own rules. Otherwise it's all the status quo—we wouldn't move forward, and we'd be back at cave paintings."
OPERA HAS AN IMAGE PROBLEM, ONE that's rooted in 150 years of productions done mostly by, and for, white and affluent communities. Most opera plots are hard to follow. Many are written in other languages and set in faraway countries. The trained operatic voice is a thing of beauty, but to a neophyte it can sound weird. For wannabe performers, obtaining training is both expensive and hard to find when arts funding falls to basso profundo depths.
"It's hard to find a pathway to the profession," says Andrea Fellows Walters, director of the Santa Fe Opera's community programs. "Ballet and sports are designed that way—you move from this level to the next level and up.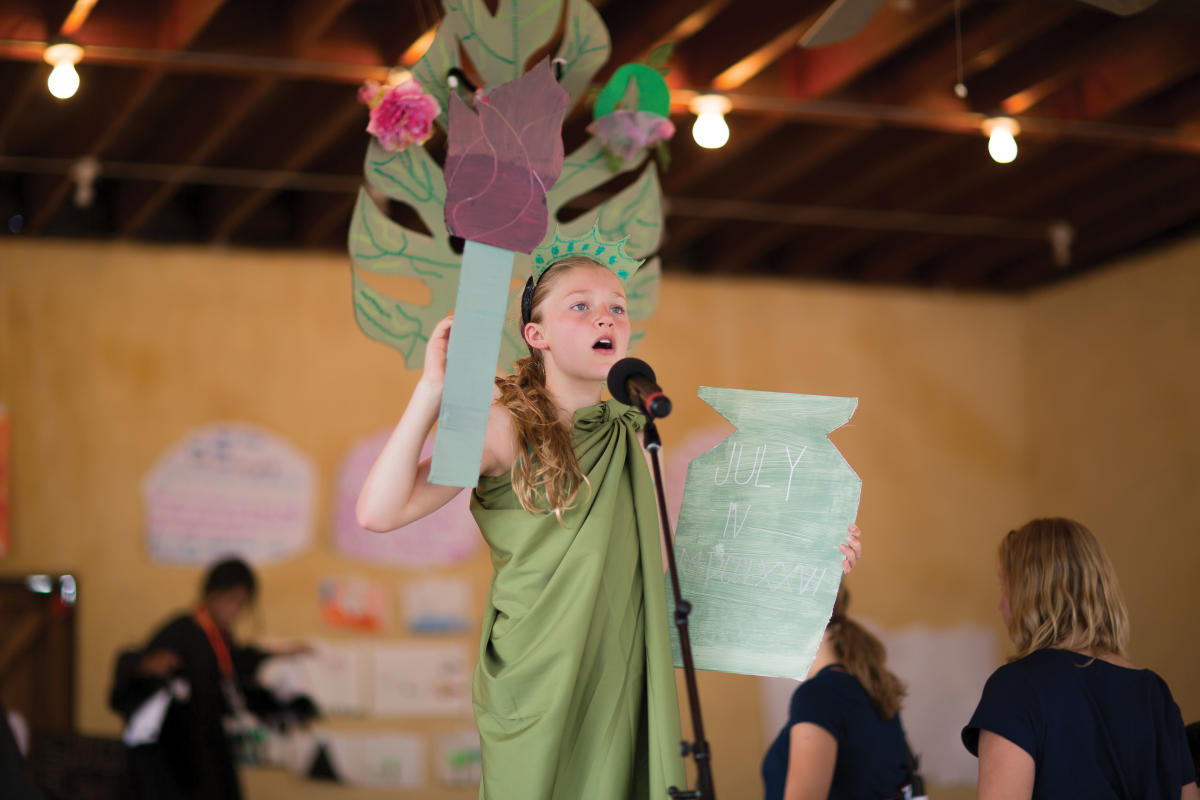 Above: Scenes from summer camp, Nina Lyons as Lady Liberty.
There's not a lot of that for opera careers." Her division's programs aim to repair that, beginning with preschoolers who might one day perform on the stage of the Met or become composers, set designers, audience members, or just thriving adults.
"I've seen kids with an incredible awkwardness they're working through, and when they open their voice in a group, it's like a butterfly," says chorus master Carmen Florez-Mansi, who coaches the Sweet Potato kids. "They learn confidence, competencies, an understanding of preparing well, then delivering, then the joy of performance. All of that translates to real-life success."
Read more: Backstage at the Santa Fe Opera, a hidden city of tailors and wigmakers brings each production to fantastically detailed life.
One hot afternoon in June, 17 third through seventh graders drew friends and families to the Santa Fe Opera's Sombra Hall, a small open-air stage, where they performed a ragtag version of Global Warning, a 15-minute opera they wrote together during a two-week summer camp. The script opened in the rainforest of Fantasé, where climate change had imperiled a widowed bird and her brood, spurring them to take an adventure that included a tornado, which the actors mimicked by running around the stage flapping single-use plastic bags.
Some were too shy to be heard. Some forgot their lines. The torch of their Statue of Liberty prop fell off as it was moved. But they floored the audience with the finale, a round of earth-friendly tips: Don't buy stuff you don't need. Ride your bike to school. Use solar power.
Twelve-year-old Maya Rosendorf played the mama bird, with a look of perpetual concern and some newly learned pirouettes that she aced in her wedge sandals. Her family lives in El Paso, but the seventh grader dreams of attending the New Mexico School for the Arts, in Santa Fe, and then garnering an apprenticeship at the Santa Fe Opera. "It would give me a layer to build on to go on to actual operas," she says.
Above: Scenes from summer camp, Amelia Smith and Dario Iurato.
Aaron, her 14-year-old brother, has other plans for the skills he picked up. "I want to make a difference in social activism. I'll be using the speaking, the gestures, in whatever I'm going to do."
This year, the camp expanded to Las Cruces and to a children's trauma center in Albuquerque. Director Becca Holmes believes the dividends it delivers will undergird every participant's life. "You need drama onstage and off," she says. "It's controlling your body and mind and listening to yourself and managing your behaviors. When they leave camp, they have learned confidence, self-control, and personal power."
And more than a few say they can't wait to hear what a beatboxer brings to the mix. Besides melding classic and pop formats, Sweet Potato clocks in at just over an hour, further expanding its appeal to people who equate opera with a three-hour endurance test. "Young people can totally love it," Thomas says. "Music specialists will approve because of the sonic techniques I'm using. And the opera people will really like it because it's so fresh and fun."
Read more: Home to the best in traditional Native American art, Gallup expands its creative reach to build a better community.
The Santa Fe Opera's larger goals, though, will require years to prove out. For 2018's Doctor Atomic, corn dancers from Santa Clara, San Ildefonso, and Tesuque Pueblos joined the performances—a first at this opera house, which perches on Ancestral Pueblo land. In August 2020, the opera premieres M. Butterfly, a transgender reinterpretation of the original tragedy. So far, the opera can point to a spike in attendance by younger families. But Fellows Walters lacks the power to restore arts programs to cash-strapped schools and can't count on any of the consortium's other companies to pick up future performances of Sweet Potato. Still, when Paris and the other performers take the stage this month, they intend to strike an insurgent's chord for the future of opera and, perhaps, the fate of a troubled world.
"In our lifetime," Neal says, "we won't solve prejudice or immigration. But we can create works that stand the test of time and that create an echo that spreads to other generations. That's what makes the Butterflys and Magic Flutes resonate across time. What better stories can we tell right now than our stories?"

CHANGING THE TUNE
Sweet Potato Kicks the Sun premieres October 26 at the Lensic Performing Arts Center, in Santa Fe. Catch it again in May 2020, when performances will travel from Santa Fe to Albuquerque and El Paso, with details on venues and tickets to come. For info on tickets to the October performance, go to the website.
Sample Nicole Paris' beatboxing style at nmmag.us/nicole. Composer Augusta Read Thomas' website discusses the development of Sweet Potato and its fusion of influences.
Opera for All Voices is a consortium of the Santa Fe Opera, Lyric Opera of Kansas City, Minnesota Opera, Opera Theatre of St. Louis, San Francisco Opera, Sarasota Opera, and Seattle Opera. To learn more about its efforts to expand opera's reach, listen to the Key Change podcast, hosted by the Santa Fe Opera's Andrea Fellows Walters and Brandon Neal.
Besides its summer festival, the Santa Fe Opera offers year-round educational programs, apprenticeships, and tours of its campus and backstage work areas. Look for details on its website.
---