Above: Taos Ski Valley during its annual Torchlight Parade. Photographs courtesy of Taos Ski Valley.
SKIING IS DIFFERENT IN New Mexico. That was the first thing I realized, on a maiden chairlift ride at Taos Ski Valley three years ago. The light was brighter, and the mountains were quieter. The desert skies were vast and nuanced, as was the skiing in the Sangre de Cristos. And then there was the culture and history. No mountain town could compare.
I've spent my life exploring the mountains of the world—I have lived in Oregon, Washington, California, Utah, and Montana and traveled to Alaska, Japan, Russia, and throughout Europe, all in search of big mountains and deep snow. But when I arrived at Taos Ski Valley, the experience was altogether unique.
New Mexico has great skiing experiences throughout the state, but Taos offers the biggest skiing, and the only one with world-class caliber. There's a reason the Freeskiing World Tour hosts an annual competition on its slopes: It boasts 3,300 vertical feet of skiing over 1,281 acres, more than 50 percent of which is expert terrain. Taos also averages 300 inches of annual snowfall (though in the past decade it has been closer to 200 inches) and 300 days of sunshine. The season can last from early December to early April.
I had long been aware of the charms of Taos—its steep runs, interesting culture, good margaritas—but it was always just a little too out of the way, and the snowfall too inconsistent, to make a trip happen. It was a girl who finally got me there.
My New Mexico story begins in Aspen, Colorado. Earlier that winter, while skiing at Alta, Utah, I met a woman who lived in Santa Fe. At the time I was the editor of Powder, "The Skier's Magazine." An assignment brought me to Aspen, and the woman offered to meet me and then drive me to New Mexico for my first visit.
I remember that day well. We ate breakfast at Tune-Up, in Santa Fe. In addition to huevos, over easy, Christmas, we ordered a pupusa to share. We didn't finish it, so I wrapped the leftovers in foil and stuffed the warm delicacy in my jacket pocket. Once at Taos, I followed my new friend up the bootpack to West Basin, a ridgeline where the skiing is technical—narrow, steep, and rocky. It hadn't snowed in a while, but the north-facing slope held cold, chalky snow that I could dig my edges into. We chased each other down the many chutes in this area throughout the afternoon. It felt as if we had the place to ourselves. We didn't wait in a single lift line. The lifties, while listening to reggae, gave us knowing nods as we loaded onto the chairlift. It was a cloudless March day. The view from Highline Ridge showcased the breadth of the mountain range.
On our last lift ride, we met a bearded tele-skier named Dan. I offered him some of my pocket pupusa. Dan and I realized we had a mutual friend, and he convinced us to take one more lap down West Basin with him. Afterwards, the woman and I basked on the deck of the Bavarian while drinking steins of pilsners and eating soft, salty pretzels. On the way back to Santa Fe, we stopped by the business Dan had founded, Taos Mesa Brewery, where we had a beer as he gave us a tour of his eclectic restaurant near the Río Grande Gorge.
That time was a beginning—for me, but also for Taos Ski Valley. A couple of months after my visit, the ski area hired David Norden as its new CEO and tasked him with transforming the business. Change was coming.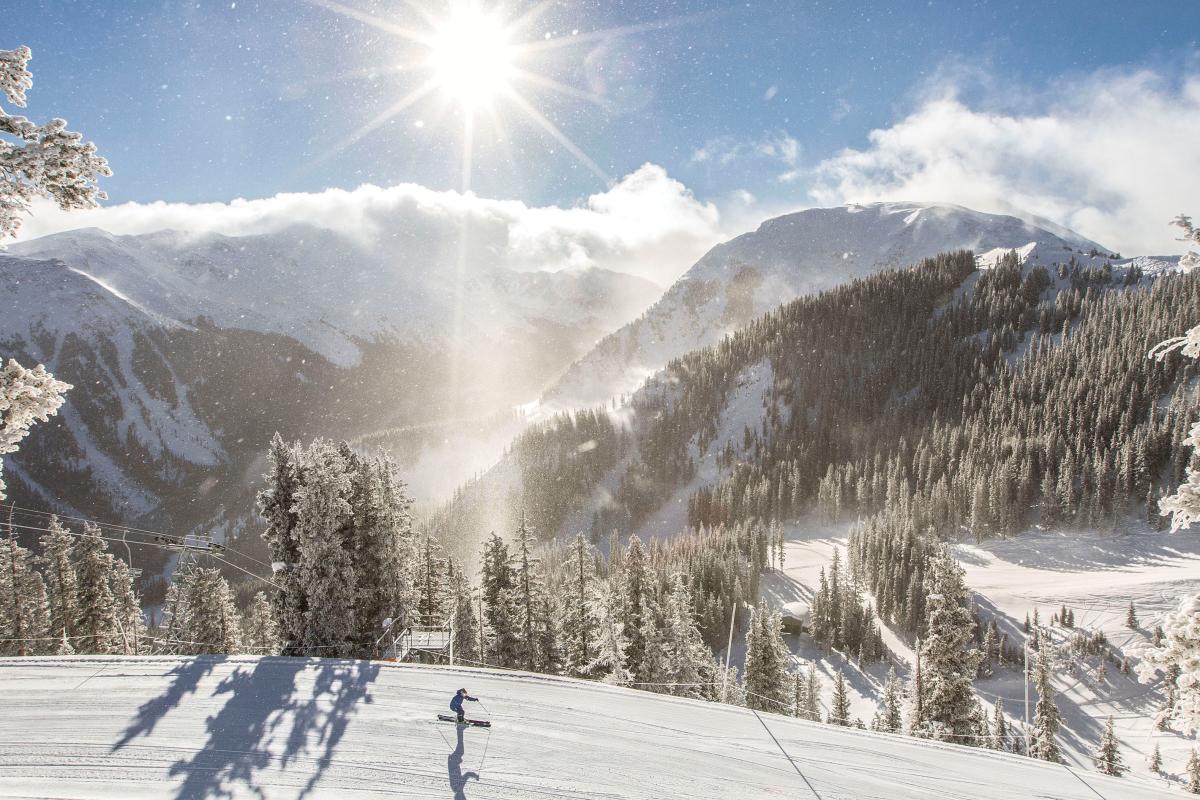 Above: Taos Ski Valley has options for every skier and snowboarder, like the harrowing steeps of Kachina Peak (in the background) or low-angle groomers.
IN THE SHADOWS OF COLORADO'S ROCKIES, Taos has a mainstream perception problem. A recent episode of Better Call Saul, which is filmed and based in Albuquerque, sums it up. The main character attends a cocktail party at his partner Kim's law office, and he enters a conversation where her colleagues are talking about where to go on an upcoming company retreat. Someone suggests Santa Fe's Ten Thousand Waves. Another offers Carlsbad Caverns. But Rick, one of the firm's partners, is thinking bigger—he wants to splurge. He has Taos Ski Valley in mind. "Taos … that's nice," says Jimmy with hesitation in his voice. "If you're up for adventure, you know where the great skiing is—it's Telluride. The runs at Telluride, they make Taos look like a bunny slope."
Jimmy definitely got that one wrong, but still, it means nothing without snowfall. Taos Ski Valley is coming off its worst winter ever. Last season, the ski area recorded a total of 80 inches of snowfall. They relied heavily on water-intensive snowmaking to keep the pistes open, but still operated at a major loss. In the big picture, it was an anomalous event, but climate change, especially on these southern slopes, threatens to make snowfall ever more irregular.
"Last year looks like the worst year going back to the 1890s," Norden told me this fall. "So call it a 100-year event, and if it's a 100-year event, we're fine. If it's a five- or ten-year event, I think we're really in big trouble."
I remember riding chairlifts over bare slopes in January last season and wondering if it was the beginning of the end of skiing in the region. Either way, Taos is going all in and moving forward with major upgrades. This summer, the resort completed the second phase of a multi-year $300 million investment. The ski area installed its first high-speed quad, replacing the old Lift 1, and renovated the Bavarian and Phoenix restaurants. They've also doubled down on snowmaking, with the addition of 30 new tower guns and 50 new hydrants. These developments follow the opening in February 2017 of the luxurious, LEED Silver–certified Blake Hotel, a new children's center, and a "gondolita" that connects the beginner hill to the main base area. In 2019, construction starts on new condominiums to open in 2020. And in October, the ski area announced its most ambitious plan yet: a new airline. Beginning this winter, Taos Air will offer daily flights from Taos to Dallas and Austin.
Read more: Check out these tips for skiing like an expert in New Mexico.
Things are definitely in flux, but the hope, for Norden, is that things are also not changing at Taos Ski Valley. The balancing act is to improve infrastructure and bring in more skiers while also preserving the culture and feel of a place that is revered by residents and longtime visitors. He refers to it as his ultimate challenge.
"Our high-ranking mandate is to change the place without changing anything at all," he says. "But we had an old asset that was tired and crumbly and really didn't work, and we were losing visitation on an annual basis over a 20-year period, to a point where it doesn't work economically. You really have to have economic viability for true sustainability. So we're putting it back together."
Norden says the company is also working on its purpose. The hope is that it isn't just good for business. In February 2017, Taos Ski Valley became the first ski resort in the world designated  as a B Corporation, which means it meets "rigorous standards of social and environmental performance, accountability, and transparency." Between 2014 and 2016, the ski area reduced its energy consumption by 11 percent, with a goal of dropping it another 20 percent by 2020.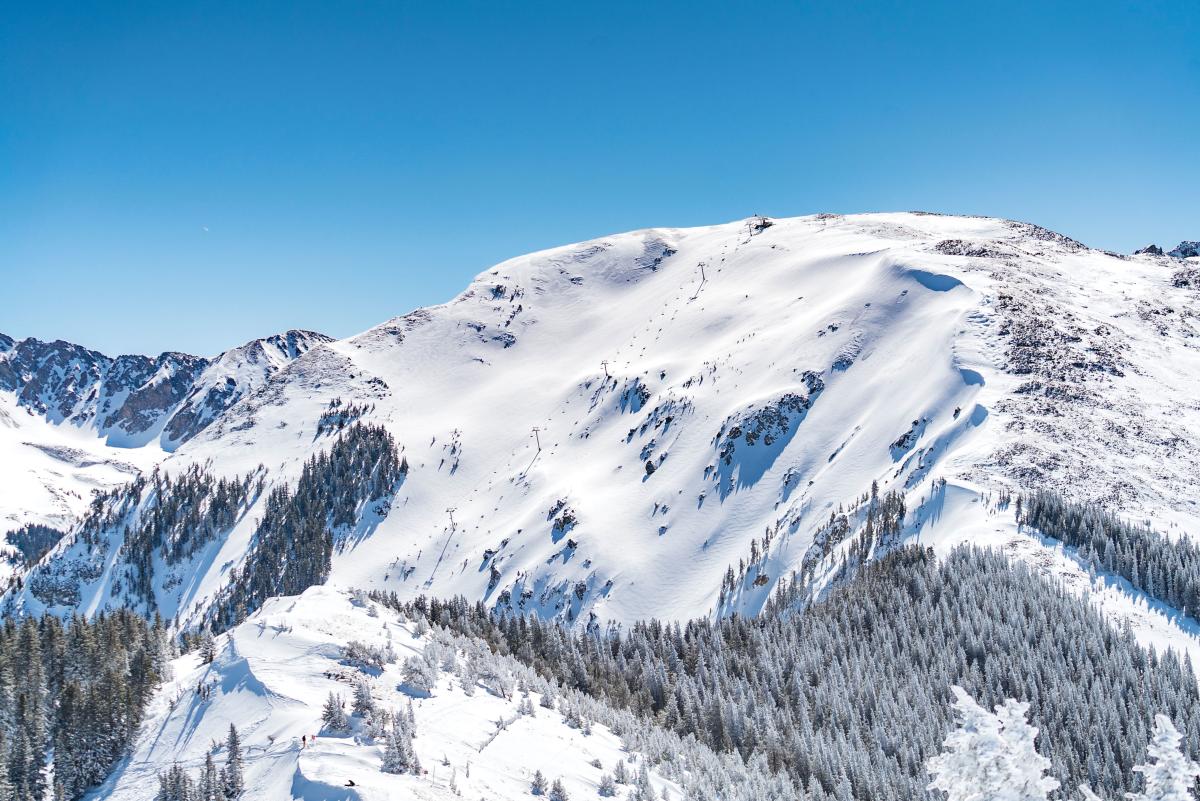 Above: Kachina Peak has some of the best lift-accessed skiing in the country.
In response to the unpredictability of winter, Taos is also trying to diversify by developing more summer activities, including improvements to the Williams Lake hiking trail, the installation of a via ferrata—a rock-traversing route employing steel cables—and the construction of two beginner and intermediate flow trails for mountain biking. Eventually, in cooperation with the U.S. Forest Service, the resort will offer 15 miles of lift-accessed mountain biking.
Adding year-round activities is nothing new among ski resorts, but few are investing on the level of Taos Ski Valley—and fewer still are independently owned. The ski industry is undergoing a sea change. In the face of declining skier visits, inconsistent snowfall, and changing consumer trends, it is increasingly difficult for medium-size ski areas to have enough cash to make the improvements their customers demand. Four companies now own 46 of the most significant ski areas in the country. Two of those operations, Vail Resorts and Alterra Mountain Co., are gobbling up ski areas and adding them to their joint season pass offerings—either the Epic Pass or the Ikon Pass, of which Taos is now a member. (Taos also remains a part of the Mountain Collective Pass for the upcoming season.) Over the summer, Crested Butte, Crystal Mountain, and Stevens Pass were the latest to sell.
But the Taos experience endures. And it is an experience. The lifties rock out. Slim Slidell, the ski-clad dummy at the top of Lift 2, demonstrates how to self-arrest in case of a fall on the steep slopes. The lederhosen and dirndls at the Bavarian are genuine, and the German beers on tap rare and delicious. Tim's Stray Dog Cantina might have the best huevos in the state—and the cocktails are pretty good, too. The St. Bernard has a cozy atmosphere and great live music. The Blake's restaurant, 192, serves incredible desserts, and Pizza Shack bakes tasty, fast pies.
Read more: New Mexico's Smartest Ski Area.
The ski area combines character, a rare cultural infusion, and a lot of local pride. Down the valley, a vibrant and eclectic art scene thrives in the town of Taos, while Taos Pueblo, one of the longest continuously inhabited communities in the country, offers a fascinating and inimitable cultural experience. In an increasingly homogenized ski world, Taos has something no other place can offer, which is what originally appealed to me, and what has kept other lifelong skiers in the Sangre de Cristos.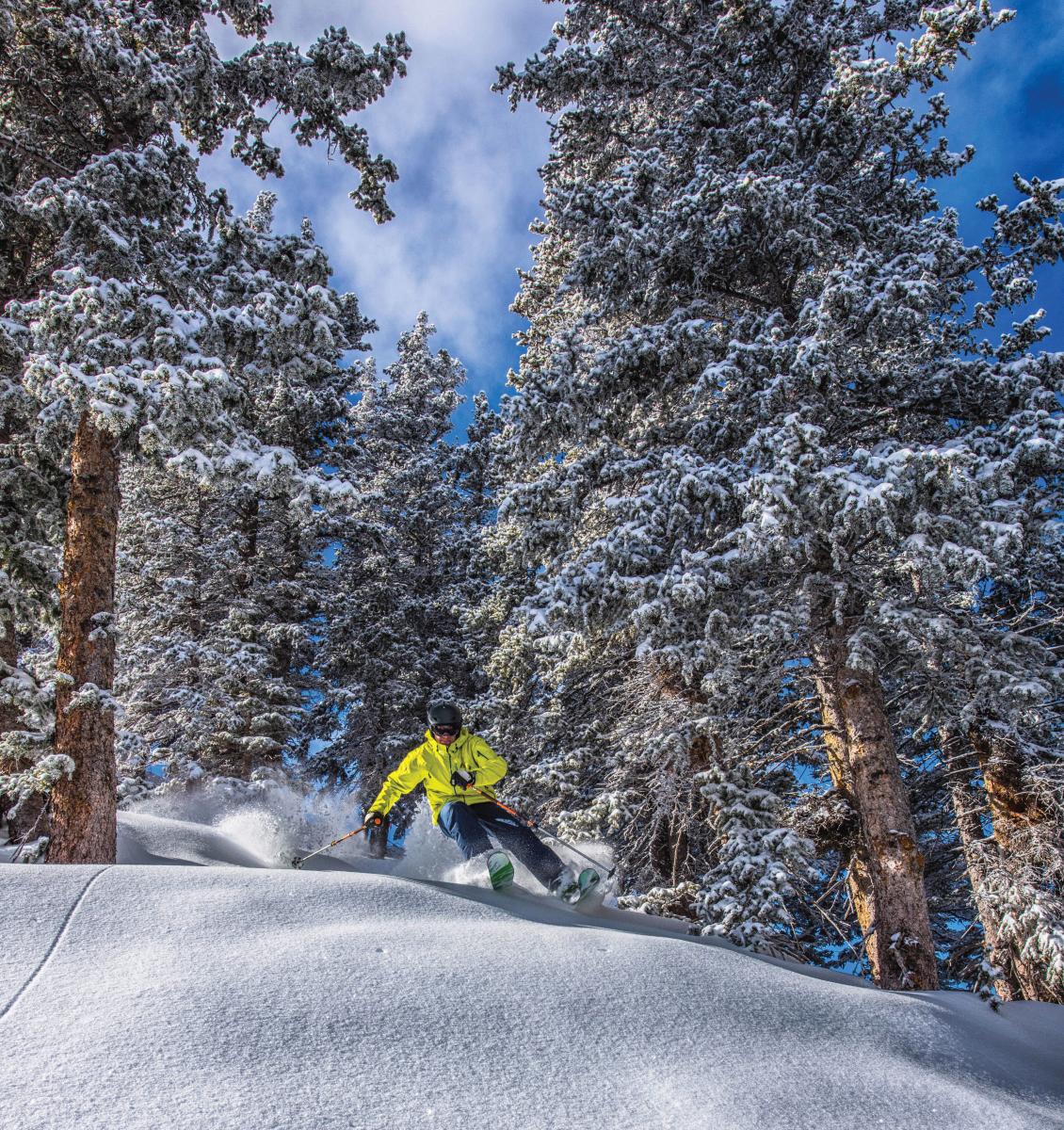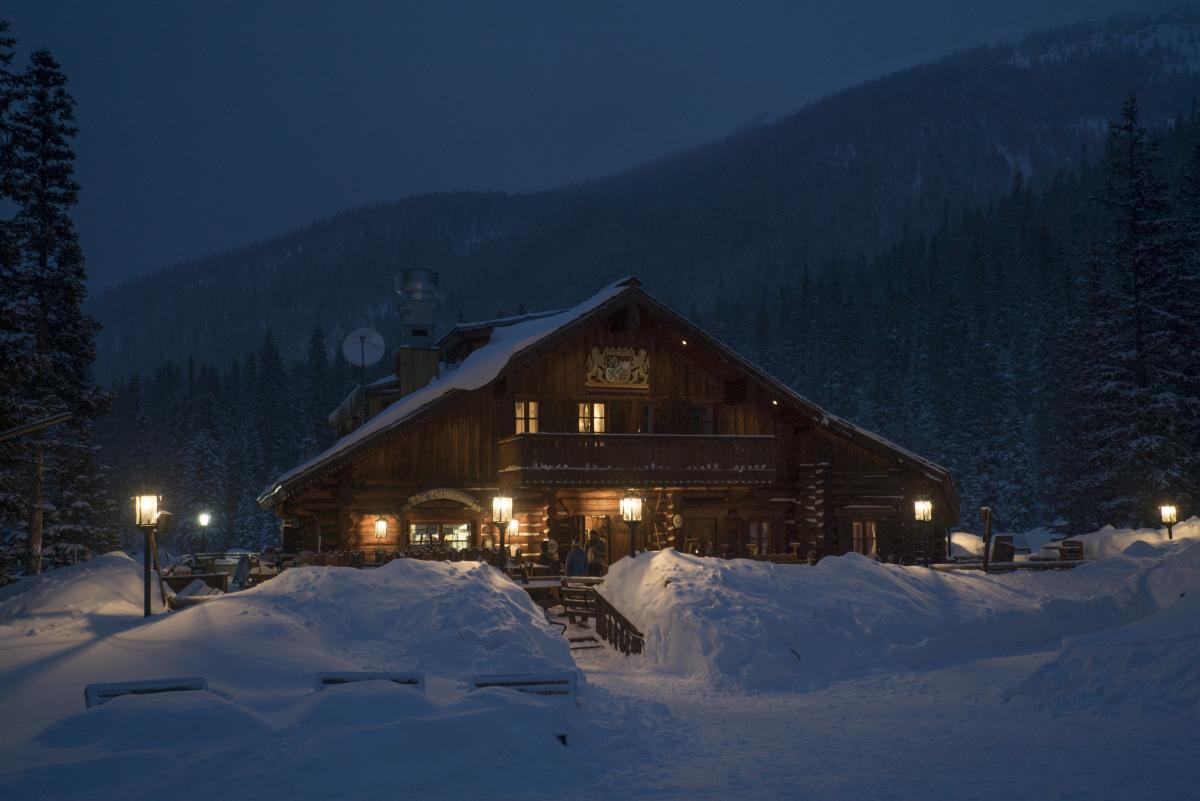 Above: Ski fresh powder (photo by Dave Cox), then warm up at the Bavarian Lodge and Restaurant.
"I love that it's a little bit different. I've been lucky enough to ski at a lot of pretty neat places and mountain towns in the West, and in the Alps, wherever," says Taos Ski Valley ski patroller and legendary mountain guide Dave Hahn. "I mean, Telluride has wonderful skiing, Aspen has great mountains, but in a way, those areas are all the same. Taos is quite different, for being in New Mexico and for the mix of cultures, the mix of mountains and desert, and the fact that it's a little off the beaten path. Most Americans don't know that New Mexico is a state, or that there's snow in New Mexico—or mountains, or skiing. We've got those odd things kind of protecting us a little bit."
Norden knows this, too. Denver is the fastest-growing market for Taos. The ski area will continue to market to Colorado skiers to explore south of the state line for something they can't experience from the ski areas of the well-worn I-70 corridor.
"If we do our job right, it leaves us with a place that is greatly differentiated from the pack, because the pack looks the same, and the pack is getting bigger," he says. "We've got the culture, we've got the scale, and we have a great mountain."
Get great stories like this delivered right to your door. Subscribe today. 
I DIDN'T REALIZE IT AT THE TIME, but on that first trip to New Mexico, I was falling in love. With the woman, with the Sangre de Cristos, with Taos Ski Valley. The following season, I spent the winter in New Mexico. The skies consistently dropped cold, smoky snow. I skied powder off the Kachina lift for the first time, and it was as good as skiing the tram at Jackson Hole or any other ski area in the lower 48. The mountain seemed to reveal itself—slowly, and in wonderful and surprising ways.
The following winter, two years after the initial visit, I quit my job at Powder, moved to Santa Fe, and married the girl on the deck of the Bavarian after a day of midwinter skiing. We called it an après-ski wedding. We had pilsners and pretzels with friends and family and walked down a snowy aisle. Then we loaded buses and headed to Dan's pub for our reception.
No, it didn't snow much last winter. But we're in it for the long haul.  

NEW MEXICO IS FOR SKIERS
Angel Fire Resort
Angelfireresort.com
Known for: Great family atmosphere.
Where to eat/drink: Try Legends Grill, especially if it's Taco Tuesday, or El Jefe for lunch at the resort, or Enchanted Circle Brewing Company in town. Vertical Feet: 2,077
Base Elevation: 8,600
Summit Elevation: 10,677
Skiable Acres: 560
Average Snowfall: 210 inches
Taos Ski Valley
Skitaos.com
Known for: Steep skiing, great learning center, good bars and restaurants, the Blake Hotel.
Where to eat/drink: Tim's Stray Dog for breakfast or lunch and the Bavarian for après.
Vertical Feet: 3,281
Base Elevation: 9,200
Summit Elevation: 12,481
Skiable Acres: 1,249
Average Snowfall: 300 inches
Ski Santa Fe
Skisantafe.com
Known for: Great tree skiing, good family programs.
Where to eat/drink: Head to Totemoff's at mid-mountain, grab a picnic table and some chili, and enjoy the live music.
Vertical Feet: 1,725
Base Elevation: 10,350
Summit Elevation: 12,075
Skiable Acres: 660
Average Snowfall: 225 inches
Ski Apache
Skiapache.com
Known for: Its gondola; being owned by the Mescalero tribe; one of the southernmost ski areas in the country.
Where to eat/drink: Hit Spirit Bar for après, the Inn of the Mountain Gods Resort & Casino to pull some slots, Wendell's for fine dining and live music. In Ruidoso, Win, Place, or Show has regular live country music and Noisy Water Winery offers great local reds.
Vertical Feet: 1,900
Base Elevation: 9,600
Summit Elevation: 11,500
Skiable Acres: 750
Average Snowfall: 180 inches
Ski Sandia Peak
Sandiapeak.com
Known for: Proximity to Albuquerque (it's 30 minutes from downtown to the tram); the tram from the desert to the craggy Sandía Peak; great slopes for beginners and families.
Where to eat/drink: In early spring, a new $7.5 million restaurant will open on Sandía Crest. In the meantime, Sandiago's Grill, at the base of the tram, whips up New Mexican classics, along with steaks and seafood.
Vertical Feet: 1,700
Base Elevation: 8,678
Summit Elevation: 10,378
Skiable Acres: 200
Average Snowfall: 100 inches
Sipapu Ski and Summer Resort
Sipapunm.com
Known for: Very family-friendly.
Where to eat/drink: Try Riverside Café, on the second story of the historic lodge.
Vertical Feet: 1,055
Base Elevation: 8,200
Summit Elevation: 9.255
Skiable Acres: 200
Average Snowfall: 190 inches
Red River Ski & Summer Area
Redriverskiarea.com
Known for: A family atmosphere and a great ski school. Slopes that come right into town, which is laid-back, with rustic mountain culture.
Where to eat/drink: Check out the new Red River Brewing Company or head to the Grill, at the ski area base, a popular spot to watch torchlight parades on Saturday nights.
Vertical Feet: 1,600
Base Elevation: 8,750
Summit Elevation: 10,350
Skiable Acres: 209
Trails: 63
Average Snowfall: 214 inches
Pajarito Mountain Ski Area
Pajarito.ski
Known for: Great tree skiing; fun family atmosphere; lots of scientists.
Where to eat/drink: In Los Alamos, get a beer at Bathtub Row Brewing Co-Op and a burrito at El Rigoberto's.
Vertical Feet: 1,440
Base Elevation: 9,000
Summit Elevation: 10,440
Skiable Acres: 750
Average Snowfall: 125 inches
---