Culturally speaking, New Mexico is a fascinating place to eat dessert. While its savory specialties are arguably more famous, the Land of Enchantment provides a bounty of both ingredients and regional specialties that can be parlayed into a truly exceptional dessert course. With a holiday devoted to love and chocolate just around the corner, what better time to explore?
In terms of ingredients, New Mexico's sunbaked soil and chilly desert nights provide a unique growing climate. While few crops are exclusive to the state, the short growing season, dry climate, and temperature variances lead to extremely concentrated flavors. Whether it's a red-hot chile, buttery piñon nuts, or sun-ripened fruit, the flavors are intense and alive.
Here, the dessert scene is multicultural, melding aspects of Native American, Spanish, Mexican, and Anglo cookery. Along with anise-scented biscochito cookies and natillas, you'll definitely see tres leches cake and flan more frequently than in other parts of the country, as well as sweetened fry bread, atole, and Indian bread pudding.
Of course, New Mexicans also enjoy classic sweets along the lines of cookies, cakes, and pies. Combine this with the regional aspects, and you've got all the elements for delicious desserts with a distinctly Southwestern touch—green chile apple piñon pie, anyone?
This collection of desserts unites the vibrant flavors and specialties of New Mexico with internationally beloved classic desserts for a most delicious union. From red chile red velvet cake to truffles made with locally produced dessert wine, from horchata-infused tres leches cake to a decadent chocolate cake with salted caramel and piñon, there's something for every appetite.
RED CHILE RED VELVET CUPCAKES
Did you know that red velvet cake is naturally red? It's true: a reaction between the alkaline ingredients (baking soda, cocoa) and the acidic ones (buttermilk, vinegar) imparts a naturally brick-like tone to the cake; red food coloring only enhances its natural assets. In spite of its vivid hue, the cake is surprisingly subtle in taste, with a gentle cocoa flavor. Served in pint-sized form as cupcakes, this version of red velvet gets a little kick from the addition of red chile; think of it as the cake equivalent of a come-hither glance. Makes 24 cupcakes
CAKE
2 heaping tablespoons unsweetened cocoa (not Dutch processed), sifted
1⁄2 tablespoon red chile powder
1 teaspoon concentrated gel red food coloring (optional)
1 1⁄2 tablespoons water
2 1⁄4 cups cake flour, sifted
1 teaspoon salt
2 sticks unsalted butter, softened
1 3⁄4 cups sugar
2 large eggs
1 teaspoon vanilla extract
1 cup buttermilk
1 teaspoon baking soda
1 teaspoon white vinegar
CREAM CHEESE FROSTING
1⁄2 cup (1 stick) unsalted butter, softened
8 ounces (1 cup) cream cheese, softened (do not use low-fat)
1 teaspoon vanilla extract
4 cups confectioners' sugar
Preheat the oven to 350° F. Place liners in the cups of two cupcake pans. In a small bowl, combine the sifted cocoa, chile powder, food coloring, and water. Mix together until it forms a thick paste. Set to the side. In a medium bowl, combine the cake flour and salt. Set to the side. In the bowl of a stand mixer fitted with the paddle attachment, combine the butter and sugar. Mix on medium-high speed for 3 minutes; it will be fluffy. Add the eggs, one at a time, pausing to scrape down the sides of the bowl with each addition. Stir in the vanilla and the cocoa mixture, mixing until smooth. Add the flour alternately with the buttermilk in 3 additions each, mixing on low speed and scraping the bowl after each addition. In a medium bowl, combine the baking soda and vinegar (it will begin to fizz and bubble) and add it immediately to the batter. Mix until just combined.
Divide the batter among the cupcake liners, filling each 3⁄4 full. Don't overfill the cups; use extra batter to make more cupcakes rather than filling the cups to the brim. Bake for 16–18 minutes or until a cake tester or toothpick inserted in the center comes out clean. Let the cakes cool in the pans on top of a wire rack until they reach room temperature.
Make the frosting. In the bowl of a stand mixer fitted with the paddle attachment, cream the cream cheese and butter until very smooth. Stir in the vanilla. Add the confectioners' sugar one cup at a time, mixing well after each addition and pausing to scrape the sides of the bowl with a rubber spatula as needed, until the frosting is smooth and spreadable. You may not need to add all of the confectioners' sugar. Frost each cupcake with a generous dollop of frosting.
Store any extra cupcakes loosely covered in the refrigerator, but serve at room temperature. The flavor of the chile will become more pronounced the day after these are baked. If you still need more heat, consider sprinkling chile on the frosting.
Note: Adjust for high altitude by reducing the sugar by 1⁄4 cup and by increasing the buttermilk by 2 tablespoons.
CHERRY WINE TRUFFLES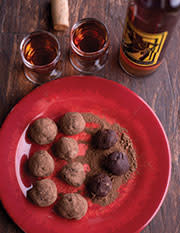 Hand-formed chocolate cherry wine truffles offer complex flavor with a personal touch.
Leave the mass-produced drugstore box of chocolates on the shelf and make your own ganache truffles—with dessert wine! I chose the luxuriant Desire Cherry Dessert Wine by Don Quixote Distillery & Winery (505-695-0817; dqdistillery.com), made with sour and tart cherries and their pits, which impart a slight almond flavor.
The distillery's tasting room in Pojoaque offers not only wine and locally distilled spirits, but unique flavoring extracts like blue corn vanilla, as well as monthly cocktail classes. Of course, you can always pick up artisanal truffles from Kakawa Chocolate House (505-982-0388; kakawachocolates.com) or ChocolateSmith (505-473-2111; chocolatesmith.com), both stops on the Santa Fe Chocolate Trail. Makes about 40 truffles
1 pound good quality bittersweet chocolate, finely chopped
1 cup heavy whipping cream pinch salt
1⁄4 cup Don Quixote Desire Cherry Dessert Wine (or other dessert wine)
1⁄2 cup unsweetened cocoa powder, sifted, for rolling the finished truffles
Line a baking sheet with parchment paper. Place the chocolate in a large heatproof bowl. Set both to the side. In a saucepan, heat the cream on medium-low heat, stirring occasionally to discourage scorching on the bottom of the pan. Bring it just barely to a boil. Once it comes to a boil, remove from heat immediately. Pour on top of the chocolate.
Using a wire whisk, mix the chocolate and cream together until they have become smooth and the chocolate has melted into the cream. It will be the consistency of a thick hot fudge sauce. Stir in the salt and dessert wine, mixing until smooth. Let the mixture come to room temperature in the bowl. Once it has come to room temperature, you'll see that it is still too soft to handle, which is just fine. Drop spoonfuls on your prepared baking sheet. They will not be at their most attractive right now.
Place the spooned chocolate in the refrigerator for 30 minutes. When you take out the tray, the chocolate should be solid enough to handle long enough to form into balls. Avoid being a perfectionist: the longer you handle the chocolate, the more it will melt. If the chocolate starts getting too soft, place it back in the fridge for a few minutes.
Roll each ball in the sifted cocoa, and place back in the refrigerator for about 10 minutes just to firm them up one more time. Store in the refrigerator, but serve at room temperature ... with more dessert wine, of course.
FLOURLESS CHOCOLATE CAKE WITH SALTED CARAMEL SAUCE AND PIÑON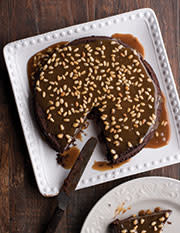 Pining for your sweetie? Show it by baking this flourless chocolate cake topped with salted caramel sauce and piñon
This cake is not fooling around: it boasts a full pound of chocolate, which ensures that each bite practically explodes with rich, intense flavor. Since the chocolate is front and center here, it's time to splurge on some good stuff. While technically not necessary, topping the cake with a buttery salted caramel sauce and toasted piñon nuts makes it truly unforgettable.
Makes one 9-inch round cake
CAKE
1 pound bittersweet or semisweet chocolate, coarsely chopped
11 tablespoons (1 stick plus three tablespoons) unsalted butter, cut into 1⁄2-inch cubes
5 large eggs, separated
1 teaspoon vanilla extract
1⁄4 teaspoon salt
2 tablespoons sugar
SAUCE
1 cup dark brown sugar, packed
1⁄2 cup heavy cream
11⁄2 teaspoons sea salt
1 teaspoon vanilla extract
GARNISH
1⁄4 cup whole toasted New Mexico piñon nuts
Preheat the oven to 325° F. Grease a 9-inch round cake pan and line the bottom with parchment paper. In the top of a double boiler, melt the chocolate and butter. Stir frequently until the chocolate and butter have melted. Remove from heat and let sit for 2–3 minutes.
Whisk the egg yolks into the still-warm chocolate mixture, quickly so that eggs will be incorporated before beginning to cook (nobody likes scrambled eggs in their cake). Stir in the vanilla extract.
In a separate bowl, using an electric mixer with the whisk attachment, beat egg whites until soft peaks form. Once this occurs, stop mixer and add sugar and salt. Scrape down the sides of the bowl if necessary. Continue mixing until the whites have attained firm, but not dry, peaks.
Using a rubber spatula, fold 1/3 of the egg white mixture into the chocolate mixture. Once combined, fold in the remaining egg white mixture in 2 more increments, mixing only until no more traces of white remain. Using the same rubber spatula, scrape the thick chocolate mixture into your prepared baking pan. Place the pan in a larger baking dish or roasting pan and fill the larger pan with water until it reaches halfway up the cake pan's height.
Place the entire unit into the oven. Bake for 30 minutes. The top and sides will be set, but the middle may jiggle a bit. Remove from the oven, and remove the cake pan from the pan of water. Let the cake cool in the pan. When ready to serve, run a sharp knife around the perimeter of the cake pan to loosen the edges. Place a serving platter on top of the cake pan and flip both the pan and the plate so that the cake is on top. It should come out easily. Remove the parchment. Store in the refrigerator, but remove 1 hour or more before serving to soften.
To make the caramel sauce, combine brown sugar, cream, butter, and salt in a saucepan on medium-low heat, stirring frequently, until the mixture begins to thicken, about 8–10 minutes. Stir in the vanilla and continue stirring another 2 minutes or until it has thickened a bit more. The longer you cook, the thicker the mixture will be, but keep in mind that it will further thicken as it cools. Let cool to room temperature before topping your cake. Immediately after topping, sprinkle the piñon on top.
HORCHATA TRES LECHES CAKE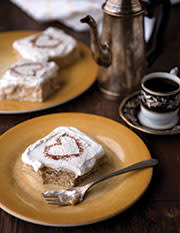 Horchata has great chemistry with tres leches cake.
While tres leches cake is not exclusive to New Mexico, you'll certainly see it in much greater concentration here: a standard menu item rather than a novelty. The addition of horchata (a milky cinnamon-spiced rice beverage readily found in Mexican and New Mexican eateries alike) takes this cake from a homespun delight to a nicely spiced and downright addictive dessert.
Makes one 9-by-13-inch cake
CAKE
3⁄4 cup all-purpose flour
1 teaspoon baking powder
1⁄2 teaspoon salt
1 teaspoon cinnamon
5 large eggs, separated
3⁄4 cup granulated sugar, divided
1/3 cup whole milk
1 teaspoon vanilla extract
LIQUID
1 can (14 ounces) sweetened condensed milk
1 cup horchata
1⁄2 cup whole milk
1⁄4 teaspoon salt
1⁄4 teaspoon cinnamon
TOPPING
1 cup heavy whipping cream
2 tablespoons horchata
2 tablespoons confectioners' sugar
2 teaspoons cinnamon
Preheat the oven to 350° F. Generously grease a 9-by-13-inch Pyrex pan.
In a medium bowl, sift together the flour, baking powder, salt, and cinnamon. In a large bowl, combine the egg yolks and 1⁄2 cup of the sugar. Mix until lemon-colored and fluffy, about 2 minutes with a mixer on medium speed. Add milk and vanilla and beat again until the mixture has combined.
In the bowl of an electric mixer, beat egg whites until soft peaks form, about 2–3 minutes on medium-high speed. Add remaining 1⁄4 cup of sugar and continue beating until the peaks have become firm but not dry.
Whisk about 1/3 of the egg white mixture into the yolk mixture. Stir gently to combine. Alternately fold in the flour mixture and remaining egg whites, stirring gently until fully incorporated.
Pour the cake batter into the baking pan and bake for 20–25 minutes, or until a toothpick inserted in the center comes out mostly clean. While the cake bakes, make soaking liquid. Combine all ingredients in a medium-large saucepan and heat on medium, stirring frequently to discourage scorching, until it just begins to bubble around the edges. Remove from heat; let cool for a minute.
While the cake is still hot, prick the top all over with a skewer or toothpick. Pour about 1/3 of the soaking mixture on top of the hot cake. Once it soaks in, add the remaining liquid in 2 increments, pausing to let the cake absorb each addition. Cover loosely and put in the refrigerator to allow the flavors to develop, for at least 2 hours or up to overnight.
When you're ready to serve, make the topping. Whip the cream until soft peaks form; stir in the remaining ingredients and continue whipping until firm peaks form. Spread over the entire cake, sprinkle with cinnamon, and serve right out of the pan. Store loosely covered in the refrigerator.
Note: Adjust for high altitude by adding 1 table- spoon flour, reducing the baking powder by half, and increasing the milk from 1/3 cup to 1⁄2.
Jessie Oleson Moore is featured in "Storytellers". Visit her at cakespy.com.