Above: Jemez chilaquiles and green chile cast-iron corn casserole.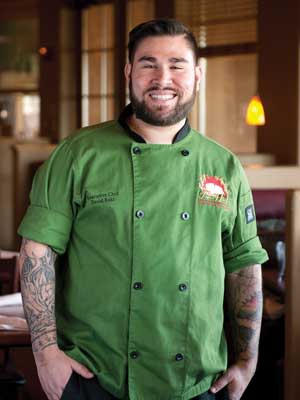 Chef David Ruiz shares his recipes.
AS A KID, DAVID RUIZ spent summers on his grandmother's Northern California farm, making food both humble (tortillas) and elevated (duck confit). Before landing in Albuquerque, he worked at restaurants in California and Colorado. As much as Ruiz thrives in the kitchen, you'll also find him outside of it, playing an active role in local food culture—teaching people about the connection between food and farming, on 2 KASA Style demonstrating how to make cantaloupe soup with red chile, and at 505 Food Fights, a Duke City–based chef competition.
As executive chef, Ruiz launched a new menu for Pueblo Harvest Cafe in February; here are some of the breakout hits so far. 
Jemez Chilaquiles
Serves 4
One of Ruiz's favorite childhood dishes was chilaquiles, which his grandmother made the California way, with tortilla strips simmered in a poblano/jalapeño green salsa. Pueblo Harvest Cafe sous-chef Burt Wilson, who is Zuni and Navajo, introduced him to the Jemez Pueblo way of making chilaquiles—generously smothering them with red chile sauce and carne adovada. This comfort food brings together New Mexico's signature flavors. And the secret, Ruiz says, is in the quality and flavor of the red chile sauce. (He uses red chile purée to make the sauce, but here's a link to red chile sauce recipes that instead use red chile pods or red chile powder: mynm.us/redchilesaucerecipes.)
One dozen 8-inch flour tortillas, cut into 6 triangle slices each

16 ounces red chile sauce (recipe below)

16 ounces shredded cheddar and Jack cheese

2 cups carne adovada (recipe below)

2 tomatoes, diced

1 yellow onion, diced

1 bunch cilantro, chopped

8 eggs, cooked any style

Vegetable oil
Heat vegetable oil in a saucepan until it reaches 325–350° F. Fry tortilla slices one handful at a time until they are crisp and golden brown. Divide the chips among 4 plates and spoon 4 ounces of red chile sauce over each plate. Top with cheese, carne adovada, tomatoes, diced onions, cilantro, and eggs.
Carne Adovada
Serves 4
1 pound pork, cut into 1⁄4-inch cubes

1 yellow onion, diced

2 quarts chicken stock

16 ounces red chile purée (available in most NM grocery stores, or online)

1 tablespoon ground cumin

1 tablespoon garlic powder

2 tablespoons red pepper flakes
Brown pork in a saucepan until almost cooked through. Add diced onions and cook until brown. Add the remaining ingredients to the pot and simmer for one hour, or until the pork is tender and the sauce has thickened.
 
Red Chile Sauce
Serves 4
16 ounces red chile purée

1 teaspoon onion powder

1 teaspoon garlic powder

1 teaspoon dried oregano

1 cup water

1⁄4 cup cornstarch
Bring the red chile purée and spices to a boil. Mix together water and cornstarch. Slowly add cornstarch mixture to red chile until the sauce thickens.
Green Chile Cast-Iron Corn Casserole
Serves 4
This dish was created for Pueblo Harvest Cafe's annual Thanksgiving buffet and turned out to be the most popular by far, beating out the other 30 homemade dishes and the carving station. The staff was overwhelmed with requests for the recipe. Due to that demand, the café added it to its happy hour menu so people can enjoy it year round.
The cream cheese makes it creamy, the green chile gives it a pop of heat, and the corn brings in a hint of sweetness. It is a complex dish that offers so many layers of flavors. This crowd-pleaser takes only 10 minutes of prep time and 10 minutes to cook.
16 ounces corn kernels

16 ounces cream cheese

2 ounces chopped Hatch green chile

1 tablespoon chipotle chile powder

2 tablespoons honey

1 package flatbread
Heat oven to 500° F. Mix all ingredients except flatbread together until well combined. Divide into four 6-inch cast-iron or casserole dishes, or put in one large skillet. Bake for 10 minutes, until golden brown. Serve with warm flatbread.
Blue Corn Fried Chicken
Serves 4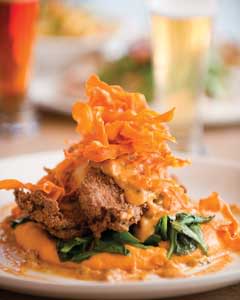 Blue corn fried chicken with sweet potatoes,
both mashed and fried.
The secret to this dish is to use the highest-quality chicken you can find (free range, organic) and to soak it in buttermilk for a minimum of 12 hours—Chef Ruiz likes to marinate it for as long as 2–3 days. Don't be afraid to leave it in the refrigerator; the more the chicken rests in the buttermilk, the more tender it will be. Buttermilk is the secret to fried chicken in the Deep South, and Ruiz has paired this tradition with Native American tradition by adding blue corn, a food sacred to Pueblo and Navajo people and other Southwestern tribes. For Pueblo people, blue corn represents gifts that we receive from the earth and our Creator.
4 6-ounce boneless, skinless chicken breasts

1 quart buttermilk

1 cup blue corn flour

1 cup all-purpose flour

Salt and pepper

4 cups canola oil
Carefully slice chicken breasts in half, in two long, flat pieces, and soak in buttermilk in the refrigerator for 12 hours. Combine blue corn flour, all-purpose flour, and salt and pepper in a flat sheet or bowl. Heat canola oil to 350° F in a stainless-steel pot. Coat chicken with the blue corn mixture. Fry chicken, 2 pieces at a time, in hot oil for 5 minutes, or until brown and crispy. Serve with sausage gravy, mashed sweet potatoes, and sweet potato chips.
Mashed Sweet Potatoes
Serves 4
2 sweet potatoes, peeled and diced

2 cups 2 percent milk

2 cups heavy whipping cream

Salt
Bring milk and cream to a boil. Add sweet potatoes, return to boil, then lower to a simmer. Cook for one hour or until potatoes are soft. Strain mixture, discard any excess cream. Salt potatoes and purée in a blender or food processor until creamy. 
Sausage Gravy
Serves 4
1 pound ground Italian sausage

1⁄2 cup canola oil

2 cups heavy whipping cream

1 cup 2 percent milk

2 tablespoons dark red chile powder

2 tablespoons ground black pepper

11⁄2 cups all-purpose flour
Heat oil in saucepan until smoking. Add the sausage and cook until brown. Add the heavy cream, milk, chile powder, and pepper and bring to a boil. Turn the heat to low and slowly add flour, whisking vigorously until combined. Add more milk if needed, to reach desired consistency.
Sweet Potato Chips
Serves 4
1 sweet potato, peeled

1⁄2 cup red chile powder

1⁄2 cup kosher salt

4 cups canola oil
Mix salt and chile powder in a bowl. Heat canola oil to 275° F in a stainless-steel pot. While the oil is heating, use a potato peeler to peel long strips of sweet potato into a bowl. When the oil is hot, add the peelings to the oil. Use a metal spoon to keep the chips separated as they cook. Cook for approximately 5 minutes, or until the chips rise to the top. Remove the chips carefully from the oil using a slotted spoon and transfer to a baking sheet. Dust with the salt-chile mixture and let sit until crisp.
Tesuque Gyro
Serves 4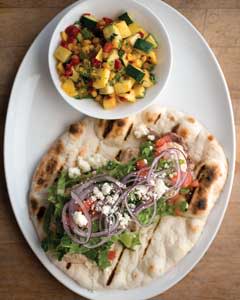 Calabacitas are often served with the Tesuque gyro at Pueblo Harvest Cafe.
Lamb is a staple of the Pueblo diet. When you visit any pueblo on any feast day, one thing you will always find (other than red and green chile) is lamb. Yet outside of pueblo communities, lamb is not an everyday item. Ruiz wanted to bring it to the lunch menu in a fun and inviting dish. His inspiration came from the gyro. "We roast and shave our lamb in-house and serve it on fluffy pita bread, making a sandwich that is both appetizing and an easy way for people to step outside of their comfort zone," he says.
"We also took a traditional tzatziki sauce and added red chile powder, which gives the sauce a whole new flavor profile. It's a versatile sauce that will also complement other sandwiches and meat dishes."
1 pound raw lamb, shaved (you can ask your butcher to shave it, or, using a very sharp knife, cut the lamb into very thin slices—make sure to cut slowly and away from your body)

Pita bread

3 ounces tomatoes, chopped

2 ounces sliced red onions

3 ounces romaine lettuce, chopped

12 ounces Tesuque sauce (recipe below)
Heat oil in a skillet. Add lamb and cook to desired doneness. Heat pita in the oven or on the grill until warm. Top pita with lamb, vegetables, and Tesuque sauce.
Tesuque Sauce
3 cucumbers, peeled

1 ounce fresh lemon juice

1 ounce red chile powder

1 cup nonfat plain yogurt

1⁄2 cup sour cream

1 teaspoon black pepper
Grate the cucumbers into a colander set in a bowl. Refrigerate colander, keeping bowl underneath it, for 4 hours. Combine the rest of the ingredients and mix well.