Above: A luscious steak entrée includes fresh arugula and
radishes, along with sculptured potatoes.
THE STEAK TASTED OF CAMPFIRE, the salad of dewy garden, the peaches of lazy August afternoons. As we sat in a dining room with the hand-wrought, Spanish Colonial design ethos of legendary architect John Gaw Meem, the sound of our mmm's was interrupted only by the occasional crowing of Albert, the pure-white peacock guarding the nearby bocce-ball court.
Diners at Los Poblanos Historic Inn have come to expect these sensory smorgasbords. After parking next to the kitchen gardens, they wander beneath towering trees and past a perfumed rose garden before settling in to Chef Jonathan Perno's carefully constructed breakfasts and dinners. For seven years, this native son of the North Valley has transformed his decades of training under some 
of the world's best-known chefs into a true farm-to-table invention that he calls Río Grande Valley Cuisine.
"This region is really deep in agricultural history and what it can produce," he says. "It's not just chile, corn, alfalfa, and some pumpkins. It's way beyond that. This is as rich as any agricultural space I've worked in."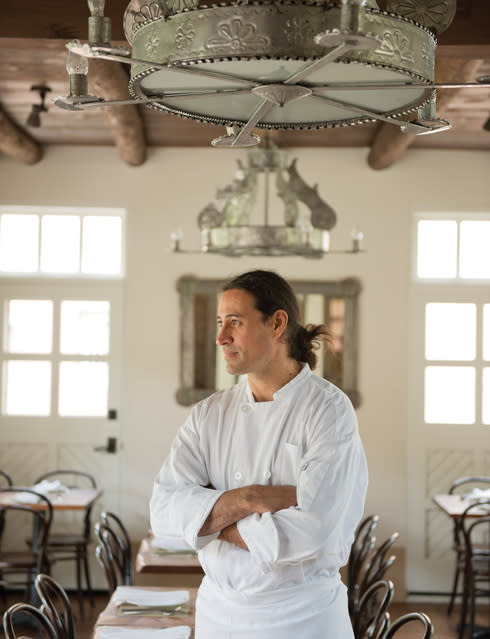 Chef Jonathan Perno, a James Beard Award Southwestern semifinalist,
puts an innovative edge on the farm-to-table trend.
That's saying something for a man who worked in fertile California, specifically in San Francisco, under Wolfgang Puck at Postrio and Alain Rondelli at Splendido, before logging time in Colorado, Utah, Paris, and London. While learning a library's worth of skills, he also bore witness to the bad behaviors and burnout factors that can doom even the best of chefs. Coming home to New Mexico in his forties (he's now 50), he pulled commendable duty at restaurants like Scalo Northern Italian Grill in Albuquerque, but also grew comfortable with his own humility and a desire to be a more evolved kind of chef and teacher.
"I was too wild," he says of his early years. "I had a quick demeanor."
In the 1990s, owners Armin and Penny Rembe and their son, Matthew, began turning their 25-acre property near the Río Grande into a gracious, 20-room inn featuring art and architectural details by the likes of Peter Hurd and Gustave Baumann. Its early incarnation offered no on-site dining, but on a 2009 visit to scout its catering potential, Perno imagined how splendid it might be to work there. Just weeks later, Matthew invited him to try out his skills with a live cooking demo. Snug in a kitchen once built for a small family, Perno managed to deliver a six-course meal that won him a full-time job. For each of the past three years, he's joined the semifinalist ranks in the regional James Beard Awards.
 Working with the inn's kitchen farmer, Fergus Whitney, he maps out what crops to grow, including his staff's gleanings from 25 types of fruit trees—peaches, apples, figs, jujubes, and mulberries, to name a few. He seeks out other growers in the valley and beyond and revels in ingredients like rancher Antonio Manzanares's free-range, organic lamb raised in Los Ojos.
"Those old techniques show up in how the product tastes," he says. "Last year, the food co-op I work with called me and said they had 200 pounds of bolita beans from the Schwebach Farm in Moriarty. I bought 'em all."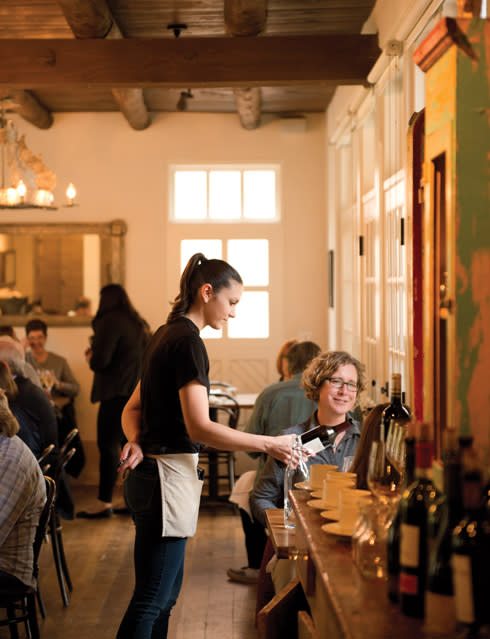 Diners settle in at Los Poblanos' in-house restaurant. 
By late summer, the pickings give him a wealth of options. For his steak dinner, he rubbed the meat with an achiote paste of robust spices that the inn is developing for sale in its Farm Store, building on a sous-chef's family recipe. He charred it outdoors over wood-fired coals to imbue it with that hint of campfire before finishing it in an oven. A salad of heirloom radishes and peppery arugula brightened the musky palate, with sculptured mounds of garlicky potatoes providing a mellow bridge between the two.
Other menus celebrate the chef's homemade charcuterie, pastas with garden produce, duck rillettes, and an ambitious preparation of pig's trotters stuffed with a chicken-and-mushroom mousseline. To extend the season, he and his kitchen crew put up canned preserves and freeze, dry, 
or store everything they can. Some of their products are available from the Farm Store, along with the inn's lavender-infused bath and culinary items.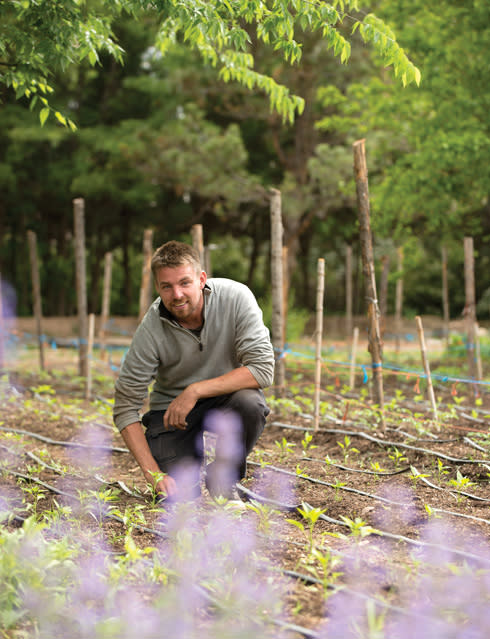 Farmer Fergus Whitney checks on his crops.
Over the next year, the property's 
historic barn will be renovated into a full-
service restaurant far more spacious than the cozy dining room that earned Perno and his crew a loyal following. (Best hint from a regular: Show up early for your 
dinner reservation and enjoy a cocktail in the adjoining Sala Grande while relaxing on tufted leather couches.)
Beehives and compost piles beyond 
the kitchen garden demonstrate the inn's commitment to organic farming, and Perno's tricks for avoiding burnout demonstrate his commitment to being a chef with staying power.
"I commute on a bike, I do archery, I spend time with my nine-year-old," he says. "When I'm in the kitchen, I just shift gears and breathe a lot. I use my training, but I cook from my heart now."
Los Poblanos Historic Inn offers breakfast 8–10 a.m. daily, dinner 5–8 p.m. Wednesday–Sunday by reservation.
Farm tours are offered on first and third Fridays. During the winter, Chef Perno leads monthly cooking classes. (505) 344-9297; lospoblanos.com
---
A SUMMERY LOS POBLANOS DINNER
Jonathan Perno prepared the following menu using the 
garden's late-summer bounty.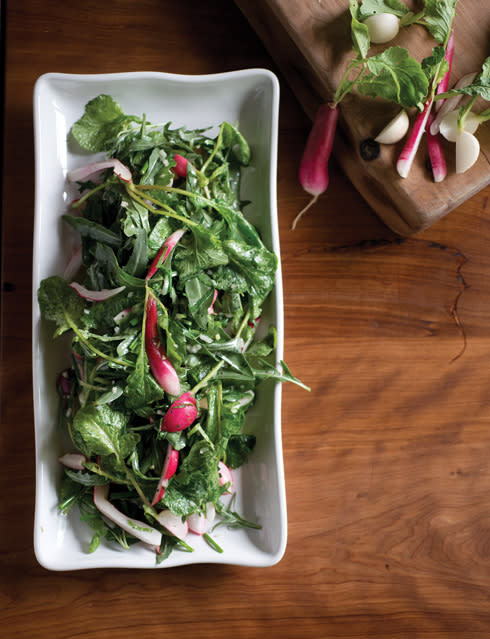 Radish Salad with Wild Arugula
Serves 6
4 ounces French breakfast radishes, washed and cut into quarters
4 ounces Easter egg radishes, washed and cut into quarters 
3 large shallots, peeled, cut into medium dice (rinse with cold water and let drain)
2 tablespoons parsley, chopped roughly
2 tablespoons basil leaves, cut into ribbons, chiffonade style
2 tablespoons chives, cut into half-inch batons
3 tablespoons virgin olive oil
2 tablespoons fresh lemon juice
2 cups arugula
Salt and pepper to taste
In a large mixing bowl, combine all the ingredients. Toss and taste for seasoning. Place on a serving platter.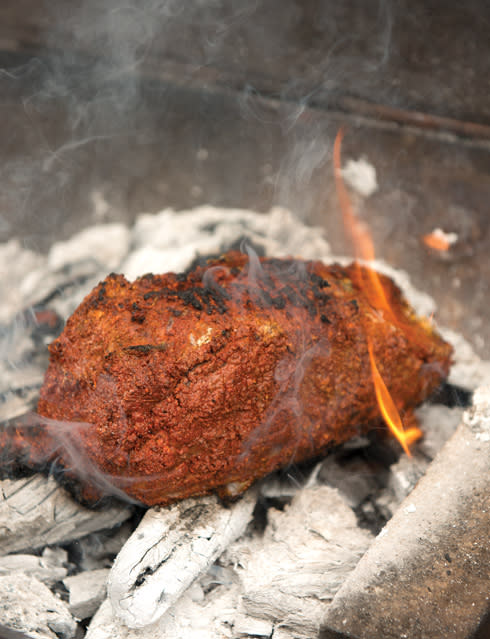 Charred Achiote Rib Eye
Serves 4–6
3 ounces of achiote paste (available in 8-ounce blocks in many grocery stores and Mexican markets)
Juice of 1 lime
2 cloves of garlic, minced
Cracked black pepper to taste
Salt to taste
Virgin olive oil for cooking
1–2 pounds rib eye steak
Crumble the achiote into a small mixing bowl. Add the remaining ingredients and mix until all is combined. Rub the marinade all over the steaks. Place them on a clean tray uncovered in the refrigerator 4–6 hours. Rest it at room temperature 15 minutes before grilling. 
Lightly oil a clean grill and heat to hot. Drizzle the meat lightly with oil, season with salt and pepper, then cook on each side until charred. Place on a sheet tray lined with a cooling rack and set in a 375° F oven 8–10 minutes for medium rare. Allow meat to rest 5 minutes, slice, and serve with your favorite potato dish or pommes duchesse (recipe follows).
Pommes Duchesse
Serves 6
3 large russet potatoes
3 egg yolks
3 tablespoons butter
3 teaspoons minced garlic
Salt to taste
Clarified butter or extra virgin olive oil for drizzling
Bake whole potatoes in a 375° F oven for 45–60 minutes or until tender. Let cool. Peel potatoes and rice them with the butter, garlic, and egg yolks into a bowl. Season with salt and place into a piping bag fitted with a large star tip. 
Pipe into mounds on a baking sheet lined with parchment paper. Drizzle with olive oil or clarified butter. Bake at 375° F until golden brown on the edges, about 10 minutes.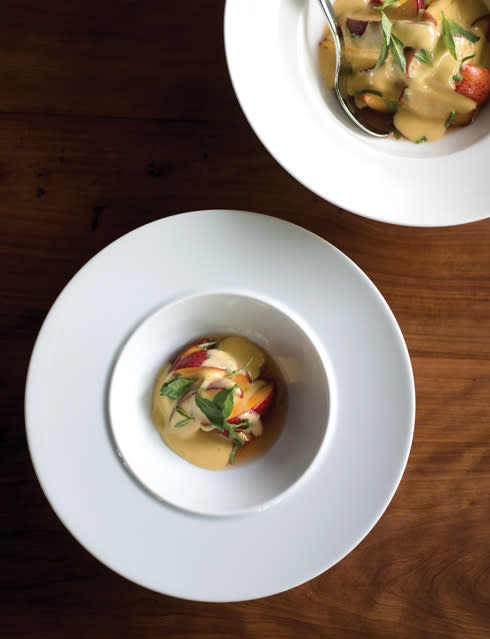 Zabaglione
Serves 6
6 large egg yolks
½ cup sugar
½ cup marsala
Pinch kosher salt
6–8 fresh peaches
8 basil leaves, cut into a chiffonade
¼ cup sugar
Juice of ½ lemon
Pinch of salt
½ teaspoon ground cinnamon
Fill a 4-quart saucepan with water a quarter of the way up the pot and bring to a simmer over medium heat. In a mixing bowl wider than the pan, combine the egg yolks and sugar and beat on high until the mixture is a thick, pale yellow and the sugar has completely dissolved, about 4–5 minutes. Set the mixer to low and add the marsala and salt.
Place the mixing bowl atop the simmering water, making sure the bottom of the bowl does not touch the water. With a whisk, beat the mixture until it holds a ribbon and the temperature reaches 145–150° F on an instant-read thermometer. (Zabaglione can be served hot or cold.)
Cut the peaches in half, remove the stone, and cut the halves lengthwise into sixths. In a mixing bowl, toss them with the sugar, lemon, cinnamon, and salt. Place in the refrigerator for up to 1 hour, tossing again 2–3 times as the fruit releases its juice. To serve, place peaches and juice in a serving dish, top with the zabaglione, and garnish with fresh basil.