Right: Chef Chris Maher. Left: The presentation of the dishes, vino included.
"THE DALAI LAMA is not a vegetarian. He likes meat!" says Chris Maher, who has cooked for the Buddhist leader. "He says the most important thing is the person who killed the animal—'I thank him for taking that karma on.' "
That's the kind of yummy cocktail-party tidbit you're likely to pick up at one of Maher's cooking classes, which take place at his home near Arroyo Seco. In fact, Cooking Studio Taos classes are more like convivial DIY dinner parties than formal lessons, with the added value that the host is a seasoned entertainer, in terms of both hospitality and staging. A working television and film actor as well as a chef and former restaurateur, Maher's a man who has clearly led several interesting lives, and taken his share of pleasure in them. So whether you're learning to cook North African or Southwestern, Creole or Cuban, joie de vivre is on the menu.
"What I do is about so much more than food," says Maher. "When you come to my class, you walk away a happier person." (Warning: After attending a class, one client quit his job in order to pursue his bliss.)
Maher's journey started in Alexandria, Egypt, where his family lived before moving to Toronto when he was nine. His grandmother and mother were "incredible" cooks, and his mother, who specialized in French, Turkish, and Middle Eastern cuisine, entertained "lavishly"—50 guests at a time, on a monthly basis. The roar of the greasepaint lured him to New York, where he studied with Sanford Meisner at the Neighborhood Playhouse, whose alumni include the likes of Steve McQueen, Gregory Peck, and Diane Keaton. Following the struggling-actor script, Maher worked at Tavern on the Green, an institution of a special-occasion restaurant in Central Park. There he worked the dining room under famed restaurateur Drew Nieporent, and learned "grace and elegance—how to serve without being subservient." After acting took him to Los Angeles, he opened a hugely successful bakery, a café, and a Beverly Hills/West Hollywood fine dining restaurant, all under the name Chris Michael's, while earning a James Beard Award nomination.
But if over the past few decades you've stayed home and watched TV more often than dining out in Los Angeles or taking cooking classes in Taos, you nevertheless had a good chance of seeing Maher in action. Hill Street Blues, Taxi, 24, The West Wing, Law and Order—he's appeared on more than 100 episodes, as well as 20 feature films, and keeps auditioning and acting like he needs the work.
One night in 1989, after he'd spent a year producing a movie, he was driving from L.A. to Telluride for a rest, and stopped randomly in Taos. One night led to another—"I was alone and loving every minute of it; I felt I was home."—and after four days he bought the land he now lives on, then later dug a well and built a casita and finally a house. With the exception of its professional indoor and outdoor kitchens, the house is a familiar New Mexico adobe, very much lived in and homey-feeling. His wife, Valerie, an MBA, manages the business, and their 10-year-old son, Milo, has the run of the place.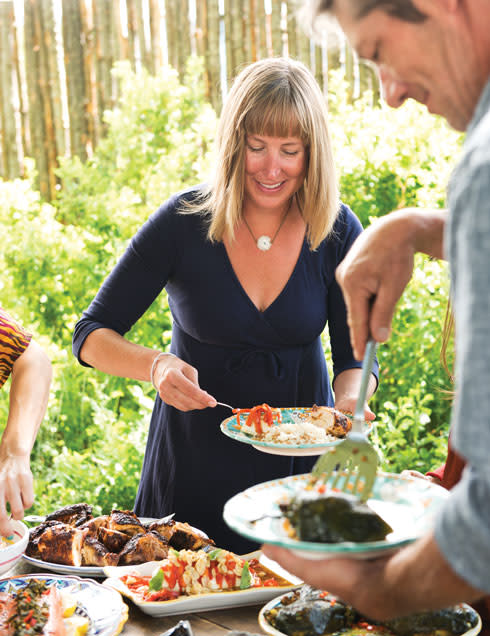 Above: Cooking class clients are participants, not spectators.
"I did it that way on purpose," Maher says. "If you go to a chef's home in the Tuscany or Umbria countryside, you get a piece of them, you see how they live, their family. When you come to my class, you get an experience of New Mexico."
He estimates that his clientele is 60 percent travelers, 40 locals. The latter also get in on his secret suppers, "underground" dinners for two to three dozen guests who are invited by email and pay upfront for a meal with an undisclosed menu and location. The meals create community, he says, and that's also why he teaches a global range of cooking styles. "It would be boring if I only did one or two cuisines!" he says. "Food unites us; we're connected through food."
Improvisation is at the core of Maher's technique. "Recipes mean nothing to me," he says. "I don't do it the same way twice." And while clients leave his lessons with printouts of the recipes, his goal is for those who take several classes to feel comfortable experimenting with whatever looks good at the farmers' market. "I tell people to do what you love and love what you do—and I tell them they're allowed to mess it up!"
CHRIS MAHER TEACHES a class called New Mexican with a Twist at his Cooking Studio Taos. "It means modernizing the cuisine to a certain extent, without bastardizing it," he explains. "For example, my red chile has chocolate and cinnamon in it. However, the quantities are small so that it augments the actual chile flavor, gives it legs. These additions are imperceptible, but people enjoy what happens in their mouth, on their palate."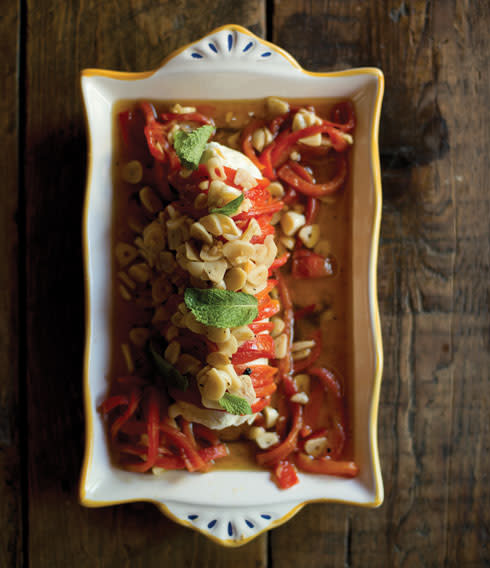 Pimientos Asados con Ajo (Red Peppers with Garlic)
3 large red bell peppers—look for deep red, firm, and even-colored peppers
16–17 cloves of garlic
Kosher or sea salt
Black pepper
Olive oil
Vinegar (white or red wine, seasoned rice, or any other vinegar you prefer)
Roast the red bell peppers on an open flame until completely charred on the outside with not much red appearing. Place in a bowl and cover immediately in plastic to allow them to sweat.
Slice the garlic into rounds, as thinly and evenly as you can (perfectionists use a razor blade!).
Once peppers have cooled slightly, peel and discard the skin, seeds, and any white pith.
Slice peppers lengthwise, about 1 inch wide.
Coat a pan with olive oil and heat to medium low. Add the garlic, turn heat to low, and sauté until garlic begins to barely take on some color. Add the slices of pepper and maintain on a tiny flame for another 5–7 minutes. Once thoroughly warmed, remove from heat, and place the mixture on a platter.
Add a scant cup vinegar to the pan, whisk it, then pour over the peppers and garlic. Add salt and pepper to taste. Serve with a sharp sheep's or goat's milk cheese.
5 poblano chiles
1 potato, boiled and cubed to inch or smaller
1 cooked large chicken breast, or 2 thighs, cubed to inch or smaller (optional)
1 cup mozzarella, asadero, or any other cheese that melts consistently
1 tablespoon cumin seed
1 tablespoon coriander seed
1 large onion, chopped
1 heaping tablespoon fresh garlic, minced
Olive oil
Salt, pepper
Fresh cilantro, chopped
Burn peppers on a high, open flame until they are evenly blistered all around. Place into a metal bowl and cover tightly with plastic. Allow peppers to steam themselves. Peel the skin and set aside.
Sauté the onion and garlic in olive oil until soft. Toast the cumin and coriander seed and then add to the onions along with the cubed potato and chicken. Salt and pepper it gently. Add the cheese and cilantro and mix thoroughly.
Take the peeled peppers one at a time. Make an incision on one side and carefully open the pepper, removing the seeds. Take a handful of the filling and stuff each pepper well.
Brush a baking sheet with olive oil and place the peppers, seam side down, as tightly closed as possible. Brush each pepper with olive oil and place in a 425° oven for 15 minutes or until cheese is thoroughly melted.
Serve as a side dish by itself or, if you like, place a tablespoon of red chile (see recipe, p. 65) on a plate and float the pepper on top.
1 cups dried red chile (preferably Chimayó red chile)
1/3 cup minced almonds or pine nuts
1 large yellow onion, finely chopped (approximately 3 cups)
10 garlic cloves
1/4 cup olive oil
1 tablespoon toasted cumin seed
1 scant teaspoon coriander
1 tablespoon pure cocoa powder (pure chocolate, not powdered drink)
1/4 teaspoon ground cinnamon
1 tablespoon brown sugar
Salt, pepper
8 cups chicken stock or water
Sauté onion and garlic in oil until soft. Add the cumin seed and coriander and continue to sauté another 4–5 minutes. Add the chile all at once and mix thoroughly—this will usually dry up your pan. Add the chicken stock or water, mix thoroughly, and allow chile to simmer for about 5–10 minutes. (If it gets dry, add a little more water.)
Add the cocoa powder and nuts, stir thoroughly. Add ground cinnamon and brown sugar. Continue simmering the sauce for a minimum of 20–30 minutes, making sure it doesn't go dry. Add salt and pepper to taste.
Purée sauce in a blender or Vitamix.
One batch of red chile sauce (recipe above)
1 whole, organic chicken
Generously salt and pepper the inside cavity of the chicken. Using a cooking syringe, inject the sauce under the chicken skin in three places on each side—the leg, thigh, and breast—and also in the back.
Truss the chicken with cooking string. (Look for demonstrations online.)
Cook the chicken on a rotisserie or roast it in a 425° oven for roughly 1 hour. (If roasting, place the breast side down for the first 30 minutes and then turn over.)
1 rack organic, grass-fed lamb ribs
1 teaspoon garlic powder
1 teaspoon onion powder
1 teaspoon cumin
1/4 cup medium-hot red chile
1 tablespoon kosher salt
1 teaspoon black pepper
1 ounce white vinegar
2 tablespoons molasses
Place lamb in a pot, cover with water, and add garlic powder, onion powder, cumin, red chile, salt, pepper, and vinegar.
Bring to a boil, reduce heat, and simmer for 45 minutes. Let cool and then refrigerate in the broth overnight.
The next day, remove the ribs and pour the broth into a saucepan. Add molasses and simmer, reducing to a thick consistency (similar to a barbecue sauce).
Place the ribs on a hot charcoal grill until black spots appear, basting constantly with the sauce. Remove from grill, let cool slightly, and cut into individual ribs to serve.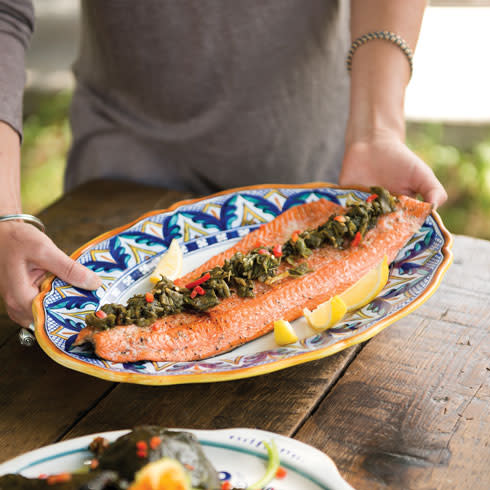 Grilled Copper River Salmon with Green Chiles
1 side of wild Copper River salmon, skin on
Kosher salt
Black pepper
Olive oil
Fresh roasted green chiles
Prepare charcoal grill. Adjust temperature to 400–425°.
Generously salt and pepper the meat side of the fish and rub both sides with a bit of olive oil.
Clean and peel the green chile. Chop fine and set aside.
Using a long-tongued spatula, center the fish on the grill, skin side down. If you need to cover to adjust the temperature at this point, do so.
Grill for about 12–14 minutes. (When you touch the meat side, it should bounce back.) Fish will be cooked through, with the top slightly rare.
Remove from grill, top with green chiles, and serve.
Cooking Studio Taos: Classes resume in the middle of October and continue through November, and beyond. There's a Secret Supper on Nov. 11. cookingstudiotaos.com