THE DINING ROOM IS QUIET at 225 East Marcy Street, a few blocks from the Santa Fe Plaza. Cushiony black and red chairs rest empty around Formica-and-wood tables. Multicolored silk roses bloom perpetually at their center, beside envelopes of sugar and glass shakers of pepper and salt.
From the kitchen in the rear, the hearty bouquet of red and green chile unfolds upon a delicate, anise-tinged aroma of fresh-baked bizcochitos. Spanish radio plays a lilting tune. Sound and scent intersect like a persistent memory, or a dream that wakes you as the warm, comforting sting of chile spreads across your tongue.
It's as if all is waiting for the front door to fling open and the daily lunch crowd to file in and claim the 52 coveted seats at Josie's Casa de Comida. But few people have entered the front door in the past 16 years. For those in the know, however, this is still the place to taste the foods and share the spirit of a true New Mexican kitchen.
IN REALITY, the middle dining room in this early-20th-century Craftsman–style bungalow divides the present and past of a storied Santa Fe eatery, where the kindly Josie Gallegos has cooked for generations of residents and visitors since 1966. Josie fed the local masses from a building just down the block until 1984, when she moved to the white Craftsman, with its deep porch and shady courtyard out front. In 2000, she and her husband, Raymond, shut the front door of the full-service restaurant, but kept the back door open to a bustling catering business still offering many of the same specialties that made Josie a beloved culinary icon.
Blue corn enchiladas, cheese-stuffed chiles rellenos, handcrafted pork tamales. Fruit pies and cobblers topped with whopping mounds of fresh whipped cream. Mocha cake. And more.
Josie built her house of food and friendship from a family tradition of classic New Mexican recipes and openhearted hospitality. This past summer, she marked 50 years in the business and her 82nd birthday. Yet no matter how enticing retirement sounds, Josie can't quite bring herself to abandon her favorite whisk or her cherished chubby knife. To turn off her 50-year-old gas grill, where a candle of Our Lady of Guadalupe burns day and night, would be like closing a window to her family's past and a door to the city where she was born.
"I've cooked all my life. I just love to be here," she says. "I live in a house up the street. But this is the place I call home."
"WHEN I WAS LITTLE, my mother would send me to Midnight Mass on Christmas Eve," Josie recalls. "She'd send me all by myself at 12 o'clock at night. But this was Santa Fe at Christmas. There were no cars, no people on the streets, just snow on the ground."
Always, after Mass, there was food on the table. Walking home to Garcia Street from the downtown cathedral, Josie anticipated her family's posole, tamales, empanaditas, and other special season's eatings. The thought of a steamy bowl of beans and red chile, and the blue corn tortillas her mother made daily from scratch, quickened her pace.
At Christmas, and every day, there was no greater gift than the love of food and family that Josie's parents, Luisita Garcia Duran and Joe Brito Duran, instilled in their daughter. Josie's mother was a home-based caterer, her father a chef at such local hot spots as La Fonda, the De Vargas Hotel, and the Lamplighter. As the eldest of 12 children, Josie's household responsibilities were clear.
My mother was pregnant every year, so I had to help feed the family," she says. "She taught me to make red or green chile and fresh tortillas every day. She even made fresh tortillas for the birds!"
From her father, Josie learned "the restaurant way" of cooking in even greater quantity. "I remember he used to get up at four o'clock in the morning to go light the coal stoves at La Fonda," she says. "He taught me that cooking for others is hard work."
Soon after entering Santa Fe High School, Josie began waiting tables. She spent five years at Rosalea Murphy's Pink Adobe and a decade at the Shed, then owned by Polly and Thornton Carswell. (Their son, Courtney Carswell, who owns the Shed today, was Josie's busboy.) Serving in those places deepened Josie's sense that food meant comfort and connection. Even on her days off, when Raymond, her high school sweetheart, took Josie to the movies, she'd fry a chicken to take on their date.
"Queen Josephine" was the headline of the November 25, 1953, issue of the high school's Demon Tattler, which boasted, "Josephine Duran reigns over homecoming." Raymond, a football and baseball star, was pictured on the opposite page as Athlete of the Year. When the two married in 1954, "we built our own house and made the adobes ourselves," Josie notes. Before long, she was cooking for three children, Raymond Jr., Doris, and David.
Life took over, but Josie had a dream. In 1966, and for the next 14 years, until her father's death, she cooked with him at Josie's Casa de Comida at 95 West Marcy Street. Soon she would reign over one of Santa Fe's most popular kitchens.
A younger, though no less youthful, likeness of Josie looks out from a large-scale portrait set in her original restaurant kitchen. Silverware holders and homemade pies occupy the painting's foreground while Josie stands behind the cash register, its little window displaying a total of $9.50, the amount of the first sale at Josie's Casa de Comida.
This is just one of several Josie-themed paintings hanging in her dining room by Santa Fe artist Paul Milosevich, who is among the countless faithful (some might say fanatical) regulars who built Josie's reputation.
"He usually ordered a taco, tamale, rolled enchilada, rice, beans, and red or green—and peach or pear pie for dessert," she says of the artist, whose meal she later memorialized as Josie's Combo. Still another Milosevich painting portrays opening day at Josie's after she and Raymond bought the place on East Marcy Street. In it, a line of customers spills from the front porch to the sidewalk and beyond.
Without a penny spent on advertising, Josie's drew crowds with savory and affordable food—97 cents for an enchilada, less than two bucks for a full meal—and great word of mouth. Standing in line for lunch at Josie's was a community social event, where movie stars mingled with locals while patiently awaiting a seat.
At the restaurant's peak, Josie and 17 employees served up to 150 lunch guests between 11 a.m. and 4 p.m. weekdays. Raymond eventually retired from a career as director of the state Forestry Division to help serve the hungry hordes. Josie worked 14 hours a day to keep the food coming. Then, almost without her knowing it, in a year she can't remember, Josie retired, too.
"I know I retired one time, because my sister gave me a party with mariachis," she says. "Everyone in town came, but I didn't quite know why."
She and Raymond put the bungalow up for sale. But within six months, Josie was restless. She had a new stove at home, but she missed her old gas grill and her Marcy Street kitchen. Thankful that the place hadn't sold, she re-lit her Guadalupe candle, took the house off the market, and returned to work.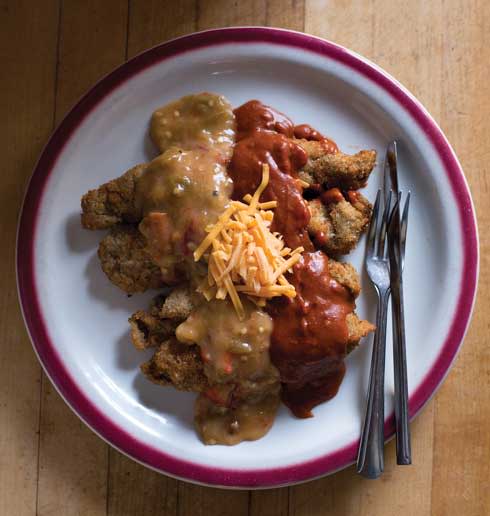 Above: Chiles rellenos with red and green chile sauce.
"THINGS HAVE CHANGED so much," Josie says, her petite frame moving purposefully through her kitchen as she prepares an order for pickup. On the one hand, it used to take two hours to chop three gallons of onions for the day's cooking, and longer to grate the cheese. Now, a food processor and pre-shredded cheese do the trick. On the other hand, she once could have a small case of avocados or a special spice delivered upon request. Now, deliveries require a minimum order that is usually more than she needs.
Yet some things don't change. Early every morning, like her father, Josie heads to the restaurant to warm the stove. Like her mother, she prepares the daily chile in one of the well-seasoned pots stacked around her. She hand-stuffs the chiles rellenos and makes tamales from scratch—some 500 dozen at Christmastime. She makes the pies and the mocha cake and whips fresh cream.
Customers call in orders (505-983-5311) ranging from a chicken, beef, or cheese "family enchilada" that serves five to seven to a "large party enchilada" that serves 50 to 55, and chiles rellenos, 18 to a pan. Salsa, chile con queso, guacamole, posole, beans, and rice come pint-size to gallon-size, while cobblers can be requested to serve most any size (don't forget a pint of fresh whipped cream). Foodies from Santa Fe and far beyond call at least a few days in advance and pick up at the back door, speakeasy style, Monday through Saturday. Patrons can pick up a menu or call to see what's cooking.
Occasionally, while Raymond fields phone-in orders and Raymond Jr. helps in the kitchen, Josie thinks about the future. She has instructed the oldest of her five grandchildren and four great-grandchildren to publish a cookbook of her favorite recipes when she is gone. Sometimes, she even thinks about retirement. "I still don't know what I would do," she says, "but I think about it."
Josie pats her old gas grill like a trusted friend. It was brand-new when she opened Josie's Casa de Comida 50 years ago. "My dad would tell me, 'You and I are going to die and that grill will still be going,'" she remembers. "It's still here, and luckily, so am I."
Atop the grill, Josie's Our Lady of Guadalupe candle glows 24 hours a day. Even after all these years, she refuses to let the light of her precious icon go out. Long may Our Lady of la Cocina chop, slice, and whisk. Long may she burn bright.
---
COMFORT FOOD, NEW MEXICO STYLE
Josie Gallegos graciously provided three of her favorite recipes. ¡Buen provecho!
Chiles Rellenos
Serves 3
6 whole roasted and peeled Big Jim green chiles
6 long slices of 1/4-inch mozzarella cheese
3 eggs
4 tablespoons flour
1 cup breadcrumbs or cracker meal
1 cup evaporated milk or heavy cream
1 cups vegetable or olive oil
Stuff chiles with cheese to fit the length of the chile.
In one bowl, whisk egg and milk together. Place the flour in another bowl, and the breadcrumbs in a third bowl.
Dip each stuffed chile in the egg/milk mix, then the flour, then back into the egg/milk mix. Finally, roll the chile in the breadcrumbs.
Deep-fry each chile in enough hot oil to cover it. Turn occasionally until golden brown on all sides.
Set chiles on a plate lined with paper towels to soak excess oil.
Serve hot. If desired, cover with red and/or green chile sauce and shredded cheddar cheese. Put in 375° oven for about 10 minutes to melt cheese or to keep warm.
Natillas (Spanish Custard)
Serves 6 or 7
4 cups milk
4 eggs
1 teaspoon salt
3 tablespoons flour
3/4 cup sugar
Ground cinnamon
Separate yolks from egg whites. Save the yolks. Whip the egg whites with an electric mixer until stiff, then set aside.
Heat milk in a deep saucepan on medium high, then add sugar and salt. Stir frequently with a whisk so milk doesn't rise over the edge of the pan as it warms.
Whisk flour with 1/4 cup water. Add to milk mixture and boil for approximately 2 minutes, until mixture thickens. Stir constantly so the bottom doesn't scorch.
Reduce heat to medium. Add the egg yolks and, gradually, the stiffened egg whites. Continue to mix on the stovetop until mixture has a pudding-like consistency.
When completely mixed, pour into a bowl. Sprinkle cinnamon on top. Serve warm or chilled.
Sopa (Spanish Bread Pudding)
Serves 6 or 7
1/2 loaf soft sliced white bread (about 12 slices)
1 cup raisins
1/2 cup piñon nuts or pecans
1 teaspoons cinnamon
1/4 teaspoon ground cloves
1 cup brown sugar
1/2 cup white sugar
1/2 stick (4 tablespoons) butter
1/3 cup brandy or rum
1 cup grated longhorn or cheddar cheese
Toast the bread slices in a toaster and set aside.
Place the white sugar in a deep stainless-steel skillet on medium heat. Stir until the sugar turns brown and syrupy.
Cool mixture, then add 4 cups of water and the brown sugar. Heat on medium until it turns to a caramel-colored liquid. Add butter, cinnamon, cloves, and rum or brandy. Mix thoroughly.
Layer half of the toasted bread on the bottom of an 8-by-8-inch baking pan. Pour half of the liquid base over the toast. Sprinkle 1/2 cup cheese, 1/2 cup raisins, and 1/4 cup nuts over all.
Create a second layer with the remaining slices of bread and the liquid mixture. Sprinkle the rest of the cheese, raisins, and nuts on top.
Press mixture lightly with a spoon or spatula to make sure enough liquid rises to the top and all is moist enough to keep the mixture from drying out when baked. If necessary, add up to 1 cup water before baking.
Bake for 20 minutes at 350°. Serve warm or chilled.