GRAPEVINES WERE FIRST PLANTED in New Mexico in 1629, and the craft beer scene, although its genesis is more recent (1988), is prolific and award-winning enough to cause us to confidently refer to the state as Craft Beer Capital of the Southwest (see our related March 2014 feature, "Brew Mexico," at mynm.us/brewmexico). But have we got the spirits?
From my perspective as a national mixology consultant and author, the answer is yes, and the proof is on bar menus, in upscale liquor outlets, and in the exalted form of James Beard recognition. Local New Mexico cocktail culture is experiencing a boomlet, thanks in part to the 2011 Craft Distillers bill, which allows distillers to also serve as distributors and retailers. This opened the door for distilleries to become venues, like wine-tasting rooms and microbreweries.
Although most distilleries use local ingredients, even spirits companies that rely on key ingredients and processing from neighboring Mexico (Silver Coin Tequila, Del Maguey Mezcal) have given New Mexico's mixology scene a boost by basing their operations here.
And it's only getting easier for entrepreneurial purveyors of liquid mirth. It took two and a half years for White Rock–based Don Quixote Distillery to become the first licensed distillery in New Mexico history, back in 2004. "Laws were out of date, and there was confusion between federal, state, and county licenses," says Don Quixote cofounder Olha Dolin, who surmises that she and her husband, Ron, were the first because other would-be distillers threw in the towel after being defeated by red tape.
Several new distilleries have made the scene since the Dolins staked their claim, and it's likely that more will soon join them. Last month, another piece of legislation was passed that allows folks who are exploring the idea to rent excess working space from one of New Mexico's licensed craft distillers without having to commit to the equipment and paperwork.
In response, dining and drinking establishments have stepped up, incorporating New Mexico's fine firewaters into Only-in-NM cocktails. After living in Los Angeles for nearly two decades, I am back in Santa Fe, and thrilled to witness this burgeoning movement—so much so that I created the state's first cocktail festival, New Mexico Cocktails & Culture (nmcocktailculture.com), which debuted in May.
Read on for more "proof": nine distillers and recommendations of one of their standout bottles, five top cocktails from NM mixologists, and four of my own recipes, built to make the most of local liquors and signature flavors.

1. Algodones Distillery
On a small, private farm nestled in the Río Grande bosque, Greg McAllister and David Pacheco have cooked up a corn-based gin, infused with juniper, piñon, sage, prickly pear, rose, and lavender. Also in the works: a line of whiskeys made from New Mexico blue corn and crafted into moonshine, bourbon, and even nut-flavored variations. Located between Albuquerque and Santa Fe, the distillery and tasting room are open to tours by appointment only, Friday–Sunday, 2–4 p.m. (505) 301-9992; algodonesdistillery.com
MUST TRY Ginebra Southwestern Dry Gin makes an NM-style gin and tonic, garnished with a squeeze of lime and a sage leaf.
2. Bitter End Bitters
Any self-respecting professional or home mixologist knows that a bar is not complete without an array of interesting bitters. Though it's not a distillery, Bitter End Bitters, based in Santa Fe, brings a culinary approach to the cocktail with flavors such as Mexican Mole, Memphis Barbeque, Jamaican Jerk, and Curry.
MUST TRY Versatile Mexican Mole works beautifully with most spirits.
3. Del Maguey Single Village Mezcal
World-renowned artist and Ranchos de Taos resident Ron Cooper works with traditional growers in Mexico to make single-village mezcals from maguey plants, contributing to a renaissance of the drink. For his globally lauded efforts, he has been recognized as a 2015 James Beard Award finalist. Maguey plants are a kind of agave, and the process is similar to that of tequila production, although mezcals have a smokier flavor. delmaguey.com
MUST TRY Del Maguey Vida, with its delightful floral notes, offers a gentle intro to this category.
4. Distillery 365
This outfit's brand-new tasting room in the heart of Albuquerque allows visitors to view production through large glass windows. According to owner Matt Simonds, the lineup includes Horse Thief Rum and genever-style Bull-of-the-Woods Gin, made with a corn-based spirit, native juniper, and neomexicanus hops sourced from monks at the Christ in the Desert Monastery in Abiquiú. (505) 221-6281; distillery365.com
MUST TRY Horse Thief Rum, flavored with New Mexican pecans, is first on our list.
5. Don Quixote Distillery & Winery
This mom-and-pop operation led the distillation boomlet in New Mexico. Blue corn is the base for its bourbon and vodka. Don Quixote's wine, apple brandy, and cherry eau de vie are made from local, organic fruit. Don Quixote has two public tasting rooms, in Pojoaque and Los Alamos. (505) 695-0817; dqdistillery.com
MUST TRY The Pisqo is a unique play on South American brandy; it makes a delicious pisco sour.
6. KGB Spirits
Taos Lightning rye and bourbon whiskeys are aged outdoors in wooden barrels in Alcalde at Los Luceros Destilaría. The bourbon received a gold medal at the 2013 San Francisco World Spirits Competition, and the Brimstone Absinthe netted a silver, joining their Vodka Viracocha, which won a silver there in 2012. (505) 404-6101; kgbspirits.com
MUST TRY Made from potatoes and artesian spring water from Los Luceros, Vodka Viracocha is especially good in a dry martini. Unlike most vodkas (which contain one gram of sugar per liter), Viracocha has no added sugar.
7. Santa Fe Spirits
You can learn how spirits are made in the Santa Fe distillery, or stop into its downtown tasting room, which is a popular little cocktail bar. Santa Fe Spirits' Wheeler's Western Dry Gin is flavored with local cholla blossoms, osha root, sage, and juniper. Piñon and ponderosa sap flavor their newest release, Atapiño liqueur. (505) 467-8892; santafespirits.com
MUST TRY The Apple Brandy, comparable to French calvados, is made from local apples, including ones from owner Colin Keegan's orchard in Tesuque.
8. Silver Coin Tequila
Lawrence Keeren, formerly a spec-house builder, launched Silver Coin Tequila in Santa Fe in 2009, naming it after the locally popular style of margarita. Tequila must be made in Mexico in order to qualify as the real stuff; Silver Coin's agave is sourced in the highlands of Jalisco, and is known for lending herbaceous and floral qualities to the finished product.
Tequila became popular in the United States during Prohibition (1920–1933). New Mexico's proximity to Mexico made smuggled tequila a popular stopgap, forging an enduring bond. santafetequilas.com
MUST TRY Silver Coin Blanco makes a flavorful margarita with a nice little bite.
9. Little Toad Creek
You can visit Little Toad Creek Brewery & Distillery at its Inn and Tavern near Lake Roberts, and at its downtown Silver City tasting room. The husband-and-wife team makes spiced rum, whiskey, liqueurs, and craft beers.
MUST TRY The spiced rum is a delight, straight or mixed with ginger beer and lime.

Here are four cocktails I created with local ingredients, to show off the flavors of New Mexico.
1. Dixon Sidecar
The original Sidecar is made with cognac, a grape brandy from its namesake region in France. Taking a cue from that classic drink, the Dixon Sidecar tributes our famed local apple region, swapping out distilled grape wine for distilled apple wine.
2 ounces Santa Fe Spirits Apple Brandy
1 ounce Naranjo Orange Liqueur
1 ounce freshly squeezed lemon juice
Garnish: sugar rim
Rub the rim of a martini glass with a slice of lemon. Dip into a plate of sugar. Set aside. In a cocktail shaker, mix apple brandy, orange liqueur, and lemon juice with ice. Shake well; gently strain into sugar-rimmed glass.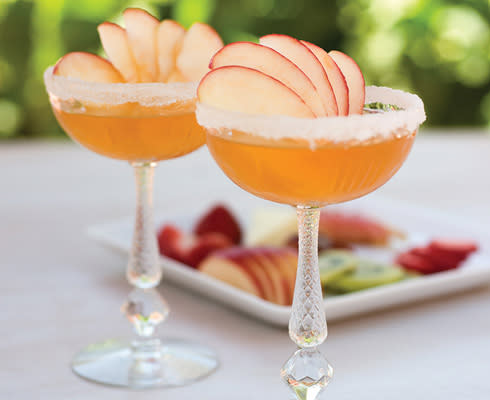 2. Flor de Maria
This drink is strong, yet feminine. The hibiscus-and-cabernet wine syrup is one of my signature creations, and it rounds out the floral notes with a bit of a punch.
HIBISCUS-CABERNET SYRUP
1 cup hibiscus tea
1 1⁄2 cups white granulated sugar
1⁄2 cup cabernet wine
Bring hibiscus tea and sugar to a low boil, stirring until sugar is dissolved. Let cool slightly, add wine. Store in a glass bottle.
DRINK
1 1⁄2 ounces reposado tequila
1⁄2 ounce Luxardo Maraschino liqueur
3⁄4 ounce fresh lemon juice
3⁄4 ounce hibiscus-cabernet syrup
Dash orange bitters
Garnish: edible flower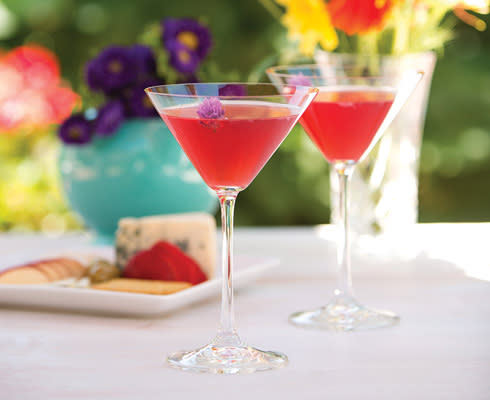 3. Whole Enchilada
This cocktail would pair nicely with a hearty helping of enchiladas.
RED-CHILE-INFUSED VODKA
1 tablespoon ground red chile
1 cup vodka
Add 1 tablespoon ground red chile to 1 cup vodka. Stir well, and let sit overnight in refrigerator. Strain vodka through coffee filter to remove red-chile powder. Bottle and store.
DRINK
2 ounces red-chile-infused blue corn vodka
1 ounce honey syrup
1 ounce fresh lemon juice
Garnish: lemon slice
Pour all ingredients into a cocktail shaker. Add ice, shake well. Strain into a cocktail glass.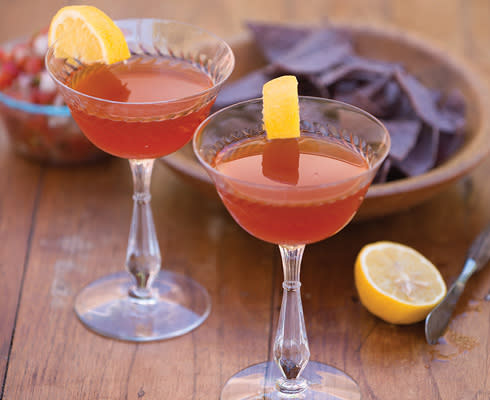 4. Lavender Gin Sour
Any of our local gins would work well in this drink. I usually buy my culinary lavender at a farmers' market, using the syrup in cocktails as well as in nonalcoholic lavender lemonade.
LAVENDER SYRUP
1⁄4 cup culinary lavender buds
2 cups sugar
13⁄4 cups water
Mix lavender with sugar and water. Bring to a boil, stirring constantly, until sugar dissolves. Let cool, strain lavender. Bottle and store.
DRINK
2 ounces gin
1 ounce lavender syrup
1 ounce fresh lemon juice
1 egg white
Garnish: lavender sprig and lemon wheel
Pour all ingredients into a cocktail shaker and shake hard, without ice, to froth the egg white. Add ice, and shake hard again. Strain into a cocktail glass.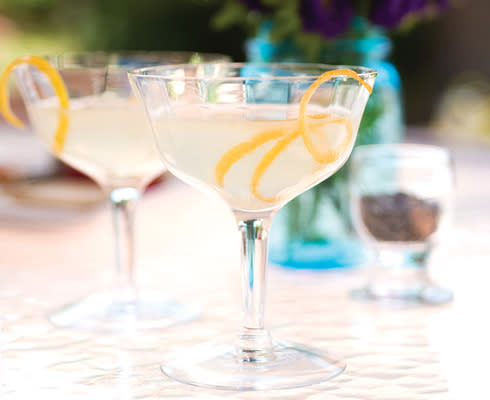 Lavender from the farmers' market contributes local flavor to this gin sour.
Destination Drinks
Five of the top cocktails in New Mexico.
Aguamiel, Zacatecas Tacos and Tequila, Albuquerque, created by Kyle Sinanaj: The combination of reposado tequila, St. Germain elderflower liqueur, muddled cucumber, and fresh lime juice pairs well with the upscale Mexican fare at this James Beard semifinalist eatery. (505) 255-8226; zacatecasabq.com
Defiance, Inn of the Anasazi, Santa Fe, created by Lorelee Cerletti: This drink highlights local ingredients such as Taos Lightning rye whiskey and Bitter End Memphis Barbeque bitters, as well as lemon juice and Solerno blood-orange liqueur.
Peach Shrub, M'Tucci's Italian, Albuquerque, created by Austin Leard: New Mexico–grown peaches and Taos Lightning bourbon whiskey represent the state in this refreshing drink that also includes apple cider vinegar, lemon juice, simple syrup, and club soda. (505) 503- 7327; mtuccis.com
Mezcal Negroni, Kyote Club, Taos. Ron Cooper introduced co-owner Scott Quintanilla to this aperitif, which switches out gin for Cooper's Del Maguey mezcal. It adds smokiness to an otherwise classic negroni built with Campari, sweet vermouth, a splash of dry vermouth, and garnished with an orange twist. (575) 751-3302; kyoteclub.com
Thai-Basil Gimlet, Secreto Lounge, Santa Fe, created by Chris Milligan: This exotic, fresh-ingredient play on the classic gimlet uses locally grown basil and house-made lime cordial, Hacienda gin, and Bitter End Thai Bitters. (505) 983-5700; secretolounge.com
Natalie Bovis is a cocktail-book author, spirits educator, and co-creator of OM Organic Liqueurs. See more of Douglas Merriam's photography at douglasmerriam.com.