Above: Steven Ness, out standing in his field. Photographs by Douglas Merriam.
BOTANISTS TEND TO LUMP pinto beans into the "common bean" category—Phaseolus vulgaris, a group that includes green beans, kidney beans, red beans, and wax beans. Far from common, these humble, speckled beans turned heroic when tons of them left the Estancia Valley, in central New Mexico, to help hungry European Allies survive two world wars. While the simmering pot of beans on every abuela's stove may seem like a cliché, lifelong New Mexicans cherish the memory.
"I love them!" says Santa Fe–based writer Carmella Padilla. "I grew up with my mom cooking them plain, but also sometimes she threw in chicos, or both chicos and ham hocks. That's an extra rich and yummy dish."
"When I was a little girl," says writer Inez Russell Gomez, who lives in Santa Fe but was raised up the road in Las Vegas, "my grandma would go down into the cold kitchen and put beans on, almost before making coffee. Then she would start making tortillas."
That both women contribute to New Mexico Magazine explains why I've heard them banter about beans. But when Russell Gomez described her annual autumn pilgrimage to the town of Moriarty for a 25-pound sack of the fresh ones, I decided I had to go, too. Though it be bitty, this bean stands tall. It's descended from one of the life-sustaining "Three Sisters" of ancient Native cuisine, along with squash and corn. And it's one of the state's two official vegetables, even though it's technically a legume. (The other is chile, which is technically a fruit.)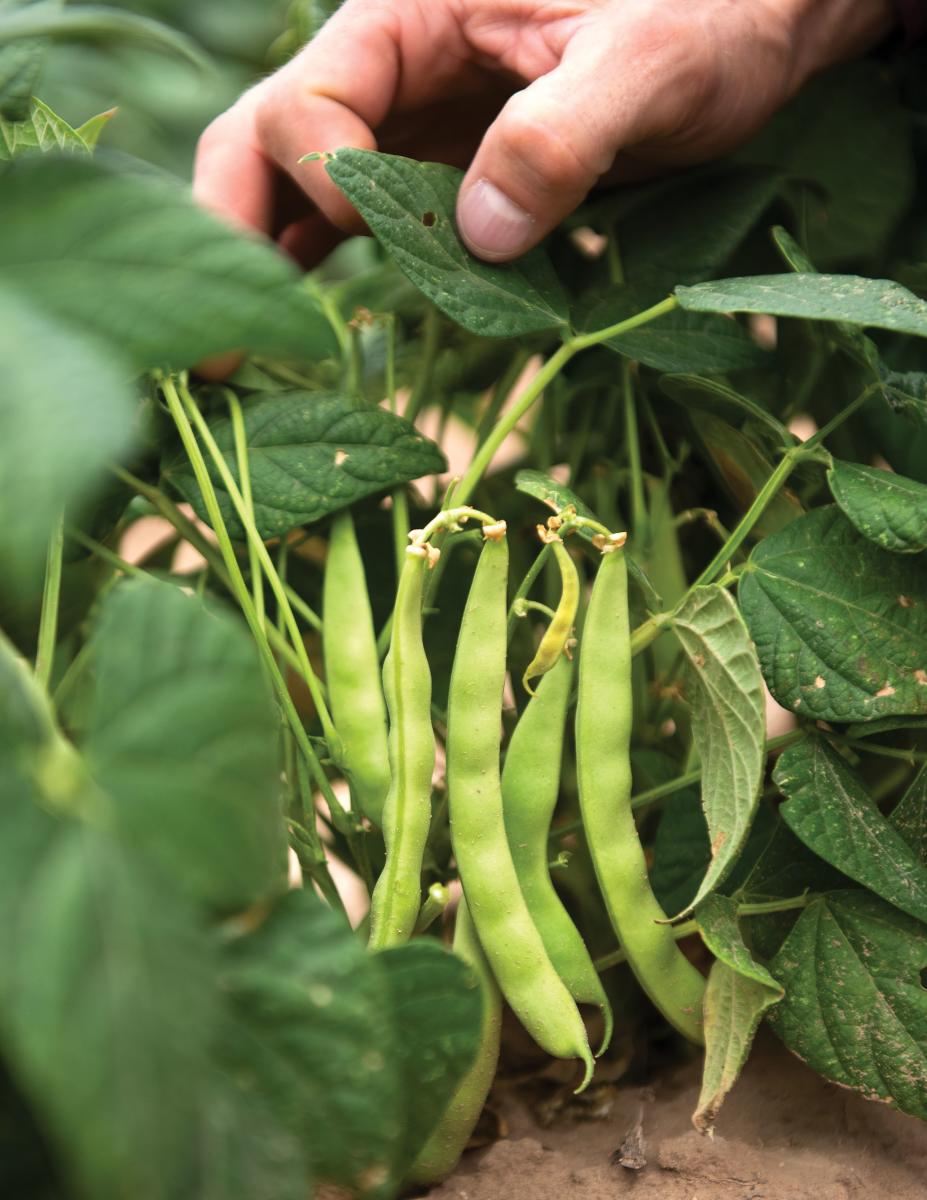 Above: The greening of the beans.
I headed to Estancia, south of Moriarty and about an hour's drive southeast of Albuquerque. Steven Ness, who runs Ness Farms with his mother and father, Sandy and Eugene, met me at the headquarters, where the old family house now serves as an office, albeit one with a piano. "W.P. McMath, my great-great-grandfather, started farming here in 1929," he says, pointing a lanky arm toward the original bean fields.
Then, with a Dust Bowl raging and a Great Depression on its heels, the valley somehow managed to keep dryland farming alive. All across New Mexico, bean fields did well enough that, even today, the town of Wagon Mound, north of Las Vegas, holds a Bean Day Celebration every Labor Day weekend. Its bean crops, though, went the way of many others during a 1950s dry spell. These days, Wagon Mound has to ship in its festival beans.
Advancements in sprinkler irrigation mean a number of Estancia Valley farmers reliably churn out quality beans. The Nesses plant up to 250 acres a year, harvesting in September to mid-October. Their packing plant—a set of Quonset huts near Moriarty—handles tons of beans, which go through three sets of sifts, using shaking, blowing, and gravity to remove rocks and chaff, while also pulling out "splits," the broken half beans that Ness Farms sells to canneries.
Ness still advises customers to make another check before cooking, but the final product is a lot cleaner than what Russell Gomez once hand-sorted for her grandmother, which was how she learned to count. "Who needed preschool?" she says.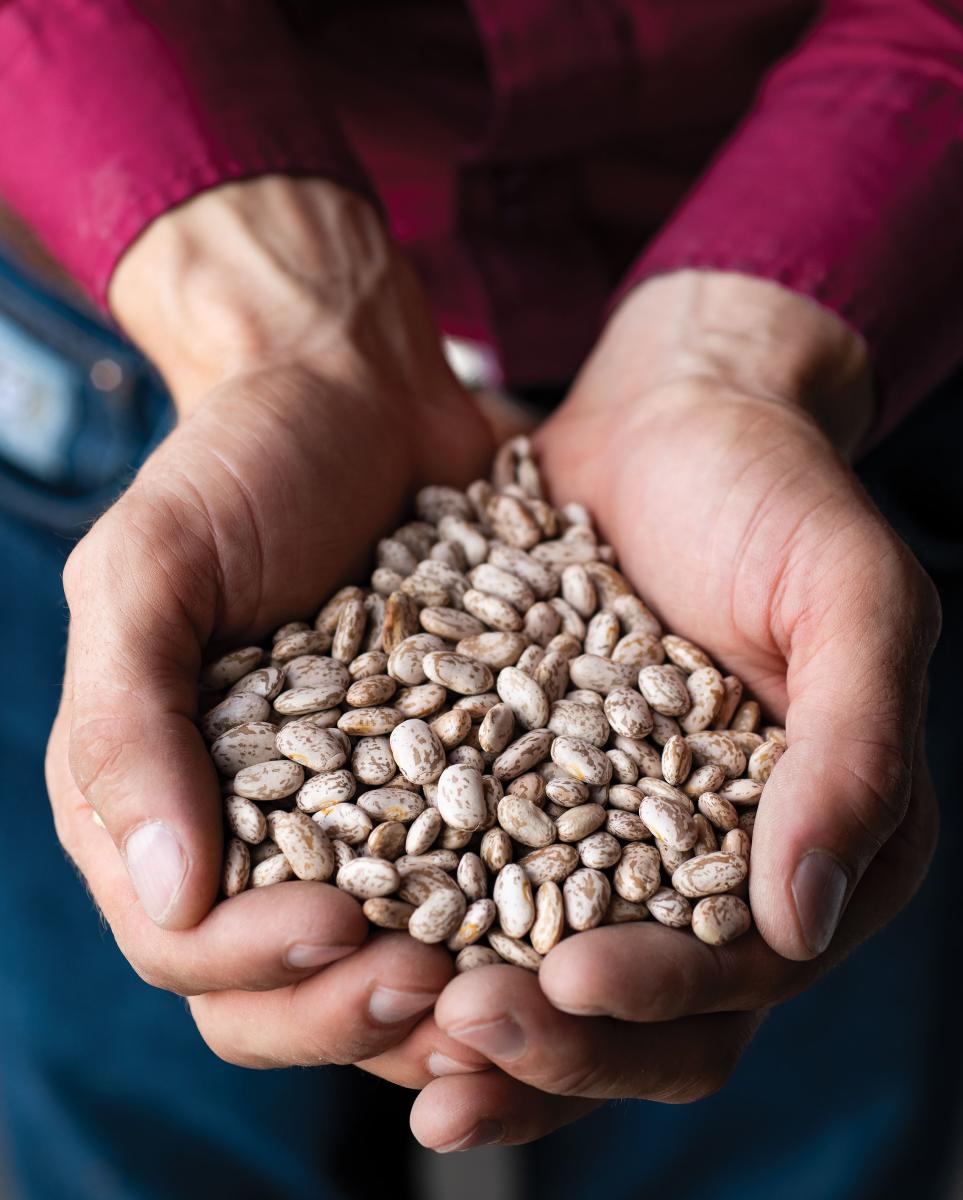 Above: The finished product.
A bagging-and-sewing machine fills up Ness Farms–branded bags, ranging from two to ten pounds, priced at roughly $4 to $16, respectively. "We deliver once a week to stores like Fruit Basket, Keller's Farm Stores, and Kaune's, in Santa Fe," Ness says. "We have a niche market with local people who crave the Estancia Valley pinto bean."
His latest marketing target is people like him: millennials who want to know who grew their food. Pinto beans aren't as sexy as the black beans, bolitas, and Anasazis grown by boutique farmers. But his beans carry magic: They heal homesickness. "On our website, we get messages from people in Japan and Alaska who are nostalgic for what they used to eat."
He and other bean farmers in the region support the annual Moriarty Pinto Bean Festival, this year September 27–28. The eating alone should be worth it. Recently, historian Rick Hendricks spoke there about the region's bean-filled saga, which started around 1910. Afterward, Moriarty cooks unveiled "a smorgasbord of bean dishes." A beans buff, Hendricks was delighted. "The beans in the Estancia Valley," he says, "are a lot sweeter than, say, a Colorado bean. I usually cook them the way we did in the South, until they're kind of soupy, almost a gravy. Here in New Mexico, the beans have more resistance. They're not cooked to death; you can still see individual beans."
That matters to Russell Gomez, who says that she and at least some of her friends "would no more buy canned beans than some people would buy ground coffee in a can." 
Read more: An authoritative set of basics for eating and cooking New Mexican standards.
---
THE RECIPE
How to Cook a Pot of Beans
New Mexicans take their bean cooking seriously, and every cook has a preferred route: stovetop pot, pressure cooker, Crockpot, or even a micaceous clay pot. To pre or not to pre? (Soak, that is.) Add meat? Salt? Chile? There's no right answer. But if you consider yourself a fan of New Mexico fare, you need to master a method.
This basic way to prepare a pot of mildly seasoned beans was adapted from one of the recipes on the Ness Farms website. Advice from local masters follows: Santa Fe writers Carmella Padilla and Inez Russell Gomez, historian Rick Hendricks, and New Mexico Magazine Senior Editor Alicia Inez Guzmán.
The recipe yields enough to feed a farm family and their crew, or to repurpose into other dishes.
Makes about 9 cups
3 cups fresh pinto beans
4–6 whole garlic gloves, minced
2 tablespoons bacon drippings or cooking oil
1 teaspoon salt  teaspoon fresh ground pepper
In a large Dutch oven or stockpot, cover beans with enough water to rise 2 inches above the beans. Add all the other ingredients.
Bring water to a boil. Reduce heat to a simmer, cover with a lid. Simmer, stirring occasionally and checking water level, for 45 minutes to 1 hour—or up to three hours for a velvety texture. If the water becomes level with the beans, add 1–1

½

cups more; continue cooking until beans are tender to the bite.
Hint: To keep uncooked pinto beans fresh, store them in glass jars or quart freezer bags, 3 cups apiece. Keep out of sunlight.

Choose Your Weapon
Carmella Padilla is "strictly in the pressure cooker camp, which is how my mom taught me." She likes her "old Presto with the jiggler on top" that tames a batch in exactly 29 minutes once the top starts jiggling. Also: "I prefer not to soak them." Rick Hendricks goes for the presoak, which brings his pressure cooking down to a neat 20 minutes. "Our pot is just a regular little stewpot," says Inez Russell Gomez. "I am afraid of pressure cookers; the one my mom used when I was little would blow a gasket and we literally would have to wash beans off the ceiling."
Gussy It Up
For a special treat, Padilla's mom added a handful of chicos plus a ham hock. Russell Gomez says her husband adds a ham bone or salt pork, but she prefers a smoked turkey leg. Her mom sometimes added fried hamburger just before the beans were finished. Guzmán adds a healthy handful of salt, while her mom has been known to go the ham hock route. Rick Hendricks grew up in the South, where fatback was the usual choice. These days, he might use a slice "or three" of bacon, but "most of the time, I don't add anything. If the beans are up to par, they don't need help."
Eat 'Em Up
"I like them in a bowl with hot cornbread and butter or a fresh hot tortilla and butter," Russell Gomez says. "Chopped green chile either on the tortilla or in the beans is good." Padilla pretty much agrees with that: "In a bowl as a main dish, either plain or with red or green chile added in. Always a tortilla on the side." Hendricks goes for coarse, stone-ground cornbread. If he didn't add bacon to the pot, he'll fry a few strips in a cast-iron pan before pouring in the cornbread batter, "because, well, everything is better with bacon." For the beans, he says, "I always use a suitably excessive amount of black pepper, preferably fresh ground." Guzmán will make beans for several days of Frito pies, or as the side for her extra-hot red chile enchiladas.

THE MAGICAL FRUIT …
The Moriarty Pinto Bean Fiesta also marks the town's 66th anniversary on September 27–28, with a parade, art show, games, food, and a 5K and 10K Run for the Beans.
… THE MORE YOU TOOT 
The campfire scene in Blazing Saddles exploited beans' purported power to cause gas in the human intestine. But do they? Some scientists disagree, and people who regularly consume beans say they have no problem. Still, if your tum-tum protests, try these tips:
Presoak: Cover the beans in hot water, soak at least for an hour or overnight, then toss the water. Rinse the beans and cook.
Drain and rinse canned beans: If you must consume the canned variety, at least discard the liquid they come in.
Chew well: Digestion starts in your mouth.
Add stuff: During the presoak, add about a teaspoon of baking soda for every four quarts of water. Before you eat, take an enzyme product like Beano. A handful of epazote or some ginger, fennel, and/or cumin in the pot might also help and will certainly taste good.
Go with the wind: Harness your inner eight-year-old. Farts are funny.
---