What is it about Santa Fe that feels like home, even to those of us who come from other places? The food, the buildings, the weather, the interesting way most things get done here—none of that is like other parts of the country. And yet we embrace it, adjust to it, make it our own.
There's something about Santa Fe that can't be bottled or bought—yet we know it when we feel it. It may be the way the sun shines from a startling blue sky on a soft, old, earth-colored house. Perhaps it's the sudden spilling of early summer's lilac bounty through a rickety coyote fence. Maybe it's the sparkling clarity of the stars.
Others will tell you: It's that first scent of roasting chiles you catch while driving on Cerrillos Road in late summer. It's the smell of piñon burning in woodstoves and fireplaces to ward off the chill in late fall. It's an unmistakable flavor—part smoke, part heat, all good—in almost everything we eat.
It's also a place where little girls wear tie-dye and tutus with their cowboy boots; where grandmothers dye their hair electric blue and play the marimba; where church bells ring out across the timeless old neighborhoods, calling the faithful.
And for all its eccentricities and progressivism and cultural traditions, there's that sense of ease that comes with knowing that, in Santa Fe, you can pretty much do your own thing. No city is without its challenges, but what a magnificent place to work them out! You can figure out your life and the way you want it to be. And with whatever creativity and energy you can muster, you can go ahead and do just that, and nobody's going to bother you about it.

Her Majesty
Vivid blue skies, accessible mountainous terrain, a unique architectural style, and exceptionally clean air all remind us daily how lucky we are to be here. Summers are especially beautiful, as centuries-old cottonwood trees offer welcome shade for strolls through low-slung neighborhoods. Expansive views, jaw-droppingly chromatic sunsets, and a peacefulness unmatched in urban centers—what's not to love?

The Heart of It
Many locals take the Plaza for granted, but the beat of this timeless small-town gathering place never quits. The city's center for more than 400 years, the Santa Fe Plaza today hosts a multitude of art and community festivals throughout the summer. We love the eminently danceable live music on the bandstand on summer nights and afternoons (santafe.com/bandstand for schedule). This lush, leafy oasis is also a great place for people-watching any time. Start off a Sunday with breakfast at the newly renovated Plaza Cafe (505-982-1664; santafeplazacafe.com), visit the New Mexico Museum of Art on the corner, and return to the park benches after strolling up to Marcy Street for a coffee or gelato from Ecco Gelato (505-986-9778; eccogelato.com). Come evening, watch it all from a rooftop vantage: the Bell Tower Bar at La Fonda (505-982-5511; lafondasantafe.com) is a traditional spot to close out Indian Market—or any summer day—with a margarita. The Albuquerque-based Marble Brewery's Santa Fe Taproom (505-989-3565; marblebrewery.com/santa-fe-tap-room) also offers great views from its second-story balcony, along with pints of craft-brewed drafts.

Such Great Heights
Santa Feans are not only surrounded by high-altitude mountain ranges—we live with them as part of daily life. At the north edge of town, the peak of the Sangre de Cristos known as the "ski mountain" holds a special place in our hearts. Snowcapped in winter and robed in golden aspens in fall, our mountain is also a great place for residents and visitors all summer long. It's as easy to get to as a drive up Hyde Park Road, which is dotted with campsites and picnic shelters in Hyde Memorial State Park (for reservations, emnrd.state.nm.us/SPD/hydememorialstatepark.html). You can pull over at any of the well-marked parking areas and walk the trails; Aspen Vista and Big Tesuque are among the most popular. Cooler temps, breathtaking views, and a peaceful time-out await you. Ski Santa Fe is a beloved social and winter-sport hub for locals and visitors, and it's only 16 miles up the road. Base area elevation is 10,350 feet, and the Millennium Triple Chairlift tops out at a staggering 12,075 feet. (505) 982-4429; skisantafe.com

Japan on the Río Grande
How many small towns can boast a full-on, Japanese-style, mountainside spa in the middle of a pine forest? For 30 years, Ten Thousand Waves has been a cherished asset, visited by locals who love steeping in a variety of hot pools under the pine trees, surrounded by exquisitely accurate Japanese architecture. "Serene" does not begin to describe the Ten Thousand Waves experience, whether you choose a leisurely afternoon in the communal or women-only pools, an hour-long soak in a private tub, or one of several spa treatments. For those who want an unforgettable visit, romantic overnight lodgings are scattered among the 20 acres, from sweet casitas to a well-equipped Airstream. (505-982-9304; tenthousandwaves.com)

Districts of Delight
The Guadalupe District, a charming bungalow neighborhood a few blocks west of the Plaza, boasts some of the city's most interesting independently owned shopping options; a stroll along Guadalupe Street and its side streets reveals cute clothing boutiques, elegant custom jewelry, collectible fountain pens, among many other temptations. Have a vegetarian lunch or superfood smoothie at 317 Aztec (505-820-0150), or browse at the handful of bookstores scattered throughout the neighborhood—including Big Star Books and Music (505-820-7827; 329 Garfield St.), for hipster-curated used books and old vinyl; and Bee Hive (505-780-8051; beehivekidsbooks.com), for the little ones. The neighborhood is also the site of Santa Fe's contemporary urban-renewal project, the Railyard District, which boasts nuanced, eco-conscious architecture, a 10-acre park with a bike path, plenty of walking trails and picnic tables, and a broad plaza alongside the tracks of the Rail Runner commuter train. Both the highly regarded Santa Fe Farmers' Market and Second Street Brewery at the Railyard (505-989-3278; secondstreetbrewery.com) provide ample entertainment in the forms of local music and good food, not to mention great people-watching. Outdoor concerts, movies, festivals, and art fairs fill the space all summer long and well into fall (railyardsantafe.com for schedules). SITE Santa Fe (505-989-1199; sitesantafe.org), the internationally known contemporary art space, anchors the area, which includes several other contemporary art galleries, including Zane Bennett (505-982-8111; zanebennetgallery.com), featuring the work of contemporary standard bearers Judy Chicago and Jim Dine, along with a long list of international and local favorites.

It's a Playground
Unplug 'em and take 'em with you: That's the way the mamas and the papas roll here. Local parents know their reasonably well-behaved young ones are welcome in almost every venue in town, including our laid-back cafés, restaurants, and galleries. There's a certain benevolence toward families that comes from living in a place where multiple generations often still share the same home or neighborhood. 
The state museums are comfortably small-scale, making exploring with kids easy and comfortable; a full schedule of hands-on craft activities at every location keeps little hands busy. Warehouse 21 (505-989-4423; warehouse21.org), Santa Fe's popular gathering place for teenagers and young adults, offers a safe, mellow hangout with live music several nights a week. The wee ones love our Children's Museum (505-989-8359; santafechildrensmuseum.org) and its ever-changing roster of interactive exhibits and indoor/outdoor activities. Recycled-art projects, Annie Rose the Flower Fairy, and the new Makerspace, for budding welders and carpenters among the older kids, all ensure repeat trips by local and visiting families alike.

Fancy Feasts
Enthusiasm for creativity and inspired flavors has been part of our restaurant scene since at least 1987, when chef Mark Miller put high-end Santa Fe cuisine on the culinary map with his Coyote Cafe (505-983-1615; coyotecafe.com). Today, French-trained chef Martín Rios has "raised the bar" for Santa Fe at his Restaurant Martín (505-820-0919; restaurantmartin.com), according to culinary editor Cheryl Jamison. Another favorite is the Compound (505-982-4353; compoundrestaurant.com), a Santa Fe landmark since the 1960s, reinvigorated by James Beard Foundation Award–winning chef Mark Kiffin, and frequently lauded for its exceptional attention to detail.

The Chile, Silly!
Yes, it's addictive, and there are plenty of places to get your fix. Have lunch at Atrisco Cafe & Bar (505-983-7401; atriscocafe.com) in the DeVargas Center, a northside shopping mall. We recommend their classic green-chile cheeseburger, the Atriscombo for a true sampler, and their locally sourced lamb dishes. The Shed (505-982-9030; sfshed.com), just off the Plaza, is a longtime local haunt: try the #5 Enchilada Plate with piquant red chile, or the always-in-season green-chile stew. Johnnie's Cash Store (505-982-9506; 420 Camino Don Miguel) is a hidden treasure on the historic East Side, where foodies in the know find freshly made tamales delivered daily by a home cook in Chimayó.
Nouveau Health Food
The farm-to-table movement flourishes here, evinced by an exploding array of spots featuring locally grown, organic food with gluten-free and vegan menu options, paired with artisan-roast coffee or locally crafted beers and wines. Vinaigrette blisses out salad lovers with its Nambé-grown greens and luxe add-ins (like hibiscus-cured duck confit). The new Sweetwater Harvest Kitchen (505-795-7383; sweetwatersf.com) fronts the design center Pacheco Park and offers breads made from organic flour milled on-site, and sustainable wines on tap. Revolution Bakery (505-988-2100; revolutionbakery.com) is a neighborhood hangout and the city's first fully gluten-free bakery. Cute-as-a-button Momo & Co. Bakery & Boba Tea Bar (505-983-8000; momoandcompany.com) recently opened on a quiet side street west of the Plaza, and offers gluten-free, mostly vegan sweet and savory baked goods along with all-natural, fresh-fruit Boba tea . . . and let's not forget the inviting kids' corner (and free WiFi).

Museum Heaven
Spectacular vistas await pilgrims to Museum Hill, nestled in the trees above the historic East Side, where four gorgeous museums reflect Santa Fe's intense attention to history, tradition, and culture (museumhill.org). The Museum of Spanish Colonial Art offers a glimpse into daily life in colonial Santa Fe, and both the Wheelwright Museum of the American Indian and the Museum of Indian Arts and Culture house stellar collections of ancestral artifacts as well as contemporary Native arts. A family favorite is the Museum of International Folk Art; the Girard Wing boasts thousands of objects—many of them toys—collected from around the world. Stave off museum fatigue at the Museum Hill Café (505-984-8900; museumhillcafe.net), a sleek eatery with contemporary riffs on classic dishes.
Downtown, museum hopping is a must: make sure to visit the quietly stunning Georgia O'Keeffe Museum (505-946-1000; okmuseum.com), along with the Palace of the Governors state history museum (505-476-5100; palaceofthegovernors.org) and the Museum of Contemporary Native Arts (505-983-8900; 
iaia.edu/museum).

The Grand Canyon
Yes, it's been Santa Fe's art destination for about 100 years, but Canyon Road has more than galleries to brag about. Walk its half-mile length and poke into a few quirky boutiques and galleries (visitcanyonroad.com has comprehensive listings). Leslie Flynt (888-955-9901; leslieflynt.com) is a trove of folk-artsy furniture and home accessories. Hit Eight Modern Gallery (505-995-0231; eightmodern.net) for contemporary sculpture and painting. Zaplin-Lambert Gallery (505-982-6100; zaplinlambert.com) is a longtime presence representing Western and early Santa Fe artists. Giacobbe-Fritz presents contemporary art from artists both New Mexican and international (505-986-1156; giacobbefritz.com). Adobe Gallery specializes in Southwest Indian art (505-955-0550; adobegallery.com). Revive yourself with a drink and some tapas at historic haunt El Farol (505-983-9912; elfarolsf.com).
Wall-to-Wall Art
More than a dozen state and private museums adorn a city bursting with art galleries. But that's not all: every restaurant, café, and bar in town is filled with homegrown art ranging from traditional to fringey. We're always interested in checking out what's new on the walls at The Teahouse (505-992-0972; teahousesantafe.com), a homey café with a full menu and house-blended teas from around the world. Harry's Roadhouse (505-989-4629; harrysroadhousesantafe.com) is a bustling local favorite for inspired comfort food and generously sized desserts; exhibited art ranges from New Mexican landscapes to surreal visions. Santa Fe even boasts a mobile art gallery, Axle Contemporary (axleart.com), housed in a retrofitted 1970 aluminum step-van, which shows up on side streets all over town.

Hotels that Tell Local Tales
From the vintage charm of El Rey Inn (505-982-1931; elreyinnsantafe.com) to the elegantly designed Hotel Chimayó de Santa Fe (505-988-4900; hotelchimayo.com) and the Hotel St. Francis (505-983-5700; hotelstfrancis.com), Santa Fe boasts plenty of out-of-the-ordinary lodging options. One-of-a-kind B&Bs are tucked into many a historic neighborhood, offering the full "I could live here!" experience (bit.ly/SantaFeBB). Perhaps the favorite choice for a classic Santa Fe Style hotel stay remains La Fonda on the Plaza (505-982-5511; lafondasantafe.com). A former Harvey House built in iconic style by John Gaw Meem in the 1920s, it offers a trip back in time while providing every modern convenience.

The Trail Mix
No longer reserved for the hardcore outdoorsy few, high-tech activewear is a component of the local uniform. Sometimes it seems as if everyone you run into is heading out for or just back from a quick hike. Santa Fe sports a variety of habitats (alpine, cactus-dotted, deciduous) and exertion levels (steep, flat, a mix) on a 50-mile network of trails, all accessible within a 10-minute drive of downtown. Best of all, our multitude of trails are well groomed and uncrowded. Dale Ball Trails, Hyde Park, Rail Trail, and Atalaya are just a few trails locals make daily use of.
A local bible, Day Hikes in the Santa Fe Area, has been recently updated by Sierra Club members who report on all sorts of nitty-gritty criteria: where to park, mileage, degree of difficulty, and best time of year to enjoy the 56 jaunts described (nmsierraclub.org/publications). You can also check out the maps and detailed info on hiking trails in the Visitor section at santafenm.gov.
Learning Curves
Santa Fe well deserves its reputation as a place where creativity and inspiration rule. Here, bountiful opportunities to learn align perfectly with the curious and knowledgeable residents. Between the Santa Fe Institute's Community Lecture Series (505-984-8800; santafe.edu) and the Community Seminars at St. John's College, our local "Great Books" campus (505-984-6000; stjohnscollege.edu/outreach/SF), there's plenty of brainiac action to take part in—but that's just one facet of our kaleidoscopic roster of activities. Classes, workshops, lectures, meet-up groups (meetup.com), art programs, history tours, and other stimulating activities ensure that even big-city types can keep as busy as they want to be. Listings in the local papers and at santafe.com are good sources for a quick hit on what's happening around the community, including lectures, performances, museum programs, and nightlife.
If you want to make plans in advance, Santa Fe Community College's Continuing Education program (505-428-1000; sfcc.edu) is an extremely popular resource for quick bursts of personal and professional development. Santa Fe Creative Tourism (santafecreativetourism.org) connects you directly with the providers of art and cooking classes and photography workshops, among other fun stuff. And Renesan Institute for Lifelong Learning (505-982-9274; renesan.org), a nonprofit volunteer organization, has an ample calendar of activities devoted to adult opportunities for socializing while exploring a deeper understanding of the arts, political science, history, literature, and more.

The Roundhouse Rocks
As New Mexico's capital city, we're blessed with a unique capitol building affectionately called The Roundhouse, the only circular capitol building in the U.S.—which reveals itself to form the shape of the Zia when seen from above. Located at the corner of Old Santa Fe Trail and Paseo de Peralta, the 232,000-square-foot structure is accessible, surprisingly intimate, and surrounded by peaceful lawns and gardens. It also features, throughout the building and grounds, the Capitol Art Collection (nmcapitolart.org), an expertly curated collection of contemporary art by 600 New Mexican artists. The Governor's Gallery, on the fourth floor, is a resounding favorite among Santa Fe art insiders, and offers six exhibitions per year of prominent and emerging local artists. (505) 986-4589; bit.ly/NMCapitol

Our Girl Friday (and the other six days, too)
If Santa Fe had a Cheers, the Cowgirl BBQ would be it: a guaranteed party. One of the most reliable live-music venues in town, it boasts a friendly front patio, busy indoor dining rooms, and a kids' eat'n'play area in back where the folks can enjoy a cold brew while the little ones clamber around—something for everyone. The tasty margaritas, beer specials, and Southwestern comfort food do not disappoint. (505) 982-2565; cowgirlsantafe.com

Day Trippers, Yeah
Historic villages set in rustic countryside with wide-open vistas are only minutes away. Head north to explore Bandelier National Monument—33,000 acres of rugged canyon country loaded with petroglyphs, cliff dwellings, and ancient footpaths (nps.gov/band)—or the quiet of El Santuario de Chimayó (elsantuariodechimayo.us). In addition to the church, a shrine for the faithful on pilgrimage, this picturesque village is home to generations of weavers whose wearable artwork is available in many local galleries and shops (chimayoweavers.com). For lunch or dinner, don't miss Rancho de Chimayó Restaurante (505-351-4444; ranchodechimayo.com), serving traditional New Mexican food in a century-old family hacienda since 1965.
Want immersion in Spanish Colonial living history? Just past the city limits is El Rancho de Las Golondrinas (505-471-2261; golondrinas.org). Dating from the early 18th century, the "ranch of the swallows" encompasses a lush 200 acres of rural property, including farm activity, historic buildings, and an authentic flour mill. Kids especially love watching the blacksmith demonstration.
Head down I-25 to the Turquoise Trail (Highway 14) for the old mining villages turned artist communities of Cerrillos and Madrid. Enjoy a burger, a brew, and a live band at the Mine Shaft Tavern (themineshafttavern.com)—an authentic old roadhouse as comfortable for families as it is for bikers—as well as the quirky ambience and boutiques. Stop for breakfast or coffee at local favorite San Marcos Café and Feed Store (505-471-9298; sanmarcosfeed.com); the grounds are alive with peacocks and chickens, and the store is a great place to pick up some garden gloves and a bag of birdseed.

Pedal Friendliness
The city and state governments have made great strides in the last few years toward making Santa Fe as bike-friendly as Boise, Austin, and Boulder. Today there are not only well-maintained mountain-biking trails, but also bike lanes on many city streets. Trail maps are available on the city's website, santafenm.gov. For easy downtown cruising or trail riding, Mellow Velo (505-995-8536; mellowvelo.com) offers rentals and is minutes from local trails. The new SpinDoc (505-466-4181; spindoc.com), on popular cycling artery Old Las Vegas Highway just 10 miles from downtown, offers a welcome stop, along with rentals, sales, service, and apparel. Bonus? Cozy Café Fina's locally sourced meals, coffee, and baked goods, right next door. (505) 466-3886; cafefinasantafe.com

It's a Literary Mother Lode
Santa Fe has a rich literary history, from Fray Angélico Chávez to Cormac McCarthy, from Willa Cather to Sam Shepard, from Peggy Pond Church to Jo-Ann Mapson. The reading/book-signing tradition is alive and well in this bookish little town, and Collected Works Bookstore and Coffeehouse (505-988-4226; collectedworksbookstore.com) leads the pack, with frequent appearances by local and visiting authors. Tucked into a cozy compound on the East Side, Garcia Street Books (505-986-0151; garciastreetbooks.com) offers a strong selection of books by local as well as internationally known authors. The café next door, Downtown Subscription, has long been the city's best source for magazines and newspapers (505-983-3085). Allá, perched in a second-floor space a block from the Plaza (505-988-5416; 102 W. San Francisco St.), carries an extensive selection of bilingual and Spanish books. Nicholas Potter Bookseller (505-983-5434; nicholaspotterbooks.com) has a fine collection of used and rare books, and also offers used classical and jazz CDs.

Style for Miles
Santa Fe's sartorial style is distinctive and trendless, and long ago escaped the town's borders. But this remains the best place to find it. Buy silver and turquoise jewelry directly from the Native American jewelers who make it, under the Palace of the Governors portal. Or visit Shiprock Gallery (505-982-8478; shiprocksantafe.com) for a more curated selection of collectible jewelry. Santa Fe Boots and Boogie is just one of several local Western bootmakers (505-983-0777; 102 E. Water St.), and we adore the well-used look of the vintage collections at both Double Take/Back at the Ranch (505-989-8886; santafedoubletake.com) and Kowboyz (505-984-1256; kowboyz.com).
Distinctive Western styling can also mean an updated version of the traditional broomstick skirt or a fringed leather purse, from Ortega's on the Plaza (505-988-1866; ortegasontheplaza.com), or a Pendleton blanket coat from Native Jackets (505-984-0005; nativejackets.com). Check out Nathalie (505-982-1021; nathaliesantafe.com) for high-end buckle sets, jewelry, and upscale clothing lines. Go all out with a custom cowboy hat from O'Farrell Hat Company (505-989-9666; ofarrellhatco.com), along with great off-season deals from Overland Sheepskin (505-986-0757; overland.com), a New Mexico–based company since 1973.

Cutting-Edge Culture
Like home-grown music? Pick up the alternative weekly Santa Fe Reporter (sfreporter.com), or check the santafe.com calendar for info and gig details. Interested in Hispanic/Latino literature, poetry, and plays? Teatro Paraguas offers a steady calendar of events (505-424-1601; teatroparaguas.org). Theater Grottesco, formed in 1983 in Paris, is now a leader in the performing-arts community (505-474-8400; theatergrottesco.org). And that's not all. Circus arts and puppetry come to Santa Fe via Wise Fool, which, in addition to astonishing aerial performances, also offers hands-on classes (505-992-2588; wisefoolnewmexico.org). Youthful art collective Meow Wolf provides interactive installations (meowwolf.com). This energy comes together once a year in September for the day-long AHA Festival (ahafestival.com), featuring a multitude of artists, musicians, performers, and all-around characters.

Connections to Spirit
For centuries, Santa Fe has been a crossroads for the spiritual. The Conquistadores brought their rugged Catholicism with them, and the city's historic churches, from humble adobe to soaring masonry, continue to house thriving traditional congregations. Guests are welcome to quietly visit the Cathedral Basilica of St. Francis of Assisi (505-982-5619; cbsfa.org), and to see the original adobe San Miguel Chapel (401 Old Santa Fe Trail), which, built around 1610, is claimed to be the oldest church in the United States.
Long before the Spanish arrived, the daily life of the Native American tribes here was inseparable from spiritual belief, and that tradition continues in a range of private and sometimes public rituals. Many of the Indian Pueblos outside the city offer public access to some of their ceremonial dances and feast days (santafenm.info/pueblos). The Nambé Falls Ceremonial on July 4 is a favorite, and Picuris Pueblo (owners of Hotel Santa Fe on Paseo de Peralta) hosts a San Lorenzo Feast Day in August.
Jews have been part of the historic fabric of Santa Fe for centuries—and so have the Crypto-, or hidden Jews. Local photographer Cary Herz's book New Mexico's Crypto-Jews: Image and Memory (2009, UNM Press)is a great place to learn about this fascinating hidden history, and is just one of many new books on the subject. Local temples also welcome guests, including Temple Beth Shalom (505-982-1376; sftbs.org) and the progressive HaMakom (505-992-1905; hamakomtheplace.org).
Although the 1980s heyday of the commercialized New Age has passed, Santa Fe remains a vortex for seekers of all stripes. The Ark bookstore (505-988-3709; arkbooks.com) is a favorite spot for restful book browsing. Upaya Institute and Zen Center has a full schedule of retreat sessions for Buddhists, students, and the curious (505-986-8518; upaya.org). The Quakers also have a (quiet) presence here (Friends Meeting House, 505-983-7241; santa-fe.quaker.org).

Memorable Venues
The world-renowned Santa Fe Opera House (505-986-5900; santafeopera.org) is just one of a bevy of unusual and exotic performance venues in town. Among our other favorites is the Lensic Performing Arts Center (505-988-7050; lensic.org), a lushly refurbished 1931 art-deco movie house with state-of-the-art technology. It hosts live music and dance performances, classic films, talks by thought-leading speakers, and the occasional circus.

The Scottish Rite Temple (463 Paseo de Peralta) dates from 1911 and boasts distinctively Moorish design and rosy-pink stucco; open to the public for events, the interior is a treasure trove of mystical art and architectural details.
Another great venue is the mural-adorned St. Francis Auditorium, part of the New Mexico Museum of Art (505-476-5072; nmartmuseum.org). A historic pipe organ and wooden pews give it a chapel-like feel and make it ideal for nondenominational weddings as well as events.

Healing Vibes
Many of us move or remain here in part because of the rich array of accessible alternative healthcare. Haute healing hot spot Santa Fe Soul offers acupuncture and a swath of other alternative treatments (505-474-8555; santafesoul.com). We The People Community Acupuncture (505-982-3711; weacupuncture.com) offers treatment on a sliding scale, from $15 to $40. Body (505-986-0362; bodyofsantafe.com) serves up therapeutic massage in a spa setting, or head downtown to High Desert Healthcare & Massage (505-984-8830; highdesertsantafe.com) for a varied menu of bodywork. On a budget? Book an inexpensive session by a student practitioner at the Santa Fe School of Massage (505-982-8398; santafeschoolofmassage.com). Yoga options abound, including classes at top-notch Body, YogaSource (505-982-0990; yogasource-santafe.com), and Santa Fe Community Yoga (505-820-9363; santafecommunityyoga.org), the city's only nonprofit yoga center. Santa Fe also offers a generous menu of Pilates, Nia, and other health-supporting movement classes.

Georgia on Our Minds
Fiercely independent artist Georgia O'Keeffe (1887–1986) personifies the rugged creative spirit that still saturates Santa Fe decades after her first visit to New Mexico, in 1929. Her iconic paintings of sun-bleached steer skulls and bones remain synonymous with Santa Fe style in the world of design, and her sparely furnished adobe home/studio compound in Abiquiú continues to inspire (tours available at okeeffemuseum.org/abiquiu-home--studio.html). Even her kitchen encourages creativity. O'Keeffe's personal assistant and cook, Margaret Wood, author of A Painter's Kitchen: Recipes from the Kitchen of Georgia O'Keeffe, joins the chefs at The Santa Fe School of Cooking to teach classes once a month through the summer, using O'Keeffe's own recipes and a hefty serving of personal recollection (800-982-4688, 505-983-4511; santafeschoolofcooking.com). See O'Keeffe's paintings—and those of her peers—at the Georgia O'Keeffe Museum. (505) 946-1000; okmuseum.org

Cross Walk
The Cross of the Martyrs, overlooking downtown, offers a gentle uphill walk and one of the best views of Santa Fe, especially in summer, when clear skies highlight distant mountain ranges, ancient cottonwoods are leafed out, and the old neighborhoods fully show off their timeless appeal. Start your climb on Paseo de Peralta, just east of Otero Street; along the paved walkway, a number of plaques offer historical details. Mounted on the hilltop to commemorate the deaths of Franciscan friars and local citizens during the Pueblo Revolt of 1680, the original concrete cross was dedicated in 1920 (it was eventually replaced by a cross of iron girders painted white), and for many years served as a served as a destination for memorial candlelight processions.

Our Burning Man
We're pretty sure we're the only town in America that celebrates itself by burning a giant puppet. Every September (this year, September 5), thousands of Santa Feans gather in Fort Marcy Park for music, food, and the ultimate entertainment of watching a giant effigy named Zozobra—aka Old Man Gloom, invested with the city's collective despair—go up in flames (855-ZOZOBRA; burnzozobra.com). Created in 1924 by artist Will Shuster and now managed by the local Kiwanis club, Zozobra is well integrated into the fabric of everyday life in Santa Fe, especially during the weeklong Fiesta de Santa Fe (505-913-1517; santafefiesta.org). Celebrated since 1712, in honor of the resettling of the city by the Spanish in 1692, following the Pueblo Revolt of 1680, Fiesta is the oldest civic celebration in America, and includes a variety of religious and entertainment events throughout the week.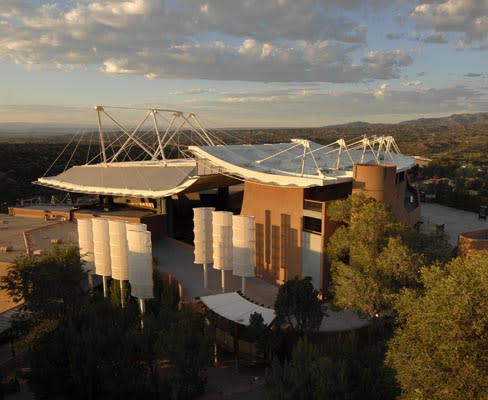 Pre-Diva Dining
You can forget about opera's stuffy reputation here in the City Different, where tailgating in the parking lot of The Santa Fe Opera (800-280-4654, 505-986-5900; santafeopera.org) before the performance is a longstanding tradition. Wear denim and boots and unpack a light picnic in your truck bed—or go all out with formal wear and an elegantly set dinner table complete with candlesticks and catered meal. Either way, opera tailgating offers great people-watching, stunning views, and a sophisticated party atmosphere for three hours before the twilight show time. You can even pre-order a boxed picnic from the Opera's own caterer, and pick it up when you arrive. This year, on Opening Night (June 28), SFO will kick off its first official tailgating contest, with prizes for Best in Show and other categories. You can register after June 1 by e-mailing tailgatecontest@santafeopera.org. Include your name, contact information, and the approximate number in your party. santafeopera.org/yourvisit/operadining/index.aspx

Village Life
Just north of Santa Fe, the traditional village of Tesuque beckons with promises of green, rolling hills. Head north out of Santa Fe on Bishop's Lodge Road, which becomes a meandering country lane lined with ancient cottonwoods and quiet old adobe homes and compounds. Your first stop is Shidoni Foundry (505-988-8001; shidoni.com), home of an art gallery, eight lush acres of sculpture gardens, and the city's busiest bronze foundry. The Saturday Open Pour, where the public can watch molten bronze flowing into ceramic molds, is a local favorite. Right next door is Tesuque Glassworks (505-988-2165; tesuqueglass.com), where daily glassblowing demonstrations enchant kids and adults alike, and local artists showcase their wares both large and small. Next stop is Tesuque Village Market (505-988-8848; tesuquevillagemarket.com), the always-hopping local gathering place. A combination market, restaurant, bar, and bakery, TVM features natural and organic meats, New Mexican favorites, and wood-fired, brick-oven pizzas in a comfy, funky old building. Before heading back to town, work off those breakfast pastries on the Tesuque Creek Trail hike, which includes several creek crossings amid juniper, ponderosa, and piñon trees. www.trails.com/tcatalog_trail.aspx?trailid=HGS355-002

Hometown Haven
If ever there was a cozy place to eat, drink, and be merry in Santa Fe, it's El Farol, the city's favorite watering hole, tapas restaurant, and live-music venue. The interior of this rambling Canyon Road adobe, dating from 1835, is lined with old murals painted decades ago by artists in trade for drinks. Show up on a Sunday (locals get a 20 percent discount on the full menu of delicious Spanish tapas), when Nacha Mendez enchants with her homegrown blend of Gypsy soul, or drop in Tuesdays for the Canyon Road Blues Jam. El Farol also offers flamenco dinner shows, DJ-mixed salsa music, and local Americana and R&B bands throughout the week, not to mention stiff drinks at the always-welcoming bar. (505) 983-9912; elfarolsf.com

Burger Bliss
Homegrown Bert's Burger Bowl (505-982-0215; bertsburgerbowl.com) has been a local favorite since 1954. In addition to green-chile cheeseburgers, Bert's offers traditional New Mexican dishes as well as marinated lamb and bison burgers. The small chain 5 Star Burgers (505-983-8977; 5starburgers.com) offers all-natural, freshly ground beef; the Taos Burger comes topped with a crispy, batter-coated slab of green chile. Rio Chama (505-955-0765; riochamasteakhouse.com) offers a number of GCCB options (try the blue cheese), including grass-fed beef from Chama. At La Plazuela, the restaurant at La Fonda Hotel (505-995-2334; lafondasantafe.com), the Kit Carson Burger excels with its freshly ground Black Angus beef and several tasty toppings, among them sautéed mushrooms and applewood smoked bacon.

Cheap Thrills
Consignment shops of all shapes and sizes have recently popped up in almost every neighborhood in town, joining such longtime favorites as Act 2 (505-983-8585; 839 Paseo de Peralta), for pre-owned upscale women's clothing, and Recollections (505-988-4775; recollectionssantafe.com), which showcases furniture and antiques. Now firmly established in the White Swan building, a long-vacant landmark, Congeries (505-989-3445; 1368 Cerrillos Road) has over 16,000 square feet of gently used home furnishings, including mid-century modern, Asian, and rustic Western styles, as well as clothing, jewelry, and vinyl. Back on the Rack has two locations (see photos on their website, shopbotr.com), and some of the best prices in town for cool stuff. For a carefully curated, hipster-approved option, visit The Good Stuff (505-795-1939; thegoodstuffsantafe.com), right downtown, for books, '70s-era vinyl, and lots of plaid. Several local charities also benefit from the resale of gently used clothing and housewares; Look What the Cat Dragged In (505-474-6300; 2570 Camino Entrada) helps to support the Santa Fe Animal Shelter.

SF on the Radio
Half a dozen local radio stations, from talk to country to progressive, make up Santa Fe's unique soundtrack, courtesy the homegrown conglomerate Hutton Broadcasting, which also operates the comprehensive entertainment listings at santafe.com (where you can also stream the stations). KBAC/98.1 FM, "Radio Free Santa Fe," fights back against canned corporate radio playlists with anything from '80s synth-pop to local Americana to '70s funk, and provides ample access for nonprofits, info about community events, and live studio visits. Many Santa Feans wouldn't think of waking up without favorite DJ Honey Harris (7–11:00 a.m.), or winding down the workday with program director Ira Gordon (weekdays, 3–6 p.m.).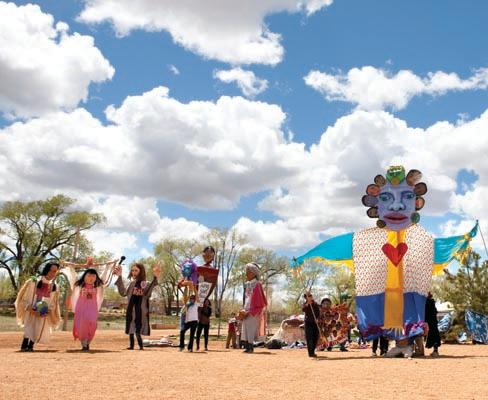 Baca Rocks
The Baca Street neighborhood, located just south of the city's Railyard urban-development project, offers a gritty, youthful alternative to Santa Fe's established fine-arts infrastructure. Start with coffee and breakfast or lunch at Counter Culture (505-995-1105; 930 Baca Street, #1), a hopping neighborhood gathering place any time of day. Wander across the parking lot to Liquid Light Glass (505-820-2222; liquidlightglass.com) and watch the glasswork in progress by artist Elodie Holmes, or visit the handful of small studio-galleries set up next door in the Baca Street Studios. Across the street, Molecule Design (505-989-9806; moleculedesign.net), which occupies a rehabbed shipping container, offers some of the city's most forward-thinking designer home accessories. Head west one block to Rewind (505-603-4885; 927 Baca Street, Suite B), an eclectic retro/vintage/thrift shop, and the Ann Lawrence Collection (505-982-1755; annlawrencecollection.com), an unusual shop selling reconstructed one-of-a-kind vintage lace clothing and other fine objets. A short stroll brings you to the shared studios of several ceramics artists at Baca Street Pottery (505-614-5215; bacastreetpottery.com), where form and function come together in gorgeously earthy micaceous and stoneware pottery. Need a break? Make an appointment at Remedies Skin Care Clinic (505-983-2228; remediesofsantafe.com) for a facial and massage.

Foodie Fest
Gourmands from all over the country look forward each year to the Santa Fe Wine & Chile Fiesta, and Santa Fe opens her arms to receive them. Over a span of five days, 90 international and independent wineries, 75 local restaurants, and hundreds (if not thousands) of people gather to celebrate two of our favorite things: fine wine and exceptional food. Now in its 23rd year, Wine & Chile features special wine dinners, tasting seminars, and guest chefs—superstar chefs who've made their way to Santa Fe include Rick Bayless, Stephan Pyles, of Dallas; and Bay Area molecular-gastronomy pioneer Daniel Patterson, of Coi. Other past dignitaries include master sommelier Joe Spellman, from Chicago, and cheese wizard Laura Werlin, of San Francisco. Cooking demos and other tasty events throughout the week accompany the enormous Grand Tasting. Sip and nibble your way through this gigantic party under huge tents at The Santa Fe Opera, but buy your tickets early—the Grand Tasting usually sells out, as do many of the other Wine & Chile attractions during the last weekend of September. (505) 438-8060; santafewineandchile.org

Chocolateros
Chocolate has been known as the food of the gods for at least 3500 years, and Santa Fe's half-dozen or so artisanal chocolateros make sure those gods are honored daily. Start downtown at Kakawa Chocolate House (505-982-0388; kakawachocolates.com) for a steaming cup of a specialty "elixir": rich drinking chocolates steeped in the historic ingredients—among them Mexican cinnamon, rosewater, and several kinds of dried chile—of traditional pre-Columbian or Colonial American chocolate. Take along a lavender truffle or rose caramel for the journey, and head over to Todos Santos Chocolates and Confections, a miraculous little shop tucked into the courtyard of Sena Plaza (505-982-3855; 125 E. Palace Avenue). Inspired by Mexican folk art, the tiny shop's bright colors, Day of the Dead imagery, and fanciful packaging make a big production of their bite-size wares. Keep your chocolate buzz going with a stop at ChocolateSmith (505-473-2111; chocolatesmith.com) for gourmet dark-chocolate bark studded with pistachios or dried cranberries, or a block of rich paté: dark-chocolate fudge dipped in colorful wax for easy storing in a backpack or purse. On the south side of town, Cocopelli Chocolatier (505-438-2626; cocosantafe.com) is making its mark with truffles, cupcakes, cake pops, and its specialty: chocolate-dipped, double-stuffed Oreo cookies.

Little Africa
Santa Fe's amazing food offerings depart (delightfully) from the regional via the award-winning Jambo Café, where bright Afro-pop or gentle reggae music keeps the beat as the friendly staff serve up African home-style cuisine to a steady stream of happy patrons. Try the Moroccan Spiced Marinated Organic Chicken Kabobs or the East African Coconut Lentil Stew with roti (African flat bread), but know you can never go wrong ordering soup: For four years running, chef-owner Ahmed Obo has walked away with the top prize at the Santa Fe Food Depot's annual Souper Bowl fundraiser (this year's winner: his Spiced Coconut Cream Guava Lime Soup with Crispy Plantains). Although Jambo is tucked into a nondescript strip mall three miles from downtown, Obo recently doubled the size of his space—filled with brightly colored African folk art—to accommodate its growing popularity. (505) 473-1269; jambocafe.net

Japanorama
There's a sizable contingent of Japanophiles in Santa Fe, and fresh, authentic Japanese food in Asian-inspired surroundings has a strong following here. There are several places to choose from, each with its specialty. We like Shohko Cafe (505-982-9708; shohkocafe.com) for its super-fresh seafood, extensive sake list, and longtime presence (since 1975). More recently on the scene, Shibumi Ramenya (505-428-0077; shibumiramen.com) stands out as an elegant, intimate space specializing in ramen, yakitori, and izakaya (what Americans usually call "bar food"—small dishes to accompany drinks). Sushi Land East (505-820-1178; sushilandeast.com), just a block from the Plaza, is a great little place to grab a Santa Fe Roll (shrimp and chile tempura with avocado, cucumber, and spicy mayo) or a bowl of hot, healing miso. There's also great anticipation for the projected September opening of Hadaka, the new restaurant at Ten Thousand Waves (505-982-9304; tenthousandwaves.com), our beloved Japanese-style mountain spa. Featuring fresh Japanese tapas and artisanal sake, the restaurant will use as much locally grown and/or organic food as possible.

Custom Suds
Whether downtown, on the south side, in the Railyard, or points in between, Santa Fe's microbreweries have a particularly local flavor. Enjoy them on-site, take home growlers (half-gallon jugs) or six-packs from the brewpubs, and find our local microbrews in many restaurants around town. Santa Fe Brewing Company (505-424-3333; santafebrewing.com) started the local trend, and offers a selection of a dozen or so popular beers, including Imperial Java Stout and Santa Fe Chicken Killer Barley Wine Ale; the tasting room at their brewery, at the beginning of the Turquoise Trail (Hwy. 14), is open daily. Busy neighborhood pub Second Street Brewery (505-982-3030; secondstreetbrewery.com) recently opened a second location, next to the Santa Fe Farmers' Market, in the Railyard (505-989-3278), which is just as popular as the first. Live music and comfort food accompany rich, complex brews made with hops and barley from the Pacific Northwest, Germany, and England. If you like New Mexican food with your microbrew, Blue Corn Cafe offers both at its two locations, as well as their adventurous chef's beer-pairing dinners, and their popular Road Runner IPA. (505) 984-1800, 438-1800; bluecorncafe.com

Native School—for All
Founded in 1962, and occupying its permanent 140-acre campus since 2000, the Institute of American Indian Arts (505-424-2300; iaia.edu) is one of Santa Fe's most treasured resources. The IAIA is the only four-year, fine-arts-degree institution in the country devoted to contemporary Native American and Native Alaskan arts, and its newly expanded campus offers public access to its outdoor sculpture garden and student gallery, as well as tours of its art-filled buildings. A full calendar of public readings, lectures, and community projects provides college-town amenities; an annual powwow and participation in the international new-media festival currents (June 14–30, currentsnewmedia.org), in the school's Digital Dome, bring past and future together in one vibrant present. The IAIA's Museum of Contemporary Native Arts (505-983-8900; iaia.edu/museum) was relocated from the campus to its present location, on Cathedral Place, in 1992; the top exhibition space in the nation for contemporary native artists, it includes a stellar gift shop.
Live Americana Music
Yes, Santa Fe could really use a centrally located music club with a proper stage and lights and sound system, but that doesn't mean you can't hear good local music on any given night of the week in the bars and restaurants. Americana is the prevailing genre, with various musicians playing variations on the theme. Between the likes of Boris McCutcheon, Jono Manson, Sean Healen, Joe West, Broomdust Caravan, Anthony Leon and the Chain, and Stephanie Hatfield and Bill Palmer, Santa Fe has a scene to be proud of.

Santa Fe, Found
Chasing Santa Fe, a visually enticing blog by photographer C. Whitney Ward (chasingsantafe.blogspot.com), showcases a wide range of Santa Fe's best artists, designers, and entrepreneurs, including interviews and lots of photos of jewelry, artwork, fashion, and home accessories. With a background in PR and food styling, Ward knows her eye candy: her restaurant shots alone will have you making reservations ASAP. With some 7500 hits a month, Ward has developed enough of a following to offer a selection of locally made, handcrafted items (think handmade silver jewelry, leather handbags, and artwork) in the blog's related online store, theshopatchasing.blogspot.com.

Snooping Encouraged
Yes, we all wonder what's behind those charming adobe walls, especially the ones with fragrant lilacs spilling over the top, or the beguiling sound of a fountain tinkling somewhere on the other side. In 2013, the most anticipated home and garden tour of theyear—the Santa Fe Garden Club's "Behind Adobe Walls"—is actually two tours (July 23 and 30), each showcasing four stellar properties, lush gardens, and historic homes. Throughout the summer and fall, the Garden Club also hosts "pequeño tours"—mini-tours for groups of 10 to 30 (505-984-0022; thesantafegardenclub.org). The Haciendas Parade of Homes (505-982-1774; sfahba.com), in August, is a showcase of the nonprofit Santa Fe Area Homebuilders Association, and features a self-guided tour of brand-new construction with high-end design and energy-efficient details. The newest addition to the home-tour circuit is Home Grown New Mexico, which began life as a blog (homegrownnewmexico.wordpress.com) and now includes a steady schedule of free and low-cost classes and events supporting sustainable living: community gardening, home chicken coops, soil ecology, solar cooking, water catchment, and more. Homegrown New Mexico's Third Annual Kitchen Garden & Coop Tour—of homes with edible gardens, beehives, solar energy options, and more—takes place July 28. (505) 473-1403; homegrownnewmexico.org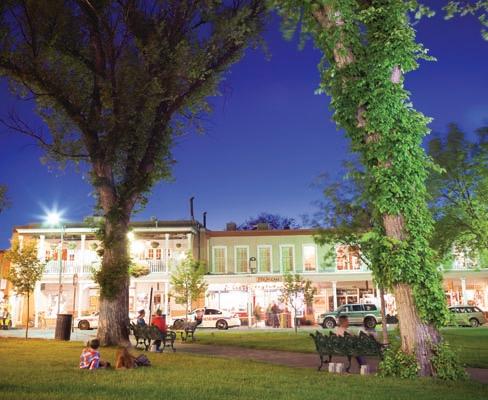 Local Folks
For a small town, we have more than our fair share of people-watching opportunities. Sometimes, the best part of our downtown art festivals and community celebrations is the opportunity to sit on a bench on the Plaza (or on Marble Taproom's roof deck) and watch the world go by. In any given moment, one can spot Midwestern visitors in their stiff new boots, skinny-jeaned local teens on skateboards, and clusters of Japanese schoolgirls, all soaking in the low-key ambience of a sunny summer day. On Friday nights, hang out on El Farol's front patio, on Canyon Road, and watch art appreciators make their chic way to gallery openings.
Couture Capital
Lest you think it's all about jeans and boots, take a look at our burgeoning circle of clothing designers, who bring a decidedly City Different viewpoint to their exquisite creations. Want haute couture or high-end custom bridal? Both Lily of the West (505-982-5402; lilyofthewest.com) and Laura Sheppherd (505-986-1444; laurasheppherd.com) are well established among the red-carpet crowd. If you have something a little greener in mind, consider Conscious Clothing (225 Don Gaspar Ave.; 505-982-7506; getconscious.com), which specializes in wedding gowns made from fabric blends of hemp and silk. Perhaps wearable woven textile art is more your thing. Katherine Maxwell's designs (katherinemaxwell.com) blend natural fibers and colors in eye-catching sweaters, dresses, and accessories knitted one at a time on her small, portable, automated loom, which she often sets up outdoors. Santa Fe is also home to nationally popular yoga-and-more outfitter Sense; occasional warehouse sales of designer Robin Beachner's stylishly comfortable Modal clothing bring out the local yoginis-who-lunch in force. (505) 988-5534; senseclothing.com

Ancient Roads
Some of the best addresses in Santa Fe are on dirt roads, and that's just the way we like it. Forget about dust, potholes, or those annoying rattling noises under your car. Other cities may consider paved streets to be the height of progress, but around here, a dirt road means privacy, minimal traffic, and plenty of authentic rural flavor, even right downtown. Some of our oldest and most desirable homes have an added layer of nostalgic charm: On Acequia Madre, the street built alongside an ancient irrigation canal still in use today, short driveways to the close-in houses are actually wood-plank bridges crossing the rock-lined ditch, like miniature drawbridges over a tiny moat. On a quiet afternoon, you can almost hear the clop-clop of horse hooves on the old street—yet another reminder of how Santa Fe's past continues to live in the present.

Rocks, with Salt!
Just as a piña colada evokes a salt-water beach or a well-made Manhattan conjures up, well, Manhattan, our signature drink is the margarita. If you can't find a good margarita in Santa Fe, you aren't really trying. Maria's New Mexican Kitchen (505-983-7929; marias-santafe.com) is a frequent "Best of" winner, with over 100 different margaritas made with authentic Mexican tequilas and fresh lemon juice. The sophisticated surroundings of Agave, the sprawling lounge at the upscale Eldorado Hotel (505-988-4430; eldoradohotel.com), bring some urban sleekness to our favorite drink, along with ingredients like Oaxacan mezcal, jalapeño pepper juice, and pomegranate liqueur. Over at the Secreto Bar & Logghia, at the Hotel St. Francis (505-983-5700; hotelstfrancis.com), award-winning mixologist Chris Milligan truly shines with his Smoked Sage Margarita, made of organic Republic Añejo Tequila with DeKuyper O3 Brazilian orange liqueur, lime juice, and burnt sage leaves. ¡Que milagro!

December's Pleasures
December in Santa Fe is unforgettable. Just the sight of low-slung adobe buildings with a light frosting of snow is enough to enchant, but a full schedule of holiday events keeps the spirit moving. Starting right after Thanksgiving, when folks gather on the Plaza for the Mayor's ritual throwing of the switch to turn on the holiday lights, we are bathed in the sweetness of a small-town Christmas that is part celebration, part religious tradition, and all Santa Fe. Las Posadas, the annual reenactment of Mary and Joseph's search for a room, along with a candlelight procession and amateur community theatrics, always brings a nighttime crowd to the Plaza, regardless of the cold. Over at the New Mexico Museum of Art, the fantastic old marionettes carved by artist Gustave Baumann enchant visitors of all ages. Baumann, perhaps the artist of early 20th-century Santa Fe most closely associated with Christmas, wrote several holiday-themed plays for his hand-carved puppets. Now very fragile, the marionettes come out of museum storage only for this annual appearance. Certainly the best-attended holiday event is the annual Christmas-eve farolito walk along gallery-dense Canyon Road. Most of the businesses participate in a decorating contest—to be not necessarily the biggest and brightest, but the most creative in keeping with the charming setting. Thousands converge on the historic East Side after 5 p.m. to stroll dark streets illuminated only by candles in brown paper bags, and to warm their hands at small bonfires called luminarias. Sometimes the revelry becomes a bit raucous, but slipping down one of the quiet side streets will instantly transport you back in time, as farolitos flicker in the darkness and small adobe bungalows wait for the miracle of daylight.

Photo Lode
Stars of the photographic art world, including Edward Weston, Ansel Adams, and Laura Gilpin, have been intertwined with the history of New Mexico since the early 20th century. With our still-pristine landscape and high-altitude clarity of light, the city remains a vortex for photographers, and the collectors and fans who appreciate the art form. A great place to start is Photo-Eye, a side-by-side bookstore (505-988-5152) and gallery (505-988-5159) with a comprehensive website (photoeye.com) loaded with every book of photographic art imaginable. Andrew Smith Gallery (505-984-1234; andrewsmithgallery.com) features classic American photography, including the historic work of Ansel Adams and Edward Sheriff Curtis, as well as contemporary artists Annie Leibovitz, Baron Wolman, and Lisa Law, among others. Monroe Gallery (505-992-0800; monroegallery.com) specializes in black-and-white photojournalism, with a number of iconic 1960s and '70s Life Magazine original prints; contemporary fine-art photography reigns at Verve Gallery (505-982-5009; vervegallery.com). Radius Books (505-983-4068; radiusbooks.org) is a local nonprofit publisher of beautiful art books that are works of art in themselves. If you want to explore your own camera skills, Santa Fe Photographic Workshops (505-983-1400; santafeworkshops.com) hosts classes all over the world; the local intensives, for beginners through specialty photographers, are among the photo world's best known.