Above: The Big Jim chile variety is notable for its size and heat. It's a statewide favorite for chiles rellenos.
IN THE EARLY 2000s, Mesilla Valley chile farmers brought a conundrum to Paul Bosland. "Our chile doesn't taste right anymore," they told him, "not like what we grew up with, not our chile."   
Since 1975, they had planted the NuMex Big Jim variety developed by Roy Nakayama at New Mexico State University's College of Agriculture. Nakayama had worked with Hatch grower James Lytle on the test plantings and honored his collaborator by naming the chile after him.  
Guinness World Records named the Big Jim the largest green chile, given that it can reach 10 inches long. And its meaty walls made it perfect for chiles rellenos. Used as well in enchiladas and sauces, its flavor came to define New Mexico chile.   
But something had changed, the farmers told Bosland, one of Nakayama's successors. Could he fix it?  
Already adept at breeding new chile varieties, the then director of NMSU's Chile Pepper Institute set to work. The first thing he learned? "They released the variety too early," he says. "The heat was variable." The flavor was another matter. "No one could describe it," he says, which is a bigger deal in chile cultivation than you might think.  
When it comes to flavor and heat, chile researchers have long relied on subjective assessments. The Scoville scale for heat was originally based on tasters estimating hotness to establish a heat index from zero (bell peppers) to 16 million (pure capsaicin). The advent of high-performance liquid chromatography enabled researchers to actually count capsaicin molecules, bringing scientific rigor to the process.   
But what kind of heat is it, where does it land on the tongue, how long does it last, and just how does it taste? Scientific analysis of flavor is emerging research at the institute, with years of work ahead. For now, we have the impressive-sounding organoleptic method. "That just means 'I bit it and I know what it tastes like,' " Bosland says.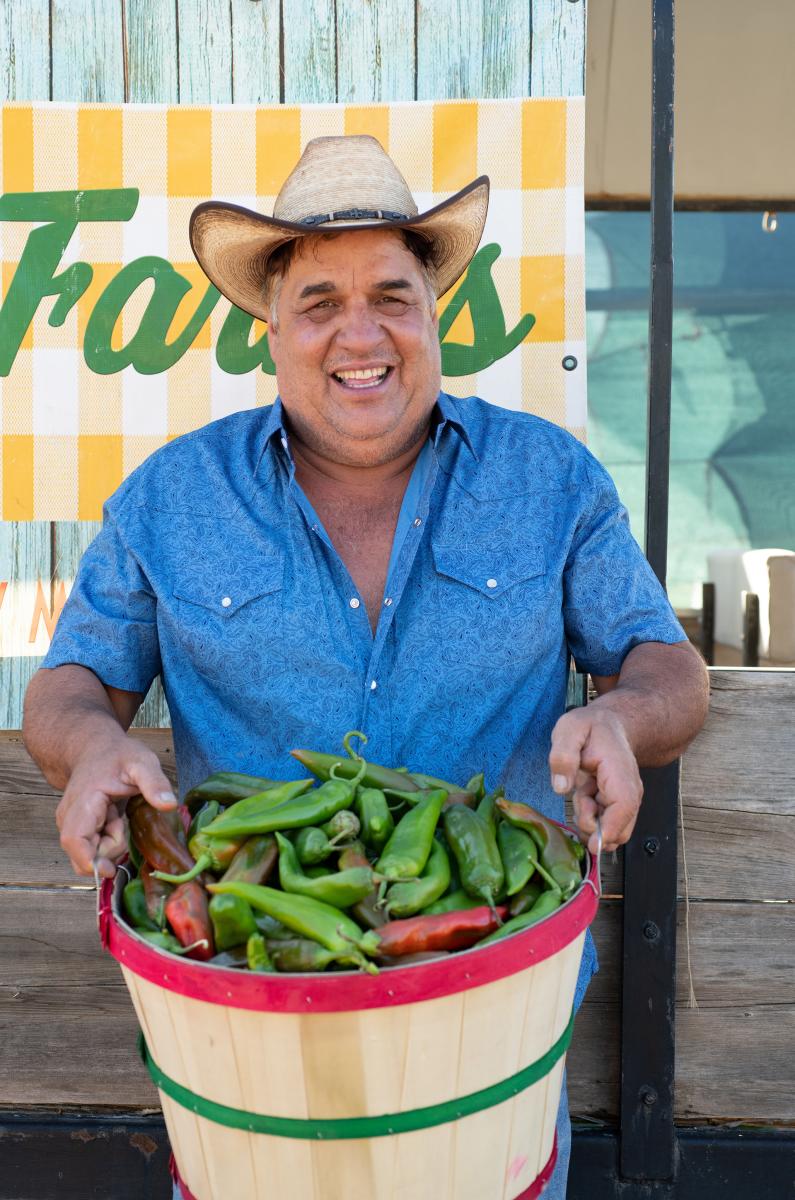 Above: Jim Wagner, owner of Big Jim Farms in Los Ranchos de Albuquerque, shows off prize specimens.
While you might describe it as sweet, bitter, acidic, mellow, or buttery, the next person might disagree. One thing that influences a person's perception of chile flavor is what they ate at home. Bosland has observed it repeatedly during his years of growing a globe's worth of varieties at the institute's teaching garden.   
"The ají chile has such a unique flavor profile that Mexicans say they don't taste right," he says. "But a Peruvian or Bolivian says, 'That's my chile.' "  
Big Jim lovers wanted their chile back. But how do you replicate a lost flavor? Bosland started by scoring some of the 1975 seeds from a cold storage facility at Colorado State University. In the first year, he grew a new crop to replace the borrowed seeds and enough for himself the following year. 
Read More: A true-blue New Mexican turns to a trusty resource for making chiles rellenos: Mom.
He asked local farmers to walk the field that second year, tasting the chiles and flagging the ones that reminded them of home.   
He harvested seeds from the most popular ones and grew those. Then he did it again; and again, each time deepening the flavor. "It was a 10-year process," he says. "Besides the flavor, the plant architecture had to change to fit farms—and it had to have a uniform heat."  
How hot? Well, they could have chosen mild, medium, or hot from those variable-heat seeds. The institute had already bred a reliable mild with the NuMex Joe E. Parker, an Anaheim-style chile, and a strong medium with the similarly reengineered NuMex Heritage 6-4, a New Mexico–style pod. For Big Jim, Bosland and the growers chose hot.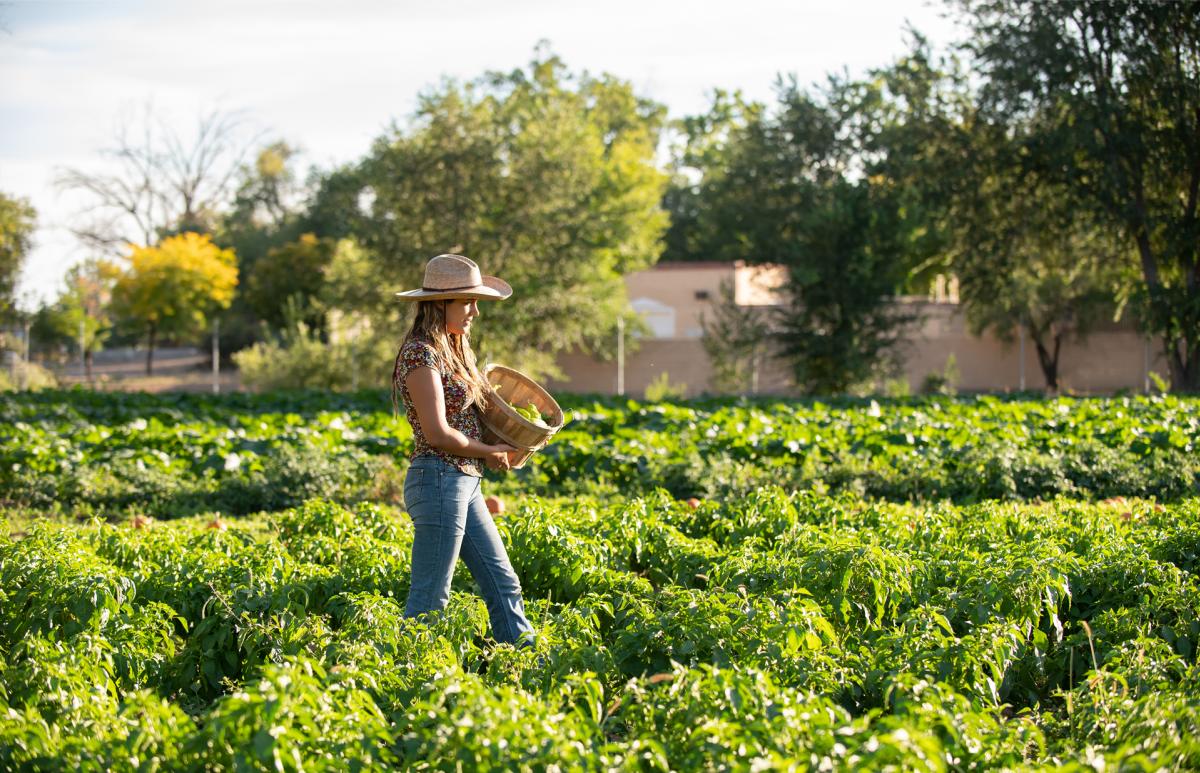 Above: You can harvest your own Big Jims at Big Jim Farms, in Los Ranchos de Albuquerque.
By 2013, NuMex Heritage Big Jim seeds were ready.  
Jimmy Lytle, son of the namesake, and his wife, Jo, stand by the legacy version and grow it today. "We're snobbish about it," Jo says. "We have the foundation seed." Their children now oversee the chile fields and the family's Hatch Chile Express store, selling frozen and powdered chile, salsas, sauces, and ristras.  
"The Big Jim chile has enough heat to make it pleasurable while not being so hot you have to inhale," Jimmy says. "You can actually enjoy the flavor, with just a good punch."  
He likes to stuff his rellenos with ham and cheese, but notes that a loyal customer in Maine opts for lobster. "Doesn't that sound delicious?" Jo says.  
After all of his work tinkering with chile flavors, Bosland hopes that consumers go beyond asking about a chile's heat level and factor in flavor as well. "We want people to ask for varieties—just like you do with apples," he says. "Different varieties have different flavors. Know what flavors you like and ask for that."  
Just make sure it's from Hatch, Jo says. What makes that chile a national favorite? "Well, other than the good soil, the living water from the Río Grande, and the hot days and cool nights, I guess the best answer is that God smiled on us. And for that we are always grateful."

The Ultimate New Mexico Chile Tasting Guide
We asked two experts to describe the flavors of New Mexico's best chile varieties.
José Gonzalez: The Allure of Chile Farming
Although he's tried other jobs, José Gonzalez keeps coming back to the farm where his family grows chiles, corn, beans and more.
The Making of Chile U
One of the only scientific institutions devoted to a so-called condiment flourishes in Las Cruces.
Matt Romero: The Chile Roaster
Rooted in family history, Matt Romero brings that heavenly scent and his special flair to the Santa Fe Farmers' Market.
More Than Just Salsa
Capsaicin does more than make chile hot, it is used in medicinal creams, bear repellent and in foods to give captive birds and fish a reddish hue.