Elephant Butte Lake State Park. Photograph by NMTD. 
A WARM, COMFORTABLE BREEZE carries the chatter of herons, cranes, and loons migrating to their favorite spots on their journeys to and from the north. Home to New Mexico's largest lake, this summit on the Cowboy Ridge of the Animas Mountains is a bird watcher's paradise with more than 250 species calling it home throughout the year.
Creosote and mesquite fragrance the dry air in Elephant Butte. Residents say that after a rain, the senses are awakened to rich aromatherapy. Green shrubs cover the mesas humming with desert life, while miles of clear blue sky provide a sense of freedom that touches the soul. Surrounding mountain ranges enfold the valley and provide a stunning back drop.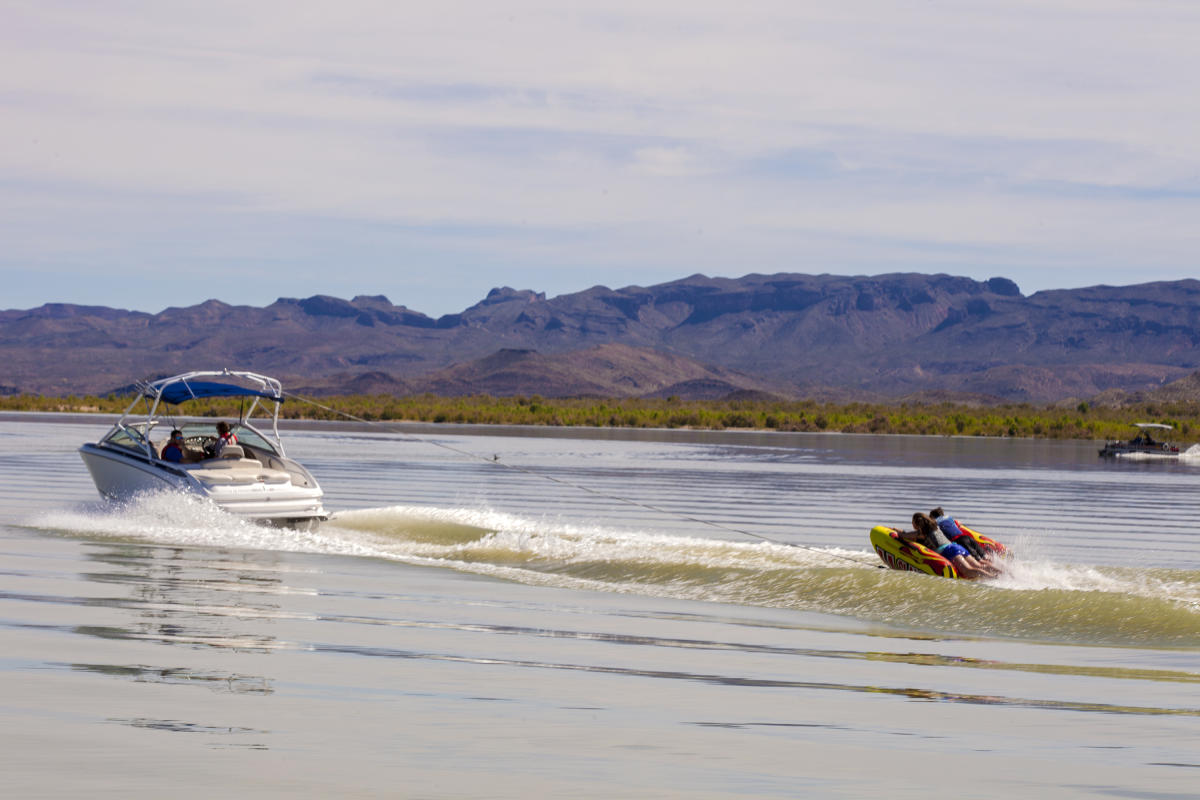 Watercraft activities at Elephant Butte Lake. Photograph by NMTD. 
To the east, Elephant Butte Lake offers relief from the desert, keeps temperatures moderate, and provides both solitude and recreation. Spanning 57 square miles, the man-made reservoir takes its name from an ancient volcanic formation jutting above the southern end of the lake, close to the dam. Built more than 100 years ago on the Río Grande, the Elephant Butte dam was a feat of construction for the time—the largest irrigation dam ever constructed outside Egypt.
The lake provides plenty of quiet coves for reflection or open water to cool off with fun watercraft activities. Elephant Butte is bountiful in its gifts. The lake is home to trophy catfish, crappie, largemouth bass, and walleye as well as a large population of turtles, which offer a pleasant reminder of the area's wildlife that can be enjoyed when you pause to take a close and purposeful look.
As the day cools into the still night, stars dot the black sky and become an astronomer's tapestry. Clear evenings offer a magnificent view of the Milky Way. Different seasons reveal neighboring planets and streaks of meteor showers. This area is also home to ancient surprises of long-buried and recently revealed Native and Hispanic artifacts and animals that have long been extinct.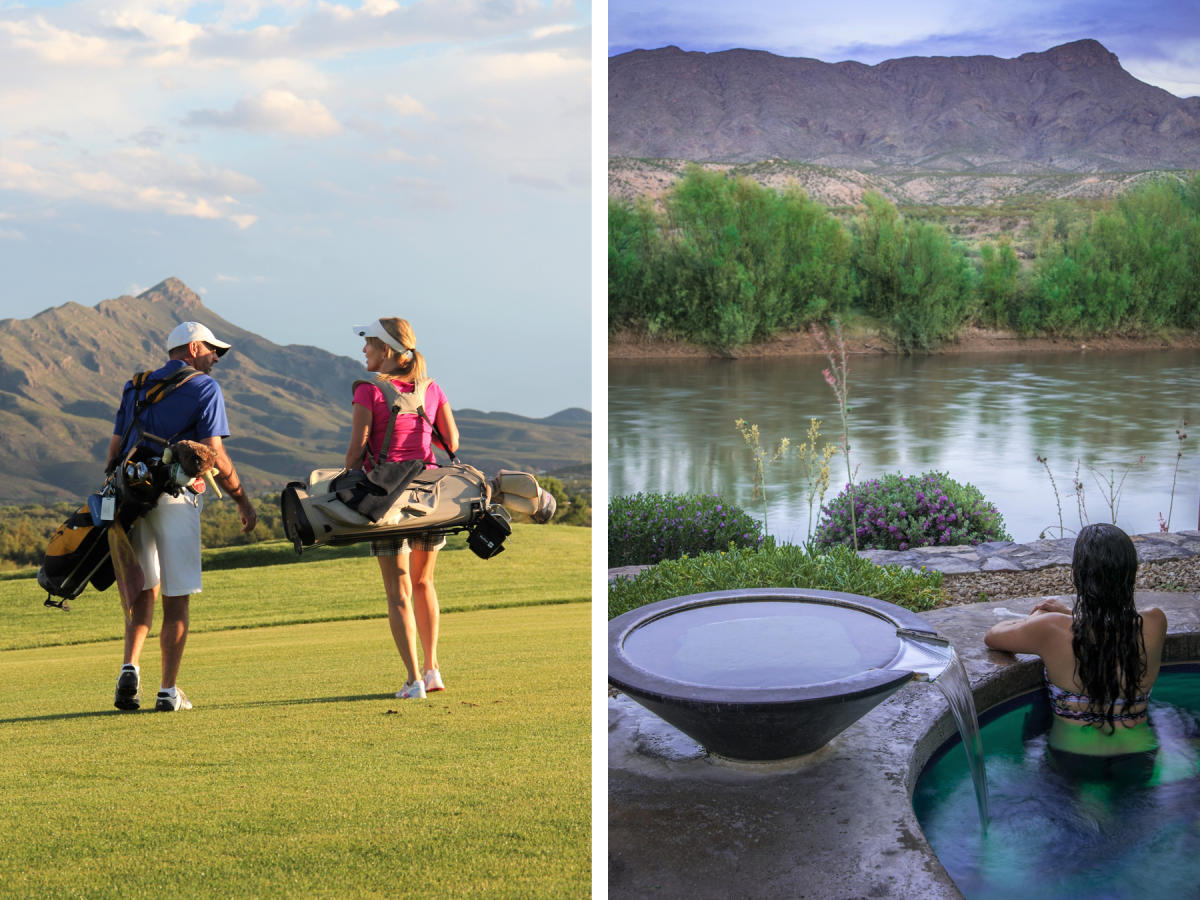 Sierra del Rio Golf Course (left) and Riverbend Hot Springs (right). Photographs courtesy of the City of Elephant Butte. 
With about 360 days of pleasant weather, it's easy to stay connected to nature. Outdoor enthusiasts can enjoy miles of running, bike, and utility trails, while the highly rated Sierra del Río Golf Course, nestled in the center of the city, calls to players of every handicap. The course's Turtleback Taphouse & Grill serves a tasty variety of food and drinks that can be enjoyed on a comfortable expansive deck with views of the course, Lake Mims, and Turtleback Mountain.
In the neighboring city of Truth or Consequences, natural hot springs will melt away your aches and pains and renew your feeling of good health. T or C also features a thriving art scene, convenient shopping and tons of character.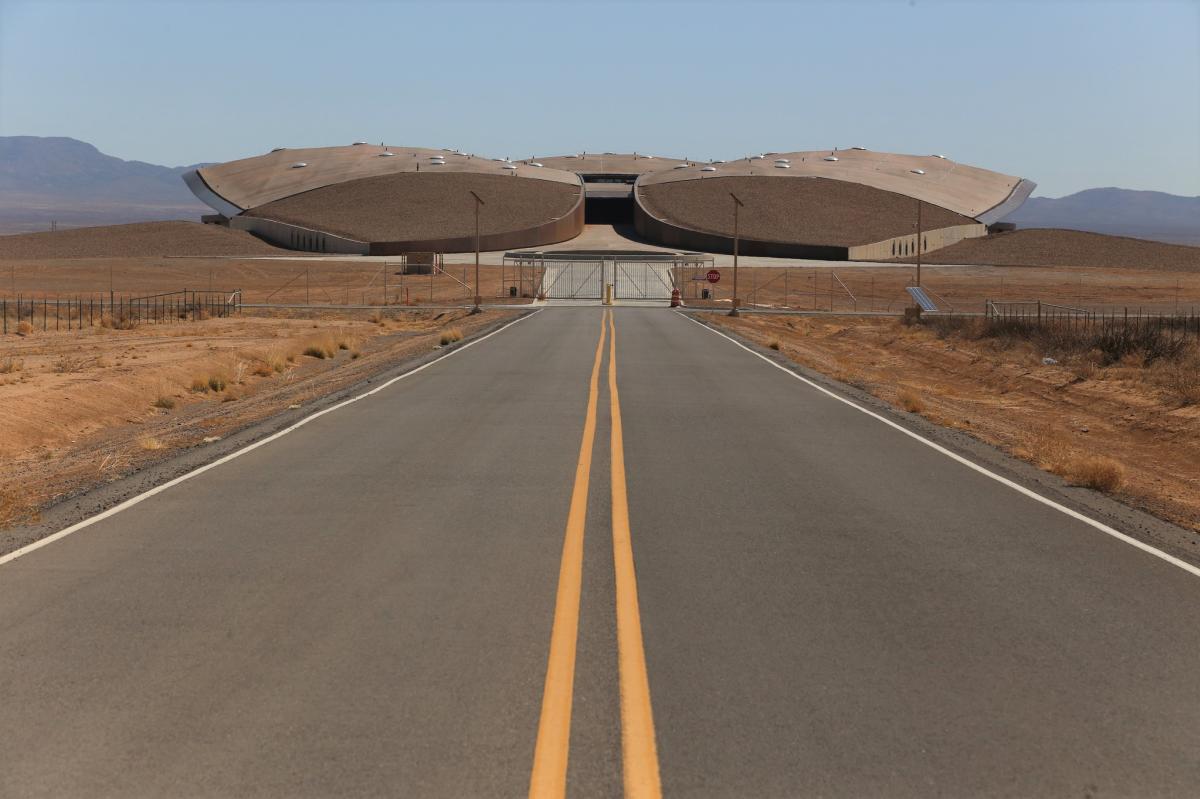 Spaceport America. Photograph courtesy of the City of Elephant Butte. 
Elephant Butte has easy access to places unlike anything you'll discover in the world, whether it's Spaceport America, where manned space travel is taking off, the Village of Hatch and its world-famous green chile, White Sands National Park's miles of gypsum dunes, the cool climate and fascinating caves in Carlsbad Caverns, the 3.3 million acres of the Gila National Forest, or the historic whispers of the region's ghost towns.
Yes, Elephant Butte has all this and local rodeos highlighting the cowboy culture of the Southwest.