Jean-Michel Basquiat's Bird on Money is one of the works included in the Albuquerque Museum's 30 Americans exhibit.
Check out 30 Americans.
"Who are we?" It's a question many Americans are asking right now. It's also the focus of 30 Americans, a new Albuquerque Museum exhibit that offers responses from Black artists such as graffiti artist Jean Michel Basquiat, painter Robert Colescott, and others who examine identity and history.
"When you come to this exhibition expecting to find this sort of overarching sense of what is African American art, what you come away with is there really isn't a single African American art," says Josie M. Lopez, curator at the Albuquerque Museum.
With works by three generations of contemporary Black artists from throughout the United States, the exhibit debuted at the Rubell Museum, in Miami, Florida, in 2008, and includes interviews with 20 of the 30 artists. The works focus on subjects like race relations, economic inequality, and the legacies of segregation and slavery, as well as identity, commodification, urban realities, and the nature of portraiture.
"We're grouping these works together based on race and their reflections of race, but they're very different," Lopez says. "The artists approach their works from many different perspectives, using many different media, telling different stories and expressing that identity is not just race, but it also includes all these other experiences."
30 Americans is divided into six sections, each introduced with a quote pertaining to the ideals portrayed. Large-scale installations are sprinkled throughout, including Soundsuits, a piece by performance artist and fabric sculptor Nick Cave that examines how we display, and sometimes hide, our identities.
"The installations are incredibly powerful," says Lopez. "I love that it challenges the concept of 'what is contemporary African American art?'"
Reservations for 30 Americans, which runs October 3 through January 3, must be made online and have a one-hour time limit. Visitors must wear a mask and maintain social distancing.
Fort Sump'N 'R Another is one of the family-friendly attractions at McCall's Pumpkin Patch. Photograph courtesy of McCall's Pumpkin Patch.
Pick a pumpkin at McCall's Pumpkin Patch.
There was a time when actual pumpkins, not flavored lattes, cookies, or mac and cheese were the pick of the October patch. (Oh, simpler times.) And for the next few weekends, that can still be the case.
McCall's Pumpkin Patch, in Moriarty, ranked by Country Living as one of the best in the country, opened last weekend with spiced-up fall fun. The 92-acre farm offers a full day of family-friendly activities, including a 16-acre corn maze cut with paths of varying difficulty as well as games and clues along the way; an animal barn with goats, sheep, pigs, and horses; the Fort Sump'N 'R Another Wild West play fort; giant sandboxes and a fossil dig; a corn box and more.
Although McCall's haunted barn, haunted maze, and hayrides are not open this year due to COVID-19 restrictions, guests can roll a wheelbarrow into the pumpkin patch (about a half-mile walk) to bring back their orange treasures.
Grab a barbecue lunch or bring your own picnic. And be sure to stop at the Country Store for a little pumpkin sumpin' to take home.
Tickets to McCall's Pumpkin Patch ($16.95 for anyone 3 and up) must be purchased online. Open 10 a.m.–6 p.m. weekends, admission is limited to 25 percent capacity, and masks and other COVID-safe practices are required.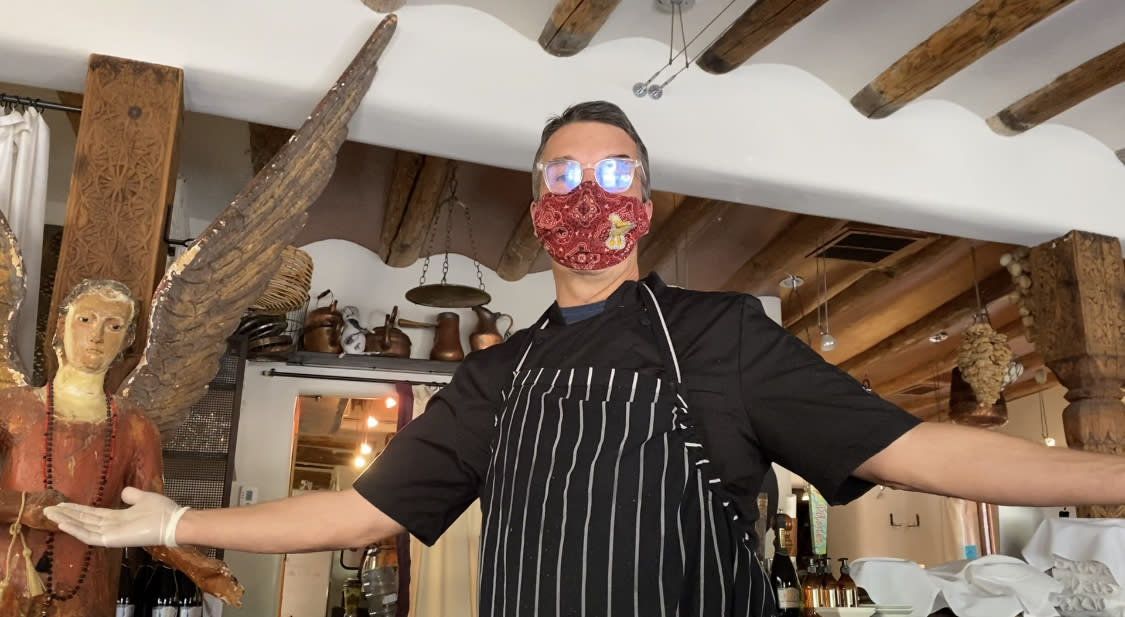 Chef Joseph Wrede of Joseph's Culinary Pub is participating in the virtual Taco Wars. Photograph courtesy of Taco Wars.
Bite into the Taco Wars.
This is our kind of battle. Tacos and cocktails, created by some of New Mexico's best chefs and mixologists, battling it out for our hearts and taste buds.
The annual Taco Wars, which traditionally kicks off the New Mexico Cocktails and Culture Festival, was postponed in May and eventually canceled. But, organizer Natalie Bovis, aka the Liquid Muse, has gathered an all-star crew for a virtual version celebrating National Taco Day on October 4. (No surprise, it's also National Smile Day!)
Featuring winners from previous years such as 2019 Top Taco, David Sellers of Santa Fe's Street Food Institute, and 2019 NM Cocktail & Culinary Festival Bartender of the Year Jessica O'Brien, as well as New Mexico Magazine contributor John Vollersten and James Beard Award-winner Cheryl Alters Jamison, participants will demonstrate their favorite combos from the past. "It's meant to be a fun night everyone can enjoy from home," says Bovis.
Follow along and learn to create some of these tasty bites and boozy sips, or order carry-out from Rowley Farmhouse Ales, Joseph's Culinary Pub, or Four Seasons Resort Rancho Encantado, which offer the taco combinations of their competing chefs.
In past years, Bovis donated 20 percent of the Taco Wars proceeds to the Santa Fe Animal Shelter. This year, all money raised from VIP tickets ($10 on Eventbrite), which includes recipes for all the tacos and drinks, goes to the shelter.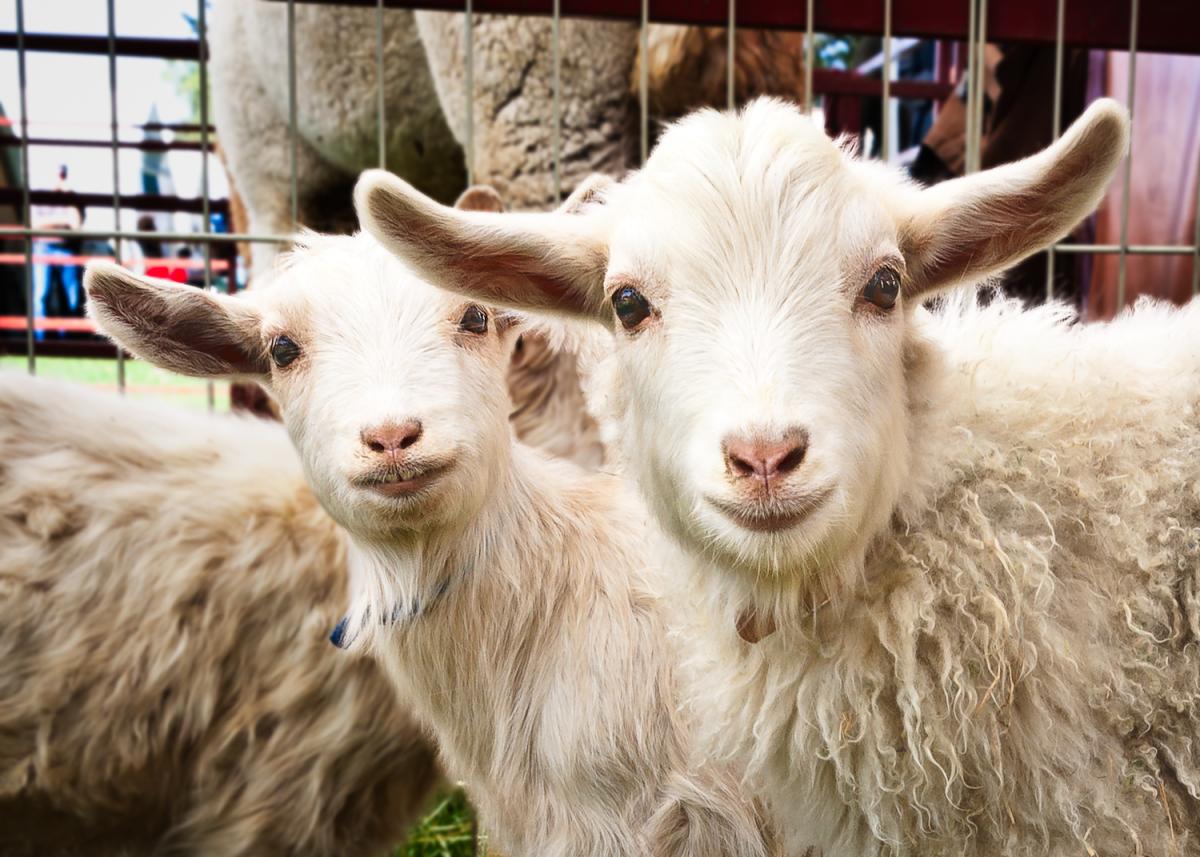 While there won't be any sheep at this year's Taos Wool Festival, there will be plenty of wool available for sale at the virtual fest. Photograph courtesy of the Taos Wool Festival.
Cuddle up to the Taos Wool Festival.
Mornings are suddenly cool, which makes us think about snuggling up with something warm and cozy. Starting Saturday at 10 a.m., the Taos Wool Festival has just the thing—unique handspun wools, handmade fleeces, cozy knits, and more.
During the two-day virtual festival, participants can peruse goods made by regional artisans and wool makers, watch demonstrations and spinning contests, and bid in an online auction that ends Sunday at 4 p.m.
Some of the vendors include Hummingbird Moon's dyed-to-order skeins and Ellen Sibelius's knitted and felted pieces that look like dreamy painted scenes of the high desert. Look for festival exclusives, including Desert Panda Fiber Arts' small-batch- dyed yarns in special color combinations.
Drive in for live music.
Hop in the car and head to Alamogordo on Friday to catch some live music, good food, and some socially distanced fun. The Music at Medlin drive-in concert brings it all together in the parking lot of Medlin Ramps (formerly Walmart) on US 54.
"Once COVID hit, like everywhere else, we stopped doing events," says Josh Sides, coordinator of Keep Alamogordo Beautiful. "It came to the point where you could feel the town getting antsy. Everyone is wanting to do something and stay safe while doing it."
Ruidoso's HomeGrown Boyz open at 6 p.m., with a set of country, rock, and oldies. Alamogordo's Seven Stone performs original rock tunes at 8:30 p.m.
Purchase tickets for Music at Medlin in advance to allow easy entry and avoid backup on the highway. You're required to wear a mask in common spaces and maintain social-distancing guidelines as you move around.
** No matter what you do or where you venture on your staycation this weekend, keep an eye out for NM True Certified businesses to support. Find a complete list of them here or pick up a September/October issue of New Mexico Magazine at your nearest newsstand.