Above: Henry, surrounded by components of cabinetry at the Taos workshop where her furniture is made.
DESIGNER EMILY HENRY named her beautifully crafted collection of furniture "Millicent" in honor of Taos style queen Millicent Rogers, who absorbed regional influences and became a 20th-century icon of Southwestern chic. It's a fitting choice: Henry herself displays more than a dash of flair at our interview, dressed in slim tailored charcoal pants and a black tunic, a bright geometric silk scarf tied as a sash around her waist, sleek modern silver-and-turquoise bracelets gleaming at her wrist.
First question: Of all the inspirational figures Henry could name her furniture collection for, why did she choose Millicent?
"She was the woman who came to Taos and left all conformity behind," says Henry, offering tea and cookies in the cozy living room of her mother's rambling Taos home, where she grew up. Unlike the Standard Oil heiress Rogers, who was raised within high society's rigid expectations and then broke free, Henry grew up in creative, freewheeling style in the Rainbow Family commune, living on the Mabel Dodge Luhan compound, the daughter of modernist architect and inventor William Mingenbach and artist Jane Mingenbach.
As a kid she was surrounded by open spaces, artists, and seekers, including neighbor Dennis Hopper, who once scolded young Henry for giggling at one of his guests who had remarkably large lips: Mick Jagger.
"My upbringing in Taos taught me not to be afraid of my humanity, of being different," says Henry.
Her work at Emily Henry Interiors in Santa Fe and her Millicent designs certainly add a different spin to what we think of as New Mexican, while still honoring the state's culture. Her mom's living room, decorated with a casual mix of midcentury modern, Navajo, and WPA pieces, reveals the genesis of Henry's aesthetic.
"This is what my parents did," says Henry, glancing around. "They did it because they liked it and it was what they had. They were so ahead of their time." She gestures to a WPA chair bought for a song from the old Harwood Library. "To us now it looks like a traditional chair, but when it was made it was very modern."
This is also the house where she learned resourcefulness from parents who did everything themselves, from canning food to making lace.
"We couldn't buy a window. Dad had to make it," says Henry, recalling that she always had lots of chores. Once she and her brother made plans to go out, but her father said they had to do a job for him first. The siblings fumed as they waited for him to return late from his office and presented them with a complicated drawing of a gate they were to make from found objects.
Did they complete the assignment?
"Yeah, we made the gate," Henry laughs. "It's still out there!"
This training proved valuable when she founded her Millicent by Emily Henry collection.
"As an interior designer, I had a deep appreciation for New Mexico," says Henry, "and I would encourage clients to put something in their home that is relevant to where we live." Clients didn't always want the vintage furniture that Henry suggested, so she created her own.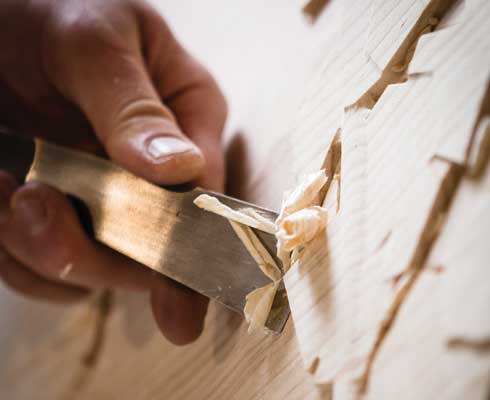 Every piece is hand-carved.
"I love wood, I love the smell of wood chips, I love how things are made," she enthuses, explaining in intricate detail how her new cottonwood lumber is cut and dried for months in a special kiln. Each piece of furniture takes more than 200 hours to handcraft, carved by various craftsmen in her Taos studio and finished with brass accents by Taos jeweler Peter Gilroy and leather pulls by a former Hermès leather artisan, Béatrice Amblard.
Henry admits that she's on a bit of a crusade to return to an earlier era of handcrafting and cottage industries, when "people were more deliberate, creative in a hands-on way."
Her inspirations are very personal. The "Guillermo" (translation: William) series is inspired by a stool her father made for her before he died. The "Meeting in Gallup" design came from seeing birds on power lines during a drive to Gallup. She took photos, but when she drew the design, she wasn't satisfied.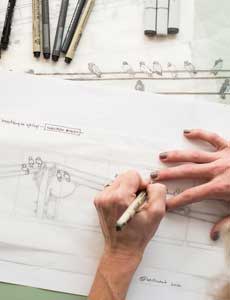 Drawing the "Meeting in Gallup" design.
Three-drawer "Pueblo Plum" side tables.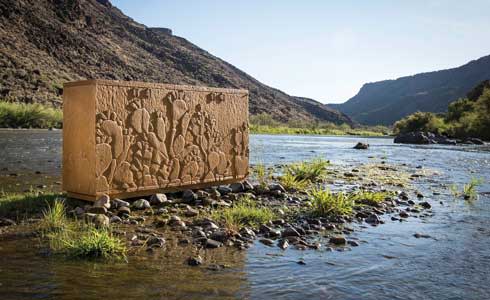 "Happy's Curious Credenza," curiously situated in the Río Grande.
"The drawings were no good, just cheesy," she says. "My epiphany after 13 hours of drawing was that the birds were Native American, the birds were dancers." She drew the birds afresh in a less literal fashion, and that's how they were carved. "If you take them off the wires, the birds could totally be human. It's like San Geronimo Feast Day at Taos Pueblo and they are the runners."
Future projects include creating the front desk for the new Blake Hotel in Taos Ski Valley, and she's been approached about making custom carved dashboards for luxury cars.
"You never know how things are going to unfold," says Henry, true to her freewheeling roots. "The minute I start being goal-oriented with Millicent, there is no joy. If I stay present and grateful and humble, that's when it's fun." 
—Tania Casselle