EVERY OTHER FRIDAY, Diné weavers assemble in the Crownpoint elementary school gymnasium to mingle with bidders—some from as far away as New Zealand and China. At 7 p.m., traditional Navajo rugs are walked onstage for easy viewing by hopeful buyers. "Years ago, rug auctions lasted till midnight, sometimes after," says Rita Capitan, president of the Crownpoint Chapter House. "In January 2020, we sold 200 to 300 rugs per night."
Operated by the Navajo Weavers Association of Crownpoint, the rug auction has been a regular event since 1964, attracting artists from throughout Navajo Nation to its eastern nook of Crownpoint. It's a place for locals and visitors alike to connect with friends, admire the beauty of the land, and revel in the abundance of regional crafts.
In Crownpoint, Diné (the Navajo name for "The People") artistry and history go hand in hand. Often dubbed the Gateway to Chaco Culture National Historic Park, this town of about 2,500 draws tens of thousands of visitors each year to experience what was once a center of commerce and spirituality in the Americas.
In addition to Chaco, nature enthusiasts can explore options near Crownpoint along the Trail of the Ancients Scenic Byway, including treks to formations like Standing Rock and Hosta Butte. In recent years, the Indian Health Service has invested in renovating walking and biking paths in town. A casual stroll or ride along local mesas shows what locals call the TeePees, sandstone formations shaped just like tents.
The Crownpoint Rug Auction's impact is twofold: Visitors can buy an authentic Navajo rug—often at a significant discount from traders' prices—right from the hands that made it, and weavers take home up to 90 percent of the proceeds. Funds are also put toward community projects such as buying school supplies for children and food for families in need.
For Capitan, Crownpoint has a mysterious way of welcoming the world as family. "It's amazing to have visitors come all the way into our little community of Crownpoint again and again," she says.
Due to the COVID-19 pandemic, the Crownpoint Rug Auction is on hiatus. For more information, visit their website.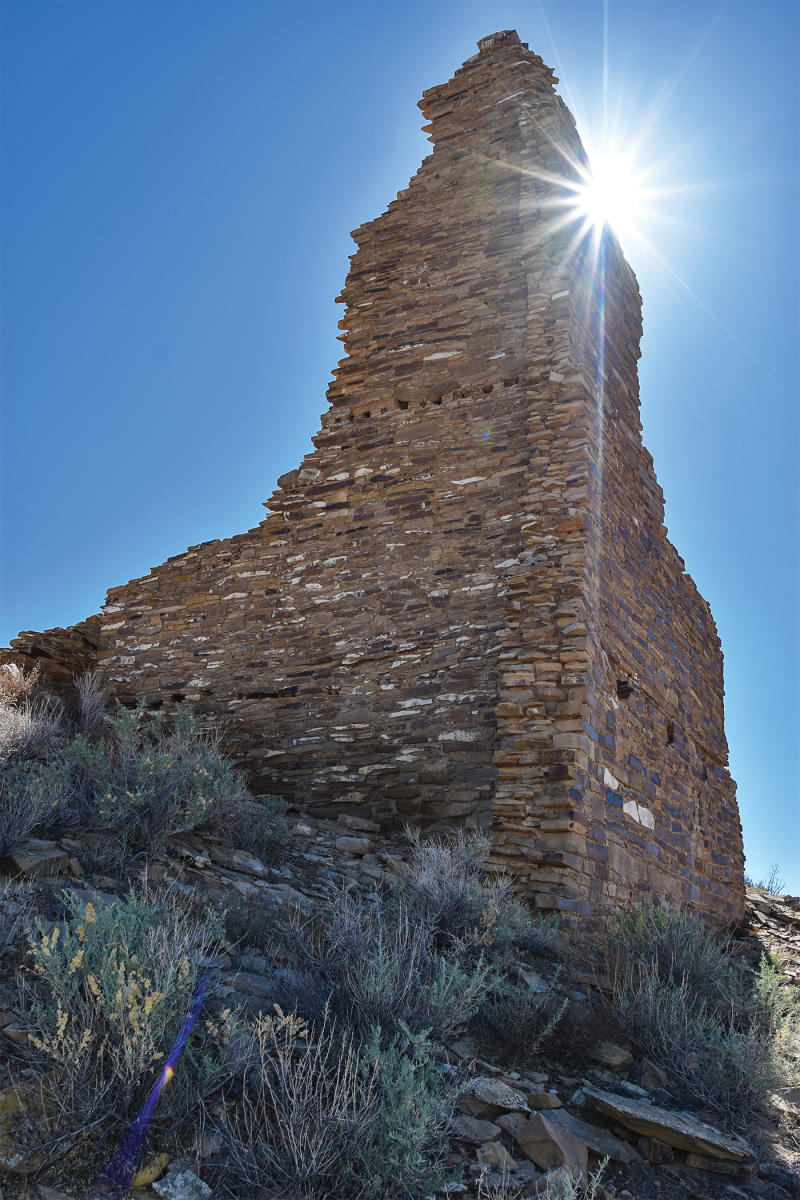 Feel the power of Towering House at Chaco Canyon. Photograph courtesy of Discover Navajo. 
King of the Road Trip
A drive to Crownpoint on the Trail of the Ancients Scenic Byway offers views of sandstone bluffs along the Continental Divide. To avoid the crowds at Chaco Canyon, visit the ancient Chacoan outlier Casamero Pueblo through the Borrego Pass. Located against the backdrop of brilliant red sandstone cliffs, it includes characteristic Chacoan masonry, a Great Kiva, and two Chacoan roads. For a tasty lunch after a day of sightseeing, stop at Grandma's Restaurant, in Crownpoint, for hearty New Mexican favorites.