Our picks for a few unusual chile recipes featured in New Mexico Magazine
Every New Mexican's favorite ingredient—chile, of course—isn't just for traditional main courses. It also appears in soups, salads, and desserts. Here are a few of our favorite recipes from the archives.
PUMPKIN SOUP WITH RED CHILE (SOPA CALABAZA CON CHILE ROJO)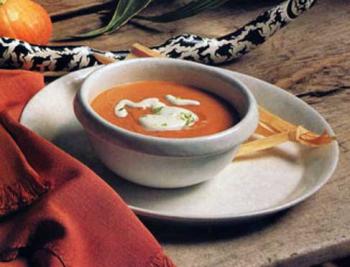 Yield
SERVES 4 TO 6.
Ingredients
1 lb. uncooked pumpkin, peeled and cut into pieces
2 bay leaves, broken in half
2 T. olive oil
1 medium yellow onion, chopped
2 cloves garlic, minced
1/2 t. red chile flakes
6 c. chicken stock or broth
1/4 t. salt
1/4 t. freshly ground black pepper
1/4 t. ground allspice
1/4 square of Mexican chocolate
Chopped parsley for garnish
Directions
Place the peeled pumpkin pieces and bay leaves in a large heavy pot or Dutch oven. Pour enough water to completely cover the pumpkin. Cover the pot, bring to a boil, reduce the heat to medium and cook for 45 minutes or until the pumpkin is soft. Drain the pumpkin, remove the bay leaves. Let the pumpkin cool and reserve.
Heat oil in a heavy soup pot, add the onion and cook over low heat for 3-4 minutes or until just soft, add the garlic and parsley and cook another 1-2 minutes. Place the pumpkin, in 2 or 3 batches in a blender or food processor. Add a little of the chicken broth each time and blend until smooth. Add the onion, garlic and chile flakes to the last batch.
Pour the mixture back into the soup pot, add the rest of the chicken broth, salt, pepper, allspice and chocolate and cook over low heat, stirring occasionally, until warmed through.
Garnish with the chopped parsley and serve.
CHILE CHOCOLATE TRUFFLES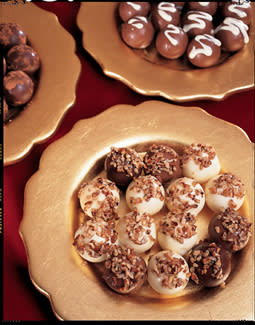 Yield
MAKES 36 TRUFFLES.
Ingredients
12 oz. semisweet chocolate
2/3 c. whipping cream
1 to 2 T. ground New Mexico chile
2 T. cocoa
Directions
Place the chocolate, whipping cream and chile in a heavy saucepan. Stir over low heat until chocolate has melted and the mixture is thoroughly blended.
Chill mixture until firm, at least 2 to 3 hours.
Scoop out rounded teaspoonfuls of chocolate mixture. Try using a melon baller; this produces round, professional-looking truffles. Roll in cocoa, place on platter and return to refrigerator.
ORANGE, JICAMA AND PEPPER SALAD WITH RED CHILE VINAIGRETTE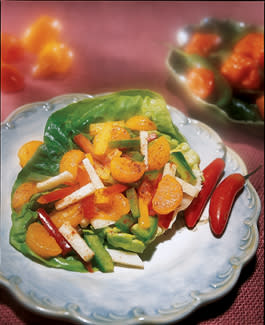 This light, beautiful salad gives color to the table. It's very tangy and serves as a palette refresher for the heavier, traditional foods. If oranges aren't fresh, substitute manda­rin oranges. Spoon the salad on a butter let­tuce leaf and serve with tortilla tri­angles.
Yield
SERVES 8.
Ingredients
4 c. orange slices or mandarin oranges
2 c. julienne sliced jicama (11/2-inch strips)
1 c. julienne sliced red pepper (11/2-inch strips)
1 c. julienne sliced green pepper (11/2-inch strips)
8 butter lettuce leaves
Dressing
1/4 c. rice vinegar
1 t. chopped fresh ginger
2 T. orange juice
1 t. red chile powder
3/4 c. extra virgin olive oil
Directions
In a mixing bowl combine the rice vinegar, fresh ginger, orange juice and red chile. Slowly whisk the olive oil into the mixture until it is incorporated. This mixture can be refrigerated for about 1 week.
Toss the fruit with the vinaigrette. Place about 1/2 cup of the fruit mixture into the lettuce leaf. Sprinkle with red chile powder if desired.
GREEN CHILE, TOMATO, AND POTATO SOUP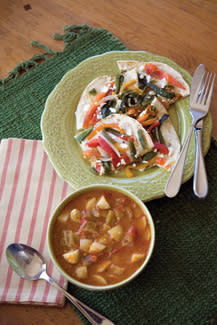 You'll enjoy this hearty, easy-to-make, New Mexico-style vegetable soup.
Yield
SERVES 4–6
Ingredients
Green Chile, Tomato, and Potato Soup
You'll enjoy this hearty, easy-to-make, New Mexico-style vegetable soup.
2 tablespoons olive oil
1 medium to large onion, diced
1 tablespoon garlic, chopped
2 medium to large organic vine tomatoes, coarsely chopped (or 2 cups canned
diced tomatoes)
2 cups mild New Mexico green chiles, peeled, seeded, chopped (freshly roasted or frozen)
4 cups fingerling or baby new potatoes, coarsely chopped
3 cups water
½ teaspoon kosher salt
¼ teaspoon freshly ground black pepper
1 teaspoon mild New Mexico red-chile powder
Directions
In medium-size soup pot, warm olive oil over medium to high heat until hot but not smoking. Add diced onion and sauté until clear (about 3 minutes), stirring occasionally
to prevent burning. Add garlic and cook 2 minutes. Add tomatoes and cook 3 more minutes, stirring to prevent burning. Add green chile and cook another 2 minutes. Add potatoes, water, salt, black pepper, and red-chile powder. Stir. Bring to boil, then reduce heat and simmer 25 minutes, stirring occasionally until potatoes are soft. Remove from heat and serve immediately. 
Option: You carnivores can add 1 pound of your favorite ground meat to this recipe to make it a hearty meal. I tried it with certified-organic, grass-fed ground lamb from Shepherd's Lamb, in Tierra Amarilla. I browned the meat with the onions and then followed the remaining steps. It was delicious. Shepherd's Lamb is available year-round at the Santa Fe Farmers' Market and at La Montañita Co-op's locations
in Albuquerque, Santa Fe, and Gallup. For info: Shepherd's Lamb, (575) 588-7792, www.organiclamb.com; La Montañita Co-op, (505) 217-2001, www.lamontanita.coop
JANE BUTEL'S CHILE CHOCOLATE ICE CREAM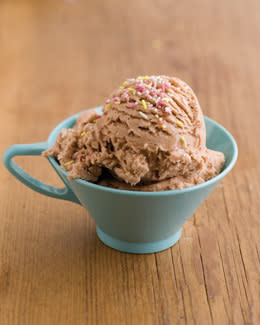 "This velvety-rich ice cream benefits from both chile and cinnamon flavoring the chocolate," says Butel. "The Aztecs felt that you must have cinnamon or chile whenever you consumed chocolate, which to them was a warrior's drink consumed before battle." Find caribe chiles at www.janebutelcooking.com
Yield
MAKES 1½ QUARTS
Ingredients
½ cup water
¼ cup crushed caribe chiles 
²/³ cup sugar
2 3-inch sticks canela or Mexican cinnamon sticks (available at natural or ethnic groceries)
¾ pound dark sweet chocolate, 
broken into pieces
¼ cup unsalted butter, cut into pieces
3 cups whipping cream 
6 egg yolks
Directions
Boil water and crushed chiles together in small saucepan until chile flesh is soft. Strain, rubbing with wooden spoon or rubber spatula to remove as much pulp as possible. Return mixture to saucepan, add ¹/³ cup of sugar and cinnamon sticks.
Bring to boil, stirring constantly.
Boil 1 minute, then remove from heat and let stand 1 minute. Discard cinnamon sticks, add chocolate and butter. Let stand several minutes, until chocolate is melted. Stir mixture until smooth. If necessary, place over low heat until chocolate melts.
Scald cream in large saucepan. In bowl, beat egg yolks with remaining ¹/³ cup sugar until thick and lemon-colored. Beat in a little of the cream, and return mixture to saucepan. Cook, stirring until mixture is hot, then remove from heat. Beat in chocolate mixture and remaining cream. Pour into heatproof bowl. Refrigerate until chilled, stirring occasionally.
Transfer to ice-cream maker and freeze according to manufacturer's directions.
Recipe developed by Jane Butel, founder of the Jane Butel Cooking School. Reprinted with permission.