Our picks for the best seasonal recipes featured in New Mexico Magazine
CLAY POT FRIJOLES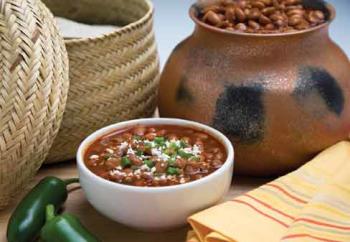 New to cooking in clay? This basic bean-pot recipe is easily adapted to your tastes.
Clay Pot Frijoles
Ingredients
2½ cups (about 1 pound) dried pinto 
or bolita beans, rinsed, sorted 
1 large onion, diced
4–5 large cloves garlic, minced
1 tablespoon olive oil
¼ cup diced salt pork or bacon
1 teaspoon dried epazote leaves, crumbled, or 1 bag chamomile tea (intact)
3 tablespoons mild or hot Chimayó 
red-chile powder
2 whole bay leaves
1½ teaspoons cumin powder
7–8 cups water or broth (beef, chicken, 
or vegetable)
salt and pepper to taste
SERVES 6–8
Directions
Put all ingredients in bean pot and place on bottom rack of cold oven. (If you're cooking in something other than a micaceous bean pot, put a lid on it.) Heat oven to 450 degrees and cook beans for 1½ hours. Carefully remove pot and check seasoning; add more if necessary, and return to hot oven. Reduce heat to 375 degrees and cook another 40 minutes or until tender. Remove pot from oven, re-season if necessary, cover, and let rest 10 minutes. Serve as side dish with fresh tortillas, crema Mexicana or sour cream, diced jalapeños, and crumbled cotija or grated asadero cheese.
PUMPKIN FLAN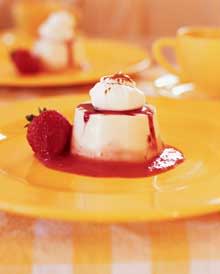 The following recipe comes from Danny Baca at La Fonda del Bosque.
Ingredients
8 eggs
1 pt. heavy cream
1 pt. half-and-half
2 c. sugar
2 c. pumpkin filling
2 t. vanilla
1 t. cinnamon
2 c. of sugar caramelized
Directions
Caramelize sugar and pour into bottom of custard cups, or small soup cups, or 9-by-12-inch pie pan. Mix all ingredients until smooth, and fill cups 3/4 full of mixture. Bake in 350-degree oven, in a water bath, until firm (about 3 hours). When ready to serve, slide a knife around the edge of the cup and invert over serving dish. Garnish with whipped cream and cinnamon.
GINGER PEAR COFFEE CAKE FROM EL FAROLITO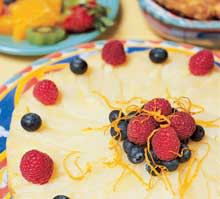 A wonderful New Mexican-style dessert
Ingredients
3 T. butter
2 fresh pears, peeled, cored and sliced
1/3 c. brown sugar
11/2 t. ginger
1 t. grated lemon peel
1 t. grated orange peel
1 egg, beaten
1/4 c. melted butter
1/2 c. milk
11/2 c. flour
1/2 c. sugar
11/2 t. baking powder
1/4 t. salt
Directions
Preheat oven to 350 degrees. Place 3 tablespoons butter in 9-inch cake pan and melt. Arrange pear slices in bottom of pan in a spiral pattern. Mix brown sugar, ginger, lemon peel and orange peel; set aside. Beat egg, melted butter, and milk to­gether. In a separate bowl, sift together flour, sugar, baking powder and salt. Stir egg and flour mixtures to­gether until well blended. Pour batter over pears and spread evenly. Sprinkle brown sugar mixture over top. Cut through batter with knife to marble cake. Bake for 25-30 minutes. Let stand for 5 min­utes. Invert cake onto serving plate
CITRUS GRILLED TURKEY BREAST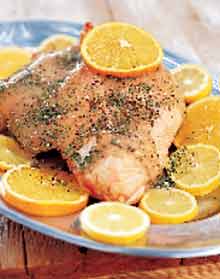 A fit and filling fall meal.
Ingredients
1 bone-in turkey breast (4 to 5 pounds)
1/4 c. fresh parsley sprigs
1/4 c. fresh basil leaves
3 T. butter
4 garlic cloves, halved
1/2 t. salt
1 medium lemon, thinly sliced
1 medium orange, thinly sliced
1 T. corn starch
2 T. water
1 c. orange juice
1 t. grated lemon peel
1 t. grated orange peel
1/4 t. pepper
Directions
Use your fingers to carefully loosen the skin from both sides of turkey breast. In a food processor, or blender, combine the next five ingredients, until smooth. Spread under turkey skin and arrange lemon and orange slices over the herb mixture. Secure skin to underside of breast with toothpicks.
Coat grill rack with nonstick cooking spray and prepare grill for indirect heat. Place turkey over drip pan, cover grill and cook for 13/4 to 21/4 hours, or until meat thermometer reads 170 degrees and juices run clear. Let stand for 10 minutes.

Pour pan drippings into measuring cup and skim off fat. Combine cornstarch and water until smooth. Add orange juice, orange and lemon peel, pepper and pan drippings. Bring to a boil and stir until thickened. Discard skin, lemon and orange slices from turkey breast. Remove herb mixture from turkey and stir into gravy. Slice turkey and serve with gravy.