Some of the best picks from our winter recipe list.
Our picks for the best seasonal recipes featured in New Mexico Magazine.
CHICOS AND PORK STEW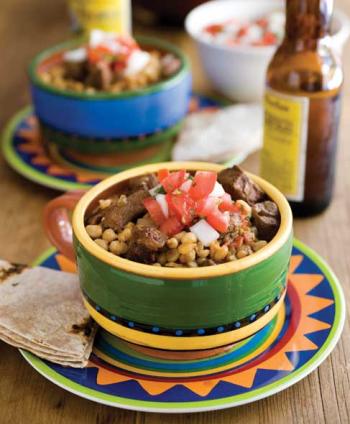 Jay Cawley offers this version of a traditional recipe.

Yield
SERVES 8
Ingredients
4 cups chicos 
8 cups chicken broth
1 pound pork shoulder
salt and pepper to taste
2 tablespoons ancho chile powder
2 tablespoons chipotle chile powder
¼ cup plus 2 tablespoons neutral 
cooking oil (corn or canola)
4 pasillo chiles
2 large sweet onions
sour cream to taste
cilantro, chopped, to taste
Directions
In 8-quart Dutch oven, bring chicos and broth to boil. Cover and simmer 4 hours, 
stirring occasionally.

Chop pork shoulder into bite-size pieces. Generously season with salt, pepper, and 1 tablespoon each ancho and chipotle chile powders. 

To hot, heavy skillet, add ¼ cup oil, then pork. When pork is browned but not fully cooked, add it to pot of chicos and broth. Cover and simmer 1 hour. Reserve skillet with remaining pork bits.

Roast pasillo chile over open flame, turning frequently. When charred, place in bowl, cover with plastic wrap, and let sweat 10 minutes. Scrape off charred chile skin and remove cores, stems, seeds.
Dice onions and pasillos. Heat skillet used to brown the pork and add 2 tablespoons oil. Add onions, pasillos, and remaining ancho and chipotle chile powders. When onions turn translucent, add mixture to pot of chicos. Simmer 1 hour, then salt to taste.

Top with pico de gallo (see following recipe), a dollop of sour cream, and a sprinkle of chopped cilantro. Serve with warmed tortillas and frosty margaritas.
APRICOT SNOWBALLS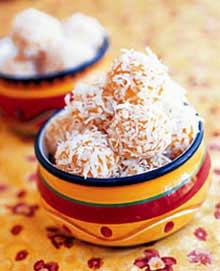 A delicious dessert

Yield
MAKES ABOUT 30 BALLS
Ingredients
1/2 lb. dried apricots
11/2 c. flaked coconut
2 T. powdered sugar
2 t. orange juice
sugar (optional)
Directions
Into small bowl, using medium blade of food grinder, grind apricots. With hands, mix with coconut, powdered sugar and orange juice. Shape mixture into 1/2-inch balls; roll in sugar, if you like. Store in tight covered glass or plastic container. 
TORTILLA SOUP SHOOTERS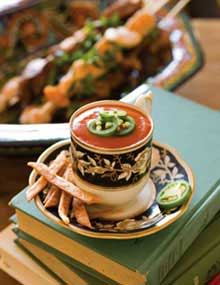 Fine for an appetizer or a meal.
Ingredients
2 tablespoons corn oil
1 medium yellow onion, diced
4 corn tortillas
2 14.5-ounce cans high-quality tomatoes, diced
1 head roasted garlic
1 tablespoon mild New Mexico red-chile powder
1 tablespoon oregano, dried
1 teaspoon cumin, ground
1 teaspoon black pepper, ground
water as needed
salt to taste
Directions
In soup pot, heat oil over medium-high heat. Add onion and cook for 2–3 minutes, stirring occasionally.

In sauté pan over medium heat, toast tortillas one at a time until edges are brown. Crumble tortillas into soup pot
and add remaining ingredients. Simmer for 10 minutes. 

Allow liquid to cool slightly, then purée in blender. (Caution: When blending, set blender on low speed and cover top with lid, towel, and a firm hand.) Adjust seasoning and consistency with salt and water.

Serve in demitasses (espresso cups) and garnish with one or more of the following: sour cream, grated cheese, sliced jalapeños, sliced black olives, salsa, crispy tortilla strips, or diced avocado.
CURRIED WINTER SQUASH SOUP WITH CRÈME FRAÎCHE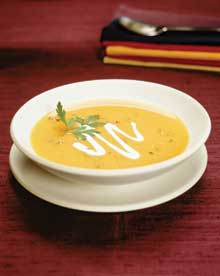 Different varieties of squash are abun­dant in New Mexico. Many of these varieties were developed by Native Amer­ican tribes. Choose your favorite squash to use in this soup. This is a lighter version of a squash soup, which works better as an appetizer for a big meal. The servings should be small. This soup can be made the day before and re­heated before serving.

Yield
SERVES 8
Ingredients
1 T. olive oil
4 shallots, chopped
3 cloves garlic, chopped
1 T. chopped fresh ginger
1 c. mirin wine or sweet white wine
4 lbs. winter squash, peeled and diced
3 c. chicken stock, preferably homemade
11/2 c. coconut milk
1 T. curry powder
1/2 t. chile powder
Salt and freshly ground black pepper, to taste
1/4 c. crème fraîche or sour cream
2 T. roasted squash seeds or pumpkin seeds, for garnish, if desired
Directions
In a large saucepan over high heat add the olive oil and let heat until very hot. Add the shallots, garlic and ginger and sauté for about 2 or 3 minutes. Add the mirin and cook until half the liquid has evaporated, about 3 or 4 minutes. Add the diced squash and stock. Re­duce the heat and simmer until the squash is tender, about 15 minutes. Add the coconut milk and continue simmer­ing for 5 more minutes.
While the soup is simmering, place the curry powder in a small sauté pan over high heat for about 1 or 2 minutes. Add it to the soup when it has finished simmering.
Carefully puree the soup in a blender. Do this in smaller batches. Add the chile powder and season to taste with salt and pepper.  
Drizzle the crème fraîche onto the soup. Top with roasted seeds if desired.
SWEET POTATO SOUFFLÉ WITH PECANS AND RED PEPPER FLAKES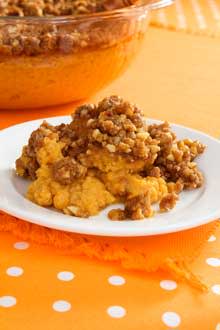 Ingredients
2 28-oz. cans of sweet potatoes or yams
3 large eggs, lightly beaten to mix
1 c. sugar
1 t. vanilla extract
1/2 t. salt
1 c. chopped pecans
1 t. red pepper flakes
Directions
Preheat the oven to 350 degrees. Lightly grease a casserole dish. In a large bowl, mash the yams with 1 cup of the reserved liquid. It may be necessary to add a little more to get a good, smooth consistency. Add the eggs, sug­ar, vanilla and salt. Mix well and pour into the casserole dish. Sprinkle the pecans over the mixture and lightly sprinkle the red pepper flakes. Bake for 30 to 35 minutes.
Photo: BigStockPhoto.com