Above: Shoppers come from near and far for the sprawling emporium of temptations at Traci's Greenhouse, in Clovis. Photographs by Jennifer Coats.
Traci Franklin's husband has a history of buying unusual presents—a used ambulance and a former metal-fabrication shop among them. She's used the gifts well, turning them into key components for a Clovis business that combines a plants nursery with a landscaping business, antiques shop, gift store, farmers' market, restaurant, and events hall, all presented in an emporium of eye candy that's attracting customers from as near as California and as far as New York City.
"We want you to feel like you're on vacation when you come here—that you feel special, that it was meant for you," she says. "In this day and age, people can shop anywhere, so if you don't give someone an experience, who's to say they're going to come back?"
The mother of three young boys manages the sprawling aims of Traci's Greenhouse thanks in part to the three dozen or so fulltime jobs she's brought to this city of around 39,000 people near the Texas state line. Clovis tends to be more closely associated with farming, the oil-and-gas industry, the Norman Petty Museum, and Cannon Air Force Base, but Franklin has injected it with a caliber of farmhouse-rustic-meets-industrial-cool that puts her in a league with Joanna Gaines, the popular star of HGTV's Fixer Upper. As just one avid Facebook fan gushed, "Wonder Woman!!! Everything you do is crazy amazing."
"I just like to give old things a second life," Franklin says. "They have character and stories to tell."
Wander through this onetime warehouse on the town's southeastern side and you'll find a windmill refashioned into a wedding arch and a lighted garland made of rusty bedsprings. The seat from a horse-drawn sleigh has become a porch swing. The crystals on a chandelier? Repurposed punch-bowl cups.
You can shop for original art by Clovis artists, along with old bottles, new dishes, cast-iron pigs, tractor seats, aluminum chicken feeders, embroidered pillows, jewelry, clothing, toys, and, of course, plants, along with brightly painted Mexican pots to hold them.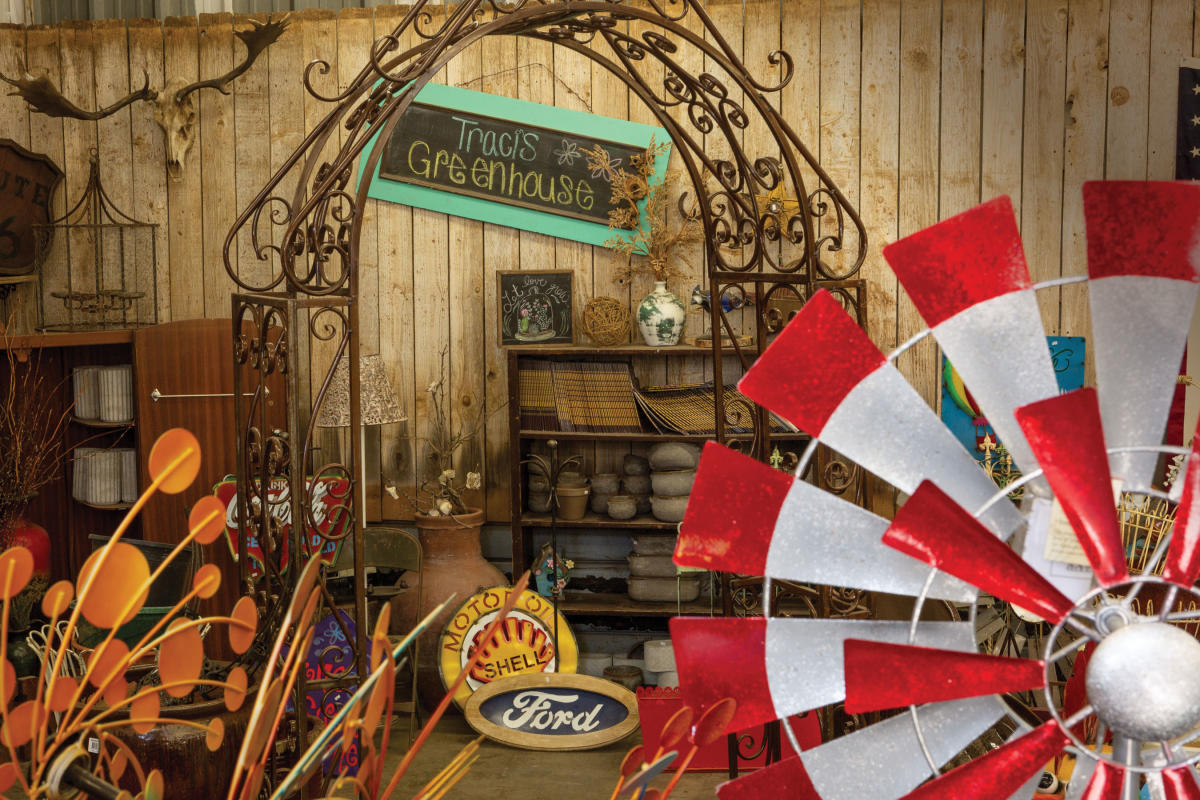 Above: Traci's Greenhouse carries plants and pots, which Traci Franklin can deliver in a former ambulance.
Franklin worked for years out of a smaller space on the north side of town, but she moved in March 2017 to what once was the global hub of A&M Builders, where she quickly racked up new customers. Among them: a New Yorker who just couldn't live without a faux Holstein cow skull, which she promptly named Clementine Clovis.
Growing up in nearby Logan, Franklin says, her family squeezed every penny flat. Tough times taught her well. "We'd go to the dump and find things, then do what we could with them," she says. Her father once restored a wooden hay wagon he found as a gift to her; Franklin uses it to hold kitchenware displays. Her dairyman husband, Clay, snapped up the ambulance on a whim, then called her with the siren blaring. "I bought it for your flower wagon," he shouted. Emblazoned with her logo, it delivers flowering plants to her landscaping customers.
Read more: Check out The Best Places to Antique in New Mexico.
Another local business, Coffee Bistro, liked the space enough to move under her roof, serving breakfast burritos, soups, salads, sandwiches, coffee, and sweets. A new Spanish Mission–style ballroom and patio have hosted weddings and community dances that attract people from Portales, Hobbs, Los Lunas, and Ruidoso. This month, Franklin and her staff, which includes special-needs kids from the local schools, will craft over-the-top Christmas decorations and stock the shelves with their latest finds for a November 17 open house—even as their boss interrupts the hubbub to give yard-by-yard instructions to her landscape team.
How does she keep it all straight? "It's important, so I remember it," she says. "That's how you keep your customers happy."
They stream in all day, and their reaction to her always-changing displays has been Franklin's greatest delight. "I'm humbled every day by people coming through the store and liking it," she says. "I get people who tell me, 'I've had a bad day, so I need to walk through and get happy.'"

STRETCH OUT YOUR STAY
Clovis boasts a number of chain motels and hotels. Insider tip: If you visit during summer months, pick one with a swimming pool. Besides a variety of chain restaurants, locally owned eateries include Twin Cronnie Drive-In and Foxy Drive-In, for a double dose of retro carhop charm; Coffee Bistro, inside Traci's Greenhouse; and the new Buffalo Grill & Salad Bar, a steakhouse and sports bar that's also stocked with billiard tables and arcade games.
BRING A TRUCK
On top of Traci's Greenhouse, Clovis has a kicking antiques scene, with a variety of rambling stores offering everything from rusty car parts to bone china. Here's a few to get you started.
Penny Lane: Unique British finds in the heart of old downtown (509 N. Main St.).
Prairie Road's Junqtique: Cool antiques, plus classes in how to transform them (519 N. Main St.).
Bullet Bob Has It: A picker's paradise that includes ranch gear and railroad trunks (417 N. Main St.).
The Prairie Peddler: Fine furniture and everything else, set near Clovis' historic rail yard (100 S. Main St.). Walk around the nearby, badly deteriorated Gran Quivira Hotel, a former Harvey House, and dream up a rescue plan.
Simply Blessed: Come for the jumble of rust out front, stay for the fine antiques inside (101 Pile St.).
Martin Enterprise: Vintage Native American jewelry and the best of the West—think Pendleton and Remington (515 N. Prince St.).
---