Above: Mike Beer, of Oregon, says New Mexico's Continental Divide Trail's trail magic "meant the world" on his through-hike last year. Photograph by Jay Hemphill. 
FROM MEXICO TO CANADA, the 3,100-mile Continental Divide National Scenic Trail attracts its share of day hikers and, increasingly, a breed known as through-hikers—people who attempt to lay their Vibram soles on every single mile. Some start at the southern end in the early spring and head north; others choose a later start date and a north-to-south route. Aiding and abetting the hikers and mountain bikers: a quiet army of "trail angels" whose trail magic includes jugs of water and coolers of food. Some offer a night's stay, bandages, showers, and a free load of laundry. Along New Mexico's 770-mile stretch, more than a few trail angels heed the call. Meet four here, then look for them on your own CDT expedition.
JUAN MORE RIDE
"About five years ago, this couple called, needing to be picked up at Crazy Cook," John Reynon says of a monument commemorating, yes, a crazy cook. (Through-hikers are big on nicknames.) The place marks a turn just north of the CDT's southern U.S. terminus, north of the barbed-wire fence marking the boundary with Mexico. Reynon borrowed a truck and drove from his home in Silver City south to Lordsburg and on to Hachita before following a narrow jeep road toward the border. "I almost got lost," he says, "but I found it."
With experience shuttling clients to Silver City for an outfitting service and countless volunteer hours behind the wheel during the annual Tour of the Gila bike race, Reynon was a natural CDT chauffeur. Lacking a suitable vehicle, he bought a GMC Suburban from a family member and put nearly 100,000 miles on it—to Crazy Cook and back, four times a week each spring and fall—before it finally stopped running.
Eventually, CDT Coalition director Teresa Martinez hired him as the trail's dedicated shuttle driver. He essentially lived in Lordsburg for three seasons, rising early to take carloads to the trailhead. "It's a very primitive road," he says. "You take your time and things work out. It takes two and a half hours to drive those last 26 miles."
After delivering each group, Reynon returned solo, unless he found a distressed hiker who needed a lift back to civilization. "It gets too hot," he says. "People can't walk down there in the summer." Come fall, southbound hikers finish their journeys. Reynon ferries them back to Silver City. "I'm just a driver. The old legs can't hold up to that kind of hiking."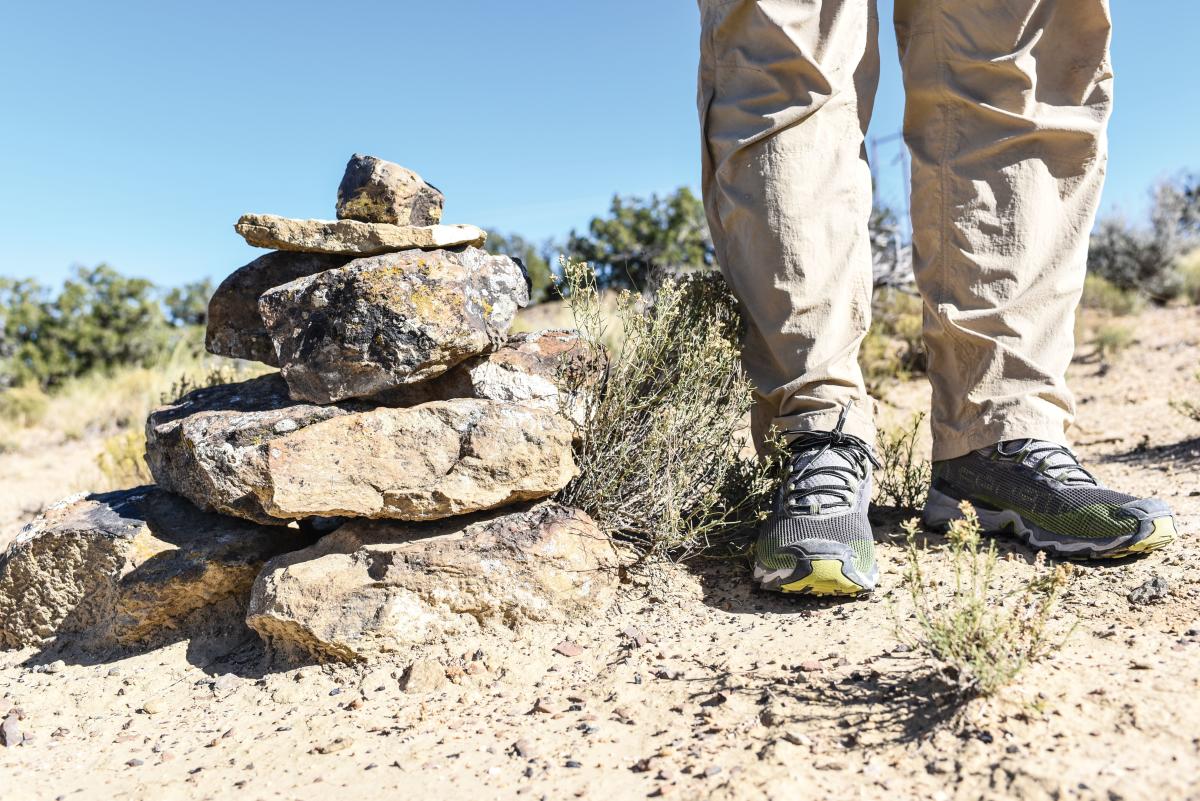 Above: A cairn marks the CDT. Photograph by Jay Hemphill.
Still, spending so much time with people he knows only by their trail names inspired Reynon, known as Juan, to adopt his own. "A friend of mine made a license-plate border for me. It said, 'Enjoy Juan More Time.' When I pick up hikers, I tell them my trail name is Juan More Time."
Recently, he gave up driving officially, but the habit runs deep. "I'm still taking people. I keep an eye on the hikers, visit trailheads, and check water caches. It's easy as pie."
SPEAKING OF PIE
In-the-know through-hikers carry an oddball tip into Pie Town: Look for the fence draped in toasters. The house behind it? Major trail angel. Nita Larronde owns the Toaster House, which acquired its first fence bauble when the family toaster broke down. "It took on a life of its own," she says. More toasters appeared, as well as a cast-cement hiking boot mounted on a slab of granite—a souvenir of Larronde's from the Pacific Crest Trail. "I was the American Long Distance Hiking Association Trail Angel of the Year," Larronde says.
In the 1980s, when she and her husband were new to Pie Town, a man with a backpack walked down their street. "He was hiking the Divide, which used the road right in front of the house where we raised our five kids," Larronde says. She welcomed him in and has welcomed other hikers to the Toaster House ever since.
Pie Town has long had other amenities for the trekkers. Pie, for one. And a post office where hikers pick up care packages. There's also a free campground. Even so, hikers jumped at the chance to stay with the family. "I was raised with an open-door policy," Larronde says. "It enhanced all of our lives." Consider the day when Pie Town parents were preparing an international meal for the fourth graders. A foreigner knocked on Larronde's door. "I was gonna make German potato salad," she says, "and I'll be darned if a German didn't show up."
Twice, hikers helped repair Larronde's frozen bathroom pipes, and they often gathered firewood, because the Toaster House's heat source and oven were one and the same for 40 years. The night Larronde's car collided with a deer, a hiker who happened to be a chef "cooked up this great road-kill dinner."
In those early years, only a dozen passed through New Mexico each spring and fall. Now hundreds do. A decade ago, Larronde moved out of the Toaster House, but she leaves it open to hikers and bicyclists, who can whip up a meal using a hot plate, microwave, or toaster oven. "I keep pizza in the freezer," she says. "I don't want to charge, because some people can't afford to pay, and people are generous when they can be."
FRIENDS FOR LIFE
When Hugo Mumm was training to climb California's Mount Whitney, he and his wife, Carole, frequented a section of the CDT that ascends Mount Taylor, near their home in Grants. "We started running into hikers," Carole says. "It evolved from there. Our house is two blocks from where the trail goes through Grants." 
In 2010, the couple began stashing water on the trail and hosting hikers at their home. "When we first started, there were only 30 going north and 15 going south," she says. "There are more than 200 going north and 50 going south now. It's more than we can handle."
So the Mumms gave up hosting hikers, but they still stock supplies, handle emergencies, and offer transportation. Like many trail angels, they're listed on the Continental Divide Trail Coalition's website so hikers know who to call if in need. "We get really busy twice a year—spring and fall," Carole says. And if you do get injured, the Mumms will help you recover. A hiker nicknamed Super Dave "had a fall going across El Malpais on the lava," Carole says. "He stayed with us for eight days and became part of the family." Then there was a gal known as Train Wreck. "Hiking the 425 miles from the Mexican border gave her blisters so bad she couldn't walk," Hugo says. "She sat in our kitchen with her feet in Epsom salt for four days."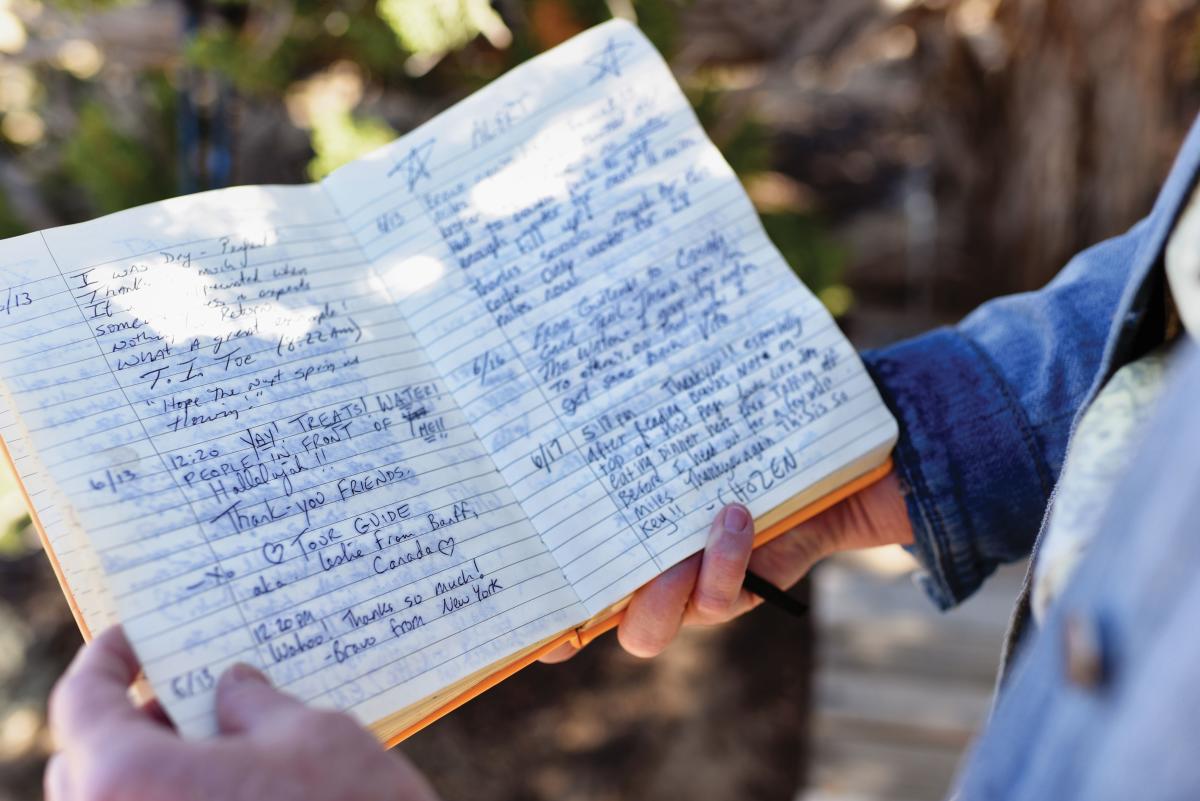 Above: Crystal and Hugh Trujillo invite hikers to share their experiences to fuel homeshcool projects for their children. Photograph by Jay Hemphill.
A pair of Australian riders on the Tour Divide ultra-cycling challenge stayed with the Mumms one weekend. They were tackling the Continental Divide Trail from Canada to the tip of South America. (You could tack on even more miles by tracing the Divide to its northernmost point, where Alaska meets the Arctic Ocean.) The Mumms followed the riders for all of those thousands of miles via email. Others, like the first couple the Mumms hosted, also stay in touch. "We've gone through them dating, getting married, and having a child," Carole says.
Hugo has climbed Mount Whitney three times, the couple summited Mount Taylor 100 times, and they did one long backpacking trip. "We only hiked 100 miles on the Pacific Crest Trail," Hugo says, "but it's really hard. When you put a backpack on and head up a trail without any other support, you realize how dedicated you have to be to do 3,100 miles. Helping makes you feel like you're a small part of a big project."
FAMILY AFFAIR
In Cuba, New Mexico, precisely 628.3 miles from the CDT's southern U.S. terminus, Crystal Trujillo's four children run toward a pallet stacked with gallon jugs. They open the nearby ice chest and pull out a logbook. Turning the pages, they find that a through-hiker has passed by since their last visit—and she wrote a note. "My Instagram is Anish Hikes. How'd the cows hide from the ranchers? Ca-mooo-flage." (Corny jokes are another through-hiker thing.)
The children help Crystal gather empty jugs and stock the ice chest with fruit and homemade brownies. Then they drive the 16 miles to their home, southwest of Cuba. "I came across a book about people who hiked the CDT, which I knew crossed the highway we take to Albuquerque," Crystal says. After reading their stories, she bumped into through-hikers in the local grocery store. She asked one whether a water cache on Torreon Road would be helpful. He said it would. "He asked if I wanted money to get started," she says. "That's when I knew the need was real."
So for three years, Crystal and her husband, Hugh, along with their four adopted and homeschooled children, have kept a tree-shaded pallet stocked with snacks and at least 20 gallons of clean water. "Two of our children have special needs, and it's something we can do outside of the demands of the family," she says. "It gets us outside of ourselves. This has been awesome for the kids, because they actually get to know people from the countries they study."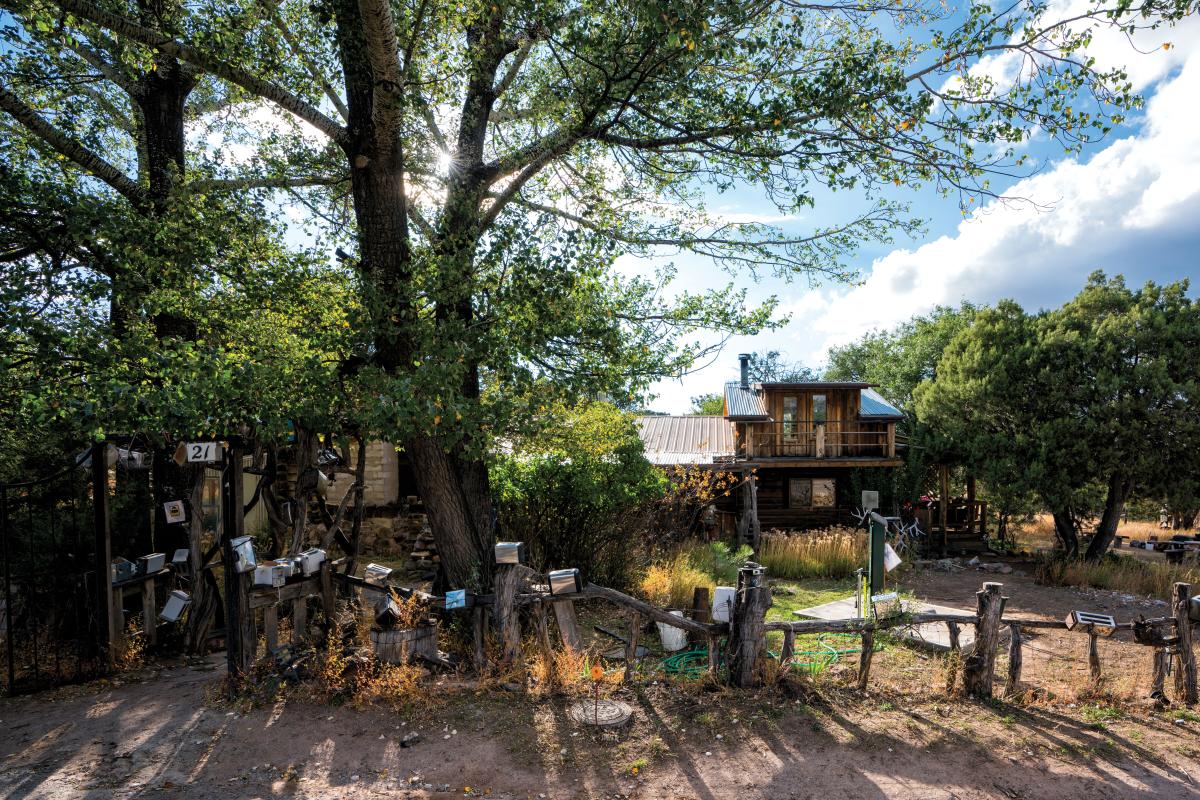 Above: Old toasters decorate the fence of Toaster House angel Nita Larraonde. Photograph by Jay Hemphill.
During their first season, the Trujillos met no hikers, but in 2016 they added the logbook and started hanging out at the cache during peak season. "We'll go out there in the evenings with a Dutch oven and feed whoever shows up," she says.
Heading into their fourth year, the Trujillos are old pros. They visit with supplies every two days, or just once a week during the off-season. They represent Cuba at the annual Trail Days festival, becoming renowned among through-hikers, who spread word of the Torreon Road cache online. That's how they made friends with Buddy Backpacker, who was only eight years old when he hiked the CDT in 2016. When they saw Buddy again at Trail Days last spring, the two families talked about going to a park. "But Buddy said, 'I know what I want to do: I want to go for a long walk,'" Crystal says. Her family begged off. "Our definitions of a long walk don't even match."  

HIKING THE CDT IN NEW MEXICO
About 770 of the 3,100 miles making up the Continental Divide National Scenic Trail run through the Land of Enchantment. This part of the journey between Canada and Mexico introduces through-hikers to landscapes as varied as Chihuahuan Desert grasslands and summits of the Rocky Mountains. Some take the route all at once, others in small sections. It's open for horseback riding, cross-country skiing, snowshoeing, bicycling, and wildlife viewing, too.
The Continental Divide Trail Coalition's website (continentaldividetrail.org) describes some of New Mexico's most scenic sections, like an eight-mile stretch in the San Pedro Parks Wilderness and the southernmost 50 miles, between Hachita and the Mexico border.
The U.S. Forest Service's website (fs.fed.us) also has route descriptions and directions to trailheads. Visit your local U.S. Forest Service office to get a map, or type "Continental Divide Trail" and the name of the forest nearest you into a search bar.
TRAIL DAYS
Each spring, Silver City kicks off the CDT season with Trail Days. Hosted by the Continental Divide Trail Coalition, a nonprofit that works to protect, promote, and preserve the trail, the events run April 27–29 this year on the Western New Mexico University campus. Hit up free lectures, activities, and excursions and get to know the through-hiking community of hikers, trail angels, trail adopters, gear company representatives, and other outdoor enthusiasts. Find details and a schedule at continentaldividetrail.org/trail-days-2018.
---