Research shows that combining a cloth mask over a disposable surgical mask dramatically reduces your exposure to the virus. Photograph by NMTD.
THE NEW MEXICO DEPARTMENT OF HEALTH continues to distribute COVID-19 vaccine throughout the state, with a focus on speed and equity. Currently, New Mexico is doing so faster than 46 states and has implemented a range of measures to ensure that all New Mexicans have the support they need to register and get vaccinated when supply is available. Below, New Mexico Department of Health (NMDOH) spokesman David Morgan answers readers' questions. 
For those who remain unsure about receiving the COVID-19 vaccines, what's the one thing everyone should know?
Like every vaccine, the three vaccines currently authorized for use went through rigorous clinical trials with tens of thousands of participants. The vaccines are safe and effective; millions of Americans are now vaccinated, with millions more to come.  
What have we learned about the vaccines' safety and side effects since the initial rollout? 
We're seeing that the COVID-19 vaccines are working exactly as designed. There are still mild adverse reactions, including pain or swelling at the injection site, headache, chills, or fever, but those reactions are normal and show the vaccine is working.  
How effective is the vaccine against these new strains of the virus? 
Scientists are tracking new strains, and the vaccines continue to be effective.  
As vaccines continue, is it becoming safer to travel and gather with friends? 
We know that the vaccines are effective at preventing infection, but we don't yet know how effective they are at preventing transmission. Even post-vaccination, it is important for all of us to stay masked, maintain physical distancing, avoid crowds, and postpone unnecessary travel.  
Do I really need to wear two masks?  
Research shows that combining a cloth mask over a disposable surgical mask dramatically reduces your exposure to the virus and your likelihood of spreading it to others. Research also shows that wearing two disposable masks does not have the same benefit. 
My parents live in a senior community and were able to get the vaccine. Is it safe for me to visit them? 
It will depend on many factors, from whether you, too, are vaccinated to the present number of COVID-19 cases in your community, and more. Keep up with current guidelines online at cv.nmhealth.org. 
If I only live part-time in New Mexico, am I still eligible to receive the vaccine? 
Absolutely. Be sure to register for vaccination at cvvaccine.nmhealth.org. If you don't have internet, call 1-855-600-3453, press option 0 for vaccine questions, and then option 4 for technical support to get registered by phone. When a vaccine is available, NMDOH will send you a notification to schedule your appointment. 

Step Up To Receive Your Vaccine. Register at vaccinenm.org.
How Does The COVID-19 Vaccine Registration Process Work?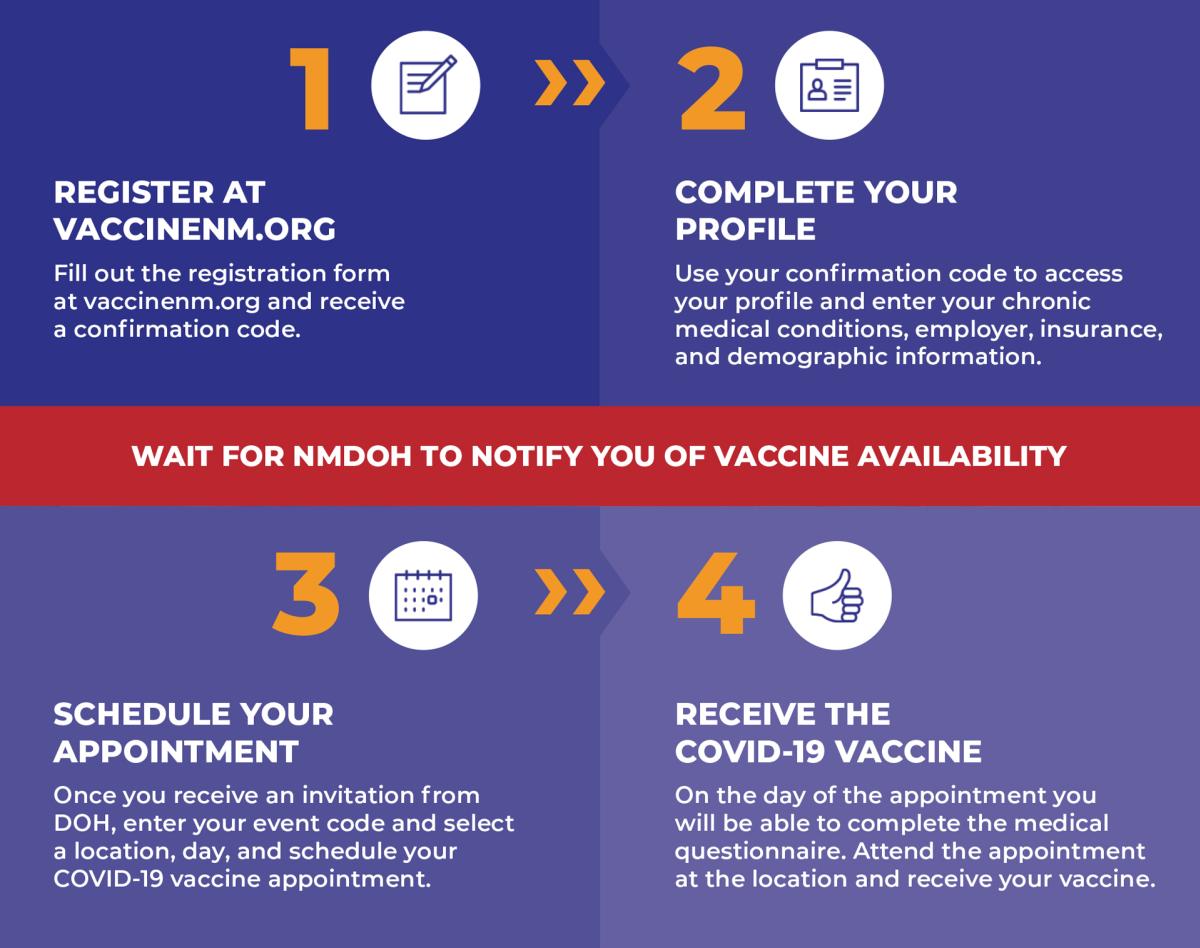 For more information, visit vaccinenm.org or call 1-855-600-3453.