Above: Alanna Casale. Photographs by Douglas Merriam.
ALANNA CASALE, founder and chef of Tulipani, in Albuquerque, has a deep family connection to the carbs we all love. Her grandmother Francesca was from the Italian province of Avellino, east of Naples. "If I really think back to where the love first started, it came from my grandmother. Growing up, I watched her make fresh pasta every day. Over the course of her life, she really honed her craft, but I don't think she saw it like that; to her it was just a way of life." Casale still makes fresh pasta with her grandfather Michele, who is 95 and cooks and eats pasta every night.
The name Tulipani comes from the Italian word for tulips. Casale says she wanted her tiny pasta shop's name to reflect the hint of whimsy she puts into her craft—and the way that some of her pasta takes the shape of flowers.
While Casale's process is the traditional one she inherited from her grandmother, she reinvents the recipes of the old country by incorporating nontraditional, locally grown ingredients in her noodles. Her Southwestern creations include green chile ravioli and red chile bucatini. "I have a bit more creative fun putting my own spin on things, like trying different shapes—not everything is by-the-book traditional. You want to stay within the realm of tradition, but also try to use things that are local to your area. There's a happy medium." 
Love New Mexico? So do we. Subscribe to our 97-year-old award-winning monthly magazine today.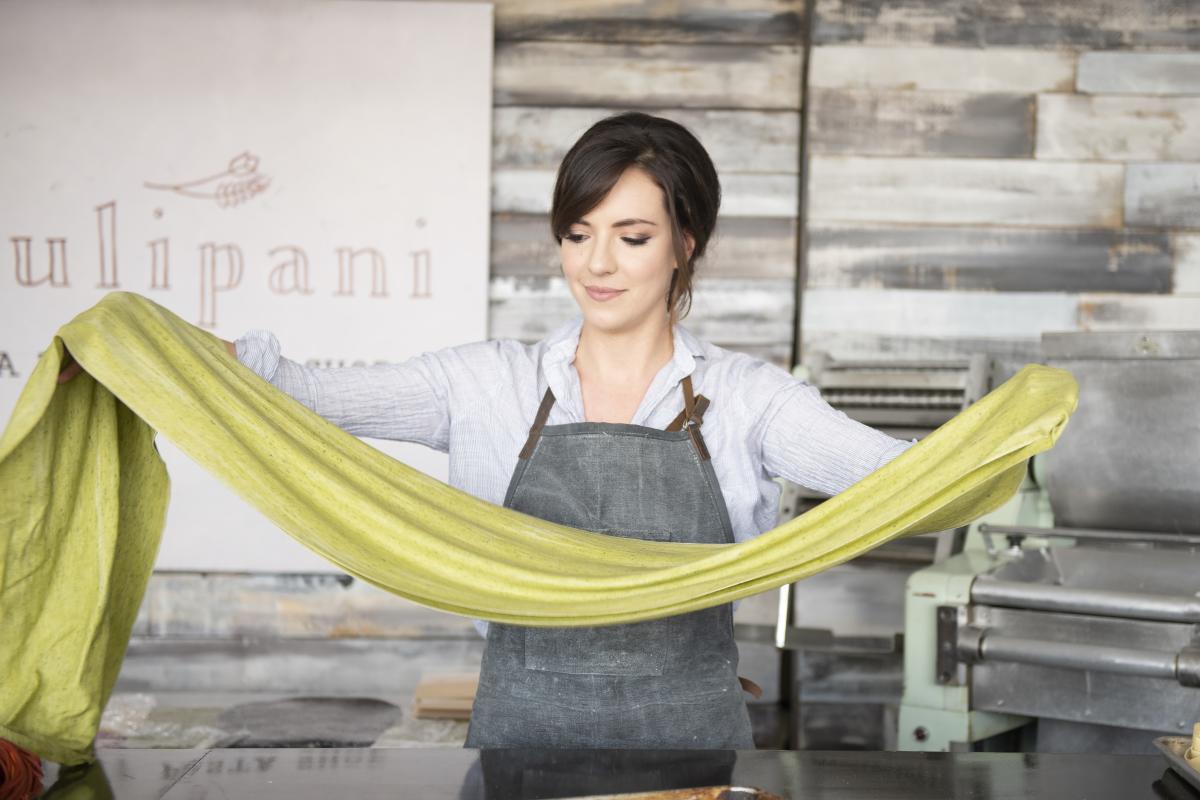 Above: You don't have to top Alanna Casale's pasta with chile. They "come with."
She works with local growers like Skarsgard Farms and Beneficial Farms to incorporate fresh produce into her pasta, including basil, kale, spinach, beets, lemon, and red and green chile. She says the chiles add color and spice to the noodles and are wonderful for giving traditionally spicy recipes a New Mexican kick. "One of my favorite Italian dishes is from Rome and it's called pasta amatriciana. Traditionally you would use a red pepper flake, but I like to use the red chile bucatini that I make. It's a really cool New Mexican–type dish that's in line with traditional Italian."
Three years into her pasta venture, Casale has opened a small kitchen where she often hosts pasta pop-ups. These are fleeting selections, where her colorful noodles go on sale for a few hours in the bright industrial space off Fourth Street, in the Wells Park neighborhood. Track when the pop-ups take place by joining Tulipani's email list. Tulipani also sells every weekend at the Downtown Growers' Market and Rail Yards Market, both in Albuquerque. But hurry: She sells out quickly.
Read more: Insta-Q—Blasphemous? Maybe, but an Instant Pot is the fastest way to have super-tender, smoker-style pork.
---
THE RECIPES
Casale's Bucatini Amatriciana
Traditional pasta amatriciana gets its spice from red pepper flakes, but Casale brings the heat with her red and green chile bucatini.
Serves 2
For the sauce:
1 tablespoon butter
2 tablespoons olive oil
1 small yellow onion, chopped
2 strips of -inch-thick pancetta, chopped into small pieces
28-ounce can San Marzano tomatoes, whole and peeled (or fresh, if they're in season), roughly chopped
1 teaspoon salt (plus salt to taste)
Parmesan or pecorino Romano cheese (for garnish)
Heat the butter and olive oil in a medium-size saucepan.
Add the onion and sauté until golden yellow.
Add the chopped pancetta and sauté a few more minutes, then pour in the tomatoes and salt.
Cook on a gentle simmer for around 20 minutes. Add more salt to taste.
For the pasta:
1 package of Tulipani's red or green chile bucatini
While the sauce is simmering, bring a large pot of water to a rolling boil and add a pinch of salt. When the water comes to a full boil, add the bucatini and cook to al dente, two to three minutes.
Drain the pasta, reserving about half a cup of the pasta water in a separate container.
Add the pasta to the sauce and toss until it's well coated. Pour the reserved pasta water into the mixture for a creamier texture that thickens as the starch from the water gets absorbed.
Plate and top with Parmesan, pecorino, or both.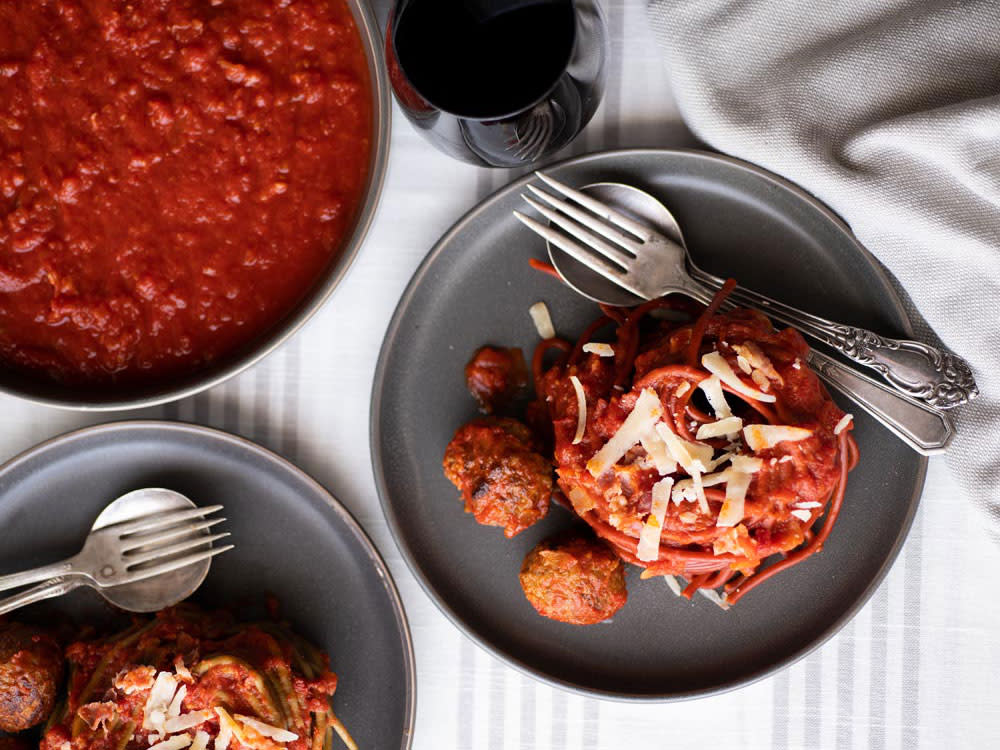 Tulipani
@atinypastashop  

FLOUR POWER
A Valencia County mill keeps the local grind alive.
José D. Cordova, a third-generation miller, runs Valencia Flour Mill, in Jarales, south of Belén, using the vintage milling machinery of his grand- father and namesake. Cordova sources wheat from Navajo Agricultural Products Industries, near Farmington, and blends it into a variety of mixes, including one for sopaipillas that is so good restaurants across the state use it. Take it from Kathy Cordova, wife of José and the other half of the Valencia Flour Mill team: "If you want to make something completely from scratch, with all local ingredients, you should be buying our flour."
WHERE TO BUY
Find a bag of the sopaipilla mix throughout New Mexico at some Albertsons, Sprouts, and Smith's locations. The unbleached flour is also available at La Montañita Co-op, in Santa Fe and Albuquerque (99 cents a pound).
---