"THE RÍO GRANDE IS OUR MOTHER RIVER," says chef Michelle Chavez. "A minerality happens because of the snowmelt and rocks and geological factors that make up our state. If we didn't have that water and we didn't have this geology, we would not have that chile." Chavez has cooked professionally for more than 26 years, 15 of them at the Santa Fe School of Cooking. Born in El Paso, Texas, she has Southwestern cuisine in her blood. "Chile is very much like wine in that it's terroir-based, and it's all about varietals."    
Dave DeWitt starts every day with a spicy virgin Bloody Mary. He's built a career as a food historian and writer about chile and is often called "the Pope of Peppers." Since moving to New Mexico in 1974, he's published 40 books on the subject. "You can't write about New Mexican food without writing about chile peppers," he says. His newest book, Chile Peppers: A Global History (University of New Mexico Press), debuts September 15.    
We presented an assortment of New Mexico chiles* to them for tasting notes and tips on how to cook with them.
SHU = Scoville heat units


NuMex Sweet Paprika 
Dave DeWitt: It is a mildly pungent, round-shouldered, high-color New Mexican–type chile. 0 SHU


NuMex Joe E. Parker
Michelle Chavez: This is smaller than a Big Jim, so is probably better for a green chile stew or things you're going to chop it up into. It's also not as hot as a Big Jim. 900 SHU  


NuMex Heritage 6-4
DeWitt: This is the most popular cultivated chile in the state. It's great in all New Mexican dishes after roasting and peeling. It has medium heat. 1,500 SHU 


NuMex Española Improved
DeWitt: This cultivar resulted from a hybridization between Sandía and a northern New Mexico strain of chile. The fruits have mild pungency and are excellent for making sauces. 2,000 SHU


NuMex CaJohns Jumbo Serrano
DeWitt: This is named after John Hard, creator of CaJohns Fiery Foods. It's good to use in fresh salsas. 3,000 SHU 


Chimayó
Chavez: I don't know if it's because the ground is sacred there, or because of the water, or the varietal itself. For a dried red chile, it is amazing. When you open a bag, it almost smells like sun-dried tomatoes or sun-dried cherries. They really, truly take on a flavor from the sun. 6,000 SHU


NuMex Barker's Hot
DeWitt: One of the hottest of the New Mexico types, these peppers grow 5 to 7 inches long and 1 to 2 inches wide. They can be eaten red or green. 8,000 SHU 


NuMex Sandía Select
Chavez: This is hot. It has really, really good chile flavor in its green form, but it's better dried, because it has thin flesh. 9,400 SHU 


NuMex Heritage Big Jim
Chavez: This chile has a good, minerally green chile flavor and thick, fleshy walls, so it's good for rellenos. 9,500 SHU   


NuMex Jalmundo Jalapeño
DeWitt: The name is a contraction of jalapeño and mundo, meaning "world" in Spanish, implying that the chile is as big as the world. These are perfect to use as poppers—breaded, deep-fried jalapeños stuffed with cheese. 17,000 SHU


NuMex Las Cruces Cayenne
DeWitt: This has a hot heat level. The varietal is turned into mash and shipped to Louisiana for making hot sauces. 17,000 SHU 


NuMex Lemon Spice 
Chavez: This chile was created for its color. It's similar to a jalapeño—kind of tropical-tasting and almost a little smoky. 25,000 SHU


NuMex Vaquero Jalapeño
Chavez: Vaquero is "cowboy," so this is the cowboy jalapeño. There's something different about the flavor of a jalapeño. It hits you in the back of your throat and straight down your tongue. 30,000 SHU  


NuMex Orange Spice
Chavez: This one is hot. Like really hot. DeWitt: It is one of the newest jalapeños developed at New Mexico State University and makes a beautifully colorful salsa. 79,000 SHU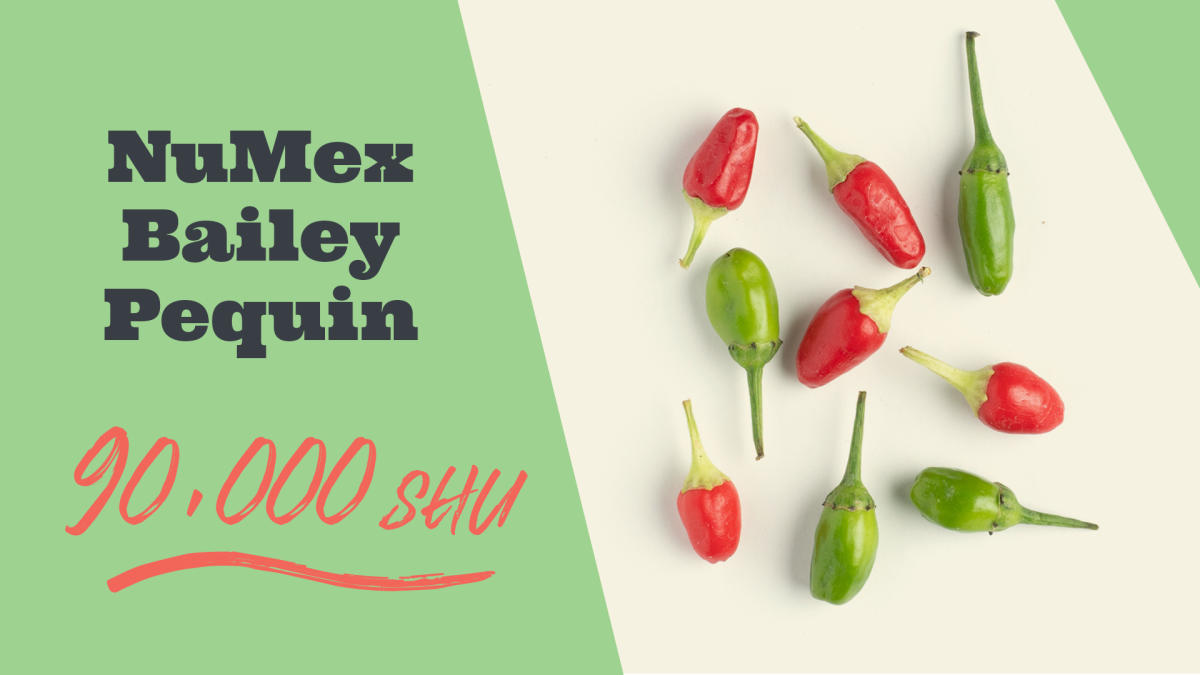 NuMex Bailey Pequin 
DeWitt: The fruit falls from the stem at maturity, making it easier to harvest. The chiles are small—less than one inch long—and have a distinctive flavor. When dried, the powder is pungent. 90,000 SHU

The Mystery of Big Jim
A 10-year effort to restore one of New Mexico's most distinctive chiles underscores how memory thrives in our taste buds. 
José Gonzalez: The Allure of Chile Farming
Although he's tried other jobs, José Gonzalez keeps coming back to the farm where his family grows chiles, corn, beans and more.
The Making of Chile U
One of the only scientific institutions devoted to a so-called condiment flourishes in Las Cruces.
Matt Romero: The Chile Roaster
Rooted in family history, Matt Romero brings that heavenly scent and his special flair to the Santa Fe Farmers' Market.
More Than Just Salsa
Capsaicin does more than make chile hot, it is used in medicinal creams, bear repellent and in foods to give captive birds and fish a reddish hue.