THE SIMPLE ACT OF ADDING LIQUID to a pot that contains meat, beans, or vegetables can transform even the toughest of ingredients into fork-tender morsels of deliciousness. Tired of leathery roasts, tooth-cracking legumes, and fork-bending Brussels sprouts? The culinary miracle of braising can spare you.  
Through the centuries, cooks who faced an inexpensive cut of meat (or a barnyard "volunteer") used this technique to break down the hardiest of proteins and fibers while infusing myriad flavors via the added liquid.  
The benefits range from the obvious to the sublime. Using cheaper cuts of meats or economical beans spares you from grocery-store sticker shock. Clever chefs know that budget-friendly cuts can contain more flavor when prepared appropriately. (French chefs think Americans are crazy to prefer boneless, skinless chicken breasts over the much tastier bone-in hen.)  
Attaining that flavor is where science and artistry come in. By choosing different braising liquids, you change the flavor profiles subtly or vastly. A little experimenting is in order. Remember: You can afford to try. Start by considering the liquids you want to play with: wines (reds, whites, vermouths, and different varietals), beer, canned and fresh tomatoes, broths, vinegars, Asian ingredients (rice wine, Shaoxing wine, sake, soy sauce, fish sauce, and mirin), and even water.  
Then cast your eye upon a globe. If it lands on France, you might choose beef bourguignon or pot-au-feu. Eastern Europe loves its brisket; Italians their braciola and osso buco. In Morocco, delicious stews cook slowly in tagines. A Brit might serve you braised oxtail. And pot roast is an all-American favorite. Those early cowboys out on the range probably didn't realize it, but they had a rudimentary style of braising going on every time they brewed up a pot of campfire chili with beef jerky, a few wild onions, and creek water.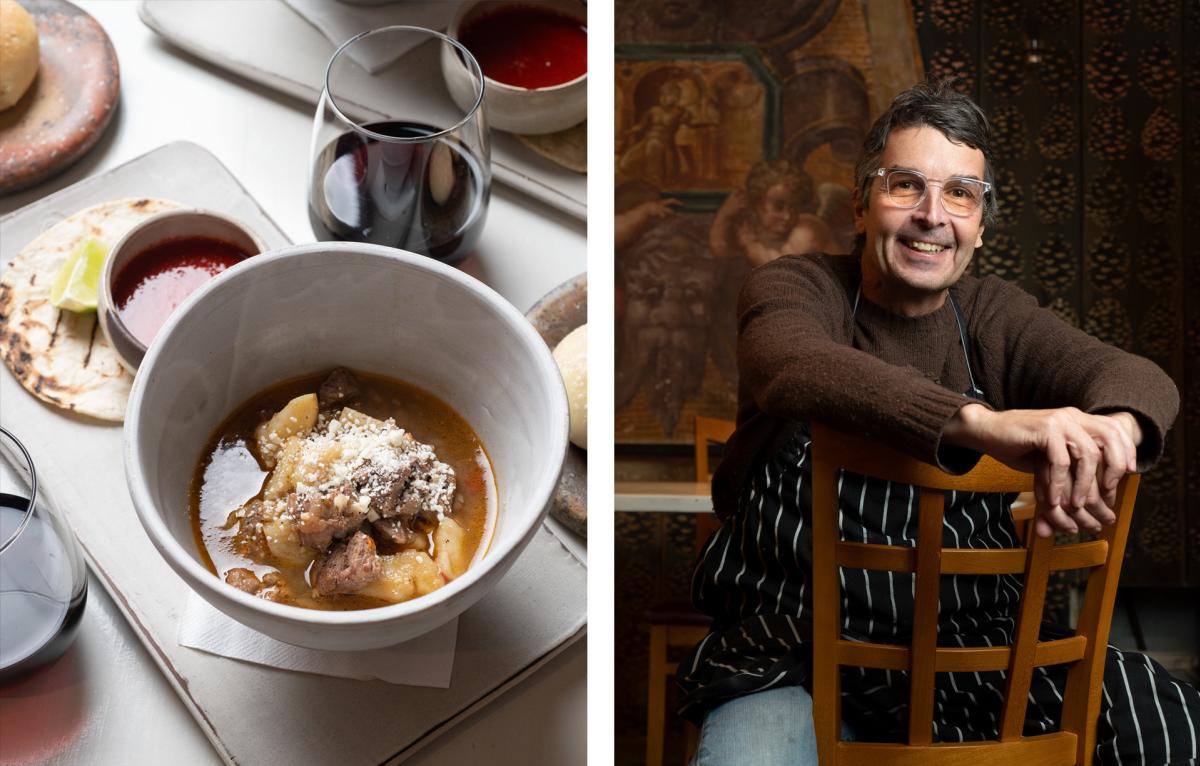 A sample of Joseph Wrede's fabulous stew. The chef at his Santa Fe restaurant. 
Our popular carne adovada and posole fall into this slow-and-low cooking technique. Chiles, both dried and fresh, take time to release fabulous flavors. Aromatics like cumin, coriander, cloves, and cinnamon also prefer to bubble away on their journey to deliciousness.  
Trendy cookware, too, is designed with this covered cooking technique in mind. The chic Le Creuset and Staub pots lead the pack, but don't dismiss your grandmother's treasured cast-iron Dutch oven. There's a reason they still make those.  
Puebloans understood the virtues of slow cooking and fashioned their micaceous clay pots for the task. Many years ago, I had the pleasure of helping test recipes for Katharine Kagel's second cookbook, Cooking with Cafe Pasqual's. Kagel, a longtime friend of master micaceous clay potter Felipe Ortega, wanted to compare the results of her braised recipes by sampling them cooked in micaceous clay versus Le Creuset. The differences were astounding. A tiny metallic taste was present in the Le Creuset version, but not in the clay one.  
We also discovered less salt was needed to perfectly season the dish—a benefit of the earthen cookers. Ortega referred to his creations as "sweet pots," because the mineral content of mica neutralizes the acids in food. (Handy tip: A cup of coffee served in a micaceous cup just might tame your acid reflux.) Cafe Pasqual's sell mica pots in a gallery above the restaurant in Santa Fe and online.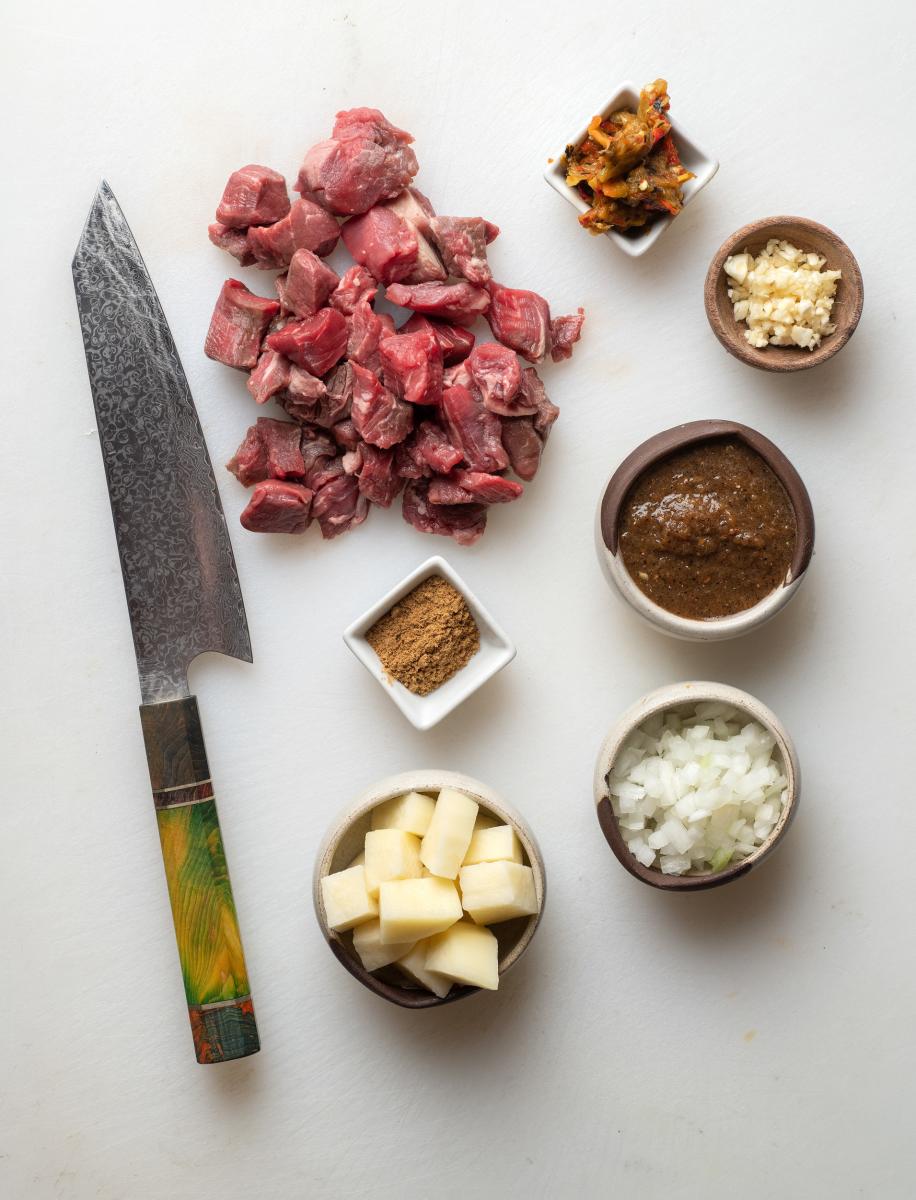 All the ingredients for a most flavorful winter treat. 
Last autumn, I experienced peak braising at Joseph's Culinary Pub, in Santa Fe, where I practically inhaled a bowl of Chef Joseph Wrede's delicious Christmas Style Chile Beef Tenderloin Stew. Although we think of a stew as a vehicle for the lesser cuts of meat, Wrede cleverly uses the tender trimmings of his high-end Tenderloin au Poivre for the more rustic stew. Home cooks can, by utilizing the braising technique, achieve a similar result with a more affordable cut. 
"The goal of a chef is to make a dish as tender and tasty as he or she knows how," Wrede says. "This is accomplished either one of two ways: We undercook steaks and chops to prevent toughening the meat or we slow-cook meats until they're fork tender."  
Wrede says that one of his favorite foods is a chicken that he prepares in a flavorful broth. "I simmer it in stock until it falls apart and then shred the meat. It's so versatile. It can go into tacos, posole, enchiladas—sometimes I eat it right off the bone."  
I just had to get that stew recipe, because it fit this story so scrumptiously. In graciously sharing it, Wrede offered a few tips. "Basically," he says, "it's a green chile stew with really good beef, great chile, onions, and a few spices. Nothing fancy. And to give it a Christmas-style chile spin, we serve it with a side of my favorite red chile sauce and some warm tortillas for dunking."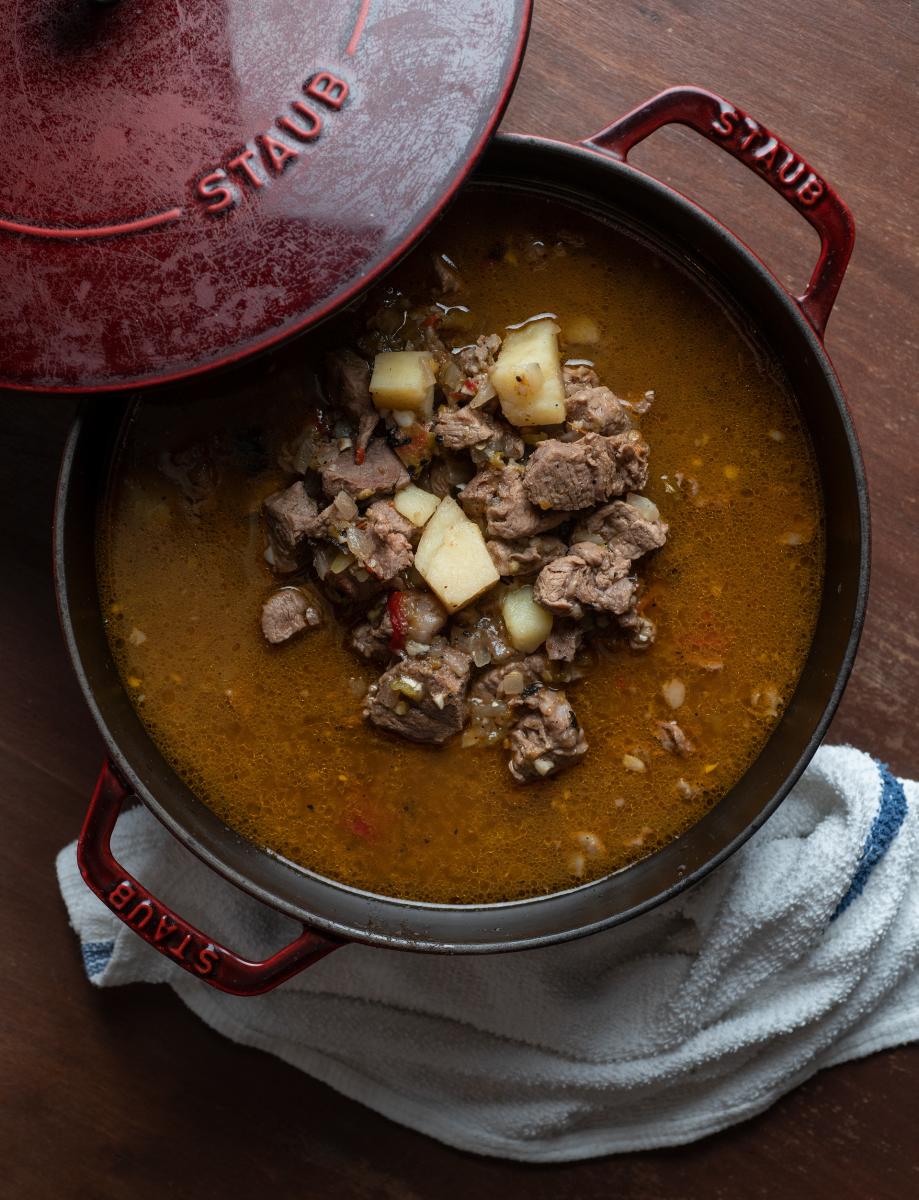 1 onion, halved
2 medium tomatoes, halved
2 jalapeños
2 tablespoons vegetable oil
3 pounds beef tenderloin end cuts or chuck roast, cut into one-inch cubes*
3 tablespoons chopped garlic
1 tablespoon ground cumin, toasted 
1 tablespoon ground coriander, toasted   
3 Yukon gold potatoes, peeled and diced into one-inch cubes  
8 cups beef stock  
½ cup roasted, peeled, seeded, and chopped New Mexico green chile
Serves 6
---
INSTRUCTIONS
Grill or roast the onion, tomatoes, and jalapeños until charred. Chop the onion and set aside.

Peel, seed, and chop the jalapeños and purée with tomatoes in a blender.

Heat oil (Wrede uses duck fat) in medium soup pot or Dutch oven over medium-high heat and add onion. Sauté until translucent, then add beef, garlic, cumin, and coriander.

Allow beef to brown, stirring occasionally, and then add potatoes, beef stock, and green chile. Bring to a boil, lower to a simmer, and add purée.

Simmer, covered, and cook until tender (start checking at 25 minutes).
*Wrede uses the tender trimmings from a high-end tenderloin, which cook quickly. You may substitute a more affordable chuck roast, but plan on cooking for up to 90 minutes. If using chuck, add the potatoes halfway through the cooking time. Either way, when you check the meat, if it is not yet tender, continue simmering.