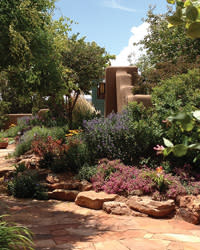 Courtesy Santa Fe Garden Club
JULY 21, 28
SECRET GARDEN
"This year we're featuring several homes owned or decorated by prominent local interior designers," says Barbara Templeman, organizer of the Santa Fe Garden Club's Behind Adobe Walls Home and Garden Tours, which take place on the last two Tuesdays of the month. Participants can view eight residences, including the natty abode of Asian Adobe boutique owner Fidelia Kirk, and enjoy an optional lunch at Hotel Santa Fe's Amaya Restaurant. Proceeds support ongoing expansions at the Santa Fe Botanical Garden. 
(505) 984-0022; thesantafegardenclub.org.
JULY 2–6
INDEPENDENCE SPIRIT
Among the many New Mexico towns hosting parades and fireworks shows over Independence Day weekend, Ruidoso presents an especially exciting calendar. You can attend two big rodeos: the Smokey Bear Stampede, in Capitán (575-808-2814; on Facebook), and the Mescalero Ceremonial Dances and Rodeo, at Mescalero Apache reservation (575) 464-4494; discoverruidoso.com). More than 25 talented painters, sculptors, and jewelers showcase their goods at the Two Rivers Arts and Crafts Festival (575-937-1734; on Facebook) and artists throughout the Sacramento Mountains throw open their studio doors during the 20th annual Lincoln County Art Loop Studio Tour (855-522-5667; artloop.org). On July 3, the Spencer Theater presents an evening of figurative fireworks: a concert by Recycled Percussion. Kathleen McDonald, the theater's spokesperson, says, "They bang away on cans, hubcaps, and other household items, sometimes hanging upside down from the ceiling—it's pretty explosive stuff!" (575) 336-4800;  spencertheater.com.
JULY 3–5, 17–19
¡FIESTA!
The Fourth of July Fiestas in Las Vegas pays homage to this town's deep Hispanic roots. Thousands show up to watch the presentation of the Fiestas Royal Court and crowning of the Queen, along with one of the biggest Fourth of July parades and fireworks shows in the state (505-454-1401; website). Fiestas de Taos honors that town's patron saints (Santa Ana and Santiago) with three days of ceremonies, parades, and performances at Taos Plaza. Mariachi Encantadoras del Río Grande is among this year's entertainers. fiestasdetaos.com
JULY 3–5
OINK, OINK
Rio Rancho Pork & Brew is a deliciously messy affair at Santa Ana Star Center, where you can sample the tender, fall-off-the-bone barbecue of more than 40 grilling gurus. Several local craft brewers are on hand—Rio Rancho's own Turtle Mountain Brewing pours a citrusy, hop-forward IPA that pairs perfectly with pulled pork. (505) 891-7258; rioranchonm.org.
JULY 3–AUGUST 2
THE SOUNDS OF MUSIC
It's high season for the City Different's illustrious music scene. A fresh series of free Santa Fe Bandstand concerts commences July 7 with a hip-shaking show by Albuquerque-based salsa and merengue band Son Como Son (read more about the Bandstand here: mynm.us/sfnmbandstand). These open-air performances on the Plaza take place throughout July and August and feature both national acts and local favorites. Highlights include up-and-coming Nashville roots-rock band Humming House, Grammy Award–winning bluegrass guitarist Peter Rowan, and eighties "Queen of Hearts" pop star Juice Newton (505-986-6054; santafebandstand. org). The ninth annual New Mexico Jazz Festival brings a slew of talents to the Lensic and Albuquerque's Outpost Performance Space July 10–26 (505-988-7050; newmexicojazzfestival.org), and the 43rd installment of the six-week Santa Fe Chamber Music Festival launches July 19 (505-982-1890; santafechambermusic.com). The Santa Fe Opera opens July 3; (505) 986-5900; santafeopera.org.
JULY 16–18
APPLIED SCIENCE
"We're going to launch a really cool 3-D app at this year's Los Alamos ScienceFest," says Suzette Fox, executive director of Los Alamos MainStreet, adding that cast members from the hit TV show Manhattan have also been invited to appear at this three-day, family-oriented festival held at Ashley Pond Park. Interactive events, including a Game of Drones competition and a Zia Spacemodelers rocket launch, aim to excite kids about science, technology, and engineering. With the new app, you can stand with your smartphone or tablet at various sites around Los Alamos and view them as they appeared in 1940. "You'll probably see General Groves and J. Robert Oppenheimer looking very dapper," says Fox. (505) 661-4844; losalamossciencefestival.com
JULY 18–19, 24–26
NOB HILL STREET BLUES
The long-running, horn-drenched band Roomful of Blues entertains the crowds at Albuquerque's free Route 66 Summerfest on July 18 (505-768-3556; cabq.gov). New at this year's Central Avenue block party, the Duke City Cruisers bike club is hosting a custom-and vintage-bike show. Other opportunities to groove at outdoor blues and bluegrass music gatherings this summer include the Animas River Blues & Brews Fest, in Aztec, July 18 (505) 330-4616; animasriverblues.com), the Weed Bluegrass Festival, near Cloudcroft, on July 18–19 (575-687-3316; weednm.org), and the Edgewood Arts & Music Festival, at Wildlife West Nature Park, July 24–26. (505) 281-7655; wildlifewest.org.
JULY 25–26
SPANISH MARKETS
At the simultaneous traditional Spanish Market and Contemporary Hispanic Market, a combined 300-plus juried-in artists and artisans present their fine bultos, santos, straw appliqué, furniture, hide paintings, and other forms of Spanish Colonial art unique to the state. Spanish Market's art is faithful to historical methods (505-982-2226; spanishcolonial.org). The Contemporary Hispanic Market's artists are free to fold in modern materials, methods, and cultural references. (505) 331-5162; contemporaryhispanicmarketinc.com.