The Ghanaian reggae singer Rocky Dawuni and his band rocked the
NHCC's Plaza Mayor at ¡Globalquerque! 2014.
SEPTEMBER 25–26
Since its inception a decade ago, the richly diverse, high-energy ¡Globalquerque! has presented a virtual United Nations of musical talents. This year promises one of the hottest lineups yet. Held at the National Hispanic Cultural Center, the Friday-night and all-day-Saturday festival will showcase 17 bands from five continents, including northern New Mexico's own fiddling folk balladeers Lone Piñon. The Colombian dance band Cimarrón performs both days, as does the passionate Arab Spring activist and singer-songwriter Emel Mathlouthi, from Tunisia. The standout of the festival may well be Aurelio, the current standard-bearer of Central American Garifuna music. The ebullient style links West African, Latin, and Caribbean sounds in a singular, soul-stirring fashion. Beyond the tunes, there's the popular Global Village, with international dishes and crafts vendors. (505) 724-4771; globalquerque.org
September
AUGUST 31
GRAND OLE OPERA
The Santa Fe Opera season closes on August 29, but just two days later, Emmylou Harris and Rodney Crowell perform at the magnificent open-air venue. The pair teamed in 2012 on Old Yellow Moon, which earned a Grammy for Best Americana Album, and they recently released a follow-up album. Crowell has a meaningful connection to New Mexico: Following his 1992 divorce from Rosanne Cash, he moved to Taos for several months, where he was inspired to write the album Life Is Messy. (505) 886-1251; ampconcerts.org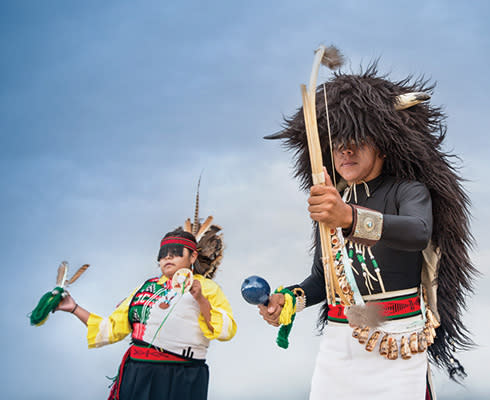 Enjoy rare access to Acoma Pueblo's Sky City during San Esteban Feast Day and Harvest Dances on September 2.
Photo by Ryan Heffernan.
SEPTEMBER 2, 4–6, 8, 19, 25, 30
FALL FEASTS
With the advent of autumn, numerous Pueblos around the state open to the public during their annual Feast Days. One of the most popular, San Esteban Feast Day and Harvest Dances, takes place at Acoma's Sky City Pueblo on September 2. It's a great time to tour this centuries-old community atop a near-400-foot sheer-walled sandstone mesa and the neighboring, state-of-the-art Sky City Cultural Center & Haak'u Museum. The latter is showing a terrific exhibit of painted Acoma pottery through September 7 (505-552-7861; acomaskycity.org). In Farmington, you can attend a Navajo rug auction and arts-and-crafts show during the Totah Festival Indian Market & Pow-Wow September 5–6 (505-326-7602; farmingtonnm. org). Later in the month, Taos Pueblo celebrates the Feast of San Geronimo with a Catholic vespers service on September 29. The next day, there are footraces in the morning, and then later, the Pueblo's "sacred clowns" climb a pole hung with the fruitful yields of harvest. (575) 758-1028; taospueblo.com
SEPTEMBER 4–7, 11–13, 20, 26
ON YOUR MARKS ...
September may just be the best month of the year for New Mexico bike rallies, with several adrenaline-fueled events taking place around the state. The festive Gravity Games Bike, Brews & Blues brings mountain-biking enthusiasts and suds lovers to Angel Fire's rugged trails over Labor Day weekend (575-377-4290; angelfirebikepark.com), while Red River's Enchanted Circle Century Tour draws road racers to the stunning—and challenging—peaks and valleys of one of the state's most scenic byways (575-754-2366; redriverenchantedcirclecenturytour.com). Set amid the curving roads and soaring rock formations of Laguna and Acoma Pueblos, Tour de Acoma takes place September 20 (505-552-7869; tourdeacoma.com). The following weekend, the Tour de Ruidoso tests the endurance of riders with mountainous 100-mile and 100-kilometer courses through the dramatic Sierra Blanca range (915-525-3079; discoverruidoso.com). The September 20 Santa Fe Thunder Half Marathon's route begins in the capital city and concludes at Buffalo Thunder Resort & Casino. Proceeds support Pojoaque Pueblo Indoor Soccer Camp and other worthy projects (santafethunder.com). At Ratón's third annual Master of the Mountains Adventure Relay on September 11–12, fierce competitors run through Sugarite Canyon State Park, paddle across Lake Maloya, bike a gorgeous stretch of the Santa Fe Trail, and test their shotgun skills at the NRA Whittington Center. (575) 445-2413; ratonmom.com
SEPTEMBER 5
GARAGE BAND
Albuquerque's intriguing classical ensemble Chatter has a knack for choosing memorable concert venues. But the ninth floor of downtown's Acropolis parking structure ... really? "We love to surprise people," says Pamela Michaelis, president of Chatter, which stages more than 60 classical concerts annually, including weekly Sunday performances at The Kosmos event space. "I was looking around for unusual, bizarre spaces, and the top of Acropolis felt perfect—it's just so pristine. Our artistic directors, James Shields and David Felberg, looked at it and said, 'Well, why not?'" Amid panoramic views of the Sandías and the downtown skyline, Chatter at the Acropolis concertgoers will enjoy three contemporary American works: Thomas Albert's "A Maze (with Grace)," John Adams' "Chamber Symphony," and Frederic Rzewski's powerful piece about the notorious 1971 Attica Prison riots, "Coming Together." chatterabq.org
SEPTEMBER 5
STAR CLUSTER
Clayton Lake State Park is one of only 20 sites on earth with gold-star certification from the International Dark-Sky Association—a great reason for a star party. On September 5, come enjoy the first-ever Clayton Lake Star Fest. "We've planned plenty of family-oriented activities," says Pat Walsh, regional interpretive ranger at Clayton Lake State Park, including a hike whose one-mile route models the solar system. (575) 374-8808; mynm.us/claytonlake
SEPTEMBER 11–12
FOREIGNER LEGION
Lou Gramm, the Foreigner frontman who sang the lead on such iconic seventies and eighties anthems as "Hot Blooded" and "Urgent," head-lines the 28th annual Clovis Music Festival, developed in honor of the late Clovis producer Norman Petty, who helped launch the careers of Buddy Holly and Roy Orbison. Latin Grammy winner Michael Salgado and opening act Grupo Mezcal kick things off on Friday night. (575) 763-3435; clovisnm.org
SEPTEMBER 11–13
STRUM KIND OF WONDERFUL
More than a dozen bands will perform this year at the rollicking Pickamania! in Silver City. The three-day weekend of outstanding acoustic music showcases the talents of Appalachian mountain-music mavens the Black Lillies and three-time International Bluegrass Music Association awardee Claire Lynch. (575) 538-2505; mimbresarts.org
SEPTEMBER 12
LEAP AHEAD
"He does such interesting work—you really have to see it to grasp it," says LEAP (Land, Experience, and Art of Place) founder Claire Cote about featured artist Ethan Jackson. For LEAP's NeoRio 2015: Light Is Life event, which takes place at a rim-side campsite overlooking the Río Grande Gorge in Wild Rivers Recreation Area, Jackson focuses on large-scale, light-driven, site-specific installations. Arrive late in the afternoon to experience a daylight installation before a dinner with ingredients from nearby Cerro Vista Farm, followed by music, poetry, and a viewing of Jackson's nighttime project. (575) 586-2362; leapsite.org
SEPTEMBER 24–27
GILA GALA
The Gila Conservation Coalition produces an annual four-day celebration of southern New Mexico's majestic 649-mile river. During this year's Gila River Festival, organizers have teamed with Western New Mexico University to present the Gila Time Lapse Film Festival, where Santa Fe filmmaker Godfrey Reggio will discuss and present his critically acclaimed Qatsi trilogy. (575) 538-8078; gilaconservation.org
STUDIO TOURS GALORE
More than two dozen communities around New Mexico hold artists' studio tour weekends throughout the year (newmexico.org/studio-tours). September is the busiest month, with six to choose from. These weekends provide a great way to meet artists who, in many cases, don't have commercial studios or dedicated gallery spaces. "It's nice to see artists in their natural habitats," says Ezra Hubbard, who organizes the Pecos Studio Tour weekend on Sept. 19–20 (505-603-1214; pecosstudiotour.com). To make the most of a visit, Ezra says, "There's the river, some great little restaurants, and a hike to Monastery Lake."
On Friday night before the Las Vegas Studio Tour (September 11–13), you can attend a preview show at the Las Vegas Arts Council (LVAC) Gallery on Bridge Street, a short walk from one of New Mexico's prettiest downtown plazas. The town presents one of New Mexico's larger studio tours, with some 60 artists participating. And this year several artists who live far out of town or don't have their own studios will exhibit at the Hotel Castañeda, an 1898 Mission Revival beauty from the town's Fred Harvey era that is currently undergoing an ambitious renovation (see mynm.us/vegasrevival). (505) 425-1085; lasvegasartscouncil.org
Other studio tours this month include Pilar (Sept. 5–6; 575-758-5760; pilarstudiotour.com), Albuquerque's Alameda Village (Sept. 12–13; alamedastudiotour.com), the Pojoaque River area (Sept. 19–20; 505-301-3956; pojoaqueriverarttour.com), and the communities along the High Road to Taos (Sept. 19–20, 26–27; 888-866-3643; highroadnewmexico.com).