(above) Balloons are in high season in Albuquerque and Taos.
OCTOBER 2–4
WEAVE GOT IT GOING ON
Good luck resisting the cuteness quotient of the Taos Wool Festival's "Fiber Critters Corner," where kids and adults gambol with downy sheep, goats, Angora bunnies, and alpacas. Starting on Friday, the workshops in Kit Carson Park include half-day as well as shorter "make & take" events on topics ranging from punch-needle rug hooking to knitting a custom-fit sweater for your dog, which—naturally—you can enter into the dog sweater show and contest.  taoswoolfestival.org
OCTOBER 2–4, 9–11
ART HARVEST
While folks are in Albuquerque attending Balloon Fiesta, two of the city's top artists' markets are in full swing. The Rio Grande Arts and Crafts Festival Balloon Fiesta Show is held at Expo New Mexico's racetrack infield October 2–4 and 9–11. Some 225 artists' work is at this juried show, which features everything from exquisitely carved wooden bowls to fashionable hand-tooled leather bags and ornate silver and turquoise jewelry (505-292-7457; riogrande-festivals.com). The same weekend at the Indian Pueblo Cultural Center, the third annual Albuquerque American Indian Arts Festival continues to gather momentum. "We cap the show at 50 artists so it really is possible for visitors to meet and talk to artists at length, asking them how they craft their pieces and about the symbolism in their work," says IPCC spokes-woman Dyannah Byington. A fashion show and traditional Pueblo dances round out the offerings. (866) 855-7902; indianpueblo.org/aiaf
Amid the Gila National Forest's towering evergreens, the Pinos Altos October Fiesta on October 3 showcases crafts and artisan vendors from the greater Silver City area as well as prominent local musicians at the always spirited Buckhorn Saloon & Opera House (575-574-8394, pavfr.org). One of the longest-running juried shows in southern New Mexico, the Cloudcroft October Art Fest also enjoys one of the state's most picturesque settings, pine-shaded Zenith Park, in the heart of this 9,000-foot-high mountain town (Oct. 3–4; 575-682-2733; cloudcroft.com). The following Saturday (Oct. 10) at Zuni Pueblo, residents and visitors give thanks for autumn's abundance during the Ancient Way Fall Festival, which features an art market and traditional tribal dances. (505) 782-7238; zunitourism.com
OCTOBER 2–4, 24
PEN PARTIES
Poets, bards, and tellers of tales have two terrific events to attend this month. October 2–4, Silver City's Southwest Festival of the Written Word presents three days of panels and workshops on writing and publishing (swwordfiesta.org). Then, on October 24 in Taos, the SOMOS Storytelling Festival brings the narrative experience to the stage. "Stories are the heart of the human experience," says David Perez, SOMOS co-director. "It's amazing to see how those who have practiced and honed their craft are able to capture and captivate an audience." The festival includes a "story swap" and is headlined by Japanese performer Kuniko Yamamoto and local raconteur Sarah Malone.
(575) 758-0081; somostaos.org/storytelling
OCTOBER 3–4
FEET FIRST
"We've been growing crops here for 300 years—primarily corn, beans, and squash," says Joe Maes, curator of historical interpretation, who explains that the Las Golondrinas Harvest Festival provides a terrific way for visitors, especially younger ones, to learn about agriculture and sustainability firsthand. "My son, who's six, loves our grape-stomping event," he adds, pointing out that the vineyards at Las Golondrinas are among the oldest in North America. (505) 471-2261; golondrinas.org
OCTOBER 3–11, 23–25
SKY RIDERS
"Guests will be treated to more than just balloons in the sky this year," says Albuquerque International Balloon Fiesta spokesman Tom Garrity (505-821-1000; balloonfiesta.com). "Laser shows and sky-racing demonstrations are big additions to our already packed event schedule." The high-spirited fun includes performances by country stars the Band Perry, along with Nashville-based Gloriana and up-and-coming Two Way Crossing. Fans of sunrise mass ascensions should also check out the Taos Mountain Balloon Rally on October 23–25, which draws 40 to 50 colorful airships each year. (575) 758-9210; taosballoonrally.com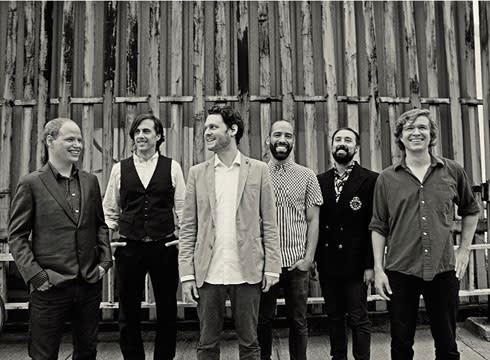 Beirut will play a free homecoming show
at the Santa Fe Bandstand on Oct 4.
OCTOBER 4
HOMETOWN HERO
Talented trumpeter and flugelhornist Zach Condon has come a long way since his days as a student at Santa Fe High School. He returns October 4 for a free concert on the Santa Fe Plaza Bandstand with his renowned indie band, Beirut, who just released a new album. (505) 232-9868; ampconcerts.org
OCTOBER 7–11
ROSWELL RIFFING
Banjo virtuoso Fast Eddie Erickson and Australian string bass player and vocalist Nicki Parrott are among the top acts at the 10th annual Roswell Jazz Festival. Enjoy free shows Friday afternoon on the Chaves County Courthouse lawn and Saturday at the Roswell Museum and Art Center. (575) 623-3711; roswelljazzfestival.org
OCTOBER 9–11
BOOTS AND SADDLES
Crystal Gayle, who won a Grammy for her late-seventies country-pop hit "Don't It Make My Brown Eyes Blue," headlines the opening concert of Ruidoso Downs' Lincoln County Cowboy Symposium. Western swing stars Jody Nix, Billy Mata, and Jason Roberts will also perform at this rhythm-inflected three-day fest at which, for $25, you can feast during the chuckwagon cookoff. Symposium event coordinator Sunny Hirschfeld highly recommends the cowboy-mounted shooting competition. "It's fun to watch—I know I couldn't shoot a balloon from a horse going that fast!" she says.
(575) 378-4431; cowboysymposium.org
OCTOBER 9–11, 16–17
BIER ME
Two of New Mexico's largest Oktoberfest celebrations take place, appropriately, in alpine towns. At Red River Oktoberfest, October 9–11, you can win prizes on NFL Day by wearing your favorite team's colors, and show off your brawn during the Keg Karry competition (575-754-3030; redriveroktoberfest.com). The following weekend, the bands Salzburger Echo, Swingshift, and Die Polka Schlingel delight the more than 4,000 attendees of Ruidoso Oktoberfest. (575) 257-6171; oktoberfestruidoso.com
OCTOBER 14–18
FILM FEST DIFFERENT
Esteemed actress Gena Rowlands, who co-starred with Kirk Douglas in the New Mexico–filmed Lonely Are the Brave in 1962, returns to the state this fall as guest of honor at the distinguished Santa Fe Independent Film Festival. Some 90 screenings occur at several venues around town, including—for the first time—the new Violet Crown Cinema in the Railyard district. Don't miss the New Mexico True Film Day on October 15, which features state-made films and a panel with the New Mexico Film Office. (505) 349-1414; santafeindependentfilmfestival.com
FOR MORE EVENTS, GO TO mynm.us/nmm-calendar
Want more like this? Subscribe now!