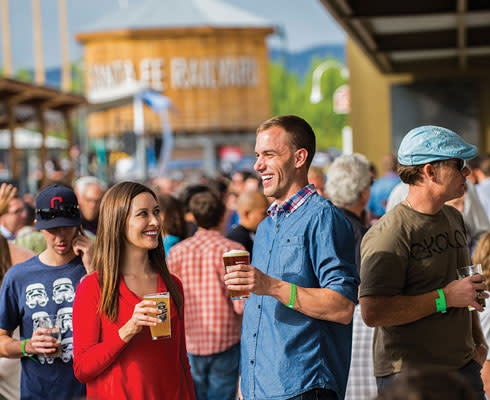 At last year's Outside Bike & Brew Festival in Santa Fe.
APRIL 29–MAY 3, 22–24
BIKE IT AND SPIKE IT
One of the nation's premier cycling events, Tour of the Gila comprises five days of enthralling bike races along the scenic but hair-raisingly tortuous, narrow roads of Gila National Forest. Saturday's Criterium is a spectator favorite—it takes place in downtown Silver City's historic district, along with a kids' bike rodeo, live music, and a beer garden (575-590-2612; tourofthegila. com). Run for the Wall, a 10-day motorcycle ride that aims both to raise awareness about missing-in-action U.S. military from all wars and to honor all of those who have fought, passes through New Mexico May 14 and 15. The ride's three routes cross different parts of New Mexico, with the Central Route stopping in Gallup and Eagle Nest, the Midway Route rumbling through Gallup and Albuquerque, and the Southern Route calling on Las Cruces (rftw.org). The Roswell Hike It and Spike It—the world's big- gest four-on-four flag-football tourney—takes place May 22–24 at Cielo Grande Recreation Area. (575) 627-2398; roswellgridiron.com
MAY 1–2
GET YOUR BEARINGS
Capitán, the 1950 birthplace of America's most beloved little bear, honors the mascot of forest fire prevention with Smokey Bear Days. You can hone your tomahawk-throwing skills (aren't we all a little rusty?) and watch a talented crew of chainsaw carvers compete in a wooden-bear-carving competition. Other highlights include pony rides, a family dance, and a Sunday morning pancake breakfast. (575) 354-2748; smokeybeardays.com
MAY 1–3
T OR C JAMBOREE
Several celebrated New Mexico musicians—including mariachi maestro Antonia Reyna, contemporary Native American songsters Knifewing, and old-time rockers Iron Chiwawa— return to Ralph Edwards Park in early May for the Truth or Consequences Fiesta, which has earned a devoted following since its 1950 inception. Offbeat activities like the T or C Fire Department Duck Race, the Sheriff's Posse Full Rodeo, the Fiesta Golf Tournament, and a wildly colorful parade are part of the fun. "Of course, the Lions Club Barbecue will be back," says Fiesta director Jim Brannon. "It's always a big crowd-pleaser." (575) 894-1968; torcfiesta.com
MAY 2, 16–17, 21–25
ART MARTS
Talented local leatherworkers, silversmiths, traditional furniture makers, blanket weavers, and avant-garde photographers are among the legions of exceptional artists and artisans showcasing their wares at several juried fairs this month. Events kick off with the Los Alamos Arts Council Spring Fair, featuring more than 100 artists on May 2 at Fuller Lodge (505-663- 0477; losalamosartscouncil.org). Cathedral Park hosts the Santa Fe Artists Market May 16–17 (505-414-8544; santafeartistsmarket.com), followed by the Fiber Arts Fiesta at the Albuquerque Expo Center, May 21–23 (fiberartsfiesta.org), and the Taos Spring Arts and Crafts Fair at Kit Carson Park, May 22–25. (575) 751-8800; taoschamber.org
MAY 13–17
BEST OF BOTH WORLDS
Bicyclists and hopheads convene in Santa Fe mid-month for the second annual Outside Bike & Brew Festival, a five-day affair sponsored by Outside magazine. Road races include the 30th annual Santa Fe Century, while mountain bikers will tackle the Winsor Trail. In town, grab a pint glass, don a helmet, and check out the Tour de Brewer pedal (from Second Street Brewery to Santa Fe Brewing Company), the Gear & Beer EXPO, and Revolutions Beer Fest, featuring top national craft beers and displays of stunning custom-built bikes. (505) 660- 2951; outsidesantafe.com
MAY 15–17
BLOOMTOWN
Lilacs flourish in Taos in May, hence the Taos Lilac Festival. Beyond the fragrant flora, there are several fun events related to domesticated fauna, including a pet parade and a "most unusual pet" contest (past winners have included a cage of clucking chickens named "Our Spanish Ladies"), followed by a pet blessing. New this year: the Lilac 5K Fun Run. If you're feeling competitive, you can enter the timed run. "But walkers are welcome, too," says festival co-organizer John Hamilton. "You may as well take your time ... and smell the lilacs." taoslilacfestival.com
MAY 22–24
STREAMING CONTENT
Meandering for more than five miles through central Farmington, the Animas River is fringed by walking trails and leafy parks—it's a gorgeously restored habitat for Riverfest, held Memorial Day weekend. You can take in art and live music, watch wiener dogs race, and witness a Native American gourd dance. Make a joyful noise on Sunday during the gospel sing-along. And for just $15, you can set out on a 30-minute rafting ride on the Animas. These guided floats are "on the mild side," says Jadea Braddy of outfitter Mild to Wild (970-247-4789; mild2wildrafting. com). "It's really fun for those who've never been rafting, and it's an affordable way to try it." (505) 326-7602; farmingtonnm.org
MAY 22–24
TREASURE HUNT
The prestigious Native Treasures Arts Festival, which has raised some $750,000 for the Museum of Indian Arts & Culture, honors two outstanding talents this year: Santa Fe– based Kiowa artists (and sisters) Teri Greeve and Keri Ataumbi, whose whimsical creations—ornately beaded high-heel Converse boots by Greeves, a stunning gem-studded silver-and-gold "ant belt" by Ataumbi—exemplify contemporary Native American talent and creativity. More than 200 acclaimed artists representing some 40 indigenous communities sell their creations, ranging from textiles to sculpture, at this phenomenal showcase at the Santa Fe Convention Center, preceded by a Friday night benefit gala. (505) 982-7799; nativetreasures.org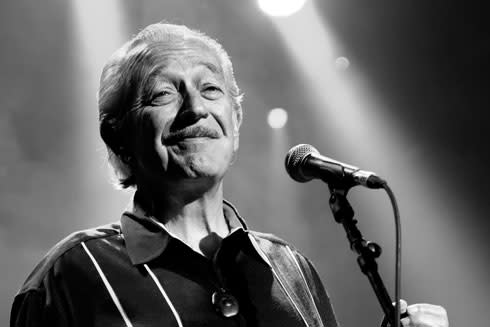 Charlie Musselwhite plays the free Silver City Blues & Bikes Festival. Photo by Nathan David Kelly.
MAY 22–24
ROCKIN' AND RIDIN'
The Southwest's only free blues festival, the Silver City Blues & Bikes Festival expanded its program and added "bikes" this year. The legendary Charlie Musselwhite and gospel-inspired Campbell Brothers headline the 20th showing of this music jam, which now includes a full menu of motorcycle-related fun, kicking off with Friday's bike show, custom-bike builders' display, and "bike run" along a 75-mile stretch of the gorgeous Trail of the Mountain Spirits Scenic Byway. Throughout the three-day weekend, you can watch daredevils ride 1920s Indian Scouts and 1950s and 1970s two-stroke Harley-Davidsons around the Wall of Death, a precipitously banked oval track situated inside a red-white-and-blue velodrome (575-538- 2505; mimbresarts.org). Fans of Taj Mahalcan also see him at ticketed events: on May 22 at the Outpost Annual Gala Fundraiser at the Albuquerque Museum (505-842-0111; albuquerquemuseum.org) and on May 24 at the Lensic in Santa Fe. (505) 988-7050; lensic.org
MAY 23–25
HEARD IT THROUGH THE GRAPEVINE
Memorial Day Weekend, the New Mexico Wine Growers Association presents the ABQ Wine Festival, at Balloon Fiesta Park, and the Southern NM Wine Festival, at New Mexico State Fairgrounds in Las Cruces. Attend semi- nars, sample international snacks, listen to local bands, and sample vino from more than 15 of the state's top wineries, such as Dos Viejos, Wines of the San Juan, Luna Rossa, and La Esperanza. (575) 522-1232; nmwine.com