Above: Maria Hajic in the Gerald Peters Gallery. Photographs by Inga Hendrickson.
HER CREDENTIALS DON'T MIRROR those of most curators, but Maria Hajic's fresh perspective helped elevate American wildlife art from the stereo-types of calendar covers, photorealism, and magazines about hunting and fishing. Thanks in part to her, a menagerie of fauna now roam—in various forms, from traditional realism to inspired modernism—in Santa Fe. Set within the wide-ranging spaces of the Gerald Peters Gallery, near Canyon Road, the wildlife art that Hajic has renamed Naturalism has come to be taken seriously by critics and collectors throughout the world.
The funny thing is that Hajic (pronounced HAY-jick) became a driving force without ever intending to be a curator. After earning a degree in art history, with a particular interest in ancient Greece, she attended an archaeological field school in Nevada and worked on various digs in the Southwest, including in New Mexico. She went on to get a master's in anthropology at UNM, still studying Greek art but also spending time in the forensic anthropology lab, where she explored how muscles, bones, and skin work together. Years later, she learned that many of the artists she now promotes had done similar work to learn about the animals they portray.
Hajic moved to Jackson Hole, Wyoming, in 1989. At that point, the town was still something of a carefree place, the airport not yet packed with private jets. Still, it had serious money—if you knew where to look. The National Museum of Wildlife Art had just opened in a small building downtown. Its founders, Bill and Joffa Kerr, had realized a long-held dream to share their private collection of wildlife art with the public and draw attention to this lesser-known genre of fine art. The museum's crown jewel was the largest U.S. collection of paintings by Carl Rungius, a turn-of-the-century master of big game. It also held a few good 19th-century paintings, but almost no contemporary work. That was about to change.
After only two years in a gallery space of about 5,000 feet, the museum was ready to expand and needed a new curator. Hajic, who had worked at a variety of jobs, decided on a whim to apply for the job, even though she had no expertise in wildlife art. It turned out that she was the only person who applied with an art degree, or any advanced degree. She seemed enthusiastic, so the director took a chance and hired her. Bill Kerr became her mentor.
During the next eight years, she helped the museum grow to 51,000 square feet and expand its permanent collection of contemporary and historic American and European art. Hajic also oversaw a much more robust and diverse exhibition schedule. Shows ranged from the iconic artwork of John James Audubon and historic prints of 18th-century explorer and artist Karl Bodmer to European wildlife masters and contemporary American artists. The works of classic African painter William Kuhnert rubbed shoulders with stone sculptures by Seattle's Tony Angell and the delicate watercolors of California's Thomas Quinn. The German hunter/impressionist Manfred Schatz was displayed alongside the glossy surrealist Raymond Ching, who painted things like kangaroos wandering through abandoned cities, live birds hanging out with monkeys while wearing their proper museum labels, and dreamy women flying through the air with parrots.
The museum rapidly became a destination. And, from London to New Zealand and points between, wildlife art gained new and serious practitioners. In general, though, the artists ran well ahead of the critics. The public caught up and bought their works. But the kind of work they were doing needed a unifying principle. Enter Hajic, along with Gerald Peters.
After opening his gallery in 1972, Peters nurtured it into a galaxy of 19th- and 20th-century art that gleamed with examples from the Taos Society of Artists, Santa Fe Art Colony, Modernists, Impressionists, and more. In 1998, he felt drawn to this new territory in wildlife art. An early admirer of the Jackson Hole museum, he asked Hajic to take a chance on launching a new department within his gallery. Fortunately, Hajic was ready to return to New Mexico, with all her interests, passions, and a select group of museum-quality artists to represent.
She called her portion of the gallery Naturalism. But she had redefined the classic term. To her, it's art inspired by nature rather than a direct copy of it. It encompasses different styles, materials, and techniques, some approaching the abstract, and it can include the best of landscape art, such as Thomas Aquinas Daly's graceful watercolors. "Rather than art solely about animals, it's art that incorporates all aspects of nature," she says. "It can be a painting, a stone sculpture, or a bronze. It can be representative or abstract." Most of all, she says, "it requires artists with a deep knowledge."
Walk through her space within the Peters Gallery and behold some of the extraordinary talent there. Quinn, a great bear of a man, paints dreamlike watercolors inspired by his heroes: the samurai swordsman Musashi, 18th-century Japanese ukiyo-e artist Hokusai, and Joseph Crawhall, an Englishman who painted a simple, perfect white pigeon that Quinn says may be the best bird painting ever. (Quinn's secret motto, kept in a drawer in his studio: "Draw brave!") Hajic calls his work visual poetry. "Edges dissolve, and the character of the animal emerges," she says.
Quinn's friend Tony Angell, a Seattle sculptor, turns out a prodigious and bewildering mix of stone and bronze sculptures, not to mention more books than your average writer. His output encompasses everything from detailed drawings in black-and-white to small sculptures in bronze and stone to a marble gyrfalcon you need an 18-wheeler to move.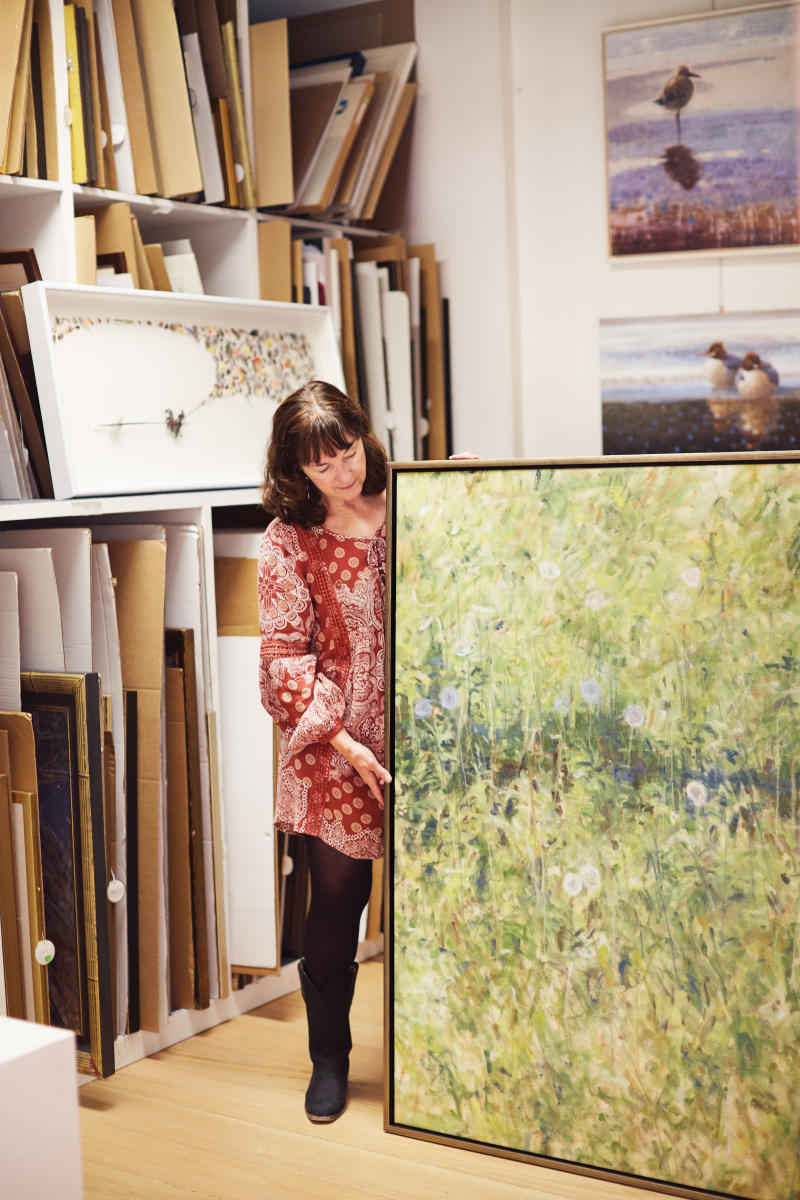 Above: Maria Hajic holds Hidden, by Ron Kingswood.
Steve Kestrel, a fellow worker in stone and bronze, combines craft and whimsy in ways that can turn from heavy to ethereal in an instant. The southern New Mexico native now hikes the streams of northern Colorado, picking out rocks that remind him of a cougar or a whale and blending their natural forms with his imaginings. "His sculptures seek a deeper connection to the mystery of our natural world," Hajic says. "They appear timeless and modern at the same time."
Les Perhacs, the most abstract of animal sculptors, applies the insights of Willem de Kooning and his own toymaker skills to visions of roadrunners and swallows. Hajic calls him a visionary and master craftsman who moves fluidly between abstraction and realism—whether he's working in stone, bronze, or fabricated steel. "There are no superfluous details," she says. "His works encourage you to interact with them emotionally and intellectually."
Finally, you'll encounter a north-of-the-border artist: Canada's Ron Kingswood and his large-format landscapes. He doesn't revert to literal translations of nature. Instead, Kingswood challenges us to see it in altogether new ways that are sophisticated and filled with vibrant colors.
The gallery holds other delights—Impressionist landscapist Matt Smith and feather artist Chris Maynard, to name but a few. Together, these "animaliers" (the term "wildlife artists" having taken on a weaker meaning) contemplate the subtleties of nature in ways that seem almost spiritual. "Their work tends to be minimal in detail but powerful in form, thought, and emotion," Hajic says. "How else does Steve Kestrel birth an alligator egg out of a massive block of stone?"
Peters says he knew Hajic would find a welcoming audience in Santa Fe. Since bringing her aboard, "her knowledge and experience have helped elevate the profile not only of her artists, but wildlife art in general."
Hajic has now logged 20 years with the gallery. Four years ago, it moved from what's now the contemporary Peters Projects to the historic Bandelier House, at 1005 Paseo de Peralta. The 1880s adobe building was originally a family home, which nurtures the sense of an intimate space in which to see art.
Hajic seems delighted with the location, as she tends to be about everything; she is at base an enthusiast, a knowledgeable advocate of the arts, a celebrator rather than a critic, and, above all, a champion of Naturalism. "Not all experiences in nature are dramatic," she says. "Some are quiet, even meditative. My goal is to translate the artistic passion into an experience you want to take home with you."

Gerald Peters Gallery curator Maria Hajic opens CrossCurrents: Penelope Gottlieb, Peregrine O'Gormley, and James Prosek on June 15 (through July 14), with a 5–7 p.m. reception (1005 Paseo de Peralta, 505-954-5700, gpgallery.com).