Above: Jasper Riddle and his Noisy Water have breathed new life into the oldest wine-making region in the country. Photographs by Douglas Merriam.
"Welcome to the smallest winery in the world," Sean Sheehan says, spreading his arms wide and surveying the Sheehan Winery empire—a converted garage in his backyard in Albuquerque's South Valley. Traffic hums from nearby I-25 as Sheehan's dog Botrytis barks from behind a cinder-block wall. A horse neighs loudly near the back fence, a reminder of the agricultural heritage of this area along the Río Grande, where neighborhoods are crisscrossed by acequias and dotted with alfalfa fields.
In the grass, a perforated steel drum sits at a tilt, collecting dust. It's a modern grape press, but the winery has outgrown it. Next to the old adobe garage looms a massive dirt hole where Sheehan is building a new, slightly larger structure that will house a computer-operated press he bought from a Napa Valley winery. It's an incremental, fitting expansion for a young winemaker who has found a niche buying grapes from small growers throughout the state and turning them into serious small-batch wines.
He bottles about 30 varietals and blends—only 2,000 cases a year—and every wine he's ever bottled has won an award, including an I-can't-believe-it's-not-French Cinsault rosé that won Best in Show at the 2018 New Mexico State Fair Wine Competition. Not bad for a seven-year-old winery. Sheehan, 38, is part of a new crop of talented, ambitious, and iconoclastic winemakers who are reinvigorating and reinventing the state's vintages.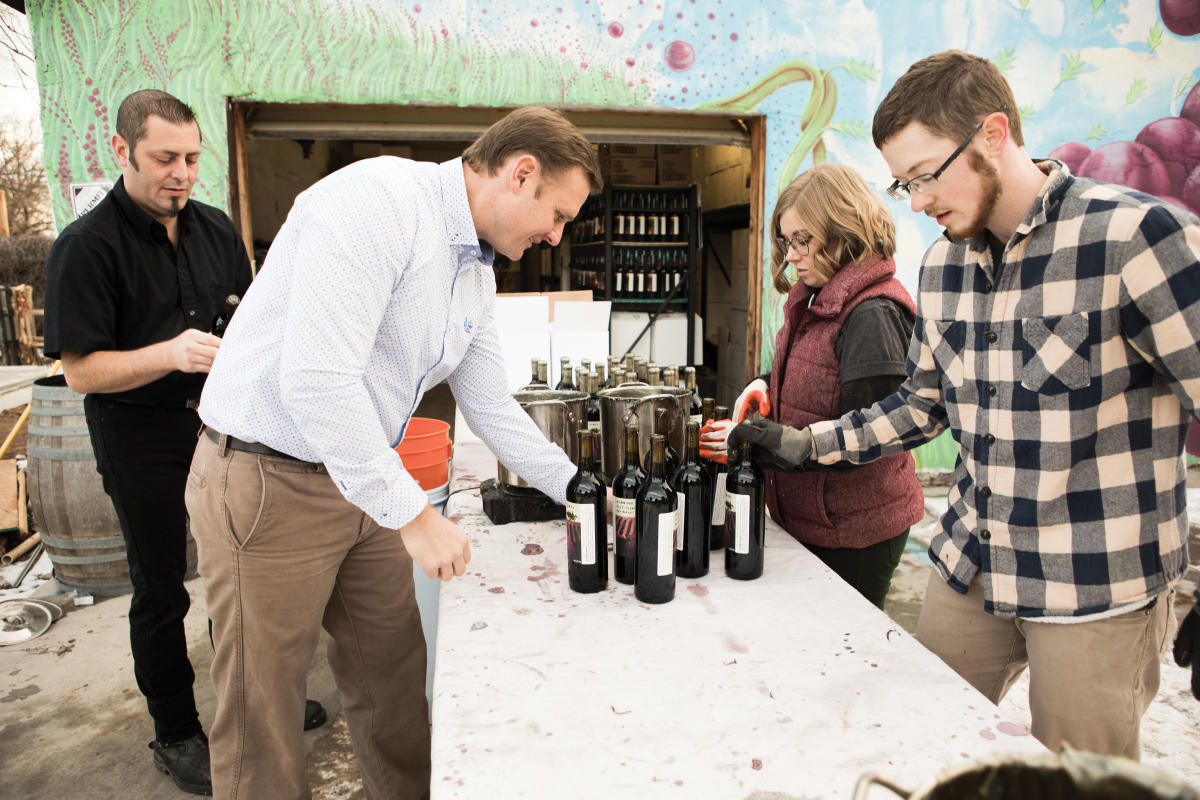 ​
Above: Sean Sheehan's Sheehan Winery has a cult following for the 2,000 cases he produces each year.
In 2018, New Mexico Wine, the association that promotes wineries and vineyards in the state, elected what's probably the youngest board of directors in its 30-year history, which included Sheehan, Josh Arnold from Wines of the San Juan, Corrales winemaker Jeremiah Baumgartner, and Noisy Water Winery's Jasper Riddle. All are under 40. These fresh faces have more hands-on training and more formal education than their predecessors—along with the benefit of the pioneers' experience to guide them. Their timing is ripe.
"These guys are passion and authenticity to the core," says Chris Goblet, director of New Mexico Wine. "They're taking the tradition and the heritage of the region and infusing it with this progressive craft-beverage mentality, where people are no longer beer drinkers or wine drinkers—they're experimenting and trying new things."
New Mexico reigns as the nation's oldest winemaking region, with a history dating back to 1629, when a Franciscan monk, Fray García de Zúñiga, and his Capuchin colleague Antonio de Arteaga planted Spanish grapevines in the Río Grande Valley near Socorro, in Piro Pueblo. Colonists needed sacramental wine and had tired of waiting for sporadic shipments from Spain, so they took up grape growing. By the early 1800s, vineyards dotted the river's flanks from north of Albuquerque to El Paso. By the 1880s, the New Mexico Territory produced almost a million gallons of wine a year, making it the fifth-largest wine producer in the country. (The state is now ranked 20th.) Winemaking expanded into the 20th century and even survived Prohibition by pivoting back to sacramental wine, which remained legal. Then widespread flooding in the 1940s cut grape growing at the root, and the industry lay dormant for decades.
New Mexico's latest wine renaissance started in the 1970s, when commercial wineries began planting French-hybrid grapes that would flourish with the region's warm, sun-drenched days and cool nights. Those pioneers included the Gruet family, whose finely crafted but inexpensive sparkling wines are regularly rated in the 90-point range and named to Top 100 lists in the pages of Wine Spectator magazine. Two generations later, interest in local wine has never been higher, and the winemakers who came of age working at Gruet, drinking their famed non-vintage sparklers and selling them in restaurants and shops, are giddily enjoying doing what they love—and making a living at it. The wine business generates an estimated $100 million a year for the state's economy and supports more than 7,000 jobs.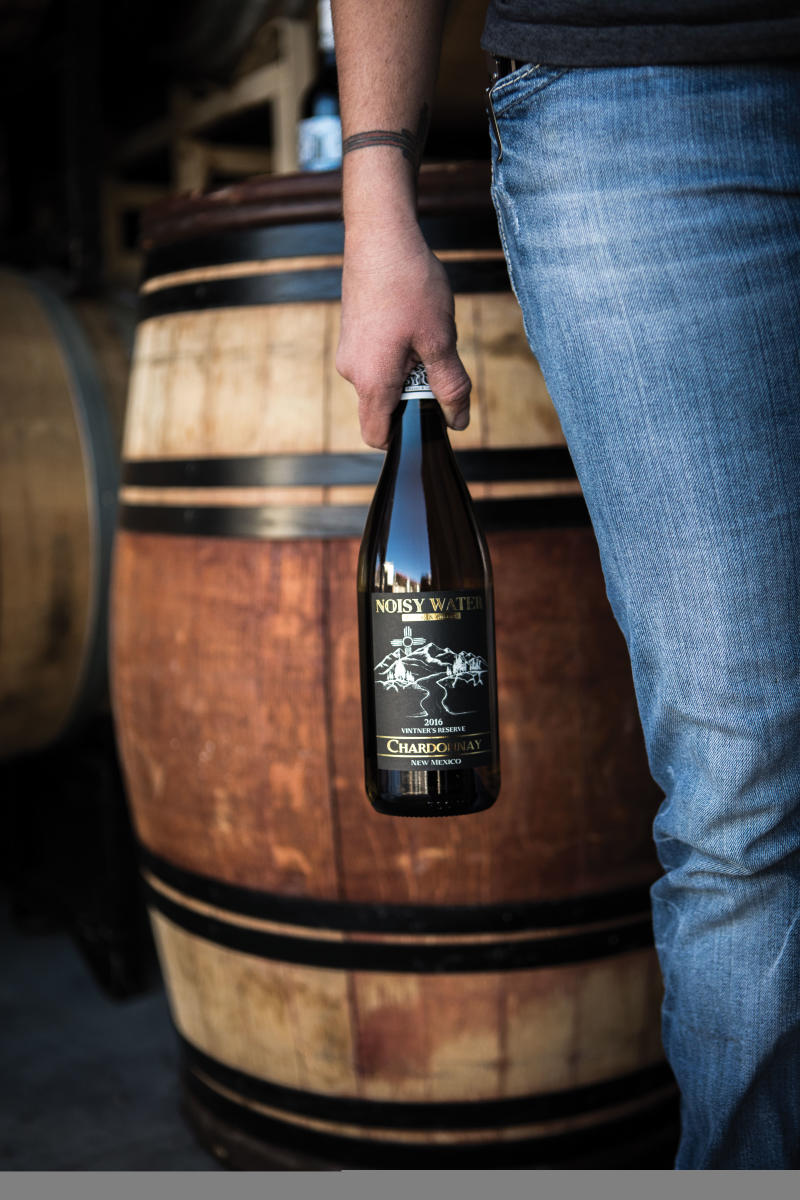 ​Above: Noisy Water Winery's Chardonnay.
Sheehan's winery is only an hour north of where Spanish priests first planted those Mission grapevines, around 400 years ago. After he earned a degree in chemistry from UNM, Sheehan got his start in wine by waiting tables at Seasons, a fine-dining restaurant in Albuquerque's Old Town. He soaked up knowledge working as a winemaker at the now defunct Tierra Encantada winery, in the South Valley, and at the renowned Casa Rondeña, in Los Ranchos. After that, he figured he had a pretty good idea of what people want to drink and just how to make it. Sheehan planted a three-acre vineyard in Bosque Farms in 2009 and produced his first commercial harvest of grapes out of the adobe garage in 2012. "My first press was a colander I got as a wedding present," he says. He pushed eight tons of grapes through it. At the backyard winery's grand opening, in 2015, he sold $9,000 worth of wine. "Now I've got two forklifts," he says.
Sheehan describes his wines as generally fruit-forward, lively on the palate, and food-friendly. New Mexico soils tend to produce grapes that bring a lighter, brighter quality to red wines, the opposite of the intensity of the Zinfandels and Malbecs so popular on grocery store shelves. "When people try to make these big, hulking wines, I think they're doing New Mexico's terroir a disservice," he says as we sit at a folding plastic table in the chilly garage. He works with chardonnay, pinot noir ("Our reserve pinot is bomb," he says), and cabernet sauvignon grapes, but his top-selling wine is one you've probably never heard of: Chambourcin, a medium-bodied red with a floral, spicy aroma. Even a trained sommelier could struggle to name the grape that produces this lovely, unusual combination of red berries and apple-pie spice.
Read more: Need more New Mexico Wines in your life? Check out our picks for tasting your way through Taos' wineries. 
Working with small growers gives Sheehan the ability to experiment with lesser-known varieties that are better suited to the Middle Río Grande climate. When all of his Tempranillo grapes froze during a cold snap in 2013, he replanted exclusively with the hardier Chambourcin. He buys other grapes from hobby growers and small farms all across the state, including a priest in Grants, a retired engineer in Las Cruces, and the Pueblo of Nambé; last year, he picked up a load of surplus pinot noir from Gruet. Sheehan produces about 30 wines, some in batches of only a few hundred bottles, and sells the vast majority directly to consumers through invitation-only gatherings in his backyard and dozens of wine festivals and other events around the state. From them, he's gained a loyal following. At a 2017 festival in Ruidoso, a return customer from Muleshoe, Texas, bought 43 bottles.
As construction on the new facility continues, he's temporarily moved production near Ruidoso, using the equipment at his friend Jasper Riddle's Noisy Water Winery, which produces about 20,000 cases per year. Sheehan hopes to double his own production, to about 4,000 cases, but he wants to stop there. At that level, he can still babysit every barrel and hand-dip the neck of each bottle in a Crock-Pot full of his signature silver wax. "Jasper has like 80 employees. I'd like four," he says. "Someday I'd like to have a bookkeeper—and a wax dipper."


Above: Grape varietals are grown throughout New Mexico. Photograph by Nacho Dominguez.
At Riddle's new Noisy Water tasting room near the Lensic Performing Arts Center, in Santa Fe, customers are usually interested in one of two things: his nationally recognized reds, like the 2016 Vintner's Reserve Cabernet Sauvignon, or his red chile wine. That split constituency has frustrated many New Mexico winemakers over the years, but Riddle, 32, embraces the contradiction. Sales of the chile wines, along with the sweeter blends he makes, allow him to produce the complicated reds he loves. And he knows that eventually he can turn some of those Rojo Caliente fans into Barrel Select Mourvedre customers. His philosophy is that every customer is a potential aficionado.
"If you like sweet wine—say, Moscato or Riesling—I don't want to put something in front of you that you absolutely hate, because then I've lost the opportunity to reach a consumer for life," he says. "We'll find something you like today so you'll be more willing to try something new next time."
After high school, Riddle left Ruidoso in search of new adventures. He went to college at the University of Arizona and then bounced around the country, working as a production assistant for NBC Sports and an assistant football coach at New Mexico State University. By his mid-twenties he was ready for a change. "I realized I had storage units in four states—but I didn't have a dog and I'd never had a girlfriend for more than nine months at a time," he says. He returned to Ruidoso, where his parents ran a successful T-shirt company on the main drag. There, he had an epiphany. "I understood why my parents left their big-city jobs to come here. The level of opportunity is great, and there are a lot of good, smart, collaborative people," he says. His mother, who is Italian, and his father, a former professional golfer, opened Noisy Water in the early 2000s, and as their interest in the business waned, Riddle slowly took over.
Read more: Three great wines—a rosé, a grüner veltliner, and a tempranillo—made right here in New Mexico, just made for summer.
Having grown up with wine and worked around it after college, he had a head start. He took some oenology classes at the University of California–Davis, experimenting with different grapes and methods, and paid attention to what customers liked. He expanded the Ruidoso T-shirt shop into a tasting room. Last October, Noisy Water's 2016 Reserve Cab earned 92 points, the state's highest rank, in critic James Suckling's "American Wine Revolution" report, which covered tastings of more than 800 American wines not from California, Washington, or Oregon. The cabernet grapes are grown on 35-year-old vines in Deming, and the wine is aged in new French oak barrels. He serves it alongside other high-end wines, food, and olive oil and balsamic vinegar samples at the Cellar Uncorked, in Ruidoso, which opened in 2010. In 2016, he opened a production facility in nearby Alto, and he's since expanded it to include a taproom and event space. With the addition of Noisy Water Winery tasting rooms in Cloudcroft and Santa Fe, Riddle now has six locations in four cities. In 2018 he was named New Mexico Small Business Person of the Year (and second runner-up for the national award).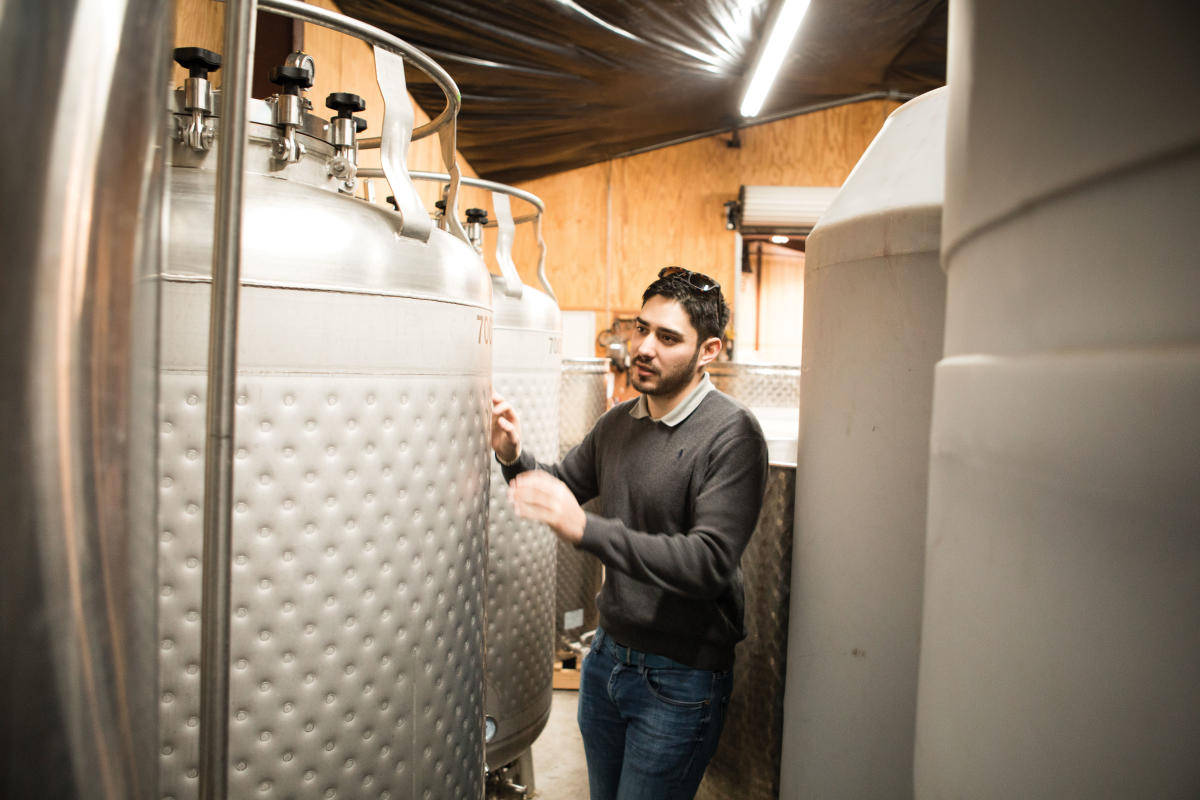 Above: Marco d'Andrea from Luna Rossa Winery.
"The new generation, they have to learn from the older people how to deal with New Mexico grapes in order to make good wine, correct?" says Paolo d'Andrea, an Italian-born grower in Deming. He's the one who tends the 35-year-old cabernet vines that go into Jasper Riddle's Reserve Cab. But today he's talking about his son, Marco, who recently earned a degree in oenology in Udine, Italy, and returned to the United States with a fiancée from the same wine-growing village Paolo grew up in.
At Luna Rossa, the d'Andreas take a classical approach to red wine, using Italian varietals and techniques but aging the wine in oak, as Americans tend to prefer. For the most part, they make wines meant to be opened young, not aged indefinitely. At 22, Marco is one of the freshest faces of New Mexico wine, but, since coming home, he has taken on many of the decisions regarding when the wines are ready to bottle and which to combine into blends, although he still consults with his dad.
Marco is a big fan of light sparkling wines like prosecco, and he's already bought all the equipment needed to start bottling his own sparkling wine. But the prosecco grape isn't well suited to growing in New Mexico, so he plans to use Ribolla Gialla, which makes a bubbly that's citrusy and crisp but aromatic. Knowing his audience, Marco plans to make two versions, one dry and one semisweet. He might print different labels, one named for the grape and another using a name of their own invention. "Ribolla Gialla" doesn't roll off the tongue like "prosecco," but Marco is undeterred. "Until you teach your consumer what something is, they'll never order it," he says.
When Marco was growing up in Deming, it was pretty unusual to come from a winemaking family, but in two decades a lot has changed. With his education and experience, Marco could probably get a job anywhere, but he wants to stay in New Mexico, where he can start a new life building on what his father started. At 56, Paolo still focuses on growing grapes and making wine while Marco finishes an agricultural business degree at NMSU and works at the winery on weekends. They make a powerful duo. "Experience from me and young blood from him," says Paolo. "It's good."

BRING A BOTTLE HOME
Buy wine online from Sheehan, Noisy Water, and Luna Rossa; all three will ship across the country. Check nmwine.com for information on other great wineries. 
In Albuquerque, Jubilation Wine and Spirits, in Nob Hill, is a family-owned bottle shop where three generations have built the city's best selection of local wines and a full calendar of in-store tastings.
In Santa Fe, Susan's Fine Wine and Spirits stocks more than 1,000 wines and more than 400 craft beers. Check the website for the calendar of wine, beer, and spirit tastings.
If you're heading to Taos or other points north, stop at the Kokoman Fine Wines & Liquor warehouse, in Pojoaque, 16 miles north of Santa Fe, which has wine tastings every Saturday.
Las Cruces grocery store Toucan Market has a selection of 600 wines, including many New Mexico choices.
TASTE FOR YOURSELF
Sheehan Winery: This backyard winery two miles from Old Town Albuquerque is open only by appointment and for a regular series of events posted on the website and sent out to email subscribers.
Noisy Water Winery: The main location is on Sudderth Drive, in Ruidoso, with a tasting room a few doors down; other locations are in Cloudcroft and Santa Fe.
Luna Rossa Winery: You can try Luna Rossa wines at the tasting room in Deming or at the Luna Rossa Pizzeria & Winery, in Las Cruces.
---