Above: Resolve to have fun this New Year with a host of winter adventures. Illustrations by Ryan Johnson.
SLAPSHOT SNAPSHOT
With a crash, Spencer Rudrud's shoulder hits the partition in front of me. Just as quickly as he slams into the board, he's off again. Moments later, the puck ricochets off the wood, followed by a blur of white, red, and Zia-yellow hockey jerseys. Were the glass not here, I would be able to feel the wind as the New Mexico Ice Wolves fly down the ice. I have the best seat in the house—although technically this is no seat at all. I'm watching the game from the ice itself at Albuquerque's Outpost Ice Arenas.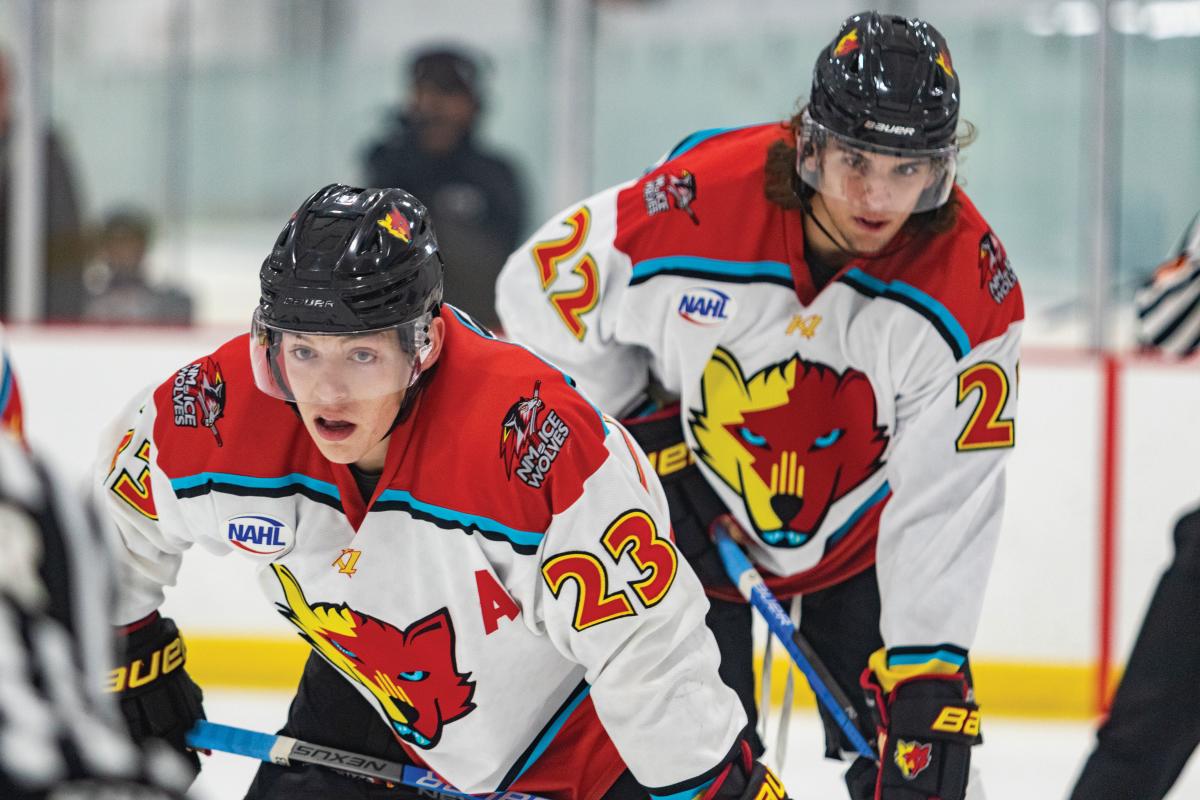 Above: Watching hockey is fun enough to do. But feeling like you're on the ice with a stick? Priceless. Photograph courtesy of New Mexico Ice Wolves.
The Ice Wolves are partway through playing their inaugural season in the North American Hockey League—a junior league for 16- to 21-year-olds on their way to the pros. Players hail from Minnesota, Russia, Sweden, and all points in between. For a desert region, the Duke City has a surprisingly dynamic hockey scene, with numerous adult and junior hobby leagues. But the state's metropolis has been without a professional or pro-track team since the New Mexico Scorpions dissolved in 2009. The puck dropped on the Ice Wolves' first season in September after a $2 million renovation made the Outpost Ice Arenas game-ready. The arenas' rare design—north and south rinks connected by curving tunnels—creates a one-of-a-kind viewing experience. Fans with on-ice tickets can skate the south rink and glide up to the game ice via the tunnels to take in the high-speed action in the north rink.
---
The New Mexico Ice Wolves take on the Kenai River Brown Bears January 10 and 11, $10–$25.
---
THE ARTFUL CARVER
Winter's depths tempt hibernation. Origin at Rancho de San Juan, a 145-acre guest ranch and retreat center in Ojo Caliente, offers an exquisite space in which to withdraw—while still engaging. Years ago, artist Ra Paulette sculpted a multi-room cave, called Windows of the Earth, into the mesa's side. Paulette, better known as the "cave digger" thanks to the Academy Award–nominated documentary of his life and art, has carved caves all across northern New Mexico, some quite controversially on public land. (He later filled in that one.) The ranch's former owners commissioned him for this cave. It took Paulette more than five years to excavate the interior and shape the volcanic tufa, using only hand tools. Swirling forms arc around windows, doors, and altar spaces.
Those who enter the cave feel both primal and transcendent. Stepping into Mother Earth taps into some ancient and inherited sense of familiarity, yet this light-filled space rises like a sanctuary. The retreat's owner, Jill Marie Inanna, often shares a 20-minute crystal-singing-bowl "sound bath" within the space. Inanna, a certified Chopra Center meditation instructor and an expert in crystal singing bowls, glides a wand around the lips of the bowls, which emit subtle and sometimes eerie tones. The sound vibrates through the floors, the walls, and, yes, guests' bodies as they journey inward in this season of renewal.
---
Entry to the cave is by reservation, $87.
---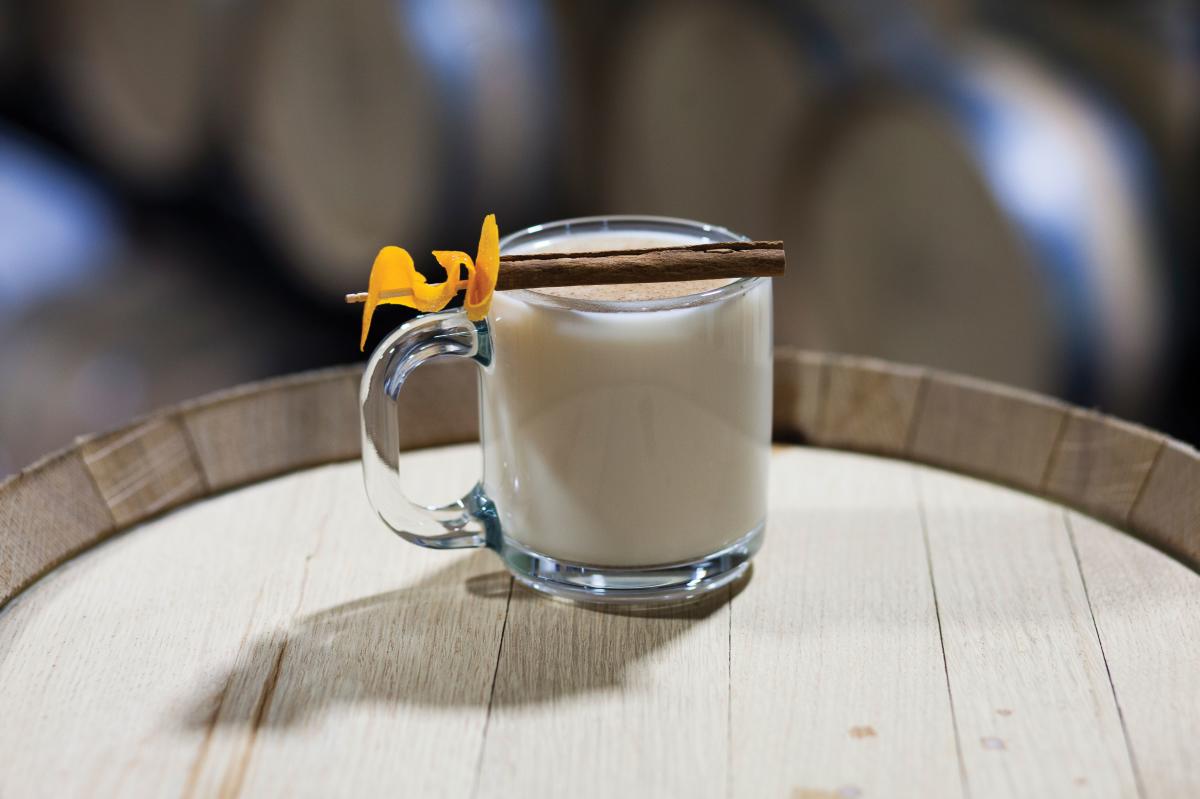 Above: Get warm from the inside out with this hyperlocal toddy. Photograph by Courtesy of Dry Point Distillers.
HIP SIPS
The Scots taught me to drink. In a dim pub in the fog-shrouded Highlands, they instructed me on the art of slowly sipping a single malt, a wee bit at a time, to stave off winter's chill. Dry Point Distillers, in Las Cruces, may have a little less peat than they do across the Atlantic, but its warming spirits are equal to the season. Chris Schaefer founded the distillery in October 2018, with locally made vodka and gin. He's since released a brandy made with grapes sourced from the Mesilla Valley and has plans to release a blue corn bourbon this month, and to double the space in the tasting room by adding a stage and a second bar. Schaefer and his mixologists create more variation within the line by taking advantage of hyperlocal ingredients, such as apples, pomegranates, honey, mesquite, and green and red chile, to infuse the vodka and other spirits. For cool weather, he recommends the Mesilla Toddy—a traditional hot toddy with honey, brandy, and bourbon, every ounce of it sourced from the Mesilla Valley.
---
Dry Point Distillers offers cocktails Wednesday through Sunday at its Mesilla location. Check out Dry Point's Mesilla Toddy recipe.
---
JUST ADD SALT
Kentucky native Kim Rash was deep into holistic studies as a massage and aroma therapist when she stumbled onto a manufactured salt cave in North Carolina. "My mind was blown. It was a profoundly peaceful and deeply healing experience," she says. She opened the first salt cave in Kentucky, then sold her part of the business and moved to New Mexico to open Santa Fe Salt Cave in October 2018.
Around nine tons of pink Himalayan sea salt coat the walls and floors of the man-made "cave," on Second Street in Santa Fe. Drifts of pea-size salt crystals cover the floor like a salt beach. Guests pad across the crystals in socked feet to another seaside touch: recliners for lounging during 45-minute halotherapy sessions. Here, cantaloupe- and watermelon-size salt crystals line the walls. A few glow, illuminating the dim, 380-square-foot space. Beyond the wall-to-wall salt, Rash adds microscopic, pharmaceutical-grade salt to the air. The cave smells a bit like the ocean and lightly dusts your skin and hair with salt, just like a walk along the shore.
Salt is naturally anti-inflammatory, antibacterial, and antimicrobial. Pure sodium chloride is said to have healing properties for those with respiratory problems, like winter colds. The salt's negative ions are also thought to help the body produce the feel-good chemical serotonin, making halotherapy a fitting treatment for anxiety, depression, and seasonal affective disorder. Salt, it seems, might cure all that ails you this season.
---
Book sessions in advance, $35.
---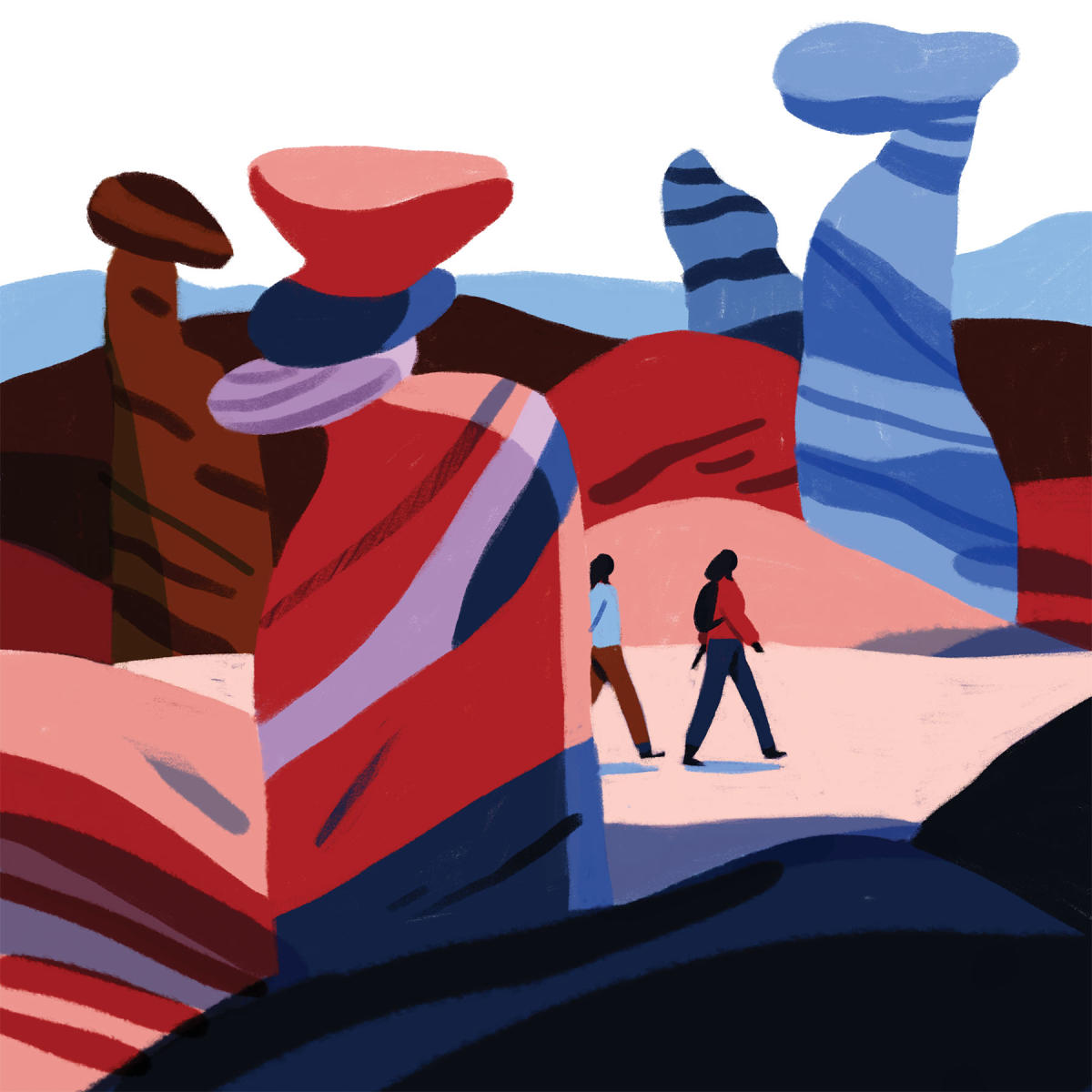 DRY HIKES
In New Mexico, winter hiking doesn't have to mean trekking snowy paths. (But you still ought to pack some water.)
---
NEW YEAR'S RITUALS
A few chords of guitar music call the dancers to the central plaza of Jemez Pueblo every January 1. A young girl, known as the Malinche, dressed in a white first Holy Communion dress, walks hand in hand with the lead dancer. Two clowns, or grandfathers, instruct the dancers and keep El Toro at bay. This character, with a horned headdress and canes to represent a bull's legs, runs wildly through the lines, disrupting the dancers as they step rhythmically to the music. The dancers carve the air with their tridents and shake their rattles in time with each other. The scarves covering the lower halves of their faces make them look like Wild West bandits, and fringe on their headdresses shrouds their eyes. Their eye-catching miter hats are decorated with ruffled borders, religious symbols like the Virgin of Guadalupe, and trinkets that glitter in the New Year's sun. Their capes twirl each time they turn in unison, following centuries-old choreography.
Both Pueblo and Hispanic communities perform Matachines dances throughout the year, with meanings as mysterious as the dancers themselves. Scholars point to Arabic, Spanish, or Mexican roots. The dance may portray the triumph of good over evil or it may retell, especially in Pueblo communities, the story of resistance to a foreign invasion. It may convey the story of how Malinche, Hernán Cortés's translator and paramour, converted Montezuma, the Aztec king, or of the Spanish conquest of Mexico, or even of the melding of many cultures.
---
For information on this year's event, visit jemezpueblo.com. Other dances on January 1 include those at Taos, Kewa (Santo Domingo), Picuris, and Ohkay Owingeh Pueblos.
---
WHITE SHOES
"It's just like walking. Don't make it weird," a friend advises as I buckle into snowshoes for a maiden journey. With my first steps, I feel the urge to widen my stance and amble like a newbie cowgirl bow-legged from her first day in the saddle. I mistakenly follow my impulse to step higher than usual, which only sends the snowshoes flapping at my heels. As I turn to ask my friend a question, I stumble over my newly Sasquatch-size feet when the snowshoes cross in the back and tangle.
Just walk, I tell myself. So I do, in a rented pair of shoes on the Crest Trail, which skims along Albuquerque's Sandía Peak. Later, I'll get my own snowshoes and amble along trails near Ski Santa Fe, then across the hills of Angel Fire Resort, and later still through the vast bowl of the Valles Caldera National Preserve.
One year, friends and I booked a backcountry yurt outside Chama through the Southwest Nordic Center. Reaching the Asian-style tent, complete with cozy bunk beds and a cookstove, required a three-mile snowshoe. The night before our hike, Mother Nature dropped three feet of fresh powder and turned our hike into an eight-hour march. With every step, we sunk nearly to our hips, then hoisted a snow-laden, heavy snowshoe out and did it all over again, gradually cutting the path, mile after mile. Our humble abode never looked so grand as it rose into sight between the trees.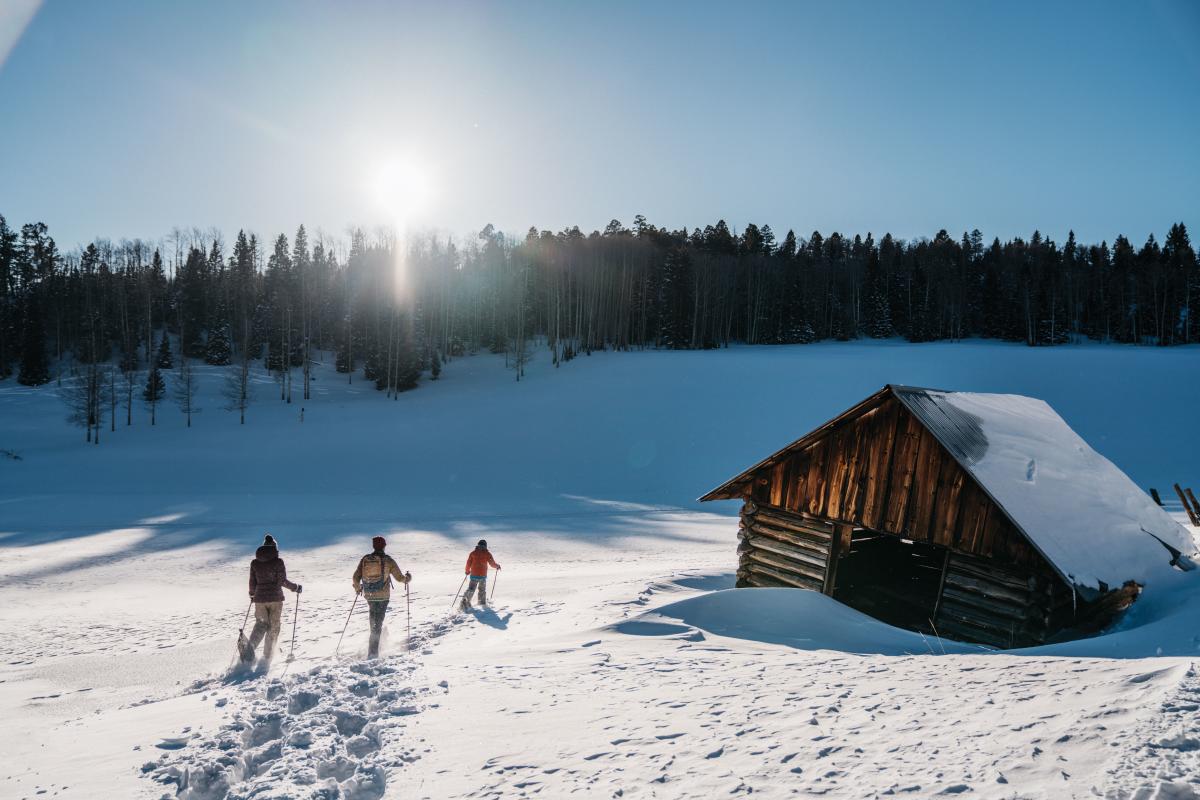 Above: Snap on a pair of snowshoes and you can hike all winter. Photograph by Ryan Heffernan.
Snowshoe outings are rarely so harrowing. My snowshoes have become my all-weather reason to not hang up my hiking shoes for the winter. They carry me into pine-scented mountain air; lead me to spot hare, foxes, and mice as they cut their own tracks through the snow; and earn me pink cheeks as I huff up hills to the next outlook.
---
Join an outing with Outspire Hiking and Snowshoeing, in Santa Fe, Heritage Inspirations, in Taos, or Routes Bicycle Tours, in Albuquerque and Santa Fe.
---
NEW YEAR, NEW LESSONS
"How did you learn these recipes?" I ask Khadijah.
 "I've just always known how," she says as she cuts radishes with a practiced hand into flowers for the fattoush—a fresh salad with ground sumac berries. Khadijah, who goes by her first name only, grew up making these dishes with her parents in Syria and now makes them for her resettled family in Albuquerque. She's an instructor for Beyond the Plate Cooking classes, part of Lutheran Family Services Rocky Mountains' culinary and vocational program. Beyond the Plate preps refugees to build their own food businesses.
Since its founding, in 2017, eight refugees have joined, mostly from Syria and Afghanistan, nearly all of them women. They develop their skills by catering meals, teaching classes, and preparing food to sell at the Nob Hill and Downtown growers' markets in Albuquerque. The refugees also take classes in vocational English, financial literacy, and food safety. Through a micro-enterprise-development program, they save and earn matching funds to invest in their businesses' startup costs.
This night, the only thing on Khadijah's mind is making sure that students properly crisp the pita for the fattoush and avoid burning the rice for the ouzi—a meat-and-rice mixture folded into phyllo dough. Finally, we sit down at a long table to share our meal, passing overflowing dishes and laughing with Khadijah and her son.
---
The LFS Refugee–Albuquerque Facebook page has updates on Beyond the Plate classes. 
---