Above: Paula Castillo in her studio. Photographs by Gabriella Marks.
RÍO GRANDE COLCHA , a massive welded sculpture, unfolds like a circulatory system across the facade of the New Mexico History Museum, near the Santa Fe Plaza. It's a visual hybrid, a bird's-eye view of the Río Grande and its tributaries depicted with the floral flourishes of colcha embroidery, as if the branches of the river were sprouting blossoms. If the sculpture is about anything, it's the relationship of the river to histories of sheepherding in New Mexico. But Paula Castillo's sculptures are never wholly representational. They work on another, subtler register, one that evokes place but also underscores the material qualities of metal.
Pendant sculptures are installed nearby, including Barco y Sierra, which is composed of small metal circles whose edges she welded together by hand to form the dimensions of a boat. Each looks like a cell endlessly multiplying across the irregular planes.
In Dos Arboles, Dos Hermanas, two parallel shoots run vertically from the bottom of the two-story museum to the very top, or from the earth to the sky. They are semi-abstract forms made by stacking small disks of metal like long spinal cords, the texture and height loosely recalling New Mexico's forests of Douglas firs and their significance to Tewa  and Hispanic people.
The final touch in the installation is a simple quote borrowed with permission from Nambé Pueblo and inscribed on the surface of a nearby but hard-to-find wall: "My home over there, now I remember it." Together, the sculptures meditate—deeply and powerfully—on New Mexico, the artist's home.
It's a state where Castillo has become a prolific and thoughtful public artist. Her sculptures, welded assemblages, and concrete monoliths can be found in an Albuquerque arroyo (Arroyo Flowers), on the main campus of the University of New Mexico (One Hundred Miles of Numbered Mountain), along César Chávez Boulevard (César Chávez Tribute), in Albuquerque, in a park in Belén (Aquila), and of course at the New Mexico History Museum. She is also nationally renowned, as the only representative from this state included in the National Museum of Women in the Arts' 2018 exhibition Heavy Metal Women.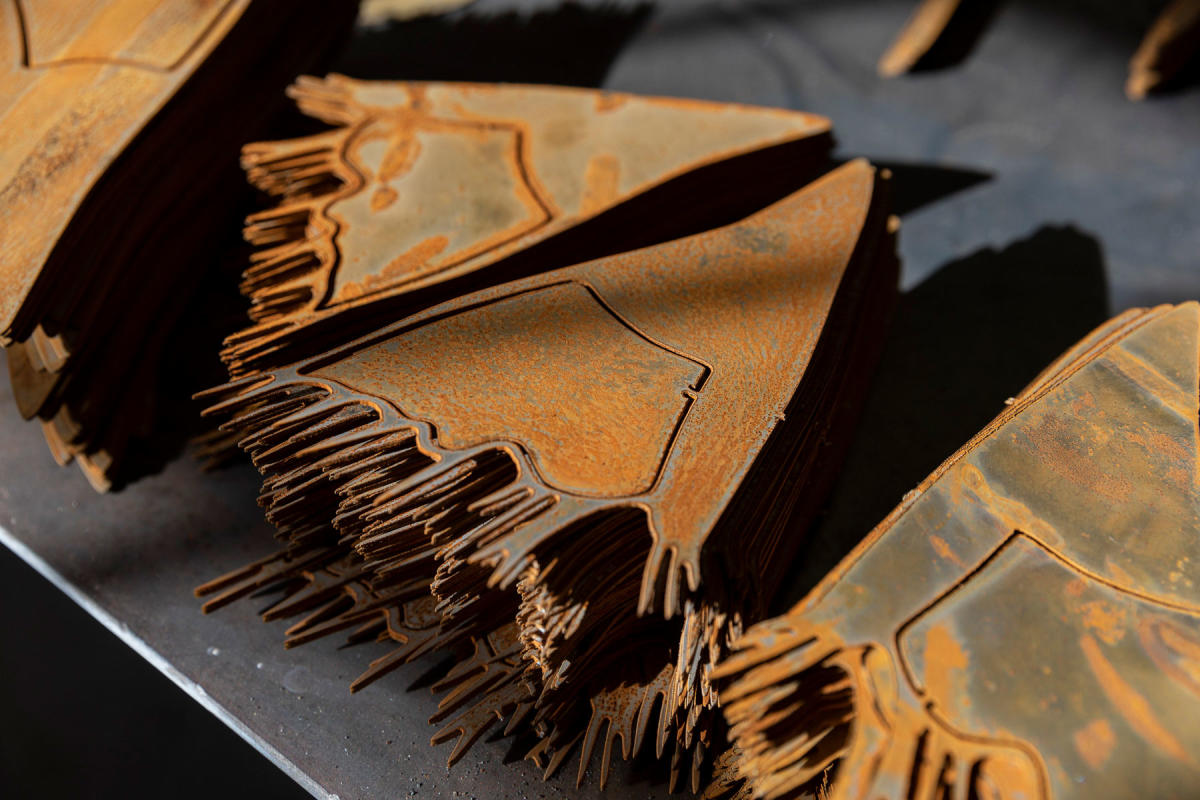 Above: Details from Paula Castillo's workshop.
This month, the National Hispanic Cultural Center, in Albuquerque, plans to unveil her latest work, an architectural capstone paying homage to a female founder with a lacelike design welded from steel.
WHEN I WAS A KID, I knew her as Ms. Castillo, my quirky fifth-grade teacher at the tiny and rural Mountain View Elementary School, in Cordova. Even then I thought she was a creative—a bohemian, though I didn't know the word at the time—who wore overalls to school and whose handwriting struck me as strange for a teacher. Compared with the perfect script of our other educators, hers was more like a quick scrawl. We didn't really care, because she took our class on nature walks, where we learned outside while ambling along the acequias and canyons around Cordova. In the classroom, she played the piano as we sang "Las Mañanitas." We read plays aloud, made art, and wrote poetry. At the end of that epic academic year, she left teaching to pursue her art practice full-time.
Now I know her as Paula, an artist whose work has fascinated me since I began writing about art. Encountering her decades later (after periodic contact in between) isn't too different from when I was younger: same smile, same sense of humor, and, I venture to say, same overalls.
When I look back, I realize how our classroom was a creative island among public schools. Little did I know then that she was in the midst of her own evolution as what she calls an "object maker balancing forms," and teaching herself the basics of welding from a book. In time, her particular way of melding tiny pieces of metal into fluid abstract forms became her signature: spiny exoskeletons, armatures, spiked crustacean-like beings, metal skins of all manner fused together with hundreds, if not thousands, of metal by-products under the heat of her MIG welder.
About 10 years ago, just after the housing crash, Paula went back to teaching. At the same time, she took classes at UNM, receiving an MFA with a focus in 3-D art in 2013 (her first art degree) while working full-time as the head of Santa Fe Prep's Art Department, where she taught such classes as "Art and Social Practice." In the past year, she entered another chapter of her life, overseeing one of her family's businesses, Castillo Sand and Gravel. The role seems like it came out of left field, but nonetheless it speaks to her art practice and her early influences.
WE MEET AT THE GIANT gas station in Belén before heading to her studio. Paula recently moved south from northern New Mexico to be closer to her parents (her father is Hispano and her mother Lebanese), relocating her art practice for the time being to the family's old bodega, a sizable warehouse space that her father, Frances Leonard Castillo, built from recycled cinder block in the 1960s. He was a collector, she tells me, of things he didn't need, or better yet, things that might come in handy later: cinder blocks, scrap metal, and a dump truck—not to mention property. Her task as a kid was to organize the scrap.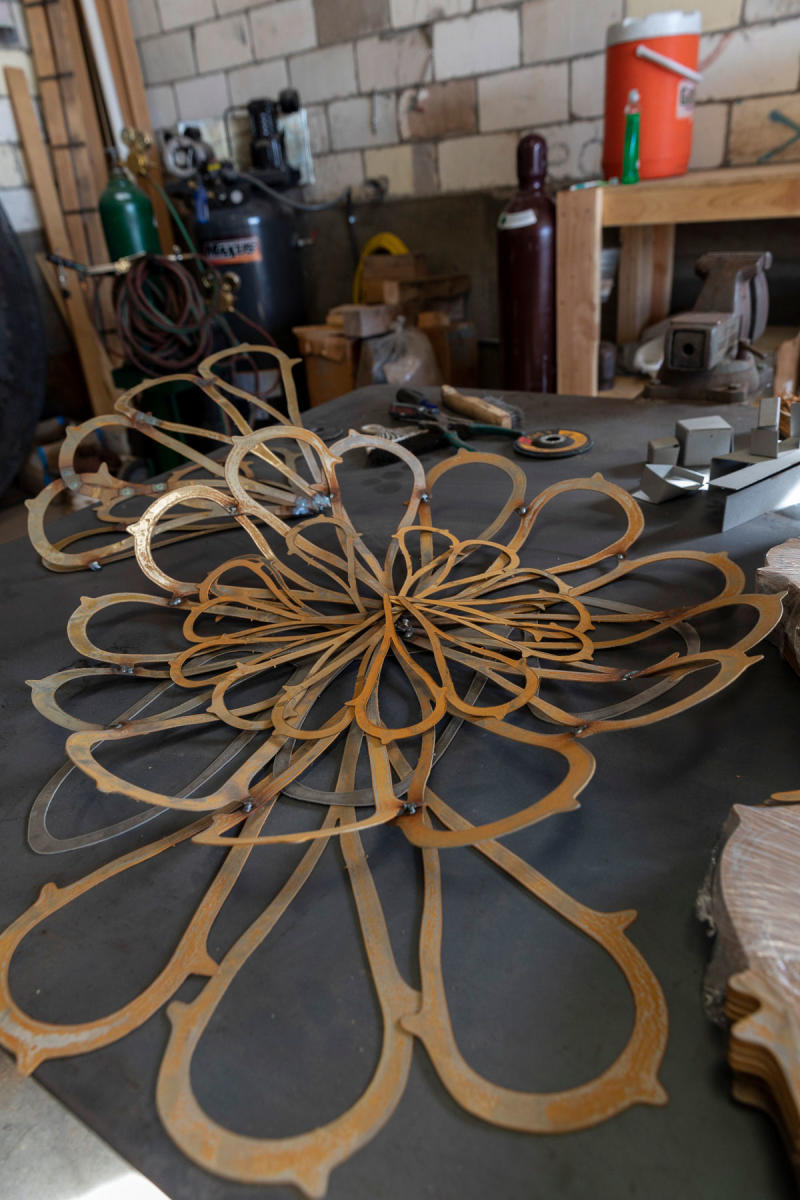 Above: Details from Paula Castillo's workshop.
The bodega's massive doors open onto a bleached industrial landscape punctuated by cranes, concrete molds, a rebar bender, and other fabrication equipment. We walk the premises, dwarfed by the various devices. The Manzano Mountains cut a pale-blue silhouette in the distance. "The north," she says, "is more baroque. There are more trees and shadows, just more everything." While northern New Mexico has quantity, these badlands have scale. Here, the elder Castillo's small scrap and rock-crushing enterprise has expanded into Castillo Prestress, one of only 180 U.S. companies that can tension concrete into megalithic planks and pillars for walls, bridges, and overpasses. "That's a mold for the bridge girder on Río Bravo," Paula says as I look into an empty rectangular cavity once filled with concrete.
If this is a studio visit, then the studio isn't just the dusty bodega, but the whole landscape of metal, piles of aggregate, and machines. It is a curious place for a lesson in sculpture, but it fits. Just in front of us, a pile of rebar slumps under its own weight. "There's something moving about one form influencing another," Paula says, referencing the scattered accumulation of metal. She illustrates the thought by pushing against my shoulder with her own. I sway slightly, a movement that proves the point: One mass literally impacts another. It's a basic principle of sculpture.
As we walk around, the artist Robert Smithson slips into the conversation. Rising to countercultural fame in the 1970s with artworks such as Spiral Jetty, in Utah, Smithson was enamored of making art in decommissioned quarries, deserts, dumps, and the industrial landscapes of New Jersey.
We laugh because, in a way, Paula is having a bit of a Robert Smithson moment in Belén, save for the hypermasculine overtones of his art (and tendency to dominate the landscape). "It's really remarkable to work in un-idealized places," she says, referring to Smithson's penchant for rocks and construction equipment. Her implication resonates as we stand smack in the middle of Castillo Prestress, surrounded by a constellation of machinery and the railroad tracks where the BNSF runs. She might even be more Smithson than Smithson, taking on the responsibility of running Castillo Sand and Gravel as her father ages. Currently, she is the business's official mining, safety, and health administration officer.
Of making art, Paula stresses that for some artists, "it's easy to become disengaged from the world. It's a very modernist way of working," by which she means making art in isolation—away from real people and places. By contrast, Paula is firmly rooted in place and among people, and making public art is an integral aspect of her practice. Her first piece, installed in 2001 in a park next to Belén High School (where she graduated), is a Stonehenge-like congregation of massive concrete pillars capped with equally large boulders she found in Las Cruces, all safely engineered together. If you view them all as a whole, they form the outline of an eagle, the high school's mascot. The title is simply Aquila.
As we drive around, it becomes abundantly clear that Paula exemplifies the nuevomexicana way: Her work, life, and art mesh. Where one ends and the other begins is impossible to delineate. Indeed, in Belén, family members are ever present and there's always a story for the telling, one that may or may not come back to the art but that seems worthwhile nonetheless.
For instance, I learn of famous Aunt Gloria—the Gloria Castillo—an actress who was discovered in a local Albuquerque theater production in the early 1950s and went on to play roles in Hollywood films like The Night of the Hunter and Invasion of the Saucer Men. She died young, of mouth cancer, Paula says while we're driving around in her Mazda SUV. Aunt Gloria's glamorous black-and-white photograph is on the wall at Uncle Leo's place, where we make a pit stop before heading out to Castillo Sand and Gravel, in Veguita.
Read more: Learn more about New Mexico's Film History.
The hard hat I wear on the work site has the name LEONARD printed on the front. Paula's is hot pink. And the surrounding landscape, a 30-acre patch where the family excavates its aggregate, is a series of negatives and positives: voids where the land has been carved away, and hills where some version of it has been relocated. The stop is brief, a quick check-in with the workers.
I only later make the connection that her dad, who goes by Leonard, and her Uncle Leo (Leonard's older brother) share the same name. Paula shrugs. Who knows. But when her own son, Frances, was young, he named all the family's cats a variation on the name: Leonard, Leonardo, Leonidis. There may have even been an Uncle Leo and Tata Leonard in the mix of cat denominations. I later meet Leonard, who, after we finish our meal at Pete's, a maze of a New Mexican restaurant in downtown Belén, hands me the corner of a sopaipilla, already drizzled with honey. "Eat this," he says. I do.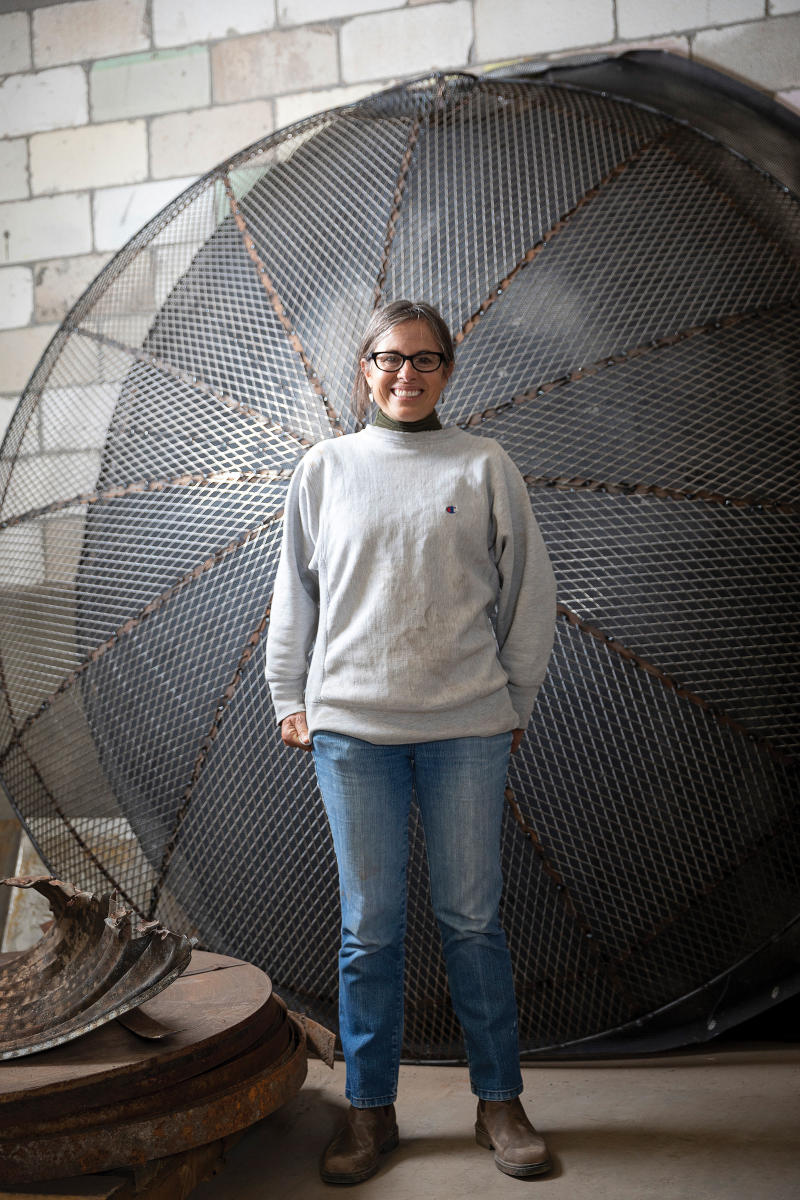 Above: Paula Castillo.
BACK AT THE BODEGA, art and equipment mingle. MIG and TIG welders, torches, and rebar bits. Small sculptures interspersed on shelves, larger unfinished metal creations against the back wall. Maquettes for prospective projects. Over time, Paula's scale has expanded and contracted, never settling anywhere in particular. This, to me, is a sign of her immense flexibility. Buckets of spent metal—"dots," as she calls them—are parked on the floor. "The U.S. sells most of the nation's by-product to China because it's so fluid," she says. "It can be melted down and made into other forms, like I-beams." She isn't melting anything down, but repurposing, using the dots, including the leftovers from a punch press in Bernalillo, for her own incredibly fluid forms. Like her father, Paula has become a collector of scrap from junkyards, fabricators, and old barns across the state and beyond. "I have used aluminum in the past, but other than that, I just use beautiful steel," she tells me. "It's like a sourdough starter."
On a nearby table she shows me pieces that she will eventually weld together, boxy forms that she hand-scored—thousands of them. "It's a little manic," she says, referring to the process, "but I love repetition." It's like creating countless visual echoes: "Where are the forms' beginnings and endings?" she asks rhetorically.
Her latest commission for the National Hispanic Cultural Center is "a skin of sorts," in her words, made from individually welded forms that will cap a structure between the two Mayanesque pyramids in the center of the campus. If you walk beneath and look up, there will be another feature, a cupola, also made of metal, which she foresees as "an incredible opportunity for casting shadows" on the concrete below. It's a memorial for Virginia Lujan, who, with her husband, Edward, helped found the NHCC. Paula describes its campus as "really masculine," with all its jutting corners. Her design for the tribute to Virginia Lujan "will balance that energy."
Then Paula gives a brief welding demonstration. She arranges the form on the table and dons thick leather gloves and a welding helmet that she pulls from a nearby cabinet. She tests the equipment. Instantly, sparks from the hot wand begin to fly as she gently sutures together the shapes, petal cutouts made from AutoCAD designs she sent to the local hydro-cutter. "The act of welding is just like sewing," she muses—each gesture systematic. The process of arriving at a design, though, is more extemporaneous. "I never usually sketch anything beforehand; it finds itself, like a drawing would. I'm just helping it along."

PEDAL TO THE METAL
Here's where to find some of Paula Castillo's welded sculpture.
A tetrad of her work dedicated to the state is arrayed at the entrance to the New Mexico History Museum, in Santa Fe (113 Lincoln Ave.). The quote "My home over there, now I remember it" is accessible from the second-floor patio.
At the historic Barrio la Cañada Neighborhood Gateway (on the corner of Paseo de la Conquistadora and Camino Alire, in Santa Fe), you can glimpse Castillo's designs within the nichos of the fortresslike structure.
In the event that you're looking to buy an original artwork, Gallery Fritz represents Castillo in Santa Fe (540 S. Guadalupe St.) and holds many of her smaller pieces.
Walking the grounds of Eagle Park, in Belén, look for the massive installation Aquila and try to trace the eagle's outline.
The experience of driving by the seven monolithic concrete Virgins of Guadalupe, part of the César Chávez Tribute (intersection of César Chávez Avenue and Broadway Boulevard SE, in Albuquerque), is much like paging through a flipbook, except in very large scale. At various points during the year, folks from the barrio make altars beneath them. On the north side of the street, you'll glimpse a relief mural of Chávez. Get out of the car and walk around to the other side, where she installed a photomural of farmworkers.
Cruise Golf Course Road in Albuquerque to catch Arroyo Flowers, stylized florets welded into a massive desert curtain. It unfurls in the silty wash just beside the road, off Ellison Drive.
When walking the grounds of the University of New Mexico, head toward the Centennial Engineering Center, where Castillo installed 100 Miles of Numbered Mountain, sturdy rectangular forms inserted into the ground. It's an abstraction of 20th-century geographic surveys of the Rocky Mountains.
Fallen Petals, on the campus of Fort Lewis College, in Durango, Colorado, is a pile of what Castillo calls "crusts," a tribute in metal to the fragile ecosystem of the Colorado Plateau.
---