NEW MEXICO'S INDIGENOUS-LED INSTITUTIONS, such as the Museum of Indian Arts & Culture, in Santa Fe, extend their expertise nationally, forging lasting partnerships with major museums from coast to coast. Diane Bird (Santo Domingo), the museum's archivist, knows this firsthand, as she was the founding archivist for the Smithsonian Institution's National Museum of the American Indian. Her research and curation are integral to the Museum of Indian Arts & Culture's recently revamped core exhibition, Here, Now and Always. The show represents a paradigm shift between cultural institutions and Native people, as museums begin to forge paths based on community curation and collaboration.
THE ORIGINAL Here, Now and Always showcased many of the objects from our collection. It complemented them with having guest Native curators from the many tribes of the Southwest and showcasing their voice.
It was groundbreaking: the emphasis on Native people today, not just as history. It's very much a contemporary exhibition in a state museum that gave voice to many, many Native Americans.
This time, we still have a representative number of objects from our collections, probably within the same amount of space, but it's a little bit more expansive.
Museums are now doing more outreach to Native peoples. I just finished reading a review for a museum in Colorado and how they had to close down one of their exhibits on Sand Creek. They got remarks from the tribes about things that were incorrect. After consultation with the tribes, they reopened with their involvement.
One of the kinds of things that museums never addressed in the past was that there were Native peoples still alive in their areas. I like to let people who fly into Albuquerque know that they literally passed through seven Native nations on their way to Santa Fe and that right now they're standing on Indian land.
Read more: A poet who grew up in Shiprock learned from her elders how to tell stories.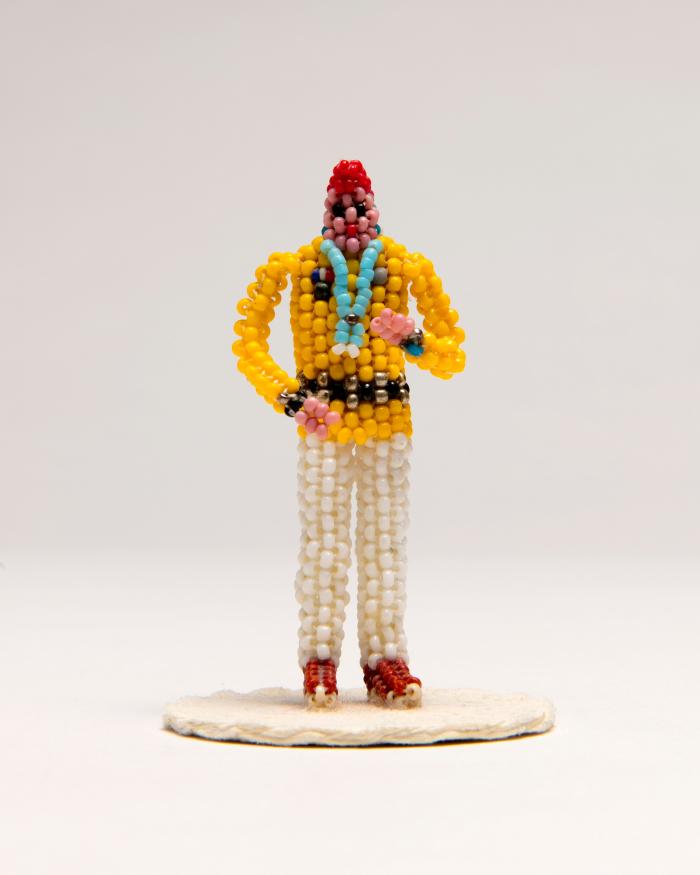 Photo: Sheila Antonio's (Diné) Figurine depicts a beaded World War II code talker. Gift of Yara and Gerald Pitchford, Museum of Indian Arts & Culture/Laboratory of Anthropology.
WHERE NATIVE ART BLENDS WITH LIFE
Don't miss these chances to immerse yourself in Indigenous culture.
The annual Gallup Inter-Tribal Indian Ceremonial (August 4–13) enters its 101st year with an art show and exhibit hall, its legendary Open to the World Rodeo, and the contest powwow, featuring traditional and contemporary Native dance. gallupceremonial.com
Also happening every year for more than a century now, Santa Fe Indian Market (August 19–20) draws tourists and Indigenous artists from all over North America to the downtown Plaza. Head to town a few days in advance for other markets, fashion shows, and parties. swaia.org
While you're in Santa Fe, see the Wheelwright Museum of the American Indian's current show, Always in Relation: Artworks from the Schultz Collection (through October 21), which examines the relationship between collectors and modern and contemporary regional artists, such as Marcus Amerman (Choctaw), Kenneth Begay (Diné), and Teri Greeves (Kiowa). wheelwright.org
Named by USA Today as the number-three art museum in the U.S., the Institute of American Indian Arts Museum of Contemporary Native Arts, in Santa Fe, showcases a stunning breadth of cutting-edge Indigenous art. iaia.edu/mocna
New Mexico's 19 pueblos offer plenty of Native feast days open to visitors throughout the year. Visit the Indian Pueblo Cultural Center, in Albuquerque, to learn more about Pueblo culture. indianpueblo.org